If you have found yourself with a layover at Berlin Tegel Airport, you may now be wondering what to do with your time….besides sleep!  TXL is the larger of the two Berlin-area airports, but it is still quite small for the capital city it serves. Built during the Cold War, the airport originally served West Berlin; today it's home to many European and international carriers. TXL will eventually be replaced by the new Berlin Brandenburg Airport, so there's little focus on improving what's here. Still, there's a decent amount of amenities. With that in mind, here are 8 things to do on a layover at Berlin Tegel Airport.
1. Eat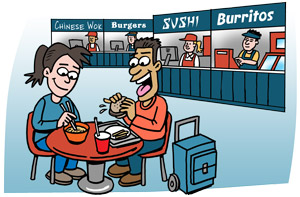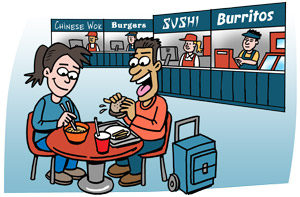 You'll have no problem finding something to eat at Tegel airport, with several casual restaurants, cafes, and bars. Opt for traditional German fare and beer or go for something lighter at the bakeries and vegan-friendly cafes. International chains include Burger King, Illy Bar, and Starbucks. Note that more eateries are located pre-Security; none are open 24-hours.
2. Lounge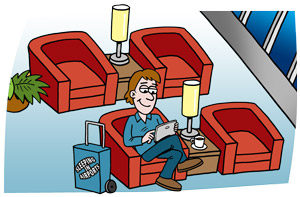 Spend some time in the comfort of an airport lounge. A couple lounges offer access to travellers, regardless of airline or class of service. Pre-purchase a single-use pass online or opt into a lounge membership program for entry. See our Berlin Tegel Airport Guide for lounge locations and amenities.
3. Shop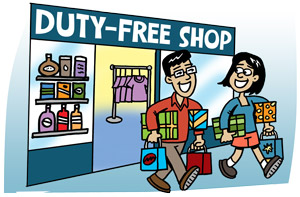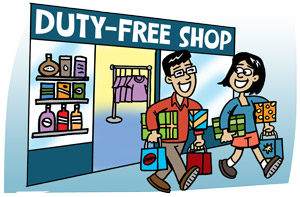 There are enough shops here to help you pass the time, but not so many that you'll get lost. Expect airport staples like pharmacies, newsstands, and stores selling last-minute necessities, a decent Duty-Free store, and fashion brands like Hugo Boss, Espirit, and Wolford.
4. Head into Berlin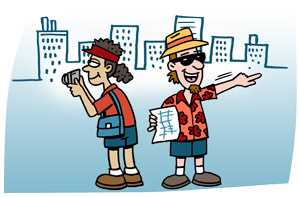 Berlin Tegel Airport is only 8 km from Mitte in the heart of the city, so it's easy to do some exploring. As long as you've got at least 5 or 6 hours, you can get some fresh air, stretch your legs, and take in an attraction or two.
Getting into the city is easy! Several bus lines connect Berlin Tegel with the city centre, and metered taxis are available 24/7 in a taxi stand outside Terminal A. (Note that no train lines service this airport.)
Some of our favorite Berlin activities are:
Tour the city. Free walking tours last about 3 hours, or you can guide yourself through its many landmarks, starting at Alexanderplatz towards the Brandenburg Gate and along Unter den Linden. Cruises along the Spree River are perfect in summer or fall.
Visit The Topography of Terror. This indoor/outdoor museum chronicles Nazi and Cold War Germany and its located on the grounds of the former Gestapo headquarters. Pieces of the Berlin Wall are intact nearby.
Explore the Jewish Museum Berlin. Unique architecture combines with well-told histories for an immersive and emotional visit.
Browse the shops, cafes, and bars in various neighborhoods. KaDeWe in Charlottenburg and Hackescher Markt near Alexanderplatz are some of our favorites.
For more ideas, check out our article on Berlin Airport Layover Sightseeing.
5. Freshen up
A few pay-to-use showers offer the chance to freshen up between flights. Located in Terminal A's downstairs area; open daily during the day. If you're in need of a haircut, a hair salon is open daily in Terminal A.
6. Check out the observation deck
Watch planes land and take off at this busy airport from the Observation Deck in Terminal D, post-Security. The cost is €3 for adults; open daily from 8:00AM – 8:00PM (April-October) and 10:00AM – 4:00PM (November-March).
7. Get Connected
Stay connected to friends and family, update your social media accounts or surf the internet courtesy of the airport's free WiFi.
8. Sleep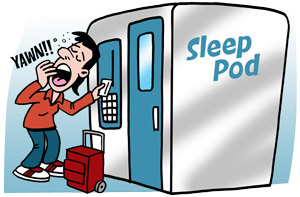 Catch up on some sleep during your layover. The airport closes from midnight to 3:30AM at night, with only Terminal A open during that time, so that's the spot to be for overnight camping. If you arrive early enough, snag one of the couple cushioned benches upstairs near the Customs/Police area. Otherwise plan ahead for the metal, curved benches – bring something comfy to make this tolerable. Some travellers report being woken up by security looking to validate your travel plans. Others report that the terminal is open to the public, with homeless and less savory folks wandering in for some shelter. For a better airport sleeping experience, there are self-service Sleep Pods that rent private beds by the hour, up to 12 hours. Located in Terminal B, Level 3; no advance reservations. Otherwise several hotels are located within a few minutes' drive of the airport. For amenities and locations, see our Berlin Tegel Airport Guide.
These are just a few things to do on a layover at Berlin Tegel Airport. Visit our Berlin Tegel Airport Guide for more information about more services and facilities available, such as food, WiFi, mobile charging, luggage storage, nearby airport hotels, and much more.