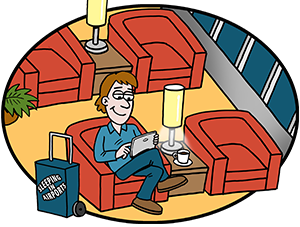 Airport lounges are no longer just for first and business class travellers. That's right, nowadays even if you are flying economy and have absolutely no airline loyalty, you can pay to enter a new style of pay-per-use lounges.
PAY-PER-USE LOUNGES are first class lounges that are open to ALL travellers regardless of airline flown – for a relatively small fee. If you have a layover, a cancelled flight or an early morning check-in or don't have time for breakfast before you leave for the airport, there is good value to be found in some of these lounges.
While all lounges are different, some features that you can expect are:
food (buffet-style meals and/or snacks)
unlimited beverages (including alcohol in some lounges)
WiFi for laptop users and computer workstations for those who do not have a laptop
comfortable seating
showers (great for those of you who have just spent the night in the terminal the night before)
massages (usually for an extra fee)
sleep rooms (not available in all lounges)
In our airport guides, we include lounges that economy class travellers can access by paying at the door, purchasing a lounge pass or joining a lounge membership program.