Whether you have a layover, overnight sleepover or you are just quickly passing through, our Bangkok Don Muang Airport Guide is a great place to start planning your visit.  Here, you'll find information on services and facilities available inside the airport – including details about airport lounges, WiFi, mobile charging points, lockers, 24-hour food options, nearby hotels, and everything in between.
it does get crowded, so good places for sleeping are soon snapped up. – tashore14
DMK Airport Overview
To help you plan your layover or overnight sleepover, here is a quick run-down about what to expect during your time at Bangkok Don Muang Airport (Code: DMK).
What to Expect
As the smaller and older of Bangkok's two airports, Don Muang primarily supports low-cost regional carriers, with Terminal 2 handling domestic flights, and Terminal 1 handling international flights. Terminal 2 has been completely renovated and reportedly provides passengers with smooth check-in and security. Terminal 1 has also been renovated, but can suffer from long immigration line-ups during rush hours (5:00AM – 7:00AM and 3:00PM – 7:00PM) as a result of too many passengers arriving at the same time. Food and services are available both airside and landside, with a few cafes staying open 24 hours. WiFi is available, but access has been reported as being difficult. To enjoy some comfort while you wait for your flight, there are two lounges that sell passes to economy class travellers. See Airport Lounges in the airport guide below for locations and rates.
Sleeping in Don Muang Airport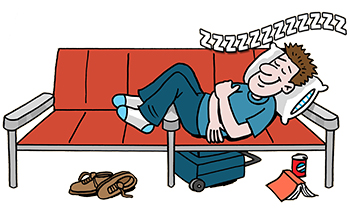 While the terminals can get crowded, travellers report that there are a variety of sleep options. Noise and cold temperatures are the primary complaints, but travellers feel safe and are not bothered by airport staff. The Terminal 2 departures floor has plenty of comfortable seating and floor space, with the observation deck above the departures floor offering darker space. The couches at Burger King have also been identified as a prime sleeping area. Explore our guide to sleeping in Bangkok Don Muang Airport or read some traveller reviews for more tips.  For privacy and comfort, albeit for a price, there is an airport hostel with 25 sleep boxes in Terminal 2. For larger sleeping accommodations, there is a larger deluxe category hotel connected to the airport by walkway, and some nearby airport hotels within a short drive away. See our Airport Hotels section in the airport guide below.
Have you already been to DMK airport?  Write a review and share photos from your own experience.
For more airport information continue scrolling down to explore more in our Don Muang Airport Guide.
Due to the current Covid-19 pandemic, all services and times listed below are subject to change.  In this guide we may refer to locations as "landside" and "airside". Landside is the public area of the terminal located in the non-secure zone, before security. Airside is the secure area of the terminal that you must reach by going through security.
Last updated: 2020-06-16
This guide is for informational purposes only to assist with your planning.  All information, including rates and hours, are subject to change at any time without notice.   The information in this airport guide is based on information collected and/or received from the airports, lounges, hotels, transportation providers and their web sites. We are not representatives of any of the above mentioned service providers. To report errors or to add/update any items mentioned in the guide: update the airport guide or  write a review.