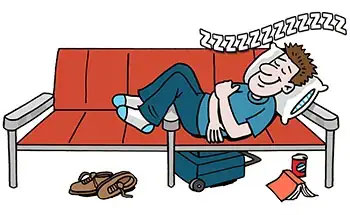 If you're dealing with a long layover or an early morning flight departure at Charlotte Airport, you might be wondering if it is possible to sleep in the airport. Our guide to sleeping in Charlotte airport provides essential information for seasoned airport sleepers and newbies to help travellers arrive prepared for the experience.
We keep this guide up-to-date with the help of airport sleepers who have generously shared their experiences and airport reviews. If you have any tips or photos to contribute, please take a moment to write a review. Your feedback will help us stay informed about the latest advice for future sleepy travellers.
Can I Sleep at Charlotte Airport Overnight?
You can sleep overnight at Charlotte Airport, but we can't promise it'll be the most comfortable or enjoyable experience. According to a 2020 update, if your flight arrives late at night and you have a connecting flight the next day, you can sleep airside. Sleeping airside seems a welcome experience compared to the sleep options landside. 
Regardless of where you sleep, pack an extra layer or two of clothing and a blanket if possible, as the airport can get cold at night.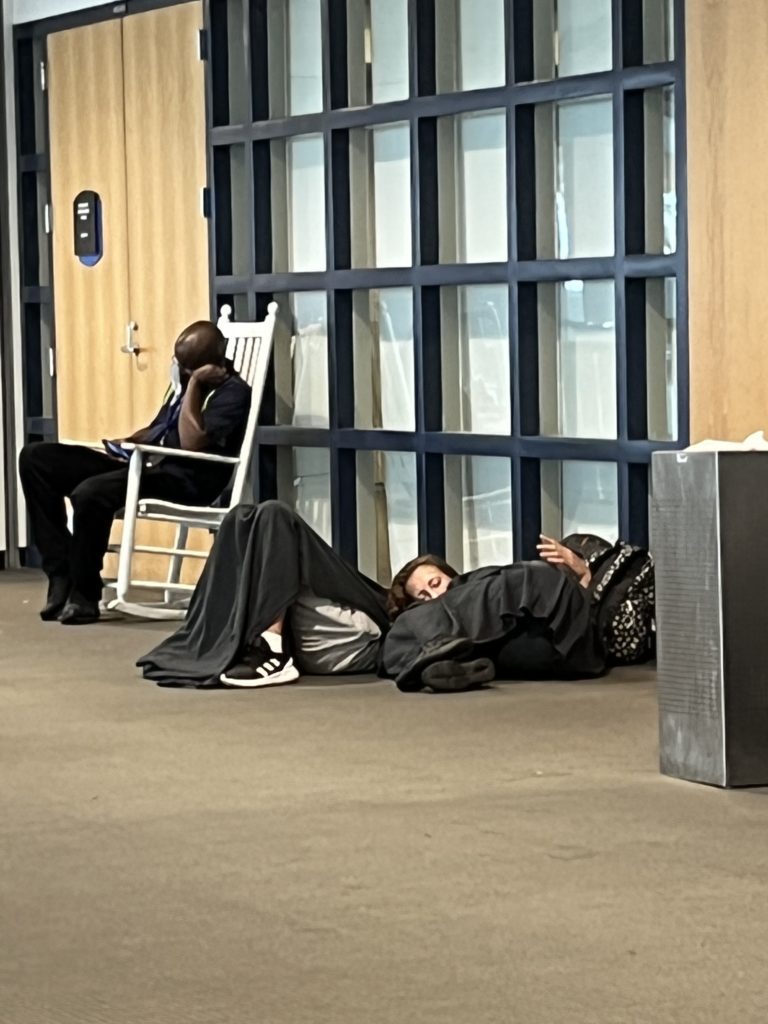 Where Is The Best Place to Sleep in the Airport?
The chairs throughout terminal are by no means sleeper-friendly. Most have armrests, and few other options exist beyond sleeping on the cold, hard floor. 
If you're airside, there are more modern chairs at Gates C12-14. These chairs are padded and have wireless charging, but all have armrests, so they will not be too comfortable for lying down. Most sleepers will need to be prepared to sleep on the floor.  It may not be the most appropriate option, but some travellers have reported sleeping in the Chapel, with long benches and better options. Although still not the most comfortable, they said it was the best option they could find airside. 
Landside, the sleeping options are rougher, with many travellers opting for the floor. It is encouraged to bring a sleeping mat with you to protect you from the cold, hard, thinly carpeted floor.
Many reports have mentioned the airport being dirty, with trash littering the floor. 
Fortunately, there are a couple of designated rest zones.  You will find rocking chairs in the Atrium (landside) and airside Concourses D & E.  
Is There Anything Open 24 Hours?
If you can't sleep and want to pass the time scoping out the airport, you won't have much luck finding late-night dining options. 
From our research, no restaurants or dining options are open 24 hours at Charlotte Airport. There are some vending machines located throughout the airport offering snacks and drinks. It's not recommended that you rely on those, though, so if you know you'll be in the airport overnight, consider purchasing food and snacks before the food concessions close for the night.  You can keep track of the opening hours on the Charlotte Airport website.
Are There Showers Available?
There are showers available in the Minute Suites.  Rates: $20.00 for a 30-minute shower with a suite rental or $30.00 without. Location: Airside, Atrium, which is accessible from all Terminals.
Are There Lounges in Charlotte Airport?
There are a few lounges you can pay to access at Charlotte Airport. These lounges are a good option if you have a long layover during the day and want to guarantee a comfortable seat and refreshments. They are not open overnight. You can learn more about the lounges in the lounge section of our Charlotte Airport Guide. 
Where is The Nearest Airport Hotel at Charlotte Douglas Airport?
If this sleep guide hasn't convinced you to sleep in the airport, there are a few hotel options:
For short naps or overnight sleepovers, you don't have to leave the terminal to use the Minute Suites:
Minute Suites

– 2 locations are now available at the airport. Locations: Airside, in the Atrium (24 hours) • Airside, D/E Connector, near the Food Court (6:00 AM – 10:00 PM). Rates are: US$ 45 (1 hour) and US$ 11.25 each additional 15 minutes until 2 hours • US$ 90 (2 hours) and US$ 8.75 each additional 15 minutes thereafter • US$ 165 (Overnight – 8-hour stay after 8:00 PM). When the suites are full, they rent air mattresses for US$ 40 without a time limit. Pillows and blankets are provided when available. Showers are $30 (non-guest for 30 minutes) or $20 (guest).  
Outside the airport, there are many nearby options with hotel shuttles.  Visit Tripadvisor to see a list of hotels near Charlotte Airport that can be sorted by price, distance, traveller rating and popularity.
Is It Safe to Sleep in Charlotte Airport?
While there have been reports of rude staff, no safety issues have been reported.
Sleeping in any airport can include a certain level of risk, especially when travelling alone. It's important to take certain precautions to ensure your safety and the security of your valuables. Here are a few tips:
Safety First. It's a good idea to know where the security office is located and look for video cameras where you plan to sleep. You can also ask the security personnel for advice on the safest places to spend the night.
Don't Seclude Yourself. If you're travelling alone, we recommend you stay near other travellers or close to security. This will help you feel more secure and deter potential thieves.
Hide Your Valuables. It's also important to hide your valuables. Don't leave them out in plain view, as this could make you a target for theft. Additionally, if you are a deep sleeper, you may want to padlock your bag to something or sleep with your bag up against a wall to make it harder for someone to access zippers and pockets. We have received reports of sleepers who woke up without their phones and laptop bags. The travellers were left with just their headphones and laptop bag strap.
Stay Alert. It's best to stay alert and awake if you feel unsafe or uncomfortable. Drink coffee or other caffeinated beverages to help you stay awake, and remember that you can always catch up on sleep during your flight. These simple precautions can help you enjoy a safe night at the airport.
Write a Review
To help us keep this page up-to-date for future airport sleepers, write a review about your experience sleeping in CLT Airport.
Airport Photo Gallery
Thank you to the airport sleepers who have written reviews and shared their airport photos to help future travellers. Click here to add your airport photos.