Whether you have a layover, overnight sleepover or are just quickly passing through, our Atlanta Airport Guide is a great place to start planning your visit.  Here, you'll find information on services and facilities available inside the airport – including details about airport lounges, WiFi, mobile charging points, lockers, 24-hour food options, nearby hotels, and everything in between.
The weirdest part of the night was when a random airport employee came up and threw a blanket at me. It hit me hard enough that it woke me up with a start. – djphob
ATL Airport Overview
To help you plan your layover or overnight sleepover, here is a quick run-down about what to expect during your time at Hartsfield–Jackson Atlanta International Airport.
What to Expect
Atlanta Airport (Code: ATL) is one of the world's largest travel hubs. This massive and busy airport has two terminals (domestic and international), with seven concourses (A, B, C, D, E, F and T). A – D and T serve domestic flights, while E and F generally serve international flights. The airport is inter-connected by the underground Plane Train and a pedestrian tunnel with moving walkways.
The airport has a pleasant atrium and decent shopping and dining options, none of which are open 24/7. While unlimited free WiFi is available, mobile charging is said to be hard to find depending on which concourse you are using. For those looking for a little added comfort, there are first-class lounges – one of which has showers – that economy-class passengers can pay to access. See Airport Lounges in the guide below for locations and rates.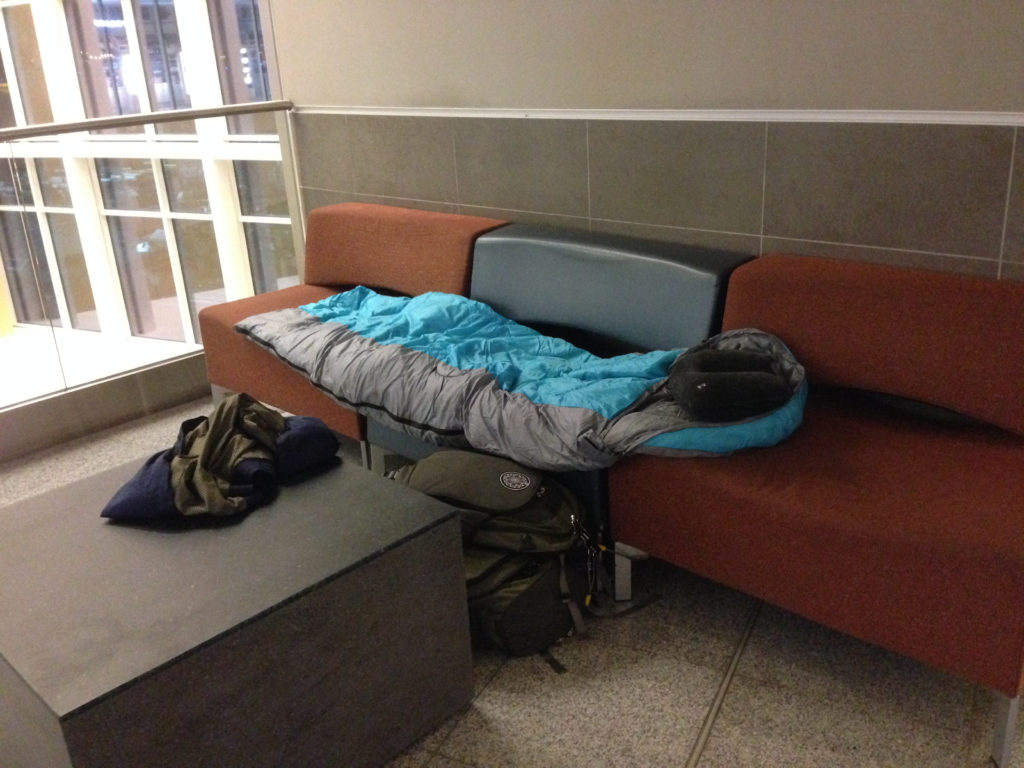 Sleeping in Atlanta Airport
The most comfortable places to sleep at Atlanta Airport seem to be located airside, in Concourses E and F, and the International Terminal. Here, there are comfortable loveseats and chairs that you can push together to make pseudo-beds. The terminals seem to tend to be bright, noisy and cold overnight. It's best to come prepared with a sleep mask, noise-cancelling headphones or earplugs, and some warm layers. It's also worth asking airport staff about blanket availability – a few sleepers have scored some in the past. Landside, there are reports of homeless people sleeping in the airport at night. Explore our guide to sleeping in Atlanta Airport or read traveller reviews for more tips. And if all of this just doesn't sound like an experience you would like to have (and you don't mind paying for comfort and privacy), Minute Suites rents sleep cabins by the hour in Concourses B and T. There is also a hotel inside the airport and several nearby hotels that provide shuttles.   See Airport Hotels in the guide below for more information.
To help us keep this guide up-to-date, you can add or update information or write a review to submit airport tips and photos. You can also visit the airport's website for current information. For more airport information, continue scrolling down to explore more in our Atlanta Airport Guide.
In this guide we may refer to locations as "landside" and "airside". Landside is the public area of the terminal located in the non-secure zone, before security. Airside is the secure area of the terminal that you must reach by going through security.  For more information on Europe's Schengen Area, click here.
Airport Lounges
Pay-per-use, Single Visit Passes & Lounge Memberships
Regardless of what class of service you are flying, there are lounges that you can enter by paying at the door, purchasing a lounge pass or through a lounge membership program. Visit the individual lounge page for more details about the lounge itself and to also find out how you can gain lounge access with just an economy class ticket!
The Club at ATL – Location: Airside, International Terminal, Mezzanine Level, Concourse F.  This lounge is available to all travellers no matter what class of service or airline. Showers and a designated rest zone are available. Lounge Access: Pay at the Door • Prepaid lounge pass • Lounge membership programs.
American Airlines Admirals Club – Location: Concourse T, across from gate T11. Lounge Access: Pay at the Door with proof of American Airlines ticket • Lounge membership programs.
United Club – Location: Airside, Concourse T, between Gates T11 and &12. Lounge Access: Pay at the Door with proof of United Airlines ticket • United Club Membership.
Airline Lounges
Delta Sky Club – Multiple Locations – (2) Concourse A, (1) Concourse B, (1) Concourse C, (2) Concourse D, (1) Concourse E, (1) Concourse F, (1) Concourse T.
Military Lounge
USO Lounge – The USO offers a lounge that is free of charge to active members of the US military and their families. Location: 2rd floor of the airport atrium, between North and South Baggage Claim areas.
Related Pages: Atlanta Airport Lounges
Atlanta Airport Hotels, Sleep Pods & Day Rooms
Quick Facts
Nearest Hotel:  Inside the Airport
Sleep Cabins & Pods: Yes
Day Rooms: Yes
Nearby Hotels with Free Shuttles: Yes
When the prospect of sleeping on the floor or in a chair gives you nightmares, there is good news for those who are looking to sleep at Atlanta Airport in comfort.   If you are on a layover, you may not have to go through security as there is a micro-hotel inside the terminal on the airside that offers both short-term and overnight rates.  Most nearby hotels are accessible by ATL SkyTrain or provide free airport shuttles.
Minute Suites – Located in Concourse B at Gate B16, Minute Suites provides private suites for travellers needing to relax, work, or sleep during a layover or flight delay. Each suite has a daybed with fresh pillows and sheets, DIRECTv, WIFI, a sound-masking system, and a "nap audio" program. Here are the rates as of August 2023: US$ 48 (1 hour) and US$ 12.00 each additional 15 minutes until 2 hours • US$ 96 (2 hours) and US$ 9.50 each additional 15 minutes thereafter • US$ 175 (Overnight – 8 hours, after 9:00 PM). Showers are $30 (non-guest for 30 minutes) or $20 (guest). Pre-covid, when the suites were full, they also rented air mattresses. If this information is incorrect, click here to update this guide.   » Check Rates
Hotels at the airport
Atlanta Airport Marriott Gateway – Access via a free 2-minute ride on the ATL SkyTrain, which stops right in front of the hotel.  » Check Rates
Springhill Suites Atlanta Airport Gateway – Access via a free 2-minute ride on the ATL SkyTrain.  » Check Rates
Renaissance Concourse Atlanta Airport Hotel – Free airport shuttle is available (Only from domestic terminals).  » Check Rates
For more options, visit Tripadvisor to see a list of hotels near Atlanta Airport that can be sorted by price, distance, traveller rating and popularity.
Airport WiFi / Internet and Mobile Charging
WiFi
Free unlimited WiFi is available at Atlanta Airport. Connect to the "ATL Free Wi-Fi" network.
Mobile Charging
You can charge your mobile devices at one of these locations:
Fuel Rod Chargers (reusable, portable charging systems) are available. Locations: E Centerpoint • F10 • F Ticketing.
Delta offers seat chargers. Locations: A10 • B Centerpoint • C40 • D28 • E Centerpoint • F6.
Airport Services, Facilities & Things To Do On A Layover
Airport Art Program –  The airport offers rotating exhibits of paintings, photographs and sculptures in addition to the permanent art on display. For its music series, musicians perform concerts in the Atrium.
Duty-Free & Shopping – Duty-Free Americas offers duty-free shopping in 2 locations (E Centerpoint and F).
Family Services
Baby Care Facilities – The airport has opened nursing room pods for mothers to breastfeed in private. The pods include a small bench, a changing table and electrical outlets. Locations: Domestic Terminal West Crossover • Airside, near Gates T3, T13, A10, A34, B2, B25, C Centerpoint, D Centerpoint, E Centerpoint F5 and F arrivals.
Children's Play Area – At the time of this update, we did not have any info about play area locations. If you know, click here.
Food & Drinks – Food concessions throughout the airport operate with varying schedules. The only 24-hour food and drink options are limited to vending machines scattered throughout all concourses. Hopefully, better options will re-open in the future.
Information Desk – Have any questions? An Information Desk is available. Location: Atrium NW. Hours: 24 hours. Additionally, there are Guest Service Representatives throughout the airport to provide assistance!
Luggage
Baggage Carts – Need a hand with your luggage? Baggage carts (Smarte Carte) are available for a fee. Locations: Atrium NE • Atrium SW • T North Terminal • T South Terminal.
Luggage Storage & Lockers – Not available.
Medical Services – Defibrillators are available throughout the airport, and you can always seek airport staff for assistance.
Mobile Charging – see "Airport WiFi / Internet and Mobile Charging" above.
Money
ATMs / Cash Machines – Need cash? ATMs are available. Fees may apply, so check your bank's fee schedule and daily withdrawal limit if you travel internationally. You may also want to notify your bank of your travel plans. Locations: Landside and Airside.
Currency Exchange – Travelex used to offer foreign currency services at several locations in the airport.
Pet Relief Areas – Travelling with a 4-legged companion? The airport has Pet Relief Areas in every concourse near Gates T7, A10, B33, C17, E15, F7, and the D-Midpoint. The public area has a pet relief area in the International Terminal arrivals area and a 1,000 sq. ft. dog park in the Domestic Terminal South Ground Transportation area, outside doors W1 and W2. An extra pet relief area can be found on the arrivals level of the International Terminal, outside door A1.
Prayer  – ATL airport has prayer rooms and an interfaith chapel with Catholic, Christian and Muslim services. Locations: Domestic Terminal Chapel, Atrium, Landside, 3rd Floor • Concourse E Chapel, Airside, behind Martin Luther King Jr. Exhibit • Concourse F Chapel, Airside, International Atrium, 2nd Floor. Hours: 24 hours.
Rest & Relaxation
Showers – Showers are available in the Club at ATL. (See Airport Lounges above)
SIM Cards – A reader, Karen P, says, "The InMotion stores landside (Atrium) and airside have SIM cards intermittently. The cheapest one was $60 for 12 GB last I checked. Make sure they don't charge your card until you know the SIM works on your phone. In my experience, not all clerks know how to activate them. Also, there is a red vending machine with SIM cards near F10. It accepts cards and bills up to $20 but does not make change."
Smoking – A reader let us know that smoking areas are no longer available past the main security point. The only places you can smoke now are in designated smoking areas at the front of the airport. (January 2020)
Spa – XpresSpa offers spa services. Locations: Terminal A, A Centerpoint (Hours: 8:00 AM – 6:00 PM) • Terminal C, across from gate C 37 (Hours: 10:00 AM – 8:00 PM) • Terminal D, D 26 (Hours: 8:00 AM – 6:00 PM) • Terminal E (Hours: 8:00 AM – 6:00 PM).
WiFi – see "Airport WiFi / Internet and Mobile Charging" above.
Related Pages: Things to do on  a layover at Atlanta Airport
Airport Hours
The airport is open 24 hours.
Keep in mind that TSA, airline check-in and baggage drop hours vary according to the flight schedule. Check these hours with your airline. If you are in the public area (landside) you will not be able to get through to the secure area (airside) until the morning.
Airlines
Atlanta Airport is served by the following airlines: Air Canada • Air France • Alaska Airlines • American Airlines • Boutique Airlines • British Airways • Copa Airlines • Delta Air Lines • Frontier Airlines • JetBlue Airways • KLM • Korean Air • Lufthansa • Qatar Airways • Southwest Airlines • Spirit Airlines • Turkish Airlines • United Airline • Virgin Atlantic • WestJet.
Airport Transportation: Getting To/From The Airport
Bus
MARTA bus 191 is currently the only local bus route serving the airport, making stops on the way to and from Clayton County Justice Center. Hours of service are from 5:13 AM – 12:33 AM (weekdays) • 6:33 AM – 12:33 AM (Sat) • 7:03 AM – 12:03 AM (Sun). For schedules, bus stop locations and fares, go to the MARTA website.
Greyhound Flightlink offers easy transfers between flights and regional bus services. Located on the lower level of the north end of the International Terminal, Greyhound Flightlink bus station is served by Greyhound buses travelling as far north as Richmond (Virginia) and as far south as Miami.
Car Rentals
Onsite car rental pickups and returns are handled at the Rental Car Center, a separate facility located on airport property. The Rental Car Center is just minutes away from the terminals via ATL SkyTrain and also accessible via service road for those travelling to the location by vehicle. The following agencies serve the Rental Car Center: Advantage • Airport Rent A Car • Alamo • Avis • Budget • Dollar • Enterprise • Hertz • National • Payless • Sixt • Thrifty. Visit our travel partner at Tripadvisor to search for car rental deals.
Hotel Shuttles
Many hotels near Atlanta Airport provide airport shuttle service:  AC Hotel by Marriott Atlanta Airport Gateway  •   Marriott Gateway  •  Comfort Inn  • Country Inn & Suites By Radisson  •  Days Inn by Wyndham College Park Airport Best Road  • Drury Inn & Suites   •  Embassy Suites by Hilton  •   Hampton Inn & Suites    •   Hilton Hotel   •  Hilton Garden Inn (North)  •   Holiday Inn & Suites (North)   •   Home2 Suites by Hilton  • Homewood Suites by Hilton   •  Hotel Indigo Atlanta Airport – College Park  •  Howard Johnson by Wyndham   •  Hyatt Place (South)   •  La Quinta Inn & Suites by Wyndham (South)  •   La Quinta Inn & Suites by Wyndham (North)  •  Radisson Hotel   •  Sonesta Atlanta Airport (North)  •  Sonesta Atlanta Airport (South).
These shuttles stop outside on the Purple Aisle at the Ground Transportation area west curb, located between the Domestic Terminal's north and south sides. Passengers coming from the International Terminal can access the Ground Transportation area via a free airport complex shuttle bus. Many hotels can be contacted using courtesy phones located in the baggage claim area and at the Ground Transportation area.
See also Airport Hotels above.
Inter-Terminal Transportation
The ATL SkyTrain connects the terminal to ATL West Parking Deck • Georgia International Convention Center (GICC) • Gateway Center Arena •  Atlanta Airport Marriott Gateway • AC Hotel by Marriott Atlanta Airport Gateway • SpringHill Suites Atlanta Airport Gateway • Renaissance Atlanta Airport Gateway Hotel.
For terminal-to-terminal transportation, shuttles connect the terminals and the Rental Car Center. Use Doors W-1 or W-2 to the Ground Transportation Center/West Curb from the Domestic Terminal and from the Arrivals Level. From the International Terminal, from the Arrivals Level and Exit Doors A-1 or A-2. From the Rental Car Centre, pickups are from the Lower Level curb.
Rideshare
Uber and Lyft pickup from the North Economy Lot (Domestic Terminal) and Arrival Level outer curb (International Terminal). A ride to the city centre will cost you from $20 to $30.
Shared Ride Shuttles
ATL Airport offers several companies providing door-to-door shared ride service between the airport and local destinations, regional destinations and out-of-state service. At the time of this update, an estimated fare downtown will cost $16.50.
Taxi
Taxis in the Domestic Terminal are located in the Ground Transportation Centre, between door W1 and W2. Those in the International Terminal can be found on the arrivals level, outside door A1. Yellow Bus aisle. Taxis are metered, but offer a special flat rate for rides between the airport and the central business district. At the time of this update, the flat rate fare for a ride between the airport and Downtown is $36. In addition, there is a flag drop fee of $1.50 and a $2 charge per additional rider.
Train
Passengers can travel between the airport and the city using the MARTA rapid transit commuter rail system. Airport Station, the terminus for both Red and Gold MARTA lines, is located at the end of the Domestic Terminal. For schedules, routes and fare information, go to the MARTA website.
Photo Gallery
To share your photos of Atlanta Airport, write a review or click here to send us an update:
Last updated: 2023-09-08
This guide is for informational purposes only to assist with your planning.  All information, including rates and hours, is subject to change at any time without notice.   The information in this airport guide is based on information collected and/or received from the airports, lounges, hotels, transportation providers, and their websites. We are not representatives of any of the above-mentioned service providers. To report errors or to add/update any items mentioned in the guide: update the airport guide or  write a review.