Whether you have a layover, overnight sleepover or you are just quickly passing through, our Austin Airport Guide is a great place to start planning your visit. Here, you'll find information on services and facilities available inside the airport – including details about airport lounges, WiFi, mobile charging points, lockers, 24-hour food options, nearby hotels, and everything in between.
Around midnight they kicked everyone sleeping out of our comfy Southwest Airlines chairs (leather, nice!) and I found the mezzanine the perfect sleeping spot! – defiant
AUS Airport Overview
To help you plan your layover or overnight sleepover, here is a quick run-down about what to expect during your time at Austin-Bergstrom Airport.
What to Expect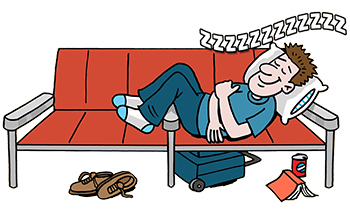 Austin Airport (code: AUS) consists of two terminals: the main Barbara Jordan Terminal, serving all major airlines, and the new, smaller South Terminal, serving Allegiant Air, Frontier Airlines, and Red Way. The two terminals are connected by a shuttle bus that must fully exit the airport grounds in order to travel between terminals, taking about 15-20 minutes.
The Barbara Jordan Terminal offers a good range of services and amenities. Given that it serves the "Live Music Capital of the World", it's fitting that there is a live music stage, featuring local talent. Travellers can expect a variety of shopping and dining options, mobile charging, and free WiFi. All shops and restaurants close overnight, so it's worth purchasing drinks and snacks for later as the vending machines leave something to be desired. The South Terminal, while much more basic, does have an airside outdoor patio area with a food truck and plenty of seating – the first post-security outdoor area in Texas! Indoors, you'll find free WiFi, charging stations and a few grab and go snacks. For those looking for a little added comfort, there are first class lounges in the Barbara Jordan Terminal that economy class passengers can pay to access. See Airport Lounges below for locations and rates.
Sleeping in Austin Airport
Austin Airport isn't the most sleep-friendly place. In the Barbara Jordan Terminal, only travellers with a late flight connecting to an early morning departure may be permitted to sleep airside. Everyone else will be moved landside when the security checkpoints close. If you are permitted to sleep airside – or you're just looking for a comfortable place to relax – the best spot seems to be all the way down the terminal at the last gates. According to a 2023 reviewer, here you should find a few wide and comfy benches. Another option is the Southwest and Delta area featuring bluish chairs which may be very comfortable when pushed together. Several reviewers also mentioned the airside mezzanine. Explore our guide to sleeping in Austin Airport or read some traveller airport reviews for more tips.
For uninterrupted sleep there is a hotel directly connected to the airport, and others nearby that are connected by shuttles. See Airport Hotels in the guide below.
To help us keep this guide up-to-date, you can add or update information or write a review to submit airport tips and photos. You can also visit the airport's website for current information.  For more airport information continue scrolling down to explore more in our Austin Airport Guide.
In this guide we may refer to locations as "landside" and "airside". Landside is the public area of the terminal located in the non-secure zone, before security. Airside is the secure area of the terminal that you must reach by going through security.  For more information on Europe's Schengen Area, click here.
Airport Lounges
Pay-per-use, Single Visit Passes & Lounge Memberships
Regardless of what class of service you are flying, there are lounges that you can enter by paying at the door or through a lounge membership program. Visit the individual lounge page for more details about the lounge itself and to also find out how you can gain lounge access with just an economy class ticket!
American Airlines Admirals Club – Location: across from Gate 22. Lounge Access: Pay at the Door with proof of American Airlines ticket • Lounge membership programs.
Delta Sky Club – Location: Main Terminal, Airside, near Gates 2 and 4. Lounge Access: Lounge membership programs.
United Club – Location: Airside, West Concourse, Mezzanine Level, across from Gate 22. Lounge Access: Pay at the Door with proof of United Airlines ticket • United Club Membership.
Related Pages: Austin Airport Lounges
Airport Hotels
If sleeping in the airport sounds like a nightmare, there are hotels near Austin Airport that provide free airport shuttles:
For more options, visit Tripadvisor to see a list of hotels near Austin Airport that can be sorted by price, distance, traveller rating and popularity.
Airport WiFi / Internet
Free WiFi is available at Austin Airport for 4 hours through Boingo.  If you need more than 4 hours, choose the "AUS free Wi-Fi" option again.
More Services, Facilities & Things To Do On A Layover At The Airport
Art in the Airport – Works from local artists are on display throughout the terminal. In addition, check out some of the best local musicians that Austin has to offer! Live music acts perform live on stage in several gates in the secure zone Monday through Friday, usually from 3:00PM – 5:00PM.
ATMs / Cash Machines – Need cash? ATMs, operated by Bank of America, are available. Fees may apply, so be sure to check your bank's fee schedule and your daily withdrawal limit if you are travelling internationally. You may also want to notify your bank of your travel plans. Locations: Landside • Airside in the Barbara Jordan Terminal. There are no ATMs in the South Terminal.
Baby Care Facilities – Mamava Lactation Suite private room for nursing/pumping breast-milk with two bench seats, small fold-down table, power and USB outlets, mirror, door for privacy. Free access for parents. Location: Barbara Jordan Terminal, near Gate 22.
Courtesy Phones – Courtesy phones are available for local calls only. Location: Barbara Jordan Terminal, Baggage Claim, next to Information Desk.
Currency Exchange – Unknown. If you know, click here to update this airport guide.
Drinking Water – Thirsty? Water bottle refill stations are available free of charge. Before clearing customs you can empty your water bottles in the supplied containers and refill your bottles Airside. Locations: Barbara Jordan Terminal: Airside, Gates 9,11,14,17,21,25. South Terminal: Gate 1,2; near Check-in area and Arrivals.
Food & Drinks
Barbara Jordan Terminal: Food concessions (both landside and airside) throughout the airport operate on varying schedules, with some open as early as 4:30AM. At the time of this update, there are no 24-hour dining options. Vending machines are available in the Baggage Claim Area, near Carousels 1 and 5.
South Terminal: Offers one taco truck located on the outdoor patio. Vending machines are available near the Arrival Gate and Check-in area.
Information Desk – The airport's Visitor Information Centers offer maps, directions, information on ground transportation, and more. You can also seek the assistance of a friendly Ambassador Volunteer with questions about airport amenities and services. Visitor Information Centers are located in the Barbara Jordan Terminal, Baggage Claim area, near Carousels 3 and 5.
Live Music – Local musicians perform in several venues around the terminal (Monday – Friday).
Luggage Storage & Lockers – Not available.
Massages – Not available
Mobile Charging – Several charging stations can be found in both terminals.
Observation Deck – Watch planes take off and land from the Family Viewing Area, an outdoor observation area with paved parking and picnic tables. Mornings are the best time for taking photographs! Location: Adjacent to the runway, just east of the airport entrance.
Postal Services – Drop off your last minute postcards at the airport's mailbox. A FedEx drop box is also available. Location: Outside the Barbara Jordan Terminal.
Rest Zones – There are no dedicated sleeping areas, quiet areas or rest zones. If this information has changed, click here to update this guide.
Shopping – Books, newspapers, cosmetics, electronics, souvenirs, and more are available for purchase from retail shops and kiosks located throughout the Barbara Jordan Terminal.
Showers – Not available.
SIM Cards – A reader has asked us to include where to buy SIM Cards. If you know, click here to update this airport guide.
Airport Hours
The airport is open 24 hours. The TSA security checkpoints are open from approx. 3:30AM – 8:30PM (unconfirmed during our July 2023 update).
Keep in mind that airline check-in and baggage drop hours vary according to the flight schedule. Check these hours with your airline. If you are in the public area of the terminal (landside) you will not be able to get through to the secure area of the terminal (airside) until the morning. However, if you have arrived on a late flight, you are able to stay in the secure area of the airport without having to pass through to the public area.
Airlines
Austin airport is served by the following airlines: Aeroméxico • Air Canada • Alaska Airlines • American Airlines • British Airways • Copa Airlines • Delta Air Lines • Hawaiian Airlines • Jetblue Airways • JSX Airline • Lufthansa • Southwest Airlines • Spirit Airlines • Sun Country Airlines • United Airlines • Vacation Express • Virgin Atlantic • WestJet.
Airport Transportation: Getting To/From The Airport
Bus
Bus No 20, operated by CapMetro, connects the airport to downtown. A trip lasts about 50 minutes. For fares, routes and schedules, visit the Capmetro website.
Car Rentals
The following companies provide onsite car rentals: Advantage • Avis • Budget • Dollar • Enterprise • Fox • Hertz • National • Payless • Thrifty. Visit our travel partner at Tripadvisor to search for car rental deals.
Hotel Shuttles
Several area hotels provide airport shuttle service: Best Western Plus Austin Airport Inn & Suites   •  Candlewood Suites Austin Airport  •  Comfort Suites Austin Airport   •   Courtyard by Marriott Austin Airport   •   Hampton Inn & Suites Austin – Airport   •   Hilton Austin Airport   •  Hilton Garden Inn Austin Airport  •  Holiday Inn Austin Airport, an IHG Hotel  •   Holiday Inn Express & Suites Austin Airport  •   Hyatt Place Austin Airport  •   Microtel Inn & Suites by Wyndham Austin Airport   •   Staybridge Suites Austin Airport   •  Tru by Hilton Austin Airport.
Hotel shuttles pick up on the Upper Level (Ticketing/Departures). Contact your hotel of choice for shuttle service availability and information.
See also Airport Hotels above.
Rideshare
Pick-ups can be booked via the Lyft, Uber, Earth Ride, Wridz and Wingz rideshare apps. Prices to downtown range from $25 to $30.
Shared Ride Shuttle
Carter Transportation and Airport Transportation provide door-to-door shared ride or private ride service between the airport and the Austin metropolitan area.
Taxi
At the time of this update, ATX Co-Op, Central City Taxi, Z-Trip, and Homeland Austin Taxi provide taxi services. Prices range from $20 to $30.
Last updated: 2023-07-31
This guide is for informational purposes only to assist with your planning.  All information, including rates and hours, is subject to change at any time without notice.   The information in this airport guide is based on information collected and/or received from the airports, lounges, hotels, transportation providers, and their websites. We are not representatives of any of the above-mentioned service providers. To report errors or to add/update any items mentioned in the guide: update the airport guide or  write a review.