Whether you have a layover, overnight sleepover or are just quickly passing through, our Bangalore Airport Guide is a great place to start planning your visit.  Here, you'll find information on services and facilities available inside the airport – including details about airport lounges, WiFi, mobile charging points, lockers, 24-hour food options, nearby hotels, and everything in between.
The new Bengaluru airport is a nice thing to happen at last! – maddalam
BLR Airport Overview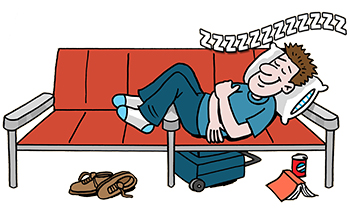 To help you plan your layover or overnight sleepover, here is a quick run-down about what to expect during your time at Bangalore Bengaluru Kempegowda Airport (Code: BLR).
What to Expect
Bangalore Airport (code: BLR) consists of two terminals. Terminal 1 will only handle domestic flights from September 1, 2023, while the newly built Terminal 2 will operate all international flights. Both terminals feature a broad selection of dining options, shops, and duty-free shopping. Some airside dining offers 24-hour service, while the WiFi may be your only saving grace to help pass the time. For additional comforts, economy-class passengers can pay to access one of the airport's private lounges. See Airport Lounges in the guide below for locations and rates.
Sleeping in Bangalore Airport
The landside area of Terminal 1 is home to a few metal poolside deck-style seats, your best option for a nap. On the ground level, you will also find metal-armed row chairs. Keep in mind that the terminal can be cold and that there seem to be no power outlets. For uninterrupted sleep, there are sleep pods in the Terminal 1 Arrivals area near Gate 13 and several other hotels within a quick shuttle ride of the airport. See Airport Hotels in the guide below or read traveller reviews for more tips.
Unfortunately, we still don't have reviews on the newly built Terminal 2. To help us keep this guide up-to-date, you can add or update information or write a review to submit airport tips and photos. You can also visit the airport's website for current information. For more airport information, continue scrolling down to explore more in our Bangalore Airport Guide.
In this guide we may refer to locations as "landside" and "airside". Landside is the public area of the terminal located in the non-secure zone, before security. Airside is the secure area of the terminal that you must reach by going through security.  For more information on Europe's Schengen Area, click here.
Airport Lounges
Pay-per-use, Single Visit Passes & Lounge Memberships
Regardless of what class of service you are flying, there are lounges that you can enter by paying at the door, purchasing a lounge pass or through a lounge membership program. Visit the individual lounge page for more details about the lounge itself and to also find out how you can gain lounge access with just an economy class ticket!
080 Domestic Lounge – Location: Terminal 1, Airside, Level 2 (entry located on Level 1, opposite to gate 11-14)., Hours: open 24 hours. Lounge Access: Pay at the Door • Prepaid lounge passes • Lounge membership programs.
080 International Lounge – Location: Terminal 1, Airside, International Departures, Level 1, near Gate 18. Hours: open 24 hours. Lounge Access: Pay at the Door • Prepaid lounge passes • Lounge membership programs.
080 Domestic Lounge: Terminal 2, Level 4. Hours: you can stay a maximum of 2 hours. Lounge Access: Pay at the Door.
Airline Lounges
At one point Air India had a lounge in Terminal 1 and used the Oberoi Lounge in Terminal 2 for their First/Business/Elite Status passengers. If you know whether this is still the case, click here to update the guide.
Related Pages: Bangalore Airport Lounges
Airport Hotels & Sleep Pods
If sleeping in Bangalore airport sounds like a nightmare, there are a transit hotel and sleep pods inside the terminal:
Sleep Pods – Temporarily Closed – 

Aviserv has a sleep lounge equipped with sleep capsules for sleepy travellers to get some zzzz's. Location: exact location is unknown.  Check the nearest Information Desk.

080 Transit Hotel – We don't have a lot of information, but apparently the hotel has rooms available for 3, 6 or 24 hour durations.
For more options, visit Tripadvisor to see a list of hotels near Bangalore Airport that can be sorted by price, distance, traveller rating and popularity.
Airport WiFi/Internet
Free WiFi is available at Bengaluru Kempegowda airport for 1 hour. Connect to the "BLR Airport" network. After registering, a password will be sent to your mobile phone.
More Services, Facilities & Things To Do On A Layover At The Airport
Arts – There are numerous works of art displayed throughout the terminal.
ATMs / Cash Machines – Need cash? ATMs are available. Fees may apply, so be sure to check your bank's fee schedule and your daily withdrawal limit if you are travelling internationally. You may also want to notify your bank of your travel plans. Location: Arrivals Halls and Curbside.
Baby Care Facilities – At one point, there were baby care rooms for breastfeeding and diaper-changing. Locations: Domestic Terminal, Airside, behind Mithastop • Domestic Terminal, Airside, at four designated locations • International Terminal, Airside, next to main shopping hall • International Terminal, Airside, across from Gate 25. We were unable to confirm this at the time of our August 2023 update. If you know whether they are still there, click here to update the guide.
Buggy Service – A complimentary buggy service is available for Senior citizens, expectant mothers and passengers with reduced mobility.
Business Center – A business centre used to be located in the Domestic Terminal, near the Above Ground Lounge. We were unable to confirm this at the time of our July 2023 update. If you know if it's still there, please click here to update our guide.
Currency Exchange – Thomas Cook Ltd provides six outlets in Terminal 1 – three each at Arrivals and Departures areas. Hours: Unknown.
Drinking Water – Thirsty? Water fountains can be found beside most of the washroom facilities.
Duty Free & Shopping – Duty-free shopping is available in multiple locations in Terminal 1. A variety of retail shops are available in both International and Domestic Terminals.
Food & Drinks – Food concessions throughout both terminals with varying schedules. These options are open 24 hours:
Domestic Terminal

: Aubree • Bar 380 • Barley & Grape Cafe • Bharti Jalpan • Belgian Fries Company • Bira 91 • Cafe Coffee Day • Chai Point • GoPizza • Hatti Kaapi • Kebab & Kurry Nation • Krispy Kreme • La Tapenade Mediterranean Café• Ooru Canteen • Street Foods by Punjab Grill • Shaka Harry • Starbucks • Subway • Third Wave Coffee.

International Terminal, Airside

: Bar 380 • Jones Rockets • Third Wave Coffee.
Luggage Storage & Lockers – Luggage can be stored for up to five days at the Left Luggage storage facility in the airport. Arrival or departure details (including boarding pass) passport or other identity document, copy of flight ticket or boarding pass, telephone number, and local and international address required. Rates start at Rs. 250 per standard-sized piece of luggage for 6 hours; Rs. 1,000 for 24 hours. Higher rates apply for oversized luggage. Location: unknown Hours: unknown.
Luggage Wrapping – At one point, bags wrapping services were available in the airport terminals. We were unable to confirm this at the time of our July 2023 update. If you know whether they are still there, click here to update the guide.
Medical Services – The Aster Medical Centre can also be found adjacent to Terminal 1. The airport also features two Aster Medical Clinics. Locations: Terminal 1, Level 1 • Terminal 2, near Arrival exit gates.
Mobile Charging – Power sockets seem to be available in both terminals. Please click here to update our guide if your experience was different.
Pharmacy – Domestic Terminal, beside the Relay Convenience Store. Hours: open 24/7.
Porter – Available for a fee.
Prayer Room – Prayer rooms are available to passengers in both terminals. Locations: International Departures, near the Relay News Shop • Domestic Departures, Level 2, near the BLR Lounge.
Rest Zones – There are no dedicated sleeping areas, quiet areas or rest zones. If this information has changed, click here to update this guide.
Showers – Showers are available in the Plaza Premium Lounge [ see Airport Lounges above ].
SIM Cards – A reader has asked us to include where to buy SIM Cards. If you know, click here to update this airport guide.
Smoking – There are designated smoking rooms available. Locations: International Terminal, Airside • Domestic Terminal, Airside.
Airport Hours
The airport is open 24 hours.
Airlines
BLR airport is served by the following airlines: Air Arabia • Air Asia • Air France • Air India • Air India Express • Akasa Air • British Airways • Cathay Pacific • Emirates • Ethiopian Airlines • Etihad Airways • GoFirst • Gulf Air • IndiGo • Japan Airlines • KLM • Kuwait Airways • Lufthansa • Malaysia Airlines • Malindo Air • Nepal Airlines • Oman Air • Qantas • Qatar Airways • Saudia Airlines • Singapore Airlines • SpiceJet • Sri Lankan Airlines • Star Air • Thai AirAsia • Thai Airways • Vistara.
Airport Transportation: Getting To/From The Airport
Bus
Flybus provides service from the airport to Karnataka and other Southern Indian states. For more information, visit the Flybus website.
Vayu Vajra is a bus service that connects the airport to Bangalore City via eleven different routes. More information about schedules, fares and routes can be found here.
Car Rentals
WTi cabs and Carzonrent offer car rental services onsite.
Hotel Shuttles
At the time of this update we were able to find only one hotel offering airport shuttle service:  Gateway Suites.
See Airport Hotels above.
Taxi
MegaCabs is the official taxi service provider for the airport, providing safe and easy transportation to the Bangalore city area. Passengers can opt for non air-conditioned service or pay a slightly higher fare for an air-conditioned taxi. Pink taxis driven by women are also available for all female travellers. BLR airport provides a suggested rate chart for planning purposes. See the Bengaluru Airport website.
Last updated: 2023-08-15
This guide is for informational purposes only to assist with your planning.  All information, including rates and hours, is subject to change at any time without notice.   The information in this airport guide is based on information collected and/or received from the airports, lounges, hotels, transportation providers, and their websites. We are not representatives of any of the above-mentioned service providers. To report errors or to add/update any items mentioned in the guide: update the airport guide or  write a review.