Whether you have a layover, overnight sleepover or you are just quickly passing through, our Belgrade Airport Guide is a great place to start planning your visit.  Here, you'll find information on services and facilities available inside the airport – including details about airport lounges, WiFi, mobile charging points, lockers, 24-hour food options, nearby hotels, and everything in between.
I was woken up by a security guard asking if I was sick since i was sleeping there. I said "no, I'm just tired" and he ordered me to stand up and move away from the area. -elsebeth
BEG Airport Overview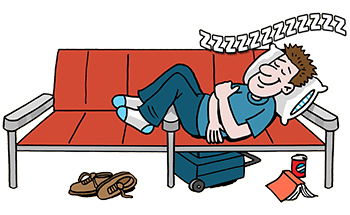 To help you plan your layover or overnight sleepover, here is a quick run-down about what to expect during your time at Belgrade Nikola Tesla Airport.
What to Expect
Belgrade Airport (code: BEG) consists of two terminals that are connected by a walkway. The terminals contain a few 24-hour food concessions, several bars and almost a dozen shops. WiFi and mobile charging stations are available. For additional comfort, economy class passengers can pay to access to one of the airport's private lounges, one of which offers showers. Airport Lounges in the guide below for locations and rates.
Sleeping in Belgrade Airport
Travellers report that airport staff and security are accommodating to overnight sleepers and that there are plenty of spots conducive to sleeping, especially on the airside. The facilities are fully carpeted and there are numerous armrest-free chairs and benches that provide comfortable sleeping space. A few reviewers mentioned cold temperatures and noise, particularly in the landside area. You may want to pack a warm sweater/blanket and earplugs or noise cancelling headphones. Otherwise, the airport is described as clean, safe and very quiet at night. For uninterrupted sleep, there are several hotels near the airport. See Airport Hotels in the guide below or read some traveller airport reviews for more tips.
Good to Know
Along with showers in one of the private lounges, the airport reportedly has new public showers that can be accessed by asking personnel in the office near Gate C2 for the key.
To help us keep this guide up-to-date, you can add or update information or write a review to submit airport tips and photos. You can also visit the airport's web site for current information.  For more airport information continue scrolling down to explore more in our Belgrade Airport Guide.
In this guide we may refer to locations as "landside" and "airside". Landside is the public area of the terminal located in the non-secure zone, before security. Airside is the secure area of the terminal that you must reach by going through security.  For more information on Europe's Schengen Area, click here.
Airport Lounges
Pay-per-use, Single Visit Passes & Lounge Memberships
Regardless of what class of service you are flying, there is a lounge that you can enter by purchasing a lounge pass or through a lounge membership program. Visit the individual lounge page for more details about the lounge itself and to also find out how you can gain lounge access with just an economy class ticket!
Air Serbia Premium Lounge – Location: Terminal 2, Airside, near gates A5 and A6. Lounge Access: Prepaid lounge pass (£20-2 hours).
Business Club – Location: Terminal 2, Airside, between Gate A4 and A5. Lounge Access: Lounge membership programs.
Related Pages: Belgrade Airport Lounges
Airport Hotels
If sleeping in the airport sounds like a nightmare, there are hotels near Belgrade Airport:
With Covid restrictions constantly changing, we recommend that you confirm shuttle availability prior to booking and/or prior to your arrival.
For more options, visit Tripadvisor to see a list of hotels near Belgrade Airport that can be sorted by price, distance, traveller rating and popularity.
Airport WiFi/Internet
Unlimited free WiFi is available at the airport. Connect to the "Airport Belgrade Free" network.
More Services, Facilities & Things To Do On A Layover At The Airport
Arts
Museum – Aviation enthusiasts will enjoy exploring this 10,700 sq. m space filled with fighter planes and other memorabilia.
Murals – Paintings dating back 50 years ago can be found throughout the terminal.
Communications
Family Services
Baby Care Facilities – Kitchen, changing tables, washbasin, restroom, play area and more are available in the airport's Babycare rooms. Locations: T1, landside, 1st Floor • T2, airside, opposite Air Side Restaurant (this location includes a resting area for parents). Hours: 24 hours.
Children's Area – Four playrooms are available. Locations: landside, across from Galeb 2 restaurant • airside, between Gates A4-5 and A6 • the other two playrooms are located in the Babycare rooms at T1 and T2.
Gaming – Gaming consoles are available free of charge.
Food & Drinks
Food & Drinks – Food concessions throughout the airport operate with varying schedules. These options are open 24 hours: Before Pass Control – Landside and Galeb 3 • After passport control – Restaurant Bistro, Restaurant Coffee Cake, Galeb 1 and Kapital.
Information
Information Desk – Location: T2, landside, Ground Floor. Hours: Open 24 hours.
Transfer Counter – If you are in transit and need to re-check-in for your connecting flight, you should contact the transfer check-in counter located between gates A1 and C 1/2.
Travel Agencies – If you are arriving in Belgrade and need local arrangements or help planning a really last minute trip abroad, the Fly Fly Travel travel agency (connecting area between terminal 1 and 2) can probably be of assistance.
Luggage
Luggage Storage & Lockers – Not available.
Luggage Trolleys – Available for free in designated areas of the airport.
Luggage Wrapping – Locations: T1 and T2, near the Check-In area. Rates: 800 RSD (foil only), 1000 RSD (foil and bubble). Hours: T1, 24/7 (Mon – Sun) • T2, 9:00AM – 5:00PM (Mon – Sun).
Medical Services
Medical Services – Urgent and emergency medical care is available at the Airport First Aid Station. Hours: Open 24 hours.
Pharmacy – Lilly Drogerie Location: T2, airside, across Gate C1/2. Hours: 6:00AM – 11:00PM.
Mobile Charging
Mobile Charging – Mobile charging stations are available in the transit area and gated areas.
Money
ATMs / Cash Machines – Need cash? ATMs are available. Fees may apply, so be sure to check your bank's fee schedule and your daily withdrawal limit if you are travelling internationally. You may also want to notify your bank of your travel plans. Locations: T2. International Arrivals Area • Baggage Claim Area • Transit Area.
Banking Services – Komercijalna Bank offers full-service banking in the airport. Location: T2, Ground Floor Hours: 9:00AM – 5:00PM (Mon-Fri) • Bank Poštanska štedionica also provides full banking services. Location: Location: T2, Ground Floor Hours: 9:00AM – 5:00PM (Mon-Fri) & 8:00AM – 12:00PM (Sat).
Currency Exchange – There are currency exchange offices and machines available:

MG PINK – Location: International Arrivals.  Hours: 8:30AM – 9:00PM (Mon – Sun).
VIP Sistem – Location: T1.  Hours: 6:00AM – 8:00PM (Mon – Sun).
Alta System – Location: International Arrivals. Hours: 24 hours (Mon -Sun).
Monet – Hours: Location: International departures and arrivals.  Hours: 24 hours (Mon – Sun).
Foreign currency exchange machines are available 24 hours a day in these locations: T1, landside, Ground Floor • T2, airside, near Gate A2 • International Arrivals, landside, near the Baggage Reclaim carousels.
Rest & Relaxation
Hotels – see "Airport Hotels" above.
Lounges – see "Airport Lounges" above.
Rest Zones – Big comfy chairs, benches and footstools are available in the Transit Area, next to gates A2-A3, A4-A5 and C2-C3. Mobile chargers are also available. In Terminal 1 (Upper level), comfy couches and large stools are available along with fresh greenery.
Take precaution even when sleeping in the rest zones.  In December 2019, a traveller at another airport reported that money and credit cards had been stolen from their bag even though the bag was right beside them.  Protect and lock your bags as you would sleeping elsewhere in public.
Shopping
Duty Free & Shopping – Duty-free shopping is available airside 24 hours a day in T2. In addition, a variety of retail shops are also available throughout the terminal including two locations of Hudson News which are open 24 hours.
Showers, Salon & Spa
Salon – unknown
Showers – Available in the Air Serbia Premium Lounge. [ see Airport Lounges above ]
Spa – unknown
Airport Hours
The airport is open 24 hours. Operational hours are 5:00AM – 11:00PM.
Airlines
Belgrade airport is served by the following airlines: Aegean Airlines • Aeroflot • Air Cairo • Air France • Air Serbia • Air Montenegro• Arkia Israeli Airlines • Austrian Airlines • Belavia • EasyJet • Etihad Airways • flydubai • KLM • LOT • Lufthansa • Luxair • Norwegian • Pegasus Airlines • Qatar Airways • Red Wings • Swiss • TAROM • Transavia • Tunisair • Turkish Airlines • Wizz Air.
Airport Transportation: Getting To/From The Airport
Bus
BEG airport is connected to the bus system via 3 different lines. PTC Belgrade bus line 72 travels between the airport and Zeleni Venac Square in downtown Belgrade. PTC Belgrade bus line 607 connects to Surčin – Novi Beograd. And Minibus A1 offers scheduled service between the airport and Slavija Square in a 30-minute journey (one way). For routes, fares and schedules, Nikola Tesla Airport website.
Car Rentals
Car rental services are available in Terminal 1 and 2, International Arrivals area. There at least 20 car rental agencies onsite including: Avis • Budget • Dollar • Europcar • Hertz • National / Alamo • Sixt • Thrifty and more.
Hotel Shuttles
At the time of this update we were unable to find any hotels offering an airport shuttle, but many can arrange private airport transfers for a fee.  See also Airport Hotels above.
Taxi
Airport taxis charge for their services according to a six-zone fare map. To hire a taxi from the airport, go to the "Taxi Info" desk in the baggage claim area, where a representative will locate your destination on the zoned map and hand you a receipt, displaying both your destination and the price for your trip. Present this receipt to your driver before the journey begins.
Last updated: 2023-03-21
This guide is for informational purposes only to assist with your planning.  All information, including rates and hours, are subject to change at any time without notice.   The information in this airport guide is based on information collected and/or received from the airports, lounges, hotels, transportation providers and their web sites. We are not representatives of any of the above mentioned service providers. To report errors or to add/update any items mentioned in the guide: update the airport guide or  write a review.