Whether you have a layover, overnight sleepover or you are just quickly passing through, our Cairo Airport Guide is a great place to start planning your visit.  Here, you'll find information on services and facilities available inside the airport – including details about airport lounges, WiFi, mobile charging points, lockers, 24-hour food options, nearby hotels, and everything in between.
I asked security to wake me up at 7am (I was tired!) and they actually did. – Jasminexxx
CAI Airport Overview
To help you plan your layover or overnight sleepover, here is a quick run-down about what to expect during your time at Cairo International Airport.
What to Expect
Cairo Airport (Code: CAI) has three primary passenger terminals (T1, T2 and T3), as well as a seasonal Hajj terminal. An automated people mover links Terminal 1 with Terminals 2 and 3, the AirMall and multi-storey car park along; and Terminals 2 and 3 are also connected by an air bridge. Passengers must pass through terminal 1 for initial baggage screening, which can cause line-ups and chaos outside the entranceway. There are a variety of dining and shops both airside and landside in Terminals 1 and 3, but limited options in Terminal 2. Duty free shopping can also be found in Terminals 1 and 3. While most of the airport has been renovated or is new, travellers have reported that some bathrooms are in poor condition and lack adequate supplies. Therefore, we suggest you bring your own! Things to do at Cairo Airport are limited, so the WiFi may be your only saving grace. The airport contains lounges that offer fee-paid access to economy class passengers. See Airport Lounges below for locations and rates.
Sleeping in Cairo Airport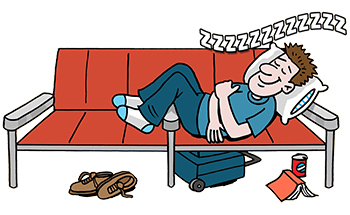 Travellers tend to mention Terminal 3's Level 3 (landside) and Zone H has having plenty of lightly padded benches that can provide comfortable sleeping. For greater security solo travellers should try to sleep near other travellers. There is a 350-room hotel connected by skyway to Terminal 3, and numerous other hotels within easy shuttle distance. See Airport Hotels in the guide below for more details or read some traveller reviews for more tips.
Good to Know
Passengers are not allowed to pass into secure areas of the airport earlier than three hours prior to departure. If you arrive early, it is not possible to pass through security early. You must remain in the public area of terminal.
In Terminal 1, all baggage is screened before entering the terminal. This can result in chaos with a lot of pushing and shoving in a small area before you even get inside the terminal.
Have your passports and documents handy as they will be checked frequently.
Be wary of aggressive porters or self-alleged "airport employees" who promise to expedite you to the "first class line" for a fee. They will ask for your passport and appear to hold it hostage until you pay them for their services.
To help us keep this guide up-to-date, you can add or update information or write a review to submit airport tips and photos. You can also visit the airport's web site for current information.  For more airport information continue scrolling down to explore more in our Cairo Airport Guide.
In this guide we may refer to locations as "landside" and "airside". Landside is the public area of the terminal located in the non-secure zone, before security. Airside is the secure area of the terminal that you must reach by going through security.  For more information on Europe's Schengen Area, click here.
Airport Lounges
Pay-per-use, Single Visit Passes & Lounge Memberships
Regardless of what class of service you are flying, there are lounges that you can enter by paying at the door, purchasing a lounge pass or through a lounge membership program. Visit the individual lounge page for more details about the lounge itself and to also find out how you can gain lounge access with just an economy class ticket!
Terminal 1
First Class Lounge – Location: Terminal 1, Airside, 1st & 2nd Floors. Hours: open 24 hours. Lounge Access: Pay at the Door • Prepaid lounge pass • Lounge membership programs.
Terminal 2
Ahlein – Premium Lounge – Location: Terminal 2, Airside, before Duty Free Shops. Showers are available. Lounge Access: Prepaid lounge pass • Lounge membership programs.
Pearl Assist – Location: Terminal 2, Airside, 1st Floor. Lounge Access: Prepaid lounge pass • Lounge membership programs.
First Class Lounge – Location: Terminal 2, Airside, 1st Floor. Hours: open 24 hours. Lounge Access: Pay at the Door • Prepaid lounge pass • Lounge membership programs.
Terminal 3
First Class Lounge– Location: Terminal 3 , airside, 2nd Floor. Hours: open 24 hours. Lounge Access: Pay at the Door • Prepaid lounge pass • Lounge membership programs.
Airline Lounges
If you are a First or Business Class traveller you may have access to the lounges listed below. For more information, check the airline's website.
Terminal 2, Airside: The Emirates Lounge.
Terminal 3, Airside: Egyptair Alioth Lounge • Egyptair Gienah Lounge • Egyptair El Tier Lounge (Domestic) • Egyptair Almeisan Lounge • Egyptair Kochab Smoking Lounge.
Related Pages: Cairo Airport Lounges
Airport Hotels
If sleeping in Cairo airport sounds like a nightmare, there is a hotel connected to the terminal and several nearby options:
Le Meridien Cairo Airport – Connected to Terminal 3 by a pedestrian bridge.  » Check Rates
Hotels near Cairo Airport
Novotel Cairo Airport – Free 24-hour airport shuttle bus upon request. Day rooms are available from 10:00AM to 7:00PM. » Check Rates
Le Passage Cairo – No airport shuttle. » Check Rates
Radisson Blu Hotel Cairo Heliopolis – Airport shuttle is available upon request.   » Check Rates
For more options, visit Tripadvisor to see a list of hotels near Cairo Airport that can be sorted by price, distance, traveller rating and popularity.
Airport WiFi/Internet
While "Free WiFi" is said to be available at Cairo airport, a reader tells us this:
"There's no real free WiFi. There's a temporary sample internet usage if you already have an active Egyptian sim card and a fee-based wifi after that. " (August 2019)
More Services, Facilities & Things To Do On A Layover At The Airport
ATMs / Cash Machines – Need cash? ATMs are available. Fees may apply, so be sure to check your bank's fee schedule and your daily withdrawal limit if you are travelling internationally. You may also want to notify your bank of your travel plans. Locations: machines are available Landside and Airside in all Terminals.
Baggage Trolleys – Need a hand with your luggage? Luggage trolleys are available. Rate: unknown.
Business Center – Providing services such as faxing, photocopying, laptop use, and more, the Business Center can be found in Terminal 3, Arrivals.
Children Play Area – When you want to ensure your kids burn off all their energy before their flight, take them to the children's play area. Locations: available in International and Domestic departures areas.
Currency Exchange – Several banks as well as currency exchange offices provide full-service banking and currency exchange in all Terminals. Hours: unknown.
Duty Free & Shopping – Duty-free shopping is available in all 3 Terminals. In addition, a variety of retail shops are available landside and airside. At the time of this update, the hours are not known.
Food & Drinks – At the time of this update, there are food options available in all Terminals and in the Airmall. However, it is not known if there are any 24 hour food concessions. Plan ahead.
Luggage Storage & Lockers – Not available.
Luggage Wrapping – Protect your bags from theft and damage by having your bags wrapped in plastic. Services are available in the check-in areas. Hours and rates: unknown.
Medical Services – Urgent and emergency medical care is available at the airport's First Aid station. For access, seek the assistance of an airport staff member. Hours: 24 hours.
Mobile Charging – At the time of this update, we did not have any information about mobile charging availability. If you know, click here to update this airport guide.
Pharmacy – Pick up any last minute medication at one of the following; El Ezaby Pharmacy (Terminal 1, Landside) • Al baqulawy (Terminal 2, Landside) • Al Nady (Terminal 2, Arrivals) • Samy Farid (Terminal 3, Landside).
Rest Zones – There are no dedicated sleeping areas, quiet areas or rest zones. If this information has changed, click here to update this guide.
Showers – Showers are available in the Ahlein Premium Lounge. See the Airport Lounges section for more information.
SIM Cards – A reader tells us "We were there today and bought an Orange SIM card. It was 150 local pound for 16gb. We also saw a Vodafone stand. They're in the luggage hall." (September 2022)
Smoking – Designated smoking rooms are available in these locations: T3, airside, between Gates F9 and F10 • T3, airside, between Gates G2 and G3.
Travel Agencies – If you are arriving in Cairo and need local arrangements or help planning a really last minute trip abroad, there is a Gem Travel Agency (Terminal 1 and 3, Arrivals) that can probably be of assistance. In addition, there are plenty of tour agents available to assist with local travels.
Airport Hours
The airport is open 24 hours.
Airlines
Cairo airport is served by the following airlines: Aegean Airlines • Air Arabia • Air Cairo • Air France • Air Go • Air Leisure • Alexandria • Alitalia • Almasria Universal • AMC • Aviator • Austrian Airlines • Badr Airlines • British Airways • Cairo Aviation • China Airlines • Egyptair • Emirates • Eritrean Airways • Ethiopian Airlines • Etihad Airways • Fly Egypt • Flynas • Fly Baghdad • Gulf Air • Jordan Aviation • Iraqi Airways • Jazeera • Kuwait Airways • LOT • Lufthansa • Meridiana Fly • Middle East Airlines • National Air • Nesma Air • Nile Air • Oman Air • Royal Air Maroc • Royal Jordanian • Royal Wings • Russian Airlines • Saudia Air • Smart • Sudan Airways • Swiss • Syrian Air • Tarco Air •Transavia • Tunis Air • Turkish Airlines • Ukraine International • Yemenia Airways.
Airport Transportation: Getting To/From The Airport
Buses
The airport is served by CTA City buses which provide connections to the city as well as buses that connect you to farther locations (services provided by companies such as West Delta, Upper Egypt, East Delta, and Super Jet). Ask for assistance at the airport. All buses depart from the parking area of Terminal 1.
Car Rentals
The following car rental companies have offices onsite (in all terminals): Avis • Budget • Europcar • Sixt.
Hotel Shuttles
Some area hotels provide airport shuttle service: Novotel Cairo Airport •  The Gabriel Hotel • Radisson Blu Hotel Cairo Heliopolis • Golden Park Hotel.
See also Airport Hotels above.
Inter-Terminal Transportation
All terminals, the Airmall and Car Park are connected via a free train. The automatic people mover transfers passengers and general public around the airport grounds in approximately 5 minutes.
Shuttle Buses
The airport is served by shuttle buses which will take passengers quickly and comfortably to a variety of destinations. At the time of this update, sample fares (one way, one adult) include: Downtown 35 LE; Alharam – El Maadi 45 LE; or Heliopolis 25 LE. Buses depart every half an hour. Go to the shuttle bus customer service counter (arrivals area of Terminal 1 and 2) for assistance.
Taxis
Taxis are readily available. The airport suggests you use the services of the white or yellow taxis as they are metered. If you choose to take the older, black/white taxis, be sure to negotiate your price before getting in.
Last updated: 2023-03-22
This guide is for informational purposes only to assist with your planning.  All information, including rates and hours, are subject to change at any time without notice.   The information in this airport guide is based on information collected and/or received from the airports, lounges, hotels, transportation providers and their web sites. We are not representatives of any of the above mentioned service providers. To report errors or to add/update any items mentioned in the guide: update the airport guide or  write a review.