Whether you have a layover, overnight sleepover or you are just quickly passing through, our Casablanca Airport Guide is a great place to start planning your visit.  Here, you'll find information on services and facilities available inside the airport – including details about airport lounges, WiFi, mobile charging points, lockers, 24-hour food options, nearby hotels, and everything in between.
Had to ask someone where the children's play area was, he looked at me like I was stupid – and asked "you want to play?" – Si
CMN Airport Overview
To help you plan your layover or overnight sleepover, here is a quick run-down about what to expect during your time at Casablanca Mohammed V International Airport.
What to Expect
Casablanca Airport (code: CMN) consists of two terminals (T1 and T2). While T1 recently underwent renovations, the airport in general is reported to be difficult to navigate, crowded, and disorganized, with mixed opinions about cleanliness. Some reviewers report that bathroom facilities are scarce and in poor, possibly unsanitary, condition. A lack of adequate signage makes getting around difficult, though much of the airport staff is reportedly trilingual, with an understanding of English, French and Arabic. WiFi is available, but power outlets are inconveniently located and only accept round-pin (European) plugs. Be prepared for long-lines and manual security checks. There are more than a dozen eateries and shopping places within the terminals, but prices for everything are considered exceptionally high, and all close by 10:00PM. Additional services and comforts—including showers—can be found through fee-based access to one of the airport's first class lounges. See Airport Lounges in the guide below for locations and rates.
Sleeping in Casablanca Airport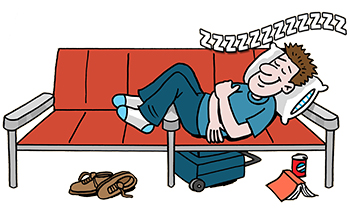 Sleeping in Terminal 2 is described as "safe" and uneventful, with airport staff and security accommodating to overnight sleepers. We have had no sleep-related reviews since T1 was renovated. Previously noted T2 sleeping spots include the first-floor check-in area, and some armrest-free seating located near Gate C-16. An extra layer and/or travel blanket/sleeping bag are recommended for floor sleeping, as are eyeshades for light, and earplugs/noise-cancelling headphones for noise. For uninterrupted sleep, there is a transit hotel inside Terminal 2 and some other hotels within a quick shuttle ride of the airport. See Airport Hotels in the guide below or read some traveller airport reviews for more tips.
Good to Know
Smoking areas are open, making it an unpleasant experience for non-smokers.
If you are travelling internationally on Royal Air Maroc and have a connecting international flight with a reservation that is not available for 24 hours, you will be provided with a hotel for the transit period. On arrival at the airport, proceed to the "Transit and Accommodation" in the Arrivals area.
To help us keep this guide up-to-date, you can add or update information or write a review to submit airport tips and photos. You can also visit the airport's web site for current information.  For more airport information continue scrolling down to explore more in our Casablanca Airport Guide.
In this guide we may refer to locations as "landside" and "airside". Landside is the public area of the terminal located in the non-secure zone, before security. Airside is the secure area of the terminal that you must reach by going through security.  For more information on Europe's Schengen Area, click here.
Airport Lounges
Pay-per-use, Single Visit Passes & Lounge Memberships
Regardless of what class of service you are flying, there are lounges that you can enter by paying at the door, purchasing a lounge pass or through a lounge membership program. Visit the individual lounge page for more details about the lounge itself and to also find out how you can gain lounge access with just an economy class ticket!
Pearl Lounge – Location: Terminal 1 Airside. Lounge Access: Prepaid lounge pass • Lounge membership programs.
Pearl Lounge (Departures) – Location: Terminal 2, Airside. Lounge Access: Pay at the Door • Prepaid lounge pass • Lounge membership programs.
Pearl Lounge (Arrivals) – Location: Terminal 2, Airside. Showers are available. Lounge Access: Pay at the Door • Lounge membership programs.
Airline Lounges
If you are a First or Business Class traveller you may have access to the lounges listed below. For more information, check the airline's website.
Royal Air Maroc Lounge (Location: Terminal 1, Airside) • Royal Air Maroc The Casablanca Lounge (Location: Terminal 2, Airside).
Related Pages: Casablanca Airport Lounges
Airport Hotels
If sleeping in Cairo airport sounds like a nightmare, there is a transit hotel and several nearby hotels with shuttle service:
Airport Hotel – A few readers have confirmed that there is a hotel inside the transit area of Terminal 2. There are approx. 30 rooms (Single, Double, Suites) with shared washrooms and showers (2 for men and 2 for women). The rate (as of April 2015) was 35 Euro for single and 44 Euro for double. In April 2016, another reader described their experience at the hotel as "a huge mistake. The hotel was absolutely filthy! The room had a bed and a television and no bathroom. The toilet facilities for the hotel were the dirtiest I had seen anywhere at this airport." Another reader in December 2018 also described to hotel as filthy, so nothing has improved over the years. We recommend you inquire to see a room before paying.
Hotels near the airport
Onoma Hotel Casablanca – Free airport shuttle is available.  » Check Rates
Atlas Sky Airport – Free 24-hour airport shuttle runs to/ from the airport every 30 minutes.  » Check Rates
Relax Airport Hotel – Free airport shuttle is available.  » Check Rates
For more options, visit Tripadvisor to see a list of hotels near Casablanca Airport that can be sorted by price, distance, traveller rating and popularity.
Airport WiFi/Internet
Free unlimited WiFi is available at the airport.
More Services, Facilities & Things To Do On A Layover At The Airport
Banking Services – Several banks and money wiring services (MoneyGram, Western Union) are available in the airport. Hours: 24 hours.
Currency Exchange – Several foreign currency exchange kiosks are available both Landside and Airside. Hours: 24 hours.
Duty Free & Shopping – Duty-free shopping is available in the boarding zone and the baggage delivery areas. A variety of other shops are available including a Hudson News for any last minute items.
Food & Drinks – A selection of food options are available both Landside and Airside.
Information Desks – Need help finding your way? An information desk is available in both terminals, Landside and Airside.
Luggage Storage & Lockers – Not available.
Luggage Trolley – Trolleys are available at in the parking and baggage claim areas. Porters are available (Rate is 20,00DH).
Luggage Wrapping – Protect your luggage from damage or theft by having it wrapped in plastic. Location: Check-in area.
Medical Care – Staffed by a doctor and nurses, emergency medical assistance is available in the airport's UMU (Urgent Medical Unit). Hours: Open 24 hours.
Mobile Charging – At the time of this update, we have information that only a limited amount of outlets (European plugs) are available. If you know of more locations, click here to update this airport guide.
Pharmacy – Available in Terminal 1.
Post Office – Two post offices, one each in Terminals 1 and 2. Locations: Landside, Arrivals Hall, Level 0. Hours: 9:00AM – 10:00PM.
Prayer rooms – Available. Location: Boarding area.
Rest Zones – There are no dedicated sleeping areas, quiet areas or rest zones. If this information has changed, click here to update this guide.
Showers – Showers can be found in the Arrivals lounge. [ see Airport Lounges above ]
SIM Cards – A reader has asked us to include where to buy SIM Cards. If you know, click here to update this airport guide.
Airport Hours
The airport is open 24 hours.
Airlines
Casablanca airport is served by the following airlines: • Air Arabia • Air Canada • Air Nostrum • Air Senegal • Egypt Air • Emirates • Etihad Airways • Gulf Air • Iberia • Lufthansa • Mauritania Airlines • Pegasus Airlines • Qatar Airways • Royal Air Maroc • Saudi Arabian Airlines • Swiftair • TAP Portugal • Transavia • TUI Fly • Tunisair • Turkish Airlines.
Transportation
Car Rentals
CMN airport is served by the following car rental companies: Avis • Aircar • Budget • Europcar • Hertz • Sixt.
Hotel Shuttles
See also Airport Hotels above.
Taxis
Taxis are available 24 hours per day. The Taxi Station is located on the Arrivals Esplanade.
Train
The airport is connected to the rail system. A station is located in the Arrivals Zone (Level 1) and trains operate from 2:56AM – 9:56PM.
Last updated: 2023-03-22
This guide is for informational purposes only to assist with your planning.  All information, including rates and hours, is subject to change at any time without notice.   The information in this airport guide is based on information collected and/or received from the airports, lounges, hotels, transportation providers, and their websites. We are not representatives of any of the above-mentioned service providers. To report errors or to add/update any items mentioned in the guide: update the airport guide or  write a review.