Whether you have a layover, overnight sleepover or you are just quickly passing through, our Chicago Midway Airport Guide is a great place to start planning your visit.  Here, you'll find information on services and facilities available inside the airport – including details about airport lounges, WiFi, mobile charging points, lockers, 24-hour food options, nearby hotels, and everything in between.
Concourse B is very big and cozy. I slept in a chair and time flew by. – nt
MDW Airport Overview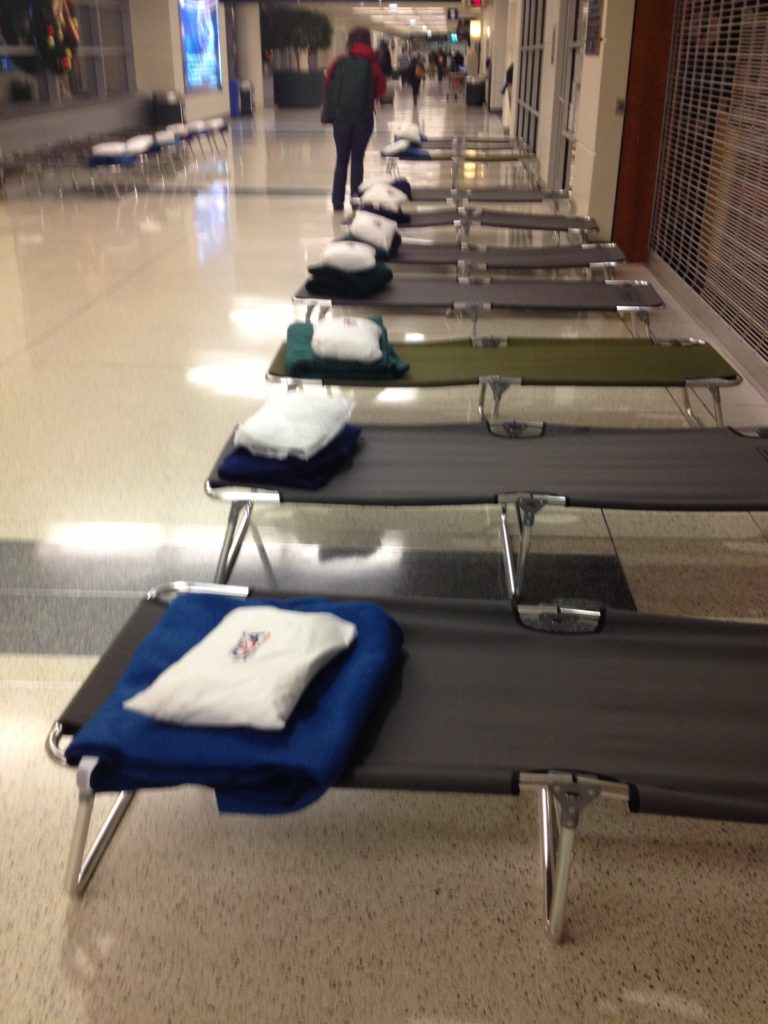 To help you plan your layover or overnight sleepover, here is a quick run-down about what to expect during your time at Chicago Midway International Airport.
What to Expect
Chicago Midway Airport (code: MDW)  is comprised of one main terminal with three interconnected concourses (A, B and C). Passengers on arriving flights can access all three concourses without having to re-clear security. The airport offers travellers plenty of dining, retail and service options, with most being airside. Amenities and things to do are very limited; however, the free WiFi should help pass the time.
Where to Sleep
Travellers report that landside sleeping is uncomfortable due to lack of comfortable seating, noise and bright lights. This can be a problem for those planning to stay overnight for an early flight out, because once security closes for the night, passengers are not allowed to cross between landside and airside. Overall, travellers generally report that airport staff and security are accommodating to overnight sleepers. Concourse C is considered the quietest and cleanest of the three concourses, but with no benches, the floor may be the only sleep option.  Explore our guide to sleeping in Chicago Midway Airport or read some traveller reviews for more tips.  For uninterrupted sleep there are nearby hotels that provide free shuttle service. See Airport Hotels in the guide below.
Covid-19 Update
Due to the current Covid-19 pandemic, all services and times listed below are subject to change. Some services and facilities may remain closed or operate with reduced hours.  Airport tips and suggestions in this guide and elsewhere on the site were written before March 2020 and may no longer be valid. If you are planning to sleep in the public area of the terminal overnight, have a back-up plan! We've heard from a few travellers at other airports and they were not permitted to stay overnight. We're not sure if that will apply to this airport, until a reader lets us know the current situation. We will start updating all of our guides in October 2021.  To help us with this massive update, you can add or update information or write a review and submit photos and airport tips.
For more airport information continue scrolling down to explore more in our Midway Airport Guide.
In this guide we may refer to locations as "landside" and "airside". Landside is the public area of the terminal located in the non-secure zone, before security. Airside is the secure area of the terminal that you must reach by going through security.  For more information on Europe's Schengen Area, click here.
Airport Hotels
If sleeping at the Chicago Midway Airport does not appeal to you, there are hotels near the airport that offer free airport shuttles:
Holiday Inn Express & Suites Chicago Midway Airport – (3 minutes from the airport) Free airport shuttle departs every 20 minutes.  » Check Rates
Hilton Garden Inn Chicago Midway Airport – (3 minutes from the airport) Free Red Trolley shuttle service runs to Midway Airport and the Midway Orange Line station.  » Check Rates
Hampton Inn Chicago Midway Airport – (3 minutes from the airport) Free 24-hour airport shuttle is available.  » Check Rates
To see more options there is a list of hotels near Midway Airport on Tripadvisor that can be sorted by price, distance, traveller rating and popularity.
Airport Lounges
Pay-per-use, Single Visit Passes & Lounge Memberships
There are no pay-per-use lounges.
Military Lounges
USO Lounge – The USO offers a lounge that is free of charge to active members of the US military and their families. Location: Concourse C, Airside.
Related Pages: Chicago Midway Airport Lounges
Cots
In the event of bad weather or massive flight cancellations, this airport has a limited supply of cots for stranded travellers. Availability may have been affected by Covid.  If you are stranded during a weather delay, contact an airport employee to find out when the cots are located.
Airport WiFi / Internet
Free unlimited WiFi is available at Chicago Midway Airport. Connect to the "_Free_MDW_Wi-Fi" network and watch an ad for internet access.
More Services, Facilities & Things To Do On A Layover At The Airport
ATMs / Cash Machines – Need cash? ATMs are available. Fees may apply, so be sure to check your bank's fee schedule and your daily withdrawal limit if you are travelling internationally. You may also want to notify your bank of your travel plans. Locations: Landside and Airside.
Family Services
Baby Care Facilities – A baby care room is available which offers a private place for breastfeeding, a sink and washing area. Location: Concourse C, next to the yoga room.
Baby Change Facilities – available in most washrooms throughout the airport.
Kids Meals – Most restaurants offer kids menus and high chairs.
Security Family Lane – Look for the specially designated security lane to allow for a quicker transition.
Baggage Carts – Need a hand with your luggage? Baggage carts are available. Rate: unknown.
Chapel – Location: Mezzanine, Level C
Currency Exchange – Seaway National Bank provides currency services. Location: Concourse A. Hours: 7:00AM – 6:00PM (Mon – Sat) • 7:00AM – 1:00PM (Sun).
Duty Free & Shopping – Duty Free shopping is not available. The airport offers a variety of shops to pass the time. Shops are generally open from 5:00AM – 10:00PM.
Food & Drinks
Food & Drinks – Most food concessions throughout the airport operate with varying schedules. These options are open 24 hours in the Central Market, Airside: Dunkin Donuts • Gold Coast Dogs • Pegasus On The Fly.
Water Stations – Thirsty? Water bottle refill stations are available free of charge. Locations: Concourses A, B and C.
Information Desk – If you have any questions, visit the information desk for more assistance. Location: Main Entrance of Terminal. Hours: unknown.
Luggage Storage & Lockers – Not available.
Mobile Charging – Charge your electronics at any of the various workstations which are counters equipped with power outlets and seating. Additionally, all of the gated areas now offer power-equipped seating.
Postal Services – Drop off your last minute postcards to friends and family from the airport's mailboxes, located within the terminal.
Rest Zones – There are no dedicated sleeping areas, quiet areas or rest zones. If this information has changed, click here to update this guide.
Shoe Shine – Head to the Shoe Hospital for a shine. Location: Airside, Concourse A.
Showers – Not available.
Smoking – Smoking is prohibited within the airport. If you need to smoke there are designated areas landside outside the airport.
Yoga Room – Relax or stretch in between flights at the airport's yoga room. The room comes equipped with a wall-mounted TV that displays yoga poses to follow. Location: Airside, Concourse C. Hours: 6:00AM – 10:00PM.
Airport Hours
The terminal is open 24 hours; however, only ticketed passengers are permitted inside between 12:00AM and 4:00AM.
Airlines
Chicago Midway airport is served by the following airlines: Delta Air Lines • North Country Sky • Porter Airlines • Southwest Airlines • Volaris Airlines.
Airport Transportation: Getting To/From The Airport
Amtrak Connections
From the airport you can travel to the Amtrak via subway or taxi. A taxi ride will take approximately 15 minutes. Alternatively, you can take the subway from the Midway Transportation Center, located adjacent to the airport. Take the Orange Line to LaSalle, then change to the Blue Line towards Forest Park, exit at Clinton Station and then walk ten minutes to Union Station. Total travel time is approximately 45 minutes.
Bus
Nine CTA public bus routes serve Midway Airport from points all over the city of Chicago. For more information on routes and fares, visit the Transit Chicago website. PACE suburban public bus system serves the Chicago area suburbs. Seven PACE bus routes serve the airport via the Midway Transportation Center: Routes 379, 382, 383, 384, 385, 386 and 390. For fares and information, visit the PACE website. Midway Airport is served by several regional bus companies, transporting passengers between Midway Airport and destinations in Illinois, Wisconsin, Iowa and Indiana. Contact your service provider of choice for further information.
Car Rentals
The Midway Airport Rental Car Facility houses the following car rental agencies: Alamo • Avis • Budget • Corporate Rent a Cart • Dollar • Enterprise • Hertz • National • Thrifty. Free shuttle service runs between the Rental Car Facility and the airport at the Arrivals Lower Level front curb near Door 2.
Hotel Shuttles
Several area hotels offer free airport shuttle service as a convenience for their guests. Contact your hotel of choice for shuttle service availability and information. Here are a few hotels that offer airport shuttle service: Carlton Inn Midway   •  Courtyard Chicago Midway Airport   •   Fairfield Inn Chicago Midway Airport   •   Hampton Inn Chicago-Midway Airport   •   Hilton Chicago/Oak Lawn   •   Hilton Garden Inn Chicago Midway Airport   •     Holiday Inn Express Chicago-Midway Airport   •   Hyatt Place Chicago Midway Airport   •   Marriott Chicago Midway   •   Residence Inn Chicago Midway   •   Sleep Inn Midway Airport.
See also Airport Hotels above.
Shared Ride Shuttle
Go Airport Express provides door-to-door shared ride or exclusive ride service between the airport and the Chicago metropolitan area and the Chicago O'Hare Airport. Service runs daily from 6:00AM – 11:30PM. Shuttles depart every 15 minutes from Arrivals, Lower Level outside of Door 3 on the inside lane. Wheelchair-accessible shuttles are available, but advanced reservation is strongly suggested.
Taxi
Taxi stands are located curb front on the lower level of the terminals. Wheelchair-accessible taxis can be requested by calling United Dispatch. For safety reasons, please do not accept rides from the airport from a taxi that is not operating from the designated taxi stands.
Train
The CTA Orange Line train runs between Midway Airport Orange Line station (connected to the east side of the terminal via covered walkway) and downtown Chicago for a total trip time of 20 – 25 minutes in one direction. For information on schedules and fares, visit the Chicago Midway Airport website.
Last updated: 2022-01-25
This guide is for informational purposes only to assist with your planning.  All information, including rates and hours, are subject to change at any time without notice.   The information in this airport guide is based on information collected and/or received from the airports, lounges, hotels, transportation providers and their web sites. We are not representatives of any of the above mentioned service providers. To report errors or to add/update any items mentioned in the guide: update the airport guide or  write a review.