Whether you have a layover, overnight sleepover or you are just quickly passing through, our Eugene Airport Guide is a great place to start planning your visit.  Here, you'll find information on services and facilities available inside the airport – including details about airport lounges, WiFi, mobile charging points, lockers, 24-hour food options, nearby hotels, and everything in between.
The bathrooms are quite lush. – a traveller
EUG Airport Overview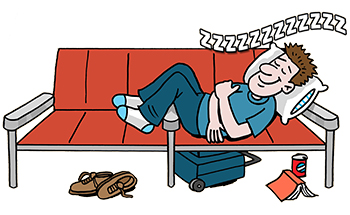 To help you plan your layover or overnight sleepover, here is a quick run-down about what to expect during your time at Eugene Airport.
What to Expect
Eugene Airport (code: EUG) consists of a small terminal with few amenities. A restaurant is available both sides of security and there is a café on the airside.  WiFi is available to help pass the time. There are no private lounges at this airport.
Where to Sleep
After security checkpoints close for the night, all passengers are restricted to the landside areas, and must re-clear security the next day when the checkpoints open. There are reportedly armrest-free benches located near the security screening area. For uninterrupted sleep, there are hotels near the airport. See Airport Hotels in the guide below or read some traveller airport reviews for more tips.
In this guide we may refer to locations as "landside" and "airside". Landside is the public area of the terminal located in the non-secure zone, before security. Airside is the secure area of the terminal that you must reach by going through security.  For more information on Europe's Schengen Area, click here.
Airport Hotels
If sleeping in Eugene Airport does not appeal to you, there are hotels near the airport:
Budget Lodge Eugen – (10 minutes from the airport) No airport shuttle. » Check Rates
Value Inn Motel Eugene – (10 minutes from the airport) No airport shuttle. » Check Rates
Hampton Inn Eugene – (15 minutes from the airport) No airport shuttle. » Check Rates
To see more options there is a list of hotels near Eugene Airport on Tripadvisor that can be sorted by price, distance, traveller rating and popularity.
Airport Lounges
There are no pay-per-use lounges at the airport.
Airport WiFi / Internet
Free WiFi is available at Eugene airport.
More Services, Facilities & Things To Do On A Layover At The Airport
Art in the Airport – Art exhibitions are on display in the main lobby.
ATMs / Cash Machines – Need cash? ATMs are available. Fees may apply, so be sure to check your bank's fee schedule and your daily withdrawal limit if you are travelling internationally. You may also want to notify your bank of your travel plans. Locations: Landside, in the main lobby • Airside, near the A-Gates.
Food & Drinks – Three dining options are available: Willamette Grill Express (landside. Hours: 6:00AM – 8:00PM) • Willamette Grill (airside, B-Gates. Hours: 4:00AM – last flight departure) • Coast to Cascades Cafe (airside, A-Gates. Hours: 4:00AM – last flight departure).
Information Desk – Look for the airport ambassadors wearing floral shirts, you may see them at the info booth or throughout the airport.
Live Music – Community groups, school choirs and individual performers can be seen in the main lobby at various times during the year.
Luggage Storage & Lockers – Not available.
Mobile Charging – At the time of this update, we did not have any information about mobile charging availability. If you know, click here to update this airport guide.
Rest Zones – There are no dedicated sleeping areas, quiet areas or rest zones. If this information has changed, click here to update this guide.
Shopping – Emerald City News and Gifts is located landside in the main lobby, and airside in the A-Gates area.
Showers – Not available.
Airport Hours
The airport is open 24 hours. Airline ticket counters open at 3:30AM.
Keep in mind that TSA, airline check-in and baggage drop hours vary according to the flight schedule. Check these hours with your airline. If you are in the public area of the terminal (landside) you will not be able to get through to the secure area of the terminal (airside) until the morning.
Airport Transportation: Getting To/From The Airport
Car Rentals
Onsite car rental agencies include Alamo • Avis • Budget • Enterprise • Hertz • National.
Hotel Shuttles
Several area hotels provide airport transportation service as a courtesy to their guests. Here are a few hotels offering airport shuttle service: Courtyard Eugene Springfield   •   Hilton Eugene   •   Hilton Garden Inn Eugene / Springfield   •   Holiday Inn Eugene – Springfield, Inn at the 5th   •   The Valley River Inn
Taxis and Shuttles
Taxis are available in the ground transportation area. All taxis are metered and reservations are not required. OmniShuttle provides door-to-door shared-ride service, with a shuttle stop in front of the airport's main entrance.
Last updated: 2020-01-10
This guide is for informational purposes only to assist with your planning.  All information, including rates and hours, are subject to change at any time without notice.   The information in this airport guide is based on information collected and/or received from the airports, lounges, hotels, transportation providers and their web sites. We are not representatives of any of the above mentioned service providers. To report errors or to add/update any items mentioned in the guide: update the airport guide or  write a review.