Whether you have a layover, overnight sleepover or are just quickly passing through, our Fort Lauderdale Airport Guide is a great place to start planning your visit.  Here, you'll find information on services and facilities available inside the airport – including details about airport lounges, WiFi, mobile charging points, lockers, 24-hour food options, nearby hotels, and everything in between.
Aside from the sleeping condition, this airport has Free WiFi. It actually is better than some roadside motels!! – mhsaa flyer
FLL Airport Overview
To help you plan your layover or overnight sleepover, here is a quick run-down about what to expect during your time at Fort Lauderdale-Hollywood International Airport.
What to Expect
Fort Lauderdale Airport (code: FLL) consists of a four terminal-eight concourse layout, with Terminal 1 (Concourses A, B and C), Terminal 2 (Concourse D), Terminal 3 (Concourses E and F), and Terminal 4 (Two Concourse Gs). Shuttle buses provide transit between the terminals. Eateries, shops, duty-free, and services can be found throughout each terminal, both airside and landside, though most are closed at night, and reviewers have called out the quality of the various dining options. The airport offers free WiFi, which helps pass the time. For additional comfort, passengers can purchase access to one of the airport lounges. See Airport Lounges below for locations and rates.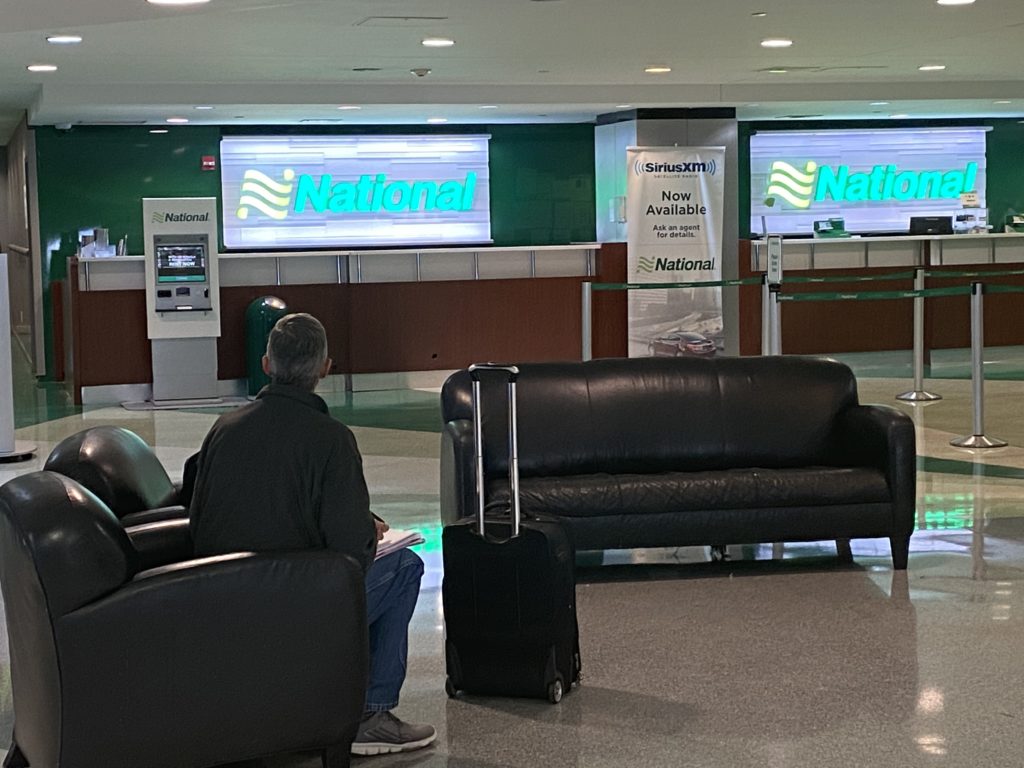 Sleeping in Fort Lauderdale Airport
The airport authority acknowledges that passengers can remain in the terminals overnight. Still, it warns passengers to consider that they can only stay in pre-security waiting areas, that seating consists of chairs with armrests, that heavy-duty cleaning is often conducted at night, that food/beverage service is limited, and that the terminals are cold. Steamy on the outside and frozen tundra on the inside, the A/C at FLL Airport is said to be on full blast. Bring a blanket or a sweater! Our reviewers have reported some noteworthy sleeping spots. Perhaps the most often cited is the rental car centre, described as dimly lit, relatively quiet and with padded seats. While there are no on-site airport hotels, there are several hotels within a short shuttle ride away. See Airport Hotels in the guide below or read traveller reviews for more tips.
This is the official statement from the Fort Lauderdale Airport regarding sleeping in the airport: "You can only stay in a pre-security waiting area (not on the concourse) for the night. Our seating is attached chairs with armrests. Heavy-duty cleaning is often conducted at night. Food and beverage service is limited.   It can get cold in the terminals, so bring warm clothes."
Good to Know
All terminals offer public baggage storage; however, hours of operation are limited.
To help us keep this guide up-to-date, you can add or update information or write a review to submit airport tips and photos. You can also visit the airport's website for current information. For more airport information, scroll down to explore more in our Fort Lauderdale Airport Guide.
In this guide we may refer to locations as "landside" and "airside". Landside is the public area of the terminal located in the non-secure zone, before security. Airside is the secure area of the terminal that you must reach by going through security.  For more information on Europe's Schengen Area, click here.
Airport Lounges
Pay-per-use, Single Visit Passes & Lounge Memberships
Regardless of what class of service you are flying, there are lounges that you can enter by paying at the door or through a lounge membership program. Visit the individual lounge page for more details about the lounge itself and to also find out how you can gain lounge access with just an economy class ticket!
Delta Sky Club – Location: Terminal 2, Airside, between Gates D2 and D3. Lounge Access: Lounge membership programs.
United Club – Location: Terminal 1, Airside, Mid Level, next to Gate C1. Lounge Access: Pay at the Door with proof of United Airlines ticket • United Club Membership.
Escape Lounge – Terminal 3, Airside, between Gates E and F. Hours: 5:30AM – 9:00PM. Lounge Access: Pay at the Door ($45) • Prepaid lounge pass ($40)• Lounge membership programs.
Related Pages: Fort Lauderdale Airport Lounges
Airport Hotels
If sleeping in the airport sounds like a nightmare, there are hotels near Fort Lauderdale Airport that provide free airport shuttles:
For more options, visit Tripadvisor to see a list of hotels near Fort Lauderdale Airport that can be sorted by price, distance, traveller rating and popularity.
Airport WiFi / Internet
Free WiFi is available at Fort Lauderdale Airport.
More Services, Facilities & Things To Do On A Layover At The Airport
n Business Services
Business Service Center – Offering a wide range of business and travel services, including currency exchange, fax, copying and more. Locations: Terminal 1, Landside Lower Level near International Arrivals (temporarily closed) • Terminal 4, Landside, Lower Level, Baggage Claim Area. Hours: 10:00 AM – 6:00 PM (Mon – Fri) • 10:00 AM – 5:00 PM (Sat – Sun).
Communications
Courtesy Phones – Courtesy phones connect you directly to local car companies and hotels and are free of charge to use. Locations: in the baggage claim areas.
Postal Services – At one time, postcards could be dropped off at the airport's mailbox. A stamp machine was also available in Terminal 4, Upper Level, Landside. We could not confirm this at the time of our September 2023 update. If you know whether it's still there, click here to update our guide.
SIM Cards – A reader has asked us to include where to buy SIM Cards. If you know, click here to update this airport guide.
Telephones – Public telephones can be found in the terminal lobbies, concourses and baggage claim areas.
WiFi – see "Airport WiFi/Internet" above.
Family Services
Baby Care Facilities – If you are travelling with an infant, six lactation suits are available to breastfeed in comfort and privacy. Each station includes a fold-down table, two benches and power outlets. The suites are locked, so download the Mamava App or call 954-359-1201 to obtain access. Locations: Terminal 1, Concourse A, Airside • Terminal 1, B/C Connector • Terminal 2, Airside, Concourse D, near Gate D3 • Terminal 3, Concourse E, Airside • Terminal 3 and 4 Connector, Airside • Terminal 4, Concourse G, Airside, near Gate G8.
Food & Drinks
Food & Drinks – Most food concessions throughout the airport operate with varying schedules. Vending machines are available on the landside. At the time of our September 2023 update, no 24/7 food concessions are available in the terminals.
Information
Airport Ambassadors – Flag down a friendly airport ambassador if you have questions or need assistance.
Luggage
Baggage Carts – Need a hand with your luggage? Baggage carts (Smarte Cartes) are available throughout the airport (Upper and Lower levels) and parking garages. Rate: $6 per cart; credit cards are accepted. Carts cannot be taken on the airport's courtesy buses, but if you are using a Smarte Carte and need to board the bus, ask the bus driver for a Smarte Carte token to continue luggage cart use from your drop-off point at the airport.
Luggage Storage & Lockers – You can enjoy your layover luggage-free! Leave your bags at the public baggage storage provided by Bags to Go, available in all four terminals. Locations:
» Terminal 1 – Lower Level, Carousel 1. Hours: 8:00 AM – 5:30 PM (Fri – Mon) (temporarily closed) • Landside, near Concourse B exit. Hours: 8:00 AM – 5:30 PM (Fri – Mon).
» Terminal 2 – Upper Level, near TSA Checkpoint. Hours: 9:00 AM – 5:30 PM (temporarily closed).
» Terminal 3 – Lower Level, near JetBlue bag service office. Hours: 8:00 AM – 5:30 PM (Fri – Mon)
» Terminal 4 – Lower Level, next to Spirit Baggage Service Office. Hours: 9:00 AM – 5:30 PM (Fri – Mon) (temporarily closed).
Luggage Wrapping – Protect your bags from theft and damage by wrapping them in plastic. Rate: $15.00 per bag, which includes loss and damage insurance. Four locations: Terminal 1 (Hours: 6:00 AM – 3:00 PM) • Terminal 3 (Hours: 5:00 AM – 9:00 PM Daily) • Terminal 4 (Hours: 6:00 AM – 10:00 PM Daily).
Mobile Charging
Mobile Charging – Charging stations are available on the airside in Terminal 1. If you know whether charging stations are also public in other terminals, click here to update this guide.
Money
ATMs / Cash Machines – Need cash? ATMs are available. Fees may apply, so check your bank's fee schedule and daily withdrawal limit if you travel internationally. You may also want to notify your bank of your travel plans. T1, airside, Concourses B • T2, airside, Concourse D • T3, airside, Concourse F Car Rental Center, 3rd floor.
Currency Exchange – Four locations: T1, landside, International Arrival Area (temporarily closed) • T4, landside, Lower Level, in the Baggage Claim. Hours: 10:00 AM – 6:00 PM (Mon – Fri) • 10:00 AM – 5:00 PM (Sat – Sun).
Pets
Pet Relief Areas – Travelling with a four-legged companion? Six indoor and four outdoor pet relief areas are available. Locations: Terminal 1, B/C connector • Terminal 1, Concourse A • U.S Customs Federal Inspection Station • Terminal 2, Concourse D • Terminal 3, Concourse F • Terminal 4, Concourse G • all areas are on the lower level, outside each terminal's baggage claim area.
Rest & Relaxation
Hotels – see "Airport Hotels" above.
Lounges – see "Airport Lounges" above.
Rest Zones – There are no dedicated sleeping areas, quiet areas or rest zones; however, a reader tells us "there is a group of couches between Gates G and E/F." (February 2021)
Shopping
Duty-Free & Shopping – Duty-free shopping is available airside for passengers on international flights. Locations: Terminal 2 (Concourse D) • Terminal 3 (Concourses F) • Terminal 4 (Concourse H). There is a variety of shops to pass the time in each Terminal, with some shops open as early as 4:00 AM.
Showers, Salon & Spa
Salon – unknown
Showers – Not available.
Spa – unknown
Smoking
Smoking – Smoking is not permitted anywhere inside the terminal.
Things to do & see
Art at the Airport – Be sure to check out the approximate 60 pieces of artwork displayed throughout the airport and rental centre!
Live Music – FLL Terminal Tunes offers live music shows in the airport. Dates, times and terminal locations vary per show.
Viewing Area – Relax and watch planes taking off and landing from the vantage point of the airport's viewing area. Location: on top of the Hibiscus Garage, go to section 7A to the top level.
Airport Hours
The airport is open 24 hours.
Sleeping in the airport is permitted, but only in the pre-security zones. Also, keep in mind that TSA, airline check-in, and baggage drop hours vary according to the flight schedule. Check this link to see the current opening times. Check these hours with your airline. If you are in the public area (landside), you will not be able to get through to the secure area (airside) until the morning.
Airlines
Fort Lauderdale airport is served by the following airlines: Air Canada​ • ​Air Transat • ​Alaska Airlines • ​Allegiant • ​American​ Airlines​ • Avelo • Avianca​ • ​Azul​ • Bahamasair • BermudAir • ​​​Caribbean • ​​Copa Airlines • Delta Air Lines • El Al • Emirates • Flair Airlines • ​Frontier • JetBlue • Norse Atlantic Airways • Silver • ​​SkyBahamas • Southwest Airlines • Spirit Airlines​ • Sun Country • ​​Sunwing • ​Swoop • ​​United Airlines • Western Air • Westjet.
Airport Transportation: Getting To/From The Airport
Bus
BCT (Broward County Transit) operates daily bus service to and from the airport via bus Route 1. The bus stop is Stop 7 at the Rental Car Center. Visit the Broward County Transit website for fares, schedules and route information.
Car Rentals
Passengers can rent cars on-site at the airport's Rental Car Center, which is adjacent to Terminal 1. The following agencies operate from the Rental Car Center: ACE • Alamo • Avis • Budget • Dollar • Enterprise • Fox • Hertz • National • Payless • Sixt • Thrifty. Visit our travel partner at Tripadvisor to search for car rental deals.
Commuter Train
Tri-Rail provides service between Fort Lauderdale – Hollywood International Airport Station in Dania Beach and Miami-Dade, Broward and Palm Beach County. Free shuttle buses travel between the airport and the Tri-Rail service at Airport Station. Shuttle stops are located on the lower level in the Ground Transportation Area, between Terminals 2 and 3 • at the west end of Terminal 1 • at the east end of Terminal 4. Visit the Tri-Rail website for schedules and fare information.
Hotel Shuttles
Many hotels near Fort Lauderdale airport provide shuttle service: Best Western   •   Cambria Hotel & Suites   •   Candlewood Suites   •   Comfort Suites   •   Courtyard by Marriott    •    Crowne Plaza  •   Fairfield Inn & Suites   •    Four Points by Sheraton   •   Hampton Inn   •   Hampton Inn & Suites   •  Hilton Garden Inn  •   Holiday Inn Express & Suites   •   Holiday Inn Express Hotel & Suites   •   Homewood Suites   •    Hotel Dello    •    Le Meridien Dania Beach  •    Residence Inn by Marriott   •   Rodeway Inn & Suites   •   Springhill Suites    •  Tru By Hilton  •    Wyndham Garden.
Hotel shuttles pick up and drop-off at designated areas curbside on the lower level of all terminals.
See also Airport Hotels above.
Inter-Terminal Shuttles
FLL airport operates a courtesy shuttle service between the terminals and the Rental Car Center. Shuttles run 24/7.
Ride Sharing
Uber and Lyft operate throughout Florida. A ride to Downtown Fort Lauderdale will cost you from $15 to $20.
Shared Ride Service
Go Airport Shuttle operates a shared-ride shuttle service from the airport to your destination of choice. The shuttle stop is located at the Transportation Podium, lower level curbside, outside the baggage claim area. Visit the Go Airport Shuttle website for fare and reservation information.
Taxi
Several companies provide taxi services to and from the airport.
Last updated: 2023-11-27
This guide is for informational purposes only to assist with your planning.  All information, including rates and hours, is subject to change at any time without notice.   The information in this airport guide is based on information collected and/or received from the airports, lounges, hotels, transportation providers, and their websites. We are not representatives of any of the above-mentioned service providers. To report errors or to add/update any items mentioned in the guide: update the airport guide or  write a review.