Whether you have a layover, overnight sleepover or are just quickly passing through, our Hartford Airport Guide is a great place to start planning your visit.  Here, you'll find information on services and facilities available inside the airport – including details about airport lounges, WiFi, mobile charging points, lockers, 24-hour food options, nearby hotels, and everything in between.
it wasn't that bad, except the cleaning guy hit me with the vacuum, and claimed that he was only doing his job. – a traveller
BDL Airport Overview
To help you plan your layover or overnight sleepover, here is a quick run-down about what to expect during your time at Hartford Bradley Airport (code: BDL).
What to Expect
Hartford Airport has a mid-size terminal with two concourses, 22 gates, and about two dozen eateries and shops, with most located on the airside. Almost all services close down at about 8:00 PM, so plan accordingly. WiFi is available, and additional comfort can be found through fee-based access to one of the airport's first-class lounges. See Airport Lounges in the guide below for locations and rates.
Sleeping in Hartford Airport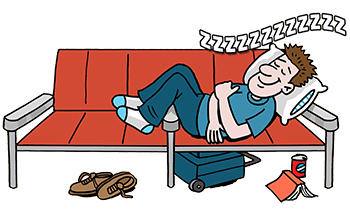 After security checkpoints close for the night, all passengers are restricted to the landside areas and must re-clear security the next day when the checkpoints open. Travellers report that airport staff are accommodating to overnight sleepers, that the airport is clean, and that some spots on the landside are conducive to sleeping. In particular, benches and chairs in the carpeted hallway leading to the hotel and some couches in lounge areas near the lower-level baggage claim. While the airport is quiet at night, the lighting can be bright, so bring eyeshades. For uninterrupted sleep, a hotel is connected to the airport, and others nearby provide free shuttles. See Airport Hotels in the guide below or read traveller reviews for more tips.
To help us keep this guide up-to-date, you can add or update information or write a review to submit airport tips and photos. You can also visit the airport's website for current information. For more airport information, continue scrolling down to explore more in our Hartford Airport Guide.
In this guide we may refer to locations as "landside" and "airside". Landside is the public area of the terminal located in the non-secure zone, before security. Airside is the secure area of the terminal that you must reach by going through security.  For more information on Europe's Schengen Area, click here.
Airport Hotels
If sleeping in Bradley Airport sounds like a nightmare, there are hotels near Bradley Airport:
Sheraton Hartford Hotel at Bradley Airport – Located between Terminals A and B. » Check Rates
Hotels near the airport with free shuttles:
La Quinta Inn Hartford Bradley Airport » Check Rates
DoubleTree by Hilton Hotel Hartford Bradley Airport » Check Rates
For more options, visit Tripadvisor to see a list of hotels near Hartford Airport that can be sorted by price, distance, traveller rating and popularity.
Airport Lounges
Pay-per-use, Single Visit Passes & Lounge Memberships
Regardless of what class of service you are flying, there are lounges that you can enter by paying at the door. Visit the individual lounge page for more details about the lounge itself and to also find out how you can gain lounge access with just an economy class ticket!
Escape Lounge – Location: East Concourse, Airside, at the entrance to Gates 1-12. Lounge Access: Pay at the Door.
Related Pages: Hartford Airport Lounges
Airport WiFi / Internet
Free WiFi is available at Hartford Bradley Airport.
More Services, Facilities & Things To Do On A Layover At The Airport
ATMs / Cash Machines – Need cash? ATMs are available. Fees may apply, so be sure to check your bank's fee schedule and your daily withdrawal limit if you are travelling internationally. You may also want to notify your bank of your travel plans. Locations:
» Landside – Baggage Claim, near Door 3 (opposite Delta Baggage Claim Carousel) • Ticketing Level, near Door 3 (opposite Aer Lingus counter).
» Airside – Three ATMs are located near Gates 1-12 (next to Gate 7, Gineva Murano Glass Jewelry, and CNBC Store / Mother's Nursing Room), and another is located near Gates 20-30 (next to New England Travel Mart). If you need to convert your cash into a prepaid card for cashless payments, you can do so at a Ready Credit reverse-ATM machine. Two machines are located on the Ticketing Level, near Doors 1 and 4.
Baby Care Facilities – The Mother's Nursing Room features comfortable seating, a changing table, a sink and power outlets for breastpumps. Location: airside, next to the CNBC store.
Currency Exchange – Not available.
Duty Free & Shopping – Duty-free shopping is available at International Shoppes. Location: Airside, Concourse 1-12, near Gates 8. Hours: 9:00AM – 6:30PM. A small variety of shops is also available to pass the time with a few options open at 4:00AM.
Food & Drinks – Food concessions throughout the airport operate on varying schedules, with most of them opening between 4:00AM – 5:00AM. At the time of this update, there are no 24-hour dining options.
Information Desk – Located across from Delta Airlines Ticket counter.
Luggage Storage & Lockers – Not available.
Mobile Charging – A reader tells us "there are charging stations in Terminal A (airside) between some of the seats near the gates." (June 2022)
Museum – The New England Air Museum offers Interactive displays for kids and aviation enthusiasts. Location: 11 min taxi/car from the airport
Rest Zones – There are no dedicated sleeping areas, quiet areas or rest zones. If this information has changed, click here to update this guide.
Shoe Shine – Service are available Airside at Gates 1-12 and Gates 20-30. Hours: 5:00AM – 6:00PM.
Showers – Not available.
SIM Cards – A reader has asked us to include where to buy SIM Cards. If you know, click here to update this airport guide.
Airport Hours
The airport is open 24 hours. Most airline counters open between 4:00 AM – 5:00 AM.
Keep in mind that TSA, airline check-in and baggage drop hours vary according to the flight schedule. Check these hours with your airline. If you are in the public area (landside), you will not be able to get through to the secure area (airside) until the morning.
Airlines
Hartford airport is served by the following airlines: Aer Lingus • Air Canada • American Airlines • Delta Air Lines • Frontier • JetBlue • Southwest Airlines • Spirit • United Airlines.
Last updated: 2022-10-31
This guide is for informational purposes only to assist with your planning.  All information, including rates and hours, is subject to change at any time without notice.   The information in this airport guide is based on information collected and/or received from the airports, lounges, hotels, transportation providers, and their websites. We are not representatives of any of the above-mentioned service providers. To report errors or to add/update any items mentioned in the guide: update the airport guide or  write a review.