Whether you have a layover, overnight sleepover or you are just quickly passing through, our Jeju Airport Guide is a great place to start planning your visit.  Here, you'll find information on services and facilities available inside the airport – including details about airport lounges, WiFi, mobile charging points, lockers, 24-hour food options, nearby hotels, and everything in between.
its been 11.00 pm and no one force me to leave the building but who knows the rest of the night. – Mio
CJU Airport Overview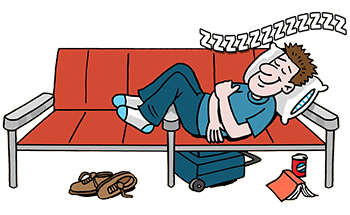 To help you plan your layover or overnight sleepover, here is a quick run-down about what to expect during your time at Jeju Airport.
What to Expect
Jeju Airport (code: CJU) has two terminals: Domestic and International. Each terminal has a variety of shops and eateries, offering both Asian and Western fare. WiFi is free but reportedly has poor connectivity. For added comfort while you wait, there are a few airport lounges. See Airport Lounges in the guide below for location and access information.
Where to Sleep
Spending the night here is not possible, as the airport closes nightly from 11:00PM until 5:00AM. (The airport may be flexible in cases of severe delays or cancellations.) For uninterrupted sleep, hotels are nearby. See our Airport Hotels section below for locations or read some traveller airport reviews for more tips.
Covid-19 Update
Due to the current Covid-19 pandemic, all services and times listed below are subject to change. Some services and facilities may remain closed or operate with reduced hours.  Airport tips and suggestions in this guide and elsewhere on the site were written before March 2020 and may no longer be valid. If you are planning to sleep in the public area of the terminal overnight, have a back-up plan! We've heard from a few travellers at other airports and they were not permitted to stay overnight. We're not sure if that will apply to this airport, until a reader lets us know the current situation. We will start updating all of our guides in October 2021.  To help us with this massive update, you can add or update information or write a review and submit photos and airport tips.
For more airport information continue scrolling down to explore more in our Jeju Airport Guide.
In this guide we may refer to locations as "landside" and "airside". Landside is the public area of the terminal located in the non-secure zone, before security. Airside is the secure area of the terminal that you must reach by going through security.  For more information on Europe's Schengen Area, click here.
Airport Hotels
If sleeping in Jeju Airport does not appeal to you, there are hotels near the airport:
Benikea Hotel Marina – (5 minutes from the airport) No airport shuttle. » Check Rates
Benikea I-Jin Hotel – (5 minutes from the airport) No airport shuttle. » Check Rates
December Hotel Jeju – (Less than 1.5 miles from the airport) No airport shuttle. » Check Rates
To see more options there is a list of hotels near Jeju Airport on Tripadvisor that can be sorted by price, distance, traveller rating and popularity.
Airport Lounges
Pay-per-use, Single Visit Passes & Lounge Memberships
Regardless of what class of service you are flying, there are lounges that you can enter through a lounge membership program. Visit the individual lounge page for more details about the lounge itself and to also find out how you can gain lounge access with just an economy class ticket!
Asiana Lounge – Location: Landside, 3rd Floor, Departure Level, next to the Asiana Check-in counter. Lounge Access: Lounge membership programs.
KAL Lounge – Location: Landside, on the 3rd Floor. Lounge Access: Lounge membership programs.
Related Pages: Jeju Airport Lounges
Airport WiFi/Internet
Free WiFI is available at Jeju Airport. An Internet lounge is located on 3F.
More Services, Facilities & Things To Do On A Layover At The Airport
ATMs / Cash Machines – Need cash? ATMs are available. Fees may apply, so be sure to check your bank's fee schedule and your daily withdrawal limit if you are travelling internationally. You may also want to notify your bank of your travel plans. Locations: 1F and 3F.
Children's Play Area – When you want to ensure your kids burn off all their energy before their flight, take them to the children's play area. Location: Domestic Terminal, 4th Floor, beside the Drop Top Coffee Shop.
Currency Exchange – Jeju Bank operates a currency exchange on 1F and 3F.
Disabled Services – The airport provides raised blocks, 9 elevators, 24 parking spaces and 14 disabled bathrooms.
Duty Free & Shopping – Duty free shopping is available, along with a wide variety of retail shops and gift boutiques including two convenience shops with one on the 1st Floor which is open 6:00AM – 10:00PM.
Family Services – Nursing rooms are available including a baby changing table, sink and a sofa. Location: Domestic Terminal, 3rd Floor • International Terminal, 3rd Floor, Airside. Strollers can be borrowed while Landside, see the Information Desks on the 1st or 2nd Floor, Domestic Terminal.
Food & Drink – Food concessions throughout the airport operate with varying schedules, with most open from 7:00AM – 9:00PM (Domestic Terminal) • 7:00AM – 11:00PM (International Terminal). At the time of this update, there are no 24-hour dining options.
Information Desk –  Need help getting around or have an airport question?  Information Desk  are available. Locations: 1F and 3F.
Luggage Storage & Lockers – A left luggage facility offers temporary storage of luggage at a rate of 5,000 – 10,000 KRW per bag, per 24-hour period. Location: 1F, landside. Hours: 6:30AM – 9:00PM.
Postal Services – Drop off your last minute postcards at the airport's mailbox. Location: Landside, 1F.
Medical Services – If you feel unwell or injure yourself, a medical center can be found in the Domestic Terminal, 1st Floor, near Gate 3. Hours: 7:00AM – 10:00PM.
Mobile Charging – Recharge your mobile devices free of charge. Paid services are also available, presumably for faster charging. Locations: unknown.
Pharmacy – Location: 3F, next to the Dunkin Donuts. Hours:7:00AM – 11:00PM.
Rest Zones – There are no dedicated sleeping areas, quiet areas or rest zones. If this information has changed, click here to update this guide.
Showers – Not available.
Airport Hours
The airport is open from 5:00AM – 11:00PM, and the terminal building is locked for the night. Overnight stays are not permitted at this airport.
Airlines
Jeju airport is served by the following airlines: Air Busan • Air China • Air Pohang • Air Asia • Asiana Air • Cathay Pacific • China Eastern Airlines • Delta Air Lines • Eastar Jet • HK Express • Far Eastern Air Transport • Japan Airlines • Jeju Air • Jin Air • Korean Air • Loong Air • Spring Airlines • T'way Air.
Airport Transportation: Getting To/From The Airport
Car Rentals
Car rentals are available on the first floor, Domestic Arrivals (1F). Companies include: AJ Car • Jeju Car Rental • Jeju Island Rental • Lotte Car Rental.
Bus
The bus station is located outside of Gate 2, and is serviced by a variety of bus routes that travel throughout the city. For more information, please visit the Jeju Airport website.
Hotel Shuttle
A limousine shuttle bus also connects CJU airport with various nearby hotels and convention centers. It picked up passengers outside of Gate 5 in the arrival hall. The rate depends on your destination. For more information regarding the limousine shuttle bus schedule, visit the Jeju bus information website.
Taxi
Taxis are available outside the terminal, no reservation is required. A ride to Jeju City Hall takes about 30 minutes and costs approximately KRW 9,000. For more estimated fares based on destination, visit the Jeju Airport website.
Last updated: 2021-10-20
This guide is for informational purposes only to assist with your planning.  All information, including rates and hours, are subject to change at any time without notice.   The information in this airport guide is based on information collected and/or received from the airports, lounges, hotels, transportation providers and their web sites. We are not representatives of any of the above mentioned service providers. To report errors or to add/update any items mentioned in the guide: update the airport guide or  write a review.