Whether you have a layover, overnight sleepover or you are just quickly passing through, our Kansas City Airport Guide is a great place to start planning your visit.  Here, you'll find information on services and facilities available inside the airport – including details about airport lounges, WiFi, mobile charging points, lockers, 24-hour food options, nearby hotels, and everything in between.
Kansas City International airport isn't a place I'd purposely plan to sleep at, but its great for getting in and out of. – Kevin
MCI Airport Overview
To help you plan your layover or overnight sleepover, here is a quick run-down about what to expect during your time at Kansas City International Airport.
What to expect
Kansas City Airport (code: MCI) consists of two partially renovated terminals (B and C) connected by shuttle bus service. There are a fair number of eateries and shops in both terminals, though many tend to be on the landside. The terminal buildings are somewhat small in size, and the airside can feel claustrophobic. Security checkpoints can be long and sometimes chaotic. When transferring between terminals, security must be re-cleared. WiFi is available and outlets for charging mobile devices can be found throughout. There are no private lounges at this airport.
Sleeping in Kansas City Airport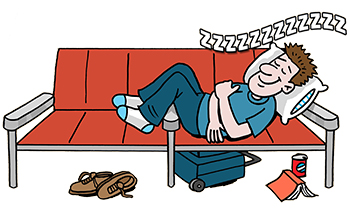 After security checkpoints close for the night, all passengers are restricted to the landside areas, and must re-clear security the next day when the checkpoints open. Due to the small size of the terminals reviewers generally report that sleeping in this airport can be difficult. Along with a lack of space and privacy, the terminals are described as noisy and lacking in comfortable seating. You may be able to find some privacy and comfort in a nook on the second floor past gates 85-89. Look for an open staircase past these gates, and once on the second floor walk to the end of the hallway where you can find a small nook. You can reportedly turn off the lights here, and sleep in relative quiet. There may also be some cushioned chairs and ottomans in Terminal B near the Starbucks that may work for a snooze. If you plan to spend the night, consider bringing a travel mat/sleeping bag, eyeshades and earplugs/noise-cancelling headphones to improve the possibility of decent sleep. For uninterrupted sleep, there are hotels within a quick shuttle ride of the airport. See Airport Hotels in the guide below or read some traveller airport reviews for more tips.
Covid-19 Update
Some airport reviews and tips in this guide and elsewhere on the site were written before March 2020 and may no longer be valid. To help us keep this guide up-to-date, you can add or update information or write a review to submit airport tips and photos. You can also visit the airport's web site for current information.
For more airport information continue scrolling down to explore more in our Kansas City Airport Guide.
In this guide we may refer to locations as "landside" and "airside". Landside is the public area of the terminal located in the non-secure zone, before security. Airside is the secure area of the terminal that you must reach by going through security.  For more information on Europe's Schengen Area, click here.
Airport Hotels
If sleeping in the airport sounds like a nightmare, there are hotels near Kansas City Airport that provide free airport shuttles.  For airport pick-up, use the courtesy phone in the baggage claim area.
With Covid restrictions constantly changing, we recommend that you confirm shuttle availability prior to booking and/or prior to your arrival.
For more options, visit Tripadvisor to see a list of hotels near Kansas City Airport that can be sorted by price, distance, traveller rating and popularity.
Airport Lounges
There are no pay-per-use lounges at the airport.
Airport WiFi / Internet
Free WiFi is available at Kansas City Airport. Connect to the "KCI_FREE_WiFi" network.
More Services, Facilities & Things To Do On A Layover At The Airport
ATMs / Cash Machines – Need cash? ATMs are available. Fees may apply, so be sure to check your bank's fee schedule and your daily withdrawal limit if you are travelling internationally. You may also want to notify your bank of your travel plans. Locations: Concourse B • Concourse C.
Business Center – Locations: Terminal A (Gate 9) • Terminal B (Gate 56) • Terminal C (Gate 76).
Currency Exchange – Not available.
Duty Free & Shopping – There are a number of shops available to pass the time including multiple locations of CNBC News and Gift Shops. Hours: unknown.
Family Services – The airport is equipped with family washrooms, both Landside and Airside, in Terminals A & B. These are larger rooms with charging points, space for a stroller and a lockable door. Terminal C offers two nursing mothers rooms (in the holding room serving Allegiant, American, Frontier and Spirit • inside the United departure lounge) which include the same amenities as the family washrooms with the addition of comfortable seating and toys for children.
Food & Drinks – Most food concessions throughout the airport operate with varying schedules. These options are open 24 hours: Farmers Market (landside, Terminal B, near Gate 43) • Great American Bagel & Bakery (airside, Terminal C, near Gates 68 & 70).
Information Desk – It is not known if there is a dedicated Information Desk available; however, keep an eye out for the Airport Ambassadors (wearing red blazers) who are there to assist.
Luggage Storage & Lockers – Not available.
Mobile Charging – Charge your mobile devices at charging ports throughout the airport.
Rest Zones – There are no dedicated sleeping areas, quiet areas or rest zones. If this information has changed, click here to update this guide.
Showers – Not available.
SIM Cards – A reader has asked us to include where to buy SIM Cards. If you know, click here to update this airport guide.
Smoking – Smoking is prohibited anywhere inside the airport.
Airport Hours
The airport is open 24 hours.
Keep in mind that TSA, airline check-in and baggage drop hours vary according to the flight schedule. Check these hours with your airline. If you are in the public area of the terminal (landside) you will not be able to get through to the secure area of the terminal (airside) until the morning.
Airlines
Kansas City airport is served by the following airlines: Air Canada • Alaska Airlines • Allegiant Airlines • American Airlines • Delta Air Lines • Frontier Airlines • Icelandair • Jet Blue Airways • Southwest Airlines • Spirit Airlines • United Airlines • Vacation Express • VivaAerobus.
Airport Transportation: Getting To/From The Airport
Bus
KCI Airport is served by Metro Bus Route 129 Boardwalk/KCI daily bus service. At the time of this update, one-way fare is $1.50, payable by cash, change card or bus pass. Fare boxes on the bus accept exact change only. For route maps, schedules and fare information, visit the KCATA website.
Car Rentals
The following car rental agencies serve the airport: ACE • Alamo • Avis • Budget • Dollar • Enterprise • Fox • Hertz • National • Payless • Thrifty. Their service locations are linked to the airport by a free shuttle service. Gray Rental Car Shuttles stop to pick up and drop off passengers at marked shelters on the terminal medians.
Inter-Terminal Shuttles
KCI operates a free 24/7 shuttle service on the airport complex. Red buses depart every 15 minutes, travelling between the terminals and the circle parking lots. Blue buses depart every 20-30 minutes, travelling between the terminals and the economy parking lots. Gray bus transport passengers between rental car lanes to the terminals and depart every 5-10minutes. bus All buses pick up and drop off at designated shelters outside of each terminal.
Shuttles
Several companies offer shared-ride door-to-door service to and from the airport. Contact your service provider of choice before arrival at the airport, as some companies require a reservation.
Taxis
Taxi service can be requested by direct-dial courtesy phones, located throughout the inside and outside of the baggage claim area and terminal exits. Taxis are metered, and reservations are not required. At the time of this update, starting fare is $2.50 plus $2.10 per mile.
Last updated: 2023-01-18
This guide is for informational purposes only to assist with your planning.  All information, including rates and hours, are subject to change at any time without notice.   The information in this airport guide is based on information collected and/or received from the airports, lounges, hotels, transportation providers and their web sites. We are not representatives of any of the above mentioned service providers. To report errors or to add/update any items mentioned in the guide: update the airport guide or  write a review.