Whether you have a layover, overnight sleepover or you are just quickly passing through, our Kansas City Airport Guide is a great place to start planning your visit.  Here, you'll find information on services and facilities available inside the airport – including details about airport lounges, WiFi, mobile charging points, lockers, 24-hour food options, nearby hotels, and everything in between.
I don't have any information about sleeping at the new facility, except that the seats near gates are all designed with the unmovable armrests that discourage laying down on them. – a traveller (2023)
MCI Airport Overview
To help you plan your layover or overnight sleepover, here is a quick run-down about what to expect during your time at Kansas City International Airport.
What to expect
Kansas City Airport (code: MCI) consists of a new single terminal building. There are a fair number of eateries and shops in both terminals, though many tend to be on the landside. Travellers describe the airport as disorganized. WiFi is available and outlets for charging mobile devices can be found throughout. For those looking for a little added comfort, Delta has a lounge that you may be able to access even if you are not flying business/first class.  See Airport Lounges in the guide below for locations and access information.
Sleeping in Kansas City Airport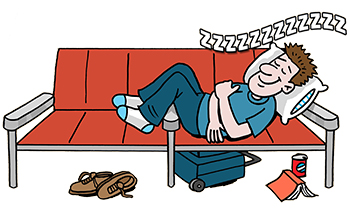 At the time of this update, we did not have any sleep-related reviews of the new terminal, but a reader tells us "the seats near gates are all designed with the unmovable armrests that discourage lying down on them". For uninterrupted sleep, there are hotels within a quick shuttle ride of the airport. See Airport Hotels in the guide below or read some traveller airport reviews for more tips.
To help us keep this guide up-to-date, you can add or update information or write a review to submit airport tips and photos. You can also visit the airport's website for current information.  For more airport information continue scrolling down to explore more in our Kansas City Airport Guide.
In this guide we may refer to locations as "landside" and "airside". Landside is the public area of the terminal located in the non-secure zone, before security. Airside is the secure area of the terminal that you must reach by going through security.  For more information on Europe's Schengen Area, click here.
Airport Hotels
If sleeping in the airport sounds like a nightmare, there are hotels near Kansas City Airport that provide free airport shuttles.  For airport pick-up, use the courtesy phone in the baggage claim area.
For more options, visit Tripadvisor to see a list of hotels near Kansas City Airport that can be sorted by price, distance, traveller rating and popularity.
Airport Lounges
Pay-per-use, Single Visit Passes & Lounge Memberships
Regardless of what class of service you are flying, there are lounges that you can enter by paying at the door or through a lounge membership program.
Delta Sky Club – Location: Concourse B, Mezzanine. Lounge Access: Lounge Membership programs.
Military Lounges
USO Lounge – Location: First Level, near Baggage Claim. Amenities: Lounge cafè, charging stations, TV with access to Disney+, arcade, board games, fast Wi-Fi. Lounge Access: open to enlisted military and their families. Hours: 9:00 AM – 6:00 PM.
Airport WiFi / Internet
Free WiFi is available at Kansas City Airport. Connect to the "KCI_FREE_WiFi" network.
More Services, Facilities & Things To Do On A Layover At The Airport
Arts & Culture Program – Kansas City Airport is home to several commissioned artworks from local, regional, and international artists. These can be found throughout the airport, in the terminal, parking garage, and concourses.
ATMs / Cash Machines – Information not available.
Baggage Trolleys – Need a hand with your luggage? Baggage trolleys are available. See the information desk in the check-in hall for assistance.
Business Center – A business centre featuring a conference table and seating, catering options, WiFi, and more will soon be available for rent. Locations: Unknown.
Currency Exchange – Not available.
Duty Free & Shopping – At the time of our August 2023 update there seem to be no duty-free stores in the terminal. However, there are several shops available to pass the time including &Go (open 24/7), 18th & Vine Travel Essentials, and Aeguana (also open 24/7).
Family Services – The airport is equipped with a play area for children of all ages and abilities. Location: Airside, before boarding gates. You will also find family washrooms.
Here you will also find family washrooms throughout the terminal. These are larger rooms with charging points, space for a stroller and a lockable door. The terminal also features nursing mothers' rooms (in the holding room serving Allegiant, American, Frontier and Spirit • inside the United departure lounge) which include the same amenities as the family washrooms with the addition of comfortable seating, adjustable lighting, toys for toddlers, and large changing and washing stations.
Food & Drinks – Most food concessions throughout the terminal operate with varying schedules. At the time of our August 2023 update, the only 24-hour option is Mother Earth Coffee (Arrivals).
Information Desk – An information desk is located in the check-in hall. You can also ask for information from the Airport Ambassadors (wearing red blazers) who are there to assist.
Luggage Storage & Lockers – Not available.
Mobile Charging – Charge your mobile devices at charging ports throughout the airport. Several charging stations can be found in the seating areas.
Pet Relief Area – Several pet relief areas are available throughout the airport. Locations: Airside, near Gate A8, A18 B54. These are equipped with artificial grass, a water spray nozzle, and plastic bags. A fourth area is located outside. Location: Arrivals, North end of the bag claim area.
Rest Zones – A Quiet room is located airside, before the upper A Gates.  The room is open 24/7 no reservation needed, low-toned conversation only and silenced cell phones. (submitted by a traveller/July 2023)
Sensory Room – Kansas City Airport features a sensory room designed for all neurodivergent people and passengers with other sensory processing challenges. The space is equipped with fidget chairs, cushioned and carpeted floors, and tactical-based zoned activity areas. The room is open 24/7 seven days per week. Location: Unknown.
Showers – Not available.
SIM Cards – A reader has asked us to include where to buy SIM Cards. If you know, click here to update this airport guide.
Smoking – You can find a smoking area in the courtyard on the Arrivals level. Designated areas are also present outside the terminal.
Airport Hours
The airport is open 24 hours.
Keep in mind that TSA, airline check-in and baggage drop hours vary according to the flight schedule. Check these hours with your airline. If you are in the public area of the terminal (landside) you will not be able to get through to the secure area of the terminal (airside) until the morning.
Airlines
Kansas City airport is served by the following airlines: Air Canada • Alaska Airlines • Allegiant Airlines • American Airlines • Apple Vacation • Delta Air Lines • Frontier Airlines • Jet Blue Airways • Southwest Airlines • Spirit Airlines • Sun Country Airlines • United Airlines • Vacation Express • VivaAerobus.
Airport Transportation: Getting To/From The Airport
Bus
RideKC operates a metro bus service from KCI Airport to downtown. At the time of our August 2023 update, the fare is free. Check out route #229 at RideKC's website for extra info.
Car Rentals
The following car rental agencies serve the airport: Alamo • Avis • Budget • Dollar • Enterprise • Hertz • National • Payless • Thrifty. Their service locations are linked to the airport by a free shuttle service. Gray Rental Car Shuttles stop to pick up and drop off passengers at marked shelters on the terminal medians. Visit our travel partner at Tripadvisor to search for car rentals deals.
Inter-Terminal Shuttles
Blue buses travelling between the terminals and the economy parking lots 24/7. Grey buses transport passengers between rental car lanes to the terminals. They also operate 24/7.
Ride Sharing
Uber and lyft ride sharing services are available. A ride to Downtown Kansas City will cost you about $30.
Shuttles
Several companies offer shared-ride door-to-door service to and from the airport. Contact your service provider of choice before arrival at the airport, as some companies require a reservation.
Taxis
Taxi service can be requested by direct-dial courtesy phones, located throughout the inside and outside of the baggage claim area and terminal exits. Simply dial 816 – 243 – 2345 and book your taxi. Taxis are metered, and reservations are not required. At the time of this update, starting fare is $2.50 plus $2.10 per mile.
Last updated: 2023-09-04
This guide is for informational purposes only to assist with your planning.  All information, including rates and hours, is subject to change at any time without notice.   The information in this airport guide is based on information collected and/or received from the airports, lounges, hotels, transportation providers, and their websites. We are not representatives of any of the above-mentioned service providers. To report errors or to add/update any items mentioned in the guide: update the airport guide or  write a review.