Whether you have a layover, overnight sleepover or you are just quickly passing through, our Lihue Airport Guide is a great place to start planning your visit.  Here, you'll find information on services and facilities available inside the airport – including details about airport lounges, WiFi, mobile charging points, lockers, 24-hour food options, nearby hotels, and everything in between.
LIH Airport Overview
To help you plan your layover or overnight sleepover, here is a quick run-down about what to expect during your time at Lihue – Kauai Airport.
What to Expect
Lihue Airport (code: LIH) consists of a small terminal with several eateries, shops, and vending machines. Much of the terminal building is open air, with ticketing counters located outside. Available services are open based upon flight schedules, so plan accordingly. WiFi is available to help pass the time.  Comfort can be found through fee-based access to the airport's first-class lounge. See Airport Lounges in the guide below.
Sleeping in Lihue Airport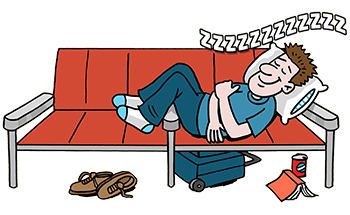 We do not yet have any sleep-related airport reviews.   Past reviewers did suggest that sleeping might be possible due to comfortable couches, though expressed concerns about the open-air heat.   For uninterrupted sleep, there are hotels near the airport. See Airport Hotels in the guide below or read some traveller airport reviews for more tips.
To help us keep this guide up-to-date, you can add or update information or write a review to submit airport tips and photos. You can also visit the airport's web site for current information.  For more airport information continue scrolling down to explore more in our Lihue Airport Guide.
In this guide we may refer to locations as "landside" and "airside". Landside is the public area of the terminal located in the non-secure zone, before security. Airside is the secure area of the terminal that you must reach by going through security.  For more information on Europe's Schengen Area, click here.
Airport Lounges
Pay-per-use, Single Visit Passes & Lounge Memberships
Regardless of what class of service you are flying, there is a lounge that you can enter through a lounge membership program.
Related Pages: Lihue Airport Lounges
Airport Hotels
If sleeping in the airport sounds like a nightmare, there are hotels within a 10 minute drive from Lihue Airport:
For more options, visit Tripadvisor to see a list of hotels near Lihue Airport that can be sorted by price, distance, traveller rating and popularity.
Airport WiFi / Internet
WiFi is not available at Lihue Airport.
More Services, Facilities & Things To Do On A Layover At The Airport
ATMs / Cash Machines – Need cash? ATMs are available. Fees may apply, so be sure to check your bank's fee schedule and your daily withdrawal limit if you are travelling internationally. You may also want to notify your bank of your travel plans. Locations: main lobby and baggage claim area.
Disabled Services – The entire terminal is on a single level. Curbside loading and unloading zones are available, as are accessible parking spaces. Porter services are available on request, as are motorized wheel chairs. Text telephones are located in the central lobby and car rental area.
Food & Drink – Five dining options are available: Ai Ono Cafe • Mea Inu Bar & Grill • HMS Host Food Kiosk • Stinger Ray's Bar & Grill • Starbucks. The Starbucks and the cafe are open as early as 5:30AM, and if you need a cocktail or bite to eat late at night, the Mea Inu Bar and Grill is open until 10:00PM.
Information Desk – Have any questions? Visit the information desk located in the baggage claim areas. Hours: 6:30AM to 9:00PM.
Luggage Carts – Need a hand with your bags? Baggage carts are available throughout the airport for a fee (rate unknown).
Luggage Storage & Lockers – Not available.
Medical Services – Airport Rescue and Fire Fighters are available 24 hours per day for first responder medical treatment.
Mobile Charging – At the time of this update, we did not have any information about mobile charging availability. If you know, click here to update this airport guide.
Rest Zones – There are no dedicated sleeping areas, quiet areas or rest zones. If this information has changed, click here to update this guide.
Shopping – Limited shopping options include a gift shop, newsstand, and flower / lei stand.
Showers – Not available.
SIM Cards – A reader has asked us to include where to buy SIM Cards. If you know, click here to update this airport guide.
Smoking Area – The airport is a non-smoking facility. All permitted smoking areas are located outside the terminal.
Airport Hours
The airport is open 24 hours.
Keep in mind that TSA, airline check-in and baggage drop hours vary according to the flight schedule. Check these hours with your airline. If you are in the public area of the terminal (landside) you will not be able to get through to the secure area of the terminal (airside) until the morning.
Airlines
Lihue airport is served by the following airlines: Alaska Airlines • American Airlines • Delta Air Lines • GO! • Hawaiian Airlines • Southwest • United Airlines • WestJet.
Airport Transportation: Getting To/From The Airport
Bus
Lihue Airport is served daily by two bus routes, picking up and dropping off passengers at the median located in front of the airport terminal. For route maps, schedules and fares, visit the County of Kauai website.
If you are staying at the Marriott or the Hilton Kauai Beach Resort, check with your hotel as shuttle service may be included.
Shared ride shuttle services are also available. To learn more about bus transit options, visit the Lihue Airport website.
Car Rentals
Car rental services are available at the booths located across the street from the airport terminal baggage claim area. Onsite car rental agencies include Advantage • Alamo • Avis • Budget • Dollar • Enterprise • Hertz • National.  Visit our travel partner at Tripadvisor to search for car rentals deals.
Hotel Shuttles
See also Airport Hotels above.
Taxis
Taxis are available curbside near the baggage claim area of the airport terminal. All taxis are metered, and reservations are not required. The following one-way fares were current at the time of this update: Poipu $42- $52.50; Kauai Hilton $12; Lihue-Kukui Grove $9-$12.75; Princeville-Haena $88.50-$118.50; Wailua – Waipouli $22 – $27.60.
Last updated: 2022-10-28
This guide is for informational purposes only to assist with your planning.  All information, including rates and hours, is subject to change at any time without notice.   The information in this airport guide is based on information collected and/or received from the airports, lounges, hotels, transportation providers, and their websites. We are not representatives of any of the above-mentioned service providers. To report errors or to add/update any items mentioned in the guide: update the airport guide or  write a review.