Whether you have a layover, overnight sleepover or you are just quickly passing through, our Macau Airport Guide is a great place to start planning your visit.  Here, you'll find information on services and facilities available inside the airport – including details about airport lounges, WiFi, mobile charging points, lockers, 24-hour food options, nearby hotels, and everything in between.
i found a fantastic place to sleep in the macau airport on the top (3rd) level there are two elevators on each end of the airport. – brad
MFM Airport Overview
To help you plan your layover or overnight sleepover, here is a quick run-down about what to expect during your time at Macau International Airport.
What to Expect
The modern terminal at Macau Airport (code: MFM) is always busy with flights from across Asia. Amenities include a few shops and eateries, though none are open 24 hours, so plan ahead if you're spending the night. Free WiFi helps pass the time. For added comfort while you wait, economy class passengers can pay to enter an airport lounge. See Airport Lounges in the guide below for location and access information.
Sleeping in Macau Airport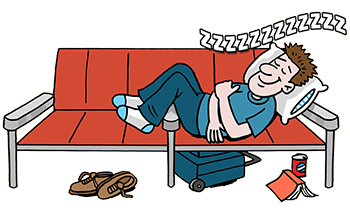 Historically, cold metal armrest-equipped benches and no sleeping on the floor made this airport unfriendly to overnight campers. Recent reviews suggest that there are plenty of flat, armrest-free benches near the windows in the international departures area. Bring an extra layer and earplugs to combat the full-blast air conditioning and airport noise. For uninterrupted sleep, nearby hotels offer free shuttle service. See the Airport Hotels section below for locations or read some traveller airport reviews for more tips.
To help us keep this guide up-to-date, you can add or update information or write a review to submit airport tips and photos. You can also visit the airport's web site for current information.  For more airport information continue scrolling down to explore more in our Macau Airport Guide.
In this guide we may refer to locations as "landside" and "airside". Landside is the public area of the terminal located in the non-secure zone, before security. Airside is the secure area of the terminal that you must reach by going through security.  For more information on Europe's Schengen Area, click here.
Airport Lounges
Pay-per-use, Single Visit Passes & Lounge Memberships
Regardless of what class of service you are flying, there is a lounge that you can enter by paying at the door, purchasing a lounge pass or through a lounge membership program. Visit the individual lounge page for more details about the lounge itself and to also find out how you can gain lounge access with just an economy class ticket!
Plaza Premium Lounge – Location: International Terminal, Airside, near Gate 5. Lounge Access: Pay at the Door • Lounge membership programs.
Airline Lounges
If you are a First or Business Class traveller you may have access to the lounges listed below. For more information, check the airline's website.
Air Macau Lounge – Location: Airside, Departure Hall, Level 2.
Related Pages: Macau Airport Lounges
Airport Hotels
If sleeping in the airport sounds like a nightmare, there are hotels near Macau Airport:
Golden Crown China Hotel – Located 100m/1-minute walk from the Departures Hall.  » Check Rates
There are more and much less expensive options than the hotel listed above.  Visit Tripadvisor to see a list of hotels near Macau Airport that can be sorted by price, distance, traveller rating and popularity.
Airport WiFi/Internet
Free, unlimited WiFi is available at Macau Airport. Connect to the "Airport-Free-WiFi" or "Airport-Free-WiFi-S" networks.
More Services, Facilities & Things To Do On A Layover At The Airport
ATMs / Cash Machines – Need cash? ATMs are available. Fees may apply, so be sure to check your bank's fee schedule and your daily withdrawal limit if you are travelling internationally. You may also want to notify your bank of your travel plans. Locations: landside and airside.
Banking Services – Full-service banking is available airside on the departures level.
Currency Exchange – Delta Bank offers currency exchange airside on the Departures level. First International Resources offers currency exchange from four kiosks, located landside and airside.
Duty Free & Shopping – Sky Shilla Macau offers duty-free shopping at the North gates (Gates 1-4), while King Power Duty Free offers duty-free shopping at the South gates (Gates 5-8). A 7 / 11 is available Landside (across from the Post Office) and is open 7:30AM – 11:00PM.
Food & Drinks – Food concessions throughout the airport operate with varying schedules. At the time of this update, we are unable to confirm the availability of any 24-hour dining options.
Information Desk – Yes available. Location. • Departure public area • Departure international area • Arrival level. Hours: unknown.
Luggage Storage & Lockers – Left luggage storage is available for MOP 10.00 per bag / per hour or MOP 80.00 per bag / per 24 hours, whichever is less. Location: Left Luggage Counter, landside, Departures level. Hours: Open 24 hours.
Luggage Wrapping – Protect your bags from theft and damage by having your bags wrapped in plastic. Rate: MOP 10.00 per piece.
Mobile Charging – A reader tells us that mobile charging is available in the departure hall.
Post Office – Here's you chance to post those last minute postcards. Location: Landside.
Rest Zones – There are no dedicated sleeping areas, quiet areas or rest zones. If this information has changed, click here to update this guide.
Showers – Not available.
SIM Cards – A reader has asked us to include where to buy SIM Cards. If you know, click here to update this airport guide.
Smoking Area – Designated and well-ventilated smoking lounges are available at the north and south ends of the Departures Hall.
Airport Hours
The airport is open 24 hours.
Airlines
Macau airport is served by the following airlines: Air Asia • Air Busan • Air China • Air Macau • Beijing Capital Airlines • Cambodia Airways • Cebu Pacific • China Eastern Airlines • EVA Air • Hainan Airlines • Jeju Airways • Jin Air • Juneyao Airlines • JC International Airlines • KC International Airlines • Lanmei Airlines • Palau Pacific • Philippine Airlines • Philippines AirAsia • Royal Flight • Scoot • Shenzhen Airlines • Spring Airlines • Thai AirAsia • T'way Airlines • Xiamen Air.
Airport Transportation: Getting To/From The Airport
Buses
For more information on local bus routes available visit the Macau Airport website.
Cross-border buses can take you major cities in Guangdong province. Bus companies have counters in the Arrivals Hall.
Car Rentals
The following car rental companies have desks at the airport: Avis • Happy Mokes. Location: unknown
Ferry
To reach Hong Kong you can take a ferry from the Macau Ferry Terminal, which is a 10-minute drive from the airport. Tickets can be purchased at the airport or ferry terminal. For fares, schedules and information, visit the Macau Airport website.
Hotel Shuttles
See also Airport Hotels above.
Hotel Shuttles
A few nearby hotels offer airport shuttle service: Holiday Inn Macau • Banyan Tree Macau •  Macau Roosevelt.
Departure points are near the terminal's north exit in the parking lot.
See also Airport Hotels above.
Taxis
Taxis are metered. The first 1,600m is MOP 19.00 and then MOP 2.00 for each 240m afterwards.
Last updated: 2022-10-28
This guide is for informational purposes only to assist with your planning.  All information, including rates and hours, is subject to change at any time without notice.   The information in this airport guide is based on information collected and/or received from the airports, lounges, hotels, transportation providers, and their websites. We are not representatives of any of the above-mentioned service providers. To report errors or to add/update any items mentioned in the guide: update the airport guide or  write a review.