Whether you have a layover, overnight sleepover or you are just quickly passing through, our Managua Airport Guide is a great place to start planning your visit.  Here, you'll find information on services and facilities available inside the airport – including details about airport lounges, WiFi, mobile charging points, lockers, 24-hour food options, nearby hotels, and everything in between.
A nap is impossible due to the noise…it seemed like people hang out at the airport for the sake of hanging out, regardless of whether or not they had a flight. – snowshoecat
MGA Airport Overview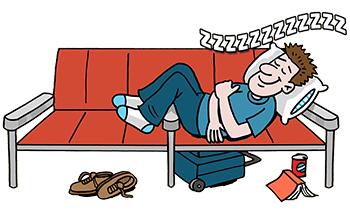 To help you plan your layover or overnight sleepover, here is a quick run-down about what to expect during your time at Managua Augusto Cesar Sandino International Airport.
What to Expect
The single terminal at Managua Airport (code: MGA) is divided by international and domestic departure areas. There are a few eateries and shops, but everything closes by 9:00PM, so plan ahead if you're spending the night. The free WiFi helps pass the time. For added comfort while you wait, economy class passengers can pay to enter an airport lounge. See Airport Lounges in the guide below for location and access information.
Sleeping in Managua Airport
Airport staff seem to have no issue with overnight campers. Your rest options are limited to hard, uncomfortable benches and the floor, so bring a sleeping bag or travel blanket for comfort. Common complaints include general noise and cold temperatures. For uninterrupted sleep, nearby hotels offer free shuttle service. See our Airport Hotels section below for more info or read some traveller airport reviews for more tips.
To help us keep this guide up-to-date, you can add or update information or write a review to submit airport tips and photos. You can also visit the airport's web site for current information.  For more airport information continue scrolling down to explore more in our Managua Airport Guide.
In this guide we may refer to locations as "landside" and "airside". Landside is the public area of the terminal located in the non-secure zone, before security. Airside is the secure area of the terminal that you must reach by going through security.  For more information on Europe's Schengen Area, click here.
Airport Hotels
If sleeping in the airport sounds like a nightmare, there are hotels near Managua Airport:
Best Western Las Mercedes Managua – Free airport shuttle service is available upon request. » Check Rates
Runway Hostel – Free airport shuttle is available during the day.  Add $5 for night transfers.
Airport X Managua – Airport shuttle is available for a fee.  » Check Rates
Airport Inn Managua – Airport shuttle is available for a fee.  » Check Rates
For more options, visit Tripadvisor to see a list of hotels near Managua Airport that can be sorted by price, distance, traveller rating and popularity.
Airport Lounges
Pay-per-use, Single Visit Passes & Lounge Memberships
Regardless of what class of service you are flying, there is a lounge that you can enter by paying at the door.
Sala VIP – Location: Airside, Second Floor. Lounge Access: Reservation required – Adults: US$ 30 + VAT – Children under 12: US$10.
Airport WiFi/Internet
A reader tells us that free WiFi is no longer available at Managua Airport. (February 2020)
More Services, Facilities & Things To Do On A Layover At The Airport
ATMs / Cash Machines – Need cash? ATMs are available. Machines are operated by Bancentro, BAC, and Banpro. Fees may apply, so be sure to check your bank's fee schedule and your daily withdrawal limit if you are travelling internationally. You may also want to notify your bank of your travel plans.  Locations: landside.
Banking Services – Banpro and BAC offer full-service banking at the airport.
Currency Exchange – Global Exchange – Location: Landside, International Arrivals / Airside, International Arrivals – Hours: 7:00AM – 11:00PM.
Duty Free & Shopping – Duty-free shopping is available is available starting at 5:00AM in both International Departures and Arrivals areas. In addition, a souvenir shop is available landside in the public hall.
Food & Drinks – Food concessions (serving local and international cuisine) operate in the food court from 6:00AM – 9:00PM.
Luggage Storage & Lockers – Not available.
Mobile Charging – At the time of this update, we did not have any information about mobile charging availability. If you know, click here to update this airport guide.
Rest Zones – There are no dedicated sleeping areas, quiet areas or rest zones. If this information has changed, click here to update this guide.
Showers – Not available.
SIM Cards – A reader tells us "There is a Claro desk post baggage and customs land-side (exit baggage x-ray through internal doors – not external doors). They sell phones, accessories and SIM cards. A 30 day 15gb SIM card costs $20.00USD with free calls to other Claro phones. [You] can pay with card or cash (accepts USD)." (July 2023)
Airport Hours
The airport is open 24 hours.
Airlines
Managua airport is served by the following airlines: Aeroméxico • Aeroméxico Connect • Avianca • Copa Airlines • La Costeña.
Airport Transportation: Getting To/From The Airport
Car Rentals
The following car rental companies are available: Dollar • Thrifty • Toyota Rent a Car. Look for the rental counters in the terminal's Arrivals area.
Hotel Shuttles
See also Airport Hotels above.
Last updated: 2022-10-28
This guide is for informational purposes only to assist with your planning.  All information, including rates and hours, is subject to change at any time without notice.   The information in this airport guide is based on information collected and/or received from the airports, lounges, hotels, transportation providers, and their websites. We are not representatives of any of the above-mentioned service providers. To report errors or to add/update any items mentioned in the guide: update the airport guide or  write a review.