Whether you have a layover, overnight sleepover or you are just quickly passing through, our Manchester Airport Guide is a great place to start planning your visit.  Here, you'll find information on services and facilities available inside the airport – including details about airport lounges, WiFi, mobile charging points, lockers, 24-hour food options, nearby hotels, and everything in between.
As Summer approaches T1 will remain very busy throughout the night and can resemble a refugee centre at times. -a traveller
MAN Airport Overview
To help you plan your layover or overnight sleepover, here is a quick run-down about what to expect during your time at Manchester Airport.
What to Expect
Manchester Airport (Code: MAN) has three terminals (1, 2 and 3). Terminals 1 and 2 linked by a skybridge with moving sidewalks to assist with the 10- to 15-minute walk. Terminals 1 and 3 are linked by a covered walkway. The entire airport has garnered a reputation for rude personnel, poor service, outdated facilities and large crowds. Terminal 1 seems to get the fewest complaints, while Terminal 3 edges Terminal 2 for most complaints. There are plenty of dining and shopping options throughout the airport, with Terminal 1 having the biggest selection, and Terminal 3 having the least. Head to the Spar Grocery Store for last minute snacks (in all 3 Terminals), they are open 24 hours a day. WiFi is available to help pass the time. Additional comfort can be found through fee-based access to one of the airport's first class lounges. See Airport Lounges in the guide below.
Sleeping in Manchester Airport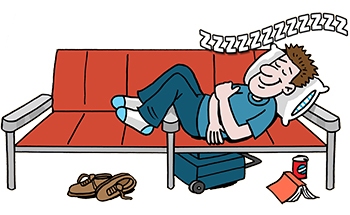 Terminal 1 offers the most comforts for sleeping, with the airside featuring armrest-free seating and benches. The arrivals level of terminal 2 has plenty of benches, but reviewers recommend avoiding the departures level. Terminal 3 reportedly offers little in the way of sleeping comfort and the fewest amenities. Noise is the most cited complaint, so consider bringing earplugs/noise-cancelling headphones if you are intending to spend the night. Explore our guide to sleeping in Manchester Airport or read some traveller airport reviews for more tips. For uninterrupted sleep, there is a hotel at the airport attached to Terminals 1 and 2, and others nearby.  See the Airport Hotels section below for locations.
Good to Know
Showers are available for a fee in the hotel in T2.
To help us keep this guide up-to-date, you can add or update information or write a review to submit airport tips and photos. You can also visit the airport's web site for current information.  For more airport information continue scrolling down to explore more in our Manchester Airport Guide.
In this guide we may refer to locations as "landside" and "airside". Landside is the public area of the terminal located in the non-secure zone, before security. Airside is the secure area of the terminal that you must reach by going through security.  For more information on Europe's Schengen Area, click here.
Airport Lounges
Pay-per-use, Single Visit Passes & Lounge Memberships
Regardless of what class of service you are flying, there are lounges that you can enter by paying at the door, purchasing a lounge pass or through a lounge membership program. Visit the individual lounge page for more details about the lounge itself and to also find out how you can gain lounge access with just an economy class ticket!
Terminal 1
Escape Lounge (Terminal 1) – Location: Terminal 1, Airside, Executive Lower Level. Lounge Access: Pay at the Door • Prepaid lounge pass • Lounge membership programs.
Aspire Lounge (Terminal 1) – Location: Terminal 1, Airside. Lounge Access: Pay at the Door • Prepaid lounge pass • Lounge membership programs.
Terminal 2
Escape Lounge (Terminal 2) – Location: Terminal 2, Airside, opposite Gate 209. Lounge Access: Pay at the Door • Prepaid lounge pass • Lounge membership programs.
1903 Lounge – Location: Terminal 2, Airside, Upper Level.  Lounge Access: Pay at the Door (£45).
Aspire Lounge (Terminal 2) – Location: Terminal 2, Airside. Lounge Access: Lounge membership programs.
Terminal 3
Related Pages: Manchester Airport Lounges
Airport Hotels
If sleeping in the airport sounds like a nightmare, there are hotels near Manchester Airport including one that is connected to the terminals:
Radisson Blu Hotel Manchester Airport – Connected to the terminals.  Access from Terminals 1 and 2 via a covered, moving walkway called Skylink.  » Check Rates
Clayton Hotel Manchester Airport – Five minute walk from the terminal. Free 24-hour airport shuttle.  For pick up at the airport use a courtesy phone located in the Arrivals Hall and at Information Desks. The driver will inform you of pickup spot.  » Check Rates
For more options, visit Tripadvisor to see a list of hotels near Manchester Airport that can be sorted by price, distance, traveller rating and popularity.
Airport WiFi/Internet
Free WiFi is available in Manchester Airport for up to 4 hours, within a 24-hour period of time. Connect to the "_FreeWifi" network. You may also opt to purchase the faster, premium service at the following rates: £1.00 per hour, £10.00 per day or £30.00 per month.
More Services, Facilities & Things To Do On A Layover At The Airport
Communications
Family Services
Baby Care Facilities – Baby changing facilities are located in or near the women's restrooms. All baby changing facilities have comfortable chairs for breastfeeding. Boots Drugstore, located both landside and airside, offers a pre-order service for baby milk. Simply place your order five days before your travel, and pick up post security, freeing up space in your hand luggage for other essentials. You can warm up baby bottles at Starbucks in Terminal 1, Broderick's or Caffe Nero in Terminal 2, and Costa Coffee or Caffe Nero in Terminal 3.
Children's Play Area – When you want to ensure your kids burn off all their energy before their flight, take them to the children's play area. Location: Terminal 2, Airside, Departure Gate 213.
Family Services -Travellers with children in strollers are allowed free fast lane service through the security checkpoints. The airport is trialing a breastfeeding facility in Terminal 1, Departure Lounge. The room allows up to four women to use the room at once. Please note this facility is for breastfeeding mothers only, and if they are travelling alone their young children may accompany them. Opposite the facility is a Children's TV Zone, so partners and children can comfortably make use of this area whilst waiting.
Food & Drinks
Food & Drinks – Food concessions throughout the airport operate from first flight departure of the day until the last flight departure of the day. At the time of this update, there are no 24-hour dining options. If you are Airside in Terminal 1 there is a Grain Loft which is open from 6:00AM – 4:00AM or you can head to Terminal 3, Landside where WHSmith is open 6:00AM – 4:00AM.
Grocery Store – If you need to pick up groceries on your way home to your destination in Manchester, stop at Spar. A wide variety of hot and cold sandwiches, take-away meals and general groceries are available. Location: landside in Terminals 1, 2 and 3. Hours: 24 hours.
Luggage
Baggage Trolleys – Need a hand with your luggage? Baggage trolleys are available. Rate: £1 coin or 2 euro coin.
Luggage Storage & Lockers – Location: Terminal 1, Arrivals Level. Rates: £5 per item per 24 hour period.
Medical Services
Pharmacy – Boots Pharmacy has 2 locations, airside, in Terminals 1 and 3. Hours: T1 (3:30AM-7:00PM/ 4:00AM-8:00PM). T3 (4:00AM-7:00PM).
Mobile Charging
Mobile Charging – A reader tells us one place to charge your devices is in Terminal 3 arrivals (a table near the information desk).
Money
ATMs / Cash Machines – Need cash? ATMs, operated by Travelex, are available. Fees may apply, so be sure to check your bank's fee schedule and your daily withdrawal limit if you are travelling internationally. You may also want to notify your bank of your travel plans. Locations: in all three terminals including currency ATMs.
Currency Exchange – Travelex currency exchange is available throughout the airport in all three terminals.
Prayer
Prayer Room – Four multifaith prayer rooms are available in the airport. The rooms are deliberately kept neutral, aside from the "qibla" directional sign for Muslim visitors. Religious prayer books and Muslim prayer mats are available from the Chaplaincy. Special "wudu" washing facilities for Muslim visitors are available landside and airside in Terminals 2 and 3. Here are the locations of the four prayer rooms:

Terminal 1: Christian prayers are held at 8:30AM (Mon-Fri). Location: T1, landside, Ground Level Check-In, next to the Chaplaincy's main office (There are no airside prayer rooms in T1).
Terminal 2: Locations- airside, Departures, in the main retail area • landside, Main Arrivals concourse at Ground Level, near the Chaplaincy's T2 office.
Terminal 3: Jummah prayers (Islamic) are held every Friday at Friday at 13:00 GMT, 13:30 BST. Location: on the far right of the building (from the kerbside), on the first floor (below Departure level, above Arrivals).
Rest & Relaxation
Hotels – see "Airport Hotels" above.
Lounges – see "Airport Lounges" above.
Rest Zones – A reader tells us "There is a quiet zone in T3 (labelled Additional Seating but with signs asking for quiet) at airside past duty-free. (December 2022)
Security
Fast Track Service – As a premium service, customers with Fast Track security passes will be given priority service to ensure that waiting is kept to a minimum. Cost: £5.00. Book on-line.
Shopping
Duty Free & Shopping – Biza Duty-Free shops are available in all three terminals, along with a small selection of popular retail shops. WHSmith shops are available in each terminal and operate according to flight schedules.
Showers, Salon & Spa
Showers – Freshen up before or after a long flight with a shower at the Radisson! You can opt for basic access to shower and change facilities at £6.50 per person, or for £12.00, you can shower, change and use the hotel's leisure facilities. Location: Radisson Blu Hotel Manchester Airport in Terminal 2, accessible by elevated walkway from all terminals. Hours: Open from 6:00AM-9:00PM (Mon-Fri) and 8:00AM (Sat,Sun).  Dean tells us the "shower facilities close at 21:00 even though the gym facilities they're attached to close at 22:00. Really inconvenient." (July 2022)
Spa & Salon Services – Pamper yourself before your flight with an express beauty treatment, manicure or massage at AeroSpa. Location: T1, airside.
Smoking
Smoking – Designated smoking areas are available in Terminal 1 (access through food court) and Terminal 2 (by Gate 300). At the time of this update the airport is investigating adding a smoking area in Terminal 3.
Things to do & see
Runway Visitor Park – Watch planes take-off, enjoy exhilarating views of the runway from the onsite restaurant, or take a guided tour of the Concorde Hangar at the Runway Visitor Park. An aviation-themed gift shop, orbital cycleway, raised viewing mounds, and children's play area are available. Entry to the park is free for visitors who arrive on foot, bicycle or public transportation. Location: Less than 3 miles walk from the airport. Hours: 8:00AM – 4:00PM (winter months) 8:00AM – 6:00PM (spring and autumn months) 8:00AM – 8:00PM (summer months).
Airport Hours
The airport is open 24 hours.   A reader tells us "Security gates at Terminal 3 close at 11pm and dont open again until 3.30am. " (February 2020)
Airlines
Manchester airport is served by the following airlines: Aegean Airlines • Aer Lingus • Air Arabia • Air Canada • Air France • Air Malta • Air Transat • Air Baltic • Aurigny • Austrian Airlines • Balkan Holidays • Belavia • Biman Bangladesh • Blue Islands • British Airways • Brussels Airlines • Cathay Pacific • Corendon • Delta Air Lines • EasyJet • El Al Airlines • Emirates • Enter Air • Ethiopian Airlines • Etihad Airways • Eurowings • Finnair • Free Bird • Hainan Airlines • Iberia • Icelandair •Iran Airways • Iraqi Airways • Jet2 • Jetsgo Holiday • KLM • Loganair • Lufthansa • Norwegian • PIA • Pegasus Airlines • Qatar Airways • Ryanair • Sardatur Holidays • SAS • Saudia • Singapore Airlines • SunEXpress • Swiss • Tailwind • TAP Portugal • Titan Airways • TUIFly • Turkish Airlines • Virgin Atlantic Airways • Vueling.
Airport Transportation: Getting To/From The Airport
Bus and Coach
MAN airport is well connected to the local and long-distance bus system with at least 9 buses connecting at the airport. Bus 43 (Piccadilly Gardens – Manchester Airport) operates 24 hours a day. For routes, schedules and more information, visit the Manchester Airport website.
Car Rentals
Onsite car rentals are handled in a designated facility known as the Car Rental Village, linked to the airport terminals by free shuttle bus service, with departures available every 10 minutes. The following car rental agencies are available: Alamo, Avis, Enterprise, Europcar, Hertz, National and Sixt.
Hotel Shuttles
A few area hotels provide airport shuttle service: Clayton Hotel Manchester Airport  •   Etrop Grange.
Courtesy phones are located on the arrivals level, near the Information Desk.
See also Airport Hotels above.
Metrolink
Metrolink light rail trams serve the Greater Manchester Area with 92 stops along the line. The Metrolink stop is right inside the airport itself, adjacent to the rail platform Trams depart every 12 – 15 minutes during service hours. Automated ticket vending machines are available at all tram stops. For tram routes and stops, timetables and fares, visit the Metrolink website.
Taxi
"Black Cab" taxis are available in the ground transportation area of the terminal on a 24-hour basis. Fares for trips within the Manchester Licensed Area are charged according to the meter. However, drivers are not required to use the meter for trips outside of the licensed area. A list of maximum fares is available at the taxi rank, to help you negotiate a fair price for your journey.
Train
Manchester Airport Station is served 24 hours a day by local and regional trains operated by TransPennine Express and Northern Rail. Trains depart every 10 minutes, travelling between the airport and Manchester Piccadilly in the city center (total trip time 20 minutes). Some of the destinations connected to Manchester Airport by train are Birmingham, Glasgow, Edinburgh, Newcastle, Leeds, Liverpool and more.
Last updated: 2022-10-28
This guide is for informational purposes only to assist with your planning.  All information, including rates and hours, is subject to change at any time without notice.   The information in this airport guide is based on information collected and/or received from the airports, lounges, hotels, transportation providers, and their websites. We are not representatives of any of the above-mentioned service providers. To report errors or to add/update any items mentioned in the guide: update the airport guide or  write a review.