Whether you have a layover, overnight sleepover or you are just quickly passing through, our Milan Linate Airport Guide is a great place to start planning your visit.  Here, you'll find information on services and facilities available inside the airport – including details about airport lounges, WiFi, mobile charging points, lockers, 24-hour food options, nearby hotels, and everything in between.
Chairs are with armrest made me very hard to fall asleep, it is impossible to lie down. – apocru
LIN Airport Overview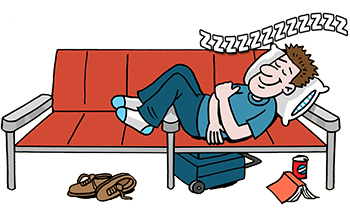 To help you plan your layover or overnight sleepover, here is a quick run-down about what to expect during your time at Milan Linate Airport (code: LIN).
What to Expect
Milan Linate Airport consists of an old, mid-size terminal with only a few dining and shopping options. WiFi is available to help pass the time. And, if you're willing to pay, comfort can be found through fee-based access to one of the airport's first class lounges. See Airport Lounges in the guide below.
Sleeping in Linate Airport
Airport staff and security are generally tolerant of overnight sleepers in the check-in area, and travellers feel safe while in the airport overnight. Some travellers who were found sleeping in other sections of the airport reported that they were asked to go to the check-in area. The outdated airport comes with outdated seating that consists of bolt-upright metal-framed benches with armrests. Most overnight sleepers resort to the floor, so consider bringing a travel mat and travel blanket for additional comfort.  Explore our guide to sleeping in Milan Linate Airport or read some traveller airport reviews for more tips.   For uninterrupted sleep, there are hotels near the airport. See our Airport Hotels section below for locations.
To help us keep this guide up-to-date, you can add or update information or write a review to submit airport tips and photos. You can also visit the airport's web site for current information.  For more airport information continue scrolling down to explore more in our Milan Linate Airport Guide.
In this guide we may refer to locations as "landside" and "airside". Landside is the public area of the terminal located in the non-secure zone, before security. Airside is the secure area of the terminal that you must reach by going through security.  For more information on Europe's Schengen Area, click here.
Airport Lounges
Pay-per-use, Single Visit Passes & Lounge Memberships
Regardless of what class of service you are flying, there are lounges that you can enter by paying at the door or through a lounge membership program. Visit the individual lounge page for more details about the lounge itself and to also find out how you can gain lounge access with just an economy class ticket!
Casa Alitalia Lounge – Temporarily Closed – Locations: Main Terminal, Airside, Boarding Area, Level 0 and Main Terminal, Airside, Boarding Area, Level 1. Lounge Access: Pay at the Door with proof of Alitalia ticket.
Club S.E.A. – Sala Leonardo – Location: Airside, Schengen and Extra Schengen. Lounge Access: Pay at the Door • Lounge membership programs.
Club S.E.A. – Sala Piranesi – Location: Landside, Check-in. Lounge Access: Pay at the Door • Lounge membership programs.
CLUB SEA VIP Bramante Lounge – Location: Arrivals
Airline Lounges
If you are a First or Business Class traveller you may have access to the lounges listed below. For more information, check the airline's website.
British Airways Galleries Lounge – Location: Main Terminal, Airside.
Related Pages: Linate Airport Lounges
Airport Hotels
If sleeping in the airport sounds like a nightmare, there are hotels near Milan Linate Airport:
Air Hotel Milano Linate – 10 minute walk to the terminal.  Free airport shuttle is available. After collecting your luggage, call the hotel at 02.94436500/22 to request a transfer. Pick-up location: First floor (departures), outside at gate #4. The drive is approx. 3 minutes.  » Check Rates
Moxy Milan Linate Airport – 15 minute walk to the airport.  No airport shuttle. » Check Rates
For more options, visit Tripadvisor to see a list of hotels near Milan Linate Airport that can be sorted by price, distance, traveller rating and popularity.
Airport WiFi/Internet
Unlimited free WiFi is available at Milan Linate Airport. Select the "LINATE FREE WIFI" network and receive up to 20mbps connectivity.
More Services, Facilities & Things To Do On A Layover At The Airport
Business Services
Business Center – Meeting rooms with speakers, monitors and a projector are available for rent.  Location: Landside, 2nd floor.
Communications
Family Services
Baby Care Facilities – Table with changing top, privacy screen and an ergonomic breastfeeding chair are available in the Baby Pit Stop feeding room. Look for the distinctive logo which marks the Baby Pit Stop, located at the Sala Amica. Baby change facilities are available in the washrooms throughout the airport.
Children's Play Area – When you want to ensure your kids burn off all their energy before their flight, take them to the children's play area where you will find Interactive Geronimo Stilton-themed games and toys. Location: 2nd floor, Food court.
Gaming area – Location: Airside, Ground floor, Gate A03.
Food & Drinks
Food & Drinks – Food concessions throughout the airport operate on varying schedules, with some open as early as 5:00AM and closed as late as 11:30PM. At the time of this update, there are no 24-hour dining options. Some of the options include: Aroma Cafe • Asia • Bagel Factory • Gran Caffe • illy Cafe • McDonald's • Michelangelo Restaurant • Pizza Chef.
Grocery Store – If you need to pick up groceries on your way stop at the Carrefour Market. The market offers the convenience and assortment of the perfect city supermarket inside the airport. Location: landside. Hours: 6:00AM – 9:00PM.
Information
Information Desk – Available in the central area on the Ground Floor and the 1st Floor. Hours: unknown.
Luggage
Luggage Storage & Lockers – Store bags weighing up to 30kg at Luggage Point.  Rate: EUR7/day.  Bags exceeding 30kg or 3m dimensions are charged EUR8/day. Location: Ground Floor. Hours: 7:00AM – 9:00PM.
Luggage Wrapping – SecureBag has four luggage wrapping stations. Location: Check-In, landside, 1st Floor. Hours: 4:00AM – 9:00PM.
Medical Services
Medical Services – The National Health Service operates a medical clinic. Location: Ground Floor, Arrivals. Hours: unknown.
Pharmacy – Location: Arrivals, landside, Ground Floor. Hours: 8:00AM – 8:30PM. Pharmashop vending machines can be found in the check-in area and outside the terminal.
Mobile Charging
Mobile Charging – A reader tells us that mobile charging is available in the check-in area.  "There are some seats with sockets and USB outlets to charge your devices" (LuDay, April 2022)
Money
ATMs / Cash Machines – Need cash? ATMs are available. Fees may apply, so be sure to check your bank's fee schedule and your daily withdrawal limit if you are travelling internationally. You may also want to notify your bank of your travel plans. Locations: Arrivals, Check -in and Boarding Area (Ground Floor), Check-In and Boarding Area (1st floor), Departures (1st floor), and Departures non-Schengen (Ground Floor).
Banking Services – Banca Popolare di Milano. Location: Arrivals, Ground Floor. Hours: 8:30AM – 1:30PM and 2:45PM – 3:45PM (Mon-Fri).
Currency Exchange – Forexchange. Locations: Check-In, 1st Floor • Departures, 1st Floor. Hours for all locations: 8:00AM – 10:00PM.
Prayer
Chapel – Location: Check-In (Groups Area), landside, 1st Floor.
Rest & Relaxation
Security
Fast Track Service – As a premium service, customers with Fast Track security passes will be given priority service to ensure that waiting is kept to a minimum. Cost: €9.00 book online.
Shopping
Duty Free & Shopping – Dufry duty-free shop is open daily from 6:00AM until 30 minutes before last flight departure, around 8:30PM – 9:00PM. A wide variety of retail shops are available, most open from 6:00AM until 30 minutes before last flight departure.
Showers, Salon & Spa
Smoking
A smoker's box is located Airside, near Gate A16.
Airport Hours
The airport is open 24 hours.
Airlines
Milan Linate airport is served by the following airlines: Aer Lingus • Aeroflot • Air Baltic • Air Canada • Air France • Air Malta •Albastar • American Airlines • Blue Air • Blue Panorama • British Airways • Brussels Airlines • Bulgaria Air • Delta Air Lines • EasyJet • Etihad Airways • Iberia • ITA • KLM • Lufthansa • Luxair • SAS • Silver Air • TAP Portugal • Volotea • Vueling Airlines.
Airport Transportation: Getting To/From The Airport
Bus and Coach
There are a few bus and coach operators that serve the airport and its neighboring cities.
Urban Line 73 (Milano Duomo M1 M3/Piazza Diaz – Linate) departs every 10 minutes from 5:35AM – 12:35AM. At the time of this update, the fare is € 1 – $3.
The following coach services access the airport:
Milan Central Station
ATM Extra-urban bus line 923
Airbus
Starfly
AutoguidovieMonza
Car Rentals
The following car rental agencies operate onsite in the Arrivals Hall: Avis • Budget • Dollar • Europcar • Firefly • Hertz • Leasys • Locauto • Maggiore • Sicily by Car/AutoEuropa • Sixt • Thrifty and more. Linate also participates in the following car sharing programs: e-Vai • Share Now and Enjoy.
Hotel Shuttles
Several area hotels provide airport shuttle service: Novotel Milano Linate Airport   •   Best Western Air Hotel Linate   •   Crowne Plaza Milan Linate.
See also Airport Hotels above.
Taxi
Taxis are readily available in the taxi docks at Arrivals, Ground Floor (Exit Gate 5). The following fares were current at the time of this update: Airport – Fiera € 60; Linate – Malpensa Airports € 116.
Last updated: 2022-10-28
This guide is for informational purposes only to assist with your planning.  All information, including rates and hours, is subject to change at any time without notice.   The information in this airport guide is based on information collected and/or received from the airports, lounges, hotels, transportation providers, and their websites. We are not representatives of any of the above-mentioned service providers. To report errors or to add/update any items mentioned in the guide: update the airport guide or  write a review.