Whether you have a layover, overnight sleepover or you are just quickly passing through, our Nagoya Airport Guide is a great place to start planning your visit.  Here, you'll find information on services and facilities available inside the airport – including details about airport lounges, WiFi, mobile charging points, lockers, 24-hour food options, nearby hotels, and everything in between.
A guard was placed to watch us and every three hours our passports and tickets were checked. I placed mine by my head to avoid being woken up for each check- which sort of worked. – HelloCat
NGO Airport Overview
To help you plan your layover or overnight sleepover, here is a quick run-down about what to expect during your time at Nagoya Chūbu Centrair Airport.
What to Expect
Situated on a dedicated man-made island, Nagoya Airport (code: NGO) has a single, efficient terminal that's divided into domestic and international piers. Amenities are modern, including dozens of eateries and shops, pay-to-use showers in two locations, and free WiFi. Two landside convenience stores are open 24 hours for late-night snacks. For added comfort while you wait, economy class passengers can pay to enter several airport lounges. See Airport Lounges in the guide below for location and access information.
Sleeping in Nagoya Airport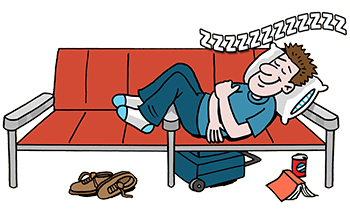 Only the Access Plaza and the International Arrivals Lobby are open 24 hours, so overnight campers must head here. There are several slim, armrest-free benches for resting. Bring an eye mask, earplugs or noise-cancelling headphones, and a blanket for added comfort. For uninterrupted sleep, a landside capsule hotel offers hourly room rentals and a shower-only package. More traditional hotels are located within a few minutes' walk of the terminal. See our Airport Hotels section below for more info or read some traveller airport reviews for more tips.
To help us keep this guide up-to-date, you can add or update information or write a review to submit airport tips and photos. You can also visit the airport's web site for current information.  For more airport information continue scrolling down to explore more in our Nagoya Airport Guide.
In this guide we may refer to locations as "landside" and "airside". Landside is the public area of the terminal located in the non-secure zone, before security. Airside is the secure area of the terminal that you must reach by going through security.  For more information on Europe's Schengen Area, click here.
Airport Lounges
Pay-per-use, Single Visit Passes & Lounge Memberships
Regardless of what class of service you are flying, there is a lounge that you can enter through a lounge membership program. Visit the individual lounge page for more details about the lounge itself and to also find out how you can gain lounge access with just an economy class ticket!
Centrair Global Lounge – Multiple Locations – (1) Domestic Terminal and (1) International Terminal.
KAL Lounge – Location: International Terminal, airside, 2F, 2nd Floor. Lounge Access: Lounge membership programs.
Star Alliance Lounge – Location: International Terminal, airside, 2F, 2nd Floor. Lounge Access: Lounge membership programs • Star Alliance Gold members • international flights first-class and business-class passengers.
Airline Lounges
In addition to the above lounges, there are a few more airline lounges, but you need to be a First or Business Class traveller to access them. For more information, check the airline's web site.
Centrair Airline Lounge – Location: Domestic Terminal, airside, 3F. Check with your airline if you qualify for access.
Sakura Lounge – Location: Domestic Terminal, airside, 3F. Lounge Access: JAL first-class and business-class passengers; JAL Global members and one additional person; JMB Diamond and Sapphire members and one additional person.
Star Alliance Lounge Nagoya – Location: International Terminal, Airside.
Related Pages: Nagoya Airport Lounges
Airport Hotels
If sleeping in the airport sounds like a nightmare, there are hotels near Nagoya Airport:
For more options, visit Tripadvisor to see a list of hotels in Nagoya, search deals and read traveller reviews.
Airport WiFi/Internet
Free WiFi is available at Nagoya Airport. Look for areas marked with "Centrair Free Wi-Fi" posters and banners. Connect to the "FreeWiFi-centrair" network.
If you do not have a mobile device, there are internet kiosks available for a fee of 100 yen per 10 minutes. Locations: Airside 2nd Floor • Airside and Landside, 3rd Floor.
More Services, Facilities & Things To Do On A Layover At The Airport
Communications
Post Office – Send your last minute postcards to friends and family from airport's post office. Location: Welcome Garden (1F). Hours: 9:00AM – 5:00PM (Mon – Fri). Mailboxes can be found in the Departures Lobby (3F) and Access Plaza.
SIM Cards – A reader has asked us to include where to buy SIM Cards. If you know, click here to update this airport guide.
WiFi – see "Airport WiFi/Internet" above.
Family Services
Baby Care Facilities – Nursing Rooms next to nearly all of general restrooms and include a diaper changing station, a washstand, and a nursing chair.
Children's Play Areas – Kid's Square is located in two areas airside: Domestic and International Terminal.
Family Services – Hot water for preparing baby formula is available Landside at the Information Centers (Locations: Departures Lobby (3F) • Arrivals Lobby (2F) • Access Plaza. If you are Airside (International) you can get hot water from Starbucks, Deli & Cafe and vending machines.
Strollers – You can rent baby strollers at the third floor of the Departures Lobby and at the Information Counter of the Access Plaza.
Food & Drinks
Food & Drinks – There are no 24 hour food and beverage concessions available at the airport. You will find more than 60 restaurants/cafes available (Landside and Airside) with most opening at 7:00AM and closing at 10:00PM. The Family Mart (Access Plaza) and the Lawson Mart (Welcome Garden, 1F) are open 24 hours for beverages and snack items. Pork-free and alcohol-free menus are available at the Deli & Cafe (Departures Lobby, 3F) and the Neo Japan Souvenir Shop (Airside, Minamikan Shopping area).
Information
Airport Ambassadors – If you need help navigating the airport or have a general airport questions, look for one of the Airport Ambassadors who can be seen wearing an orange vest.
Information Desk – There are 4 information desks available. Locations: Departures lobby (3F – this location sells entrance tickets to the paid lounges) • Arrivals Lobby (2F) • Welcome Garden (1F) • Access Plaza. Hours: 4:40AM – 9:50PM (hours may vary slightly at each location).
Luggage
Baggage Carts – Need a hand with your luggage? 2000 baggage carts are available free of charge in the public area of the terminal. You can not take the carts through security; however, a limited amount of smaller carts are available once you are Airside.
Luggage Storage & Lockers – Two left luggage offices are available: Arrivals Lobby, 2nd Floor (Hours: 7:00AM – 10:00PM) • Departures Floor, 3rd Floor (Hours: 6:30AM – 9:30PM). Rates: 500 yen. Additionally coin lockers are available in 9 locations: Sky Town, 4th Floor • Departures Lobby, 3rd Floor • Arrivals Lobby, 2nd Floor • Access Plaza. Daily Rates: 300 yen (small locker) • 600 yen (large locker).
Luggage Wrapping – Protect your bags from theft and damage by having your bags wrapped in plastic. Location: Departures Lobby (3F). Hours: 6:30AM – 9:30PM. Rates: 1,000 yen (Medium size); 1,500 yen (Large size).
Medical Services
Medical Services – Fujita Health University's Central Japan International Airport Clinic – Location: Arrivals Lobby (2F) on second floor of the Terminal Building. Hours: 09:00AM – 05:00PM. Paid clinic that offers consultations, emergency care, and other medical services. There are also 40 AEDs (Automated External Defibrillators) throughout the airport.
Pharmacy – Amano Drugstore is available. Location: Departures Floor, 3F. Hours: 6:30AM – 9:00PM.
Mobile Charging
Mobile Charging – Mobile charging points are available in the waiting areas besides International counter A and Domestic Counter P. There are additionally computer desks equipped with charging ports in the International Departure Lobby (3F) and Domestic Departures Lobby (3F).
Money
ATMs / Cash Machines – Need cash? ATMs are available. Fees may apply, so be sure to check your bank's fee schedule and your daily withdrawal limit if you are travelling internationally. You may also want to notify your bank of your travel plans. Locations: Access Plaza • Departures Lobby (3F) • Arrivals Lobby (2F) • International Flights Restricted Area • Welcome Garden (1F). The withdrawl limit from the machines in the International Departures area is 30,000 yen.
Banking Services – The Bank of Mitsubishi UFJ provides full-service banking and currency exchange services. Locations: Departures Lobby, 3F. Hours 9:00AM – 3:00PM.
Currency Exchange – Available in six foreign exchange offices. Locations: 2F, 3F and Access Plaza.
Prayer
Prayer Room – Prayer rooms are divided into separate male and female sections. Locations: Arrivals Lobby (2F) • Departures Lobby (3F).
Rest & Relaxation
Hotels – see "Airport Hotels" above.
Lounges – see "Airport Lounges" above.
Massage Chairs – Location: International Departures Lobby • Domestic Departures Lobby. Rates: 200 yen/10 minutes.
Rest Zones – There are no dedicated sleeping areas, quiet areas or rest zones. If this information has changed, click here to update this guide.
Security
Police Station – Location: Departures Lobby (3F).
Shopping
Duty Free & Shopping – Duty Free shopping is available, as well as over 100 shops to pass the time at the airport.
Showers, Salon & Spa
Bath House – "Fu No Yu" is the only bathhouse in Japan where you can watch the planes landing and taking off. Towels are available as well as a place to store your luggage. Location: Relaxation Plaza. Hours: 8:00AM – 10:00PM.
Showers – Showers are available at the Fu No Yu Bathhouse. See Bath House above. Shower packages can also be booked at the TUBE Sq Capsule Hotel. [ see Airport Hotels above ]
Spa – The Grand Raffine Spa offers body care and reflexology. Location: Relaxation Plaza. Hours: 9:00AM – 9:00PM.
Smoking
Smoking Rooms – Smoking is permitted in designated smoking rooms in the airport. The rooms can be found on all floors with the exception of the 1st Floor Welcome Garden.
Things to do & see
Observation Deck – Relax and watch planes taking off and landing from the vantage point of the airport's observation deck. Location: 4F. Hours: 7:00AM – 10:30PM.
Other Airport Services & Facilities
Multipurpose Room – The room is available to repack your luggage, pray, etc. Location: Behind the smoking room next to the third floor Domestic Check-In Counter.
Changing Rooms – If you need to change your clothes after a long flight, there are change rooms located in the Departures Lobby (3F) and Arrivals Lobby (2F).
Dry Cleaning – Local residents, if you are departing from Nagoya Airport, you can drop off your dry cleaning and have them ready for pick-up when you return. Clothes are ready 4-5 days after drop-off. Location: Arrivals, 2F.
Airport Hours
The Access Plaza and the International Arrivals Lobby are open 24 hours. If you are in another area of the airport between the hours 11:30PM – 5:20AM you will be relocated to one of the 24 hour accessible areas.
Airlines
Nagoya airport is served by the following airlines: Air Asia • Air Busan • Air China • AIRDO • Air New Zealand • Alitalia • All Nippon Airways • Asiana Airlines • British Airways • Cathay Pacific • Cebu Pacific Air • China Airlines • China Eastern Airlines • China Southern Airlines • Delta Air Lines • Etihad Airways • EVA Air • Finnair • Garuda Indonesia • Hawaiian Airlines • HK Express • IBEX • Japan Airlines • Jeju Air • Jetstar • Juneyao Airlines • KLM • Korean Air • Lufthansa • Philippine Airlines • Qatar Airways • Shandong Airlines • Singapore Airlines • Skymark Airlines • Solaseed Air • Spring Airlines • South African Airways • SriLankan Airlines • Star Flyer • Thai Airasia • Thai Airways International • Thai Lion Air • Tianjin Air • Turkish Airlines • T'Way Airlines • United Airlines • Vietnam Airlines • Virgin Australia • Xiamen Air.
Airport Transportation: Getting To/From The Airport
Buses
Many public buses serve the airport. Buses arrive at the first floor of the terminal; bus stops for boarding airport buses to various destinations are different than the arrivals stop. Timetables and fare are available on the airport's website.
Car Rentals
The following car rental companies offer services at the airport: Orix Rent a Car • Nippon Rent a Car • Nissan Rent a Car • Times Car Rental • Toyota Rent a Car. Hours vary with the earliest opening at 7:00AM and latest closing at 10:00PM.
High-speed boats
High-speed boats connect to Tsu daily. Boats depart from a boarding point beyond the Access Plaza. The ride takes approximately 45 minutes and as of this update, costs approximately 2,500 yen. Timetable is available on the airport's website.
Hotel Shuttles
See also Airport Hotels above.
Shuttles
Private shuttles are available 24-hours for groups up to 9 passengers. They must be pre-arranged. Prices depend on number of passengers. At the time of this update, if there were 7 passengers travelling to Central Nagoya each would pay 1,980 yen.
Trains
The airport terminal connects to the Airport Train Station via the Access Plaza from the second and third floors. Trains run frequently to/from Nagoya city center starting around 5:30AM and ending at 11:30PM; the ride lasts 28 minutes.
Taxis
Taxis pick-up from the first floor of the Access plaza. There is a Taxi Information Counter located on the second floor of the Access Plaza if you need assistance.
Last updated: 2022-10-28
This guide is for informational purposes only to assist with your planning.  All information, including rates and hours, is subject to change at any time without notice.   The information in this airport guide is based on information collected and/or received from the airports, lounges, hotels, transportation providers, and their websites. We are not representatives of any of the above-mentioned service providers. To report errors or to add/update any items mentioned in the guide: update the airport guide or  write a review.