Whether you have a layover, overnight sleepover or you are just quickly passing through, our Naples Airport Guide is a great place to start planning your visit.  Here, you'll find information on services and facilities available inside the airport – including details about airport lounges, WiFi, mobile charging points, lockers, 24-hour food options, nearby hotels, and everything in between.
airport was ice cold whole night during the night they kept air condition ON, we had summer clothes only and had to put all to cover ourselves and it was only 20 degrees outside. – frozc
NAP Airport Overview
To help you plan your layover or overnight sleepover, here is a quick run-down about what to expect during your time at Naples International Airport.
What to Expect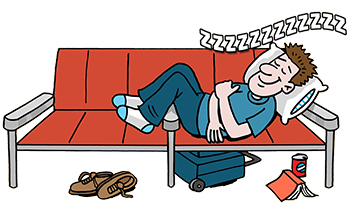 Naples Airport (code: NAP) has one commercial terminal that primarily handles European routes. Facilities include a dozen eateries, a variety of boutiques and shops, and a minimarket. Free WiFi helps pass the time, though power outlets may be in short supply. For added comfort while you wait, economy class passengers can pay to enter an airport lounge. See Airport Lounges in the guide below for location and access information.
Sleeping in Naples Airport
This airport closes nightly, from 11:30PM until 3:30AM, but if you are inside the terminal before it closes you may not be asked to leave.  Have a back-up plan just in case.  Some adventurous travellers have slept outdoors, just beyond the terminal entrance.  For uninterrupted sleep, an on-premise hotel rents sleep capsules overnight and by the hour. Additional hotels are nearby. See the Airport Hotels section below for locations or read some traveller airport reviews for more tips.
To help us keep this guide up-to-date, you can add or update information or write a review to submit airport tips and photos. You can also visit the airport's web site for current information.  For more airport information continue scrolling down to explore more in our Naples Airport Guide.
In this guide we may refer to locations as "landside" and "airside". Landside is the public area of the terminal located in the non-secure zone, before security. Airside is the secure area of the terminal that you must reach by going through security.  For more information on Europe's Schengen Area, click here.
Airport Lounges
Pay-per-use, Single Visit Passes & Lounge Memberships
Regardless of what class of service you are flying, there is a lounge that you can enter by paying at the door, purchasing a lounge pass or through a lounge membership program. Visit the individual lounge page for more details about the lounge itself and to also find out how you can gain lounge access with just an economy class ticket!
Pearl Lounge – Location: Airside, 1st Floor, opposite Gate C19.  Lounge Access: Prepaid lounge pass • Lounge membership programs.
Airline Lounges
If you are a First or Business Class traveller you may have access to the lounge listed below. For more information, check the airline's web site.
Casa Alitalia Napoli – Location: Airside, Gate C17
Related Pages: Naples Airport Lounges
Airport Hotels
If sleeping in the airport sounds like a nightmare, there are hotels near Naples Airport:
Benbo Bed and Boarding – This hotel offers 40 sleep capsules and 18 bathrooms. Rates: 8€ (1 hour) • 15€ (2 hours) • 21€ (3 hours) • 25€ (4 to 9 hours) and 53€ (full day). Reception is open 24 hours. Location: 100m from the terminal.  » Check Rates
Millennium Gold Hotel – Within walking distance.  600mt from the terminal.  » Check Rates
For more options, visit Tripadvisor to see a list of hotels near Naples Airport that can be sorted by price, distance, traveller rating and popularity.
Airport WiFi/Internet
Free unlimited WiFi is available at Naples Airport. Connect to the "naples_airport" network.
More Services, Facilities & Things To Do On A Layover At The Airport
ATMs / Cash Machines – Need cash? ATMs are available. Fees may apply, so be sure to check your bank's fee schedule and your daily withdrawal limit if you are travelling internationally. You may also want to notify your bank of your travel plans. Locations: Landside and Airside.
Baby Care Facilities – Information not available.
Baggage Trolleys – Need a hand with your luggage? Baggage carts are available free of charge.
Banking Services – Intesa Sanpaolo has a bank branch at the airport. Location: Landside. Hours: Need a hand with your luggage? Baggage carts are available free of charge at the airport. Hours: 8:30AM – 1:30PM and 2:45PM – 4:15PM. Hours are reduced to 8:30AM – 2:45PM on some holidays throughout the year.
Chapel – Location: Landside. Hours: 9:00AM- 6:00PM
Currency Exchange – There are two Travelex counters. Locations: Arrivals Concourse (Hours: 8:00AM – 11:30PM) and Check-in Area (Hours: 5:30AM – 10:00PM).
Duty Free & Shopping – Two Duty Free shops: one Express Shop is located Airside, on the ground floor and one shop is located Airside, on the first floor. Hours: 5:30AM until the time of the last flight. Other shops are available on both landside and airside. There is a CRAI Mini-Market (Landside, Arrivals Area) which may come in handy for beverages and snacks. Hours: 8:30AM – 12:00AM.
Fast Track Service – As a premium service, customers with Fast Track security passes will be given priority service to ensure that waiting is kept to a minimum. Cost: €7.00 online and €8.00 at automated kiosks located Landside.
Food & Drinks – There are no 24 hour food concessions at this airport. The airport offers seven options Landside and six options Airside. Hours vary by location but you will find options that open as early as 4:30AM and most close by 9:30PM.
Hair Salon – Whether you need a trim or want an entirely different hair style, the Tagliati per il successo hair salon can help. Location: Landside, in the arrivals hall. Hours: 7:00AM – 9:30PM (Mon – Sat).
Information Desk – Need help finding your way? An information desk can be found on the Ground Floor, near Arrivals. Hours: 4:30AM – 11:30PM, everyday. For Tourist Information, a Tourist office is located at the arrival area. Hours: 9:00AM – 7:00PM (Mon-Fri) and 9:00AM – 5:00PM (Sat-Sun).
Luggage Storage & Lockers – Location: Quick Parking Area (outside the Arrivals Hall). Hours: 5:00AM – 10:00PM.  The following rates apply per item per day:
€10,00 for basic storage (within the storage room)
€12,00 for premium storage (in a private box within the storage room)
€12,00 for basic storage (as above) plus a fast track ticket
€15,00 for premium storage (as above) plus a fast track ticket
€4,00 for storage of items not permitted through security/on board.
Luggage Wrapping – Protect your bags from theft and damage by having your bags wrapped in plastic. SafeBag security service points are located Landside, in the Departure Area. Rate: €12,00 per unit.
Medical Services – If you feel unwell or injure yourself, a medical center can be found. Location: Arrivals Concourse. Hours: 24 hours.
Mobile Charging – A reader mentioned mobile charging outlets in the 4 seater chairs near the gate.  Another reader found them on some of the seats next to Coccinelle (not easy to spot as they are in between some of the seats and also a charging pillar located in the comfy sofa-type seating section). (October 2019)
Pharmacy – Two pharmacy stores are available. Airport Pharmacy (Location: Landside, First floor. Hours: 6:00AM – 9:00PM, daily) • Parafarmacia (Location: Airside, First floor. Hours: 7:00AM – 9:30PM).
Post Office -Send your last minute postcards to friends and family from the airport's post office. Location: Terminal 1, Landside. Hours: 8:00AM – 1:30PM (Mon – Fri) • 8:00AM – 12:30PM (Sat).
Rest Zones – There are no dedicated sleeping areas, quiet areas or rest zones. If this information has changed, click here to update this guide.
Showers – Showers are available in the VIP Lounge Caruso.  [ see Airport Lounges above ]  Alternatively, you could book a 1 hour stay at the Capsule Hotel BenBo  [ see Airport Hotels above ] for 8,00€ which includes use of the shared toilet and shower area.
SIM Cards – A reader has asked us to include where to buy SIM Cards. If you know, click here to update this airport guide.
Travel Agencies – If you are arriving in Naples and need local arrangements or help planning a really last minute trip abroad, there is Dusila Travel Agent with offices at the airport Landside, Ground Floor) that can probably be of assistance. Hours: 9:00AM – 7:00PM (Mon – Fri) • 10:00AM – 6:00PM.
Airport Hours
The airport closes at night between 10:30PM – 3:30AM.  It is not possible to stay inside the terminal at night.
Airlines
Naples airport is served by the following airlines: Aer Lingus • Air Arabia • Air Baltic • Air Cairo • Air France • Alitalia • Austrian Airlines • BlueAir • British Airways • Brussels Airlines • EasyJet • Eurowings • Finnair • flydubai • Flyr • Iberia Express • Jet2.com • KLM • Lufthansa • Luxair • Norwegian Airlines • Ryanair • SAS • TAP Portugal • Transavia • TUI Fly • Tunisair Express • Turkish Airlines • Volotea • Wizz Air.
Airport Transportation: Getting To/From The Airport
Buses
City and regional buses connect to/from the airport. For timetables, see the airport's website.
Car Rental
The following car rental agencies are available onsite: Avis • Budge • B-rent • Dollar • Europcar • Firefly• Hertz • Leasys • Locauto • Maggiore • National • Sicily by Car • Sixt •.Thrifty
Hotel Shuttles
At the time of this update we were unable to find any hotels offering airport shuttle service.  Many hotels can arrange paid airport transfers on your behalf.  See also Airport Hotels above.
Taxis
Taxis are available outside the arrivals areas. Several destinations in the city center have fixed rates which. At the time of this update, a ride to the central station starts at €18.
Last updated: 2022-10-28
This guide is for informational purposes only to assist with your planning.  All information, including rates and hours, is subject to change at any time without notice.   The information in this airport guide is based on information collected and/or received from the airports, lounges, hotels, transportation providers, and their websites. We are not representatives of any of the above-mentioned service providers. To report errors or to add/update any items mentioned in the guide: update the airport guide or  write a review.