Whether you have a layover, overnight sleepover or you are just quickly passing through, our Nashville Airport Guide is a great place to start planning your visit.  Here, you'll find information on services and facilities available inside the airport – including details about airport lounges, WiFi, mobile charging points, lockers, 24-hour food options, nearby hotels, and everything in between.
I woke up around 3am and had to unroll my sleeping bag, since someone had kicked the A/C on and set it to "icebox" mode. – BCT
BNA Airport Overview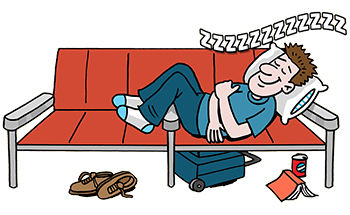 To help you plan your layover or overnight sleepover, here is a quick run-down about what to expect during your time at Nashville International Airport.
What to Expect
Nashville Airport (Code: BNA) consists of a single terminal that is divided into four concourses. Concourse A serves international destinations, Concourses B and C house domestic carriers, and Concourse D is currently closed for expansion and renovation, set to reopen in 2020.
You'll find a good selection of eateries and shops here, particularly in Concourse C. Pay attention to the time, as most restaurants close early, with only a few open until 9:30PM. No shops or cafes are open 24 hours. Free WiFi helps pass the time. Economy class passengers can pay to enter two airport lounges. See Airport Lounges in the guide below for locations and access information.
Sleeping in Nashville Airport
Overnight sleepers will be restricted to the landside, as security checkpoints close at night. A recent review (September 2019) mentioned approximately 12 comfy, fluffy 2-seater couches are available Landside, Main Terminal, 3rd Floor, beside Tootsies Lounge. Do expect for security guards to check your ID and boarding passes.  The airport takes its moniker, "Music City U.S.A." seriously! Several reviewers reported that country music plays constantly (and loudly!) well into the night. Have your earplugs or noise cancelling headphones handy if you want to sleep!  Try the far ends of the terminal, which are sometimes quieter. For uninterrupted sleep, nearby hotels offer shuttle service to guests. See our Airport Hotels section below for more info or read some traveller airport reviews for more tips.
To help us keep this guide up-to-date, you can add or update information or write a review to submit airport tips and photos. You can also visit the airport's web site for current information.  For more airport information continue scrolling down to explore more in our Nashville Airport Guide.
In this guide we may refer to locations as "landside" and "airside". Landside is the public area of the terminal located in the non-secure zone, before security. Airside is the secure area of the terminal that you must reach by going through security.  For more information on Europe's Schengen Area, click here.
Airport Lounges
Pay-per-use, Single Visit Passes & Lounge Memberships
Regardless of what class of service you are flying, there are lounges that you can enter by paying at the door or through a lounge membership program. Visit the individual lounge page for more details about the lounge itself and to also find out how you can gain lounge access with just an economy class ticket!
American Airlines Admirals Club – Location: Concourse C, Airside, Mezzanine Level, across from Gate C10. Lounge Access: Pay at the Door with proof of American Airlines ticket • Lounge membership programs.
Airline Lounges (members only)
Delta Sky Club – Location: Airside, adjacent to Gate B3. Lounge Access: Elite Status • Lounge membership programs.
Military Lounge
USO Lounge – The USO offers a lounge that is free of charge to active members of the US military and their families. Location: Airside, Concourse C.
Related Pages: Nashville Airport Lounges
Airport Hotels
If sleeping in Nashville airport sounds like a nightmare, there are sleep cabins inside the airport and nearby hotels that offer an airport shuttle.  From the airport, there are hotel courtesy phones on the baggage claim level to request a pick-up.
Hotel inside the terminal
Minute Suites – Located in Concourse D at Gate D3. Minute Suites provides private suites for travellers needing to relax, work, or sleep during a layover or flight delay. Each suite has a daybed with fresh pillows and sheets, DIRECTv, WIFI, sound-masking system, and special "nap audio" program. Here are the rates as of August 2023: US$ 48 (1 hour) and US$ 12.00 each additional 15 minutes until 2 hours • US$ 96 (2 hours) and US$ 9.50 each additional 15 minutes thereafter • US$ 175 (Overnight – 8 hours, after 9pm). Showers are $30 (non-guest for 30 minutes) or $20 (guest). Pre-covid, when the suites were full, they also rented air mattresses. If this information is no longer correct, click here to update this guide.  » Check Rates
Hotels near Nashville Airport with free shuttles
For more options, visit Tripadvisor to see a list of hotels near Nashville Airport that can be sorted by price, distance, traveller rating and popularity.
Airport WiFi / Internet
Unlimited Free WiFi is available at Nashville Airport. Connect to the "Boingo Hotspot" network.
More Services, Facilities & Things To Do On A Layover At The Airport
Communications
Postal Services – Drop off your last minute postcards at the airport's mailbox in the center of Baggage Claim Level. Stamps can be purchased at any of the airport's ATM machines.
SIM Cards – A reader has asked us to include where to buy SIM Cards. If you know, click here to update this airport guide.
WiFi – see "Airport WiFi/Internet" above.
Family Services
Children's Play Areas – Located at Concourses A and B. Also check out the bright and colorful Flights of Fantasy mosaic sculpture, with seating for adults!
Nursing Room – Breastfeed in comfort. The room offers a comfy chair, electrical outlets, sink, hand dryer and baby changing stations. Location: behind Nashville at the A/B Food Court.
Food & Drinks
Food & Drink – At the time of this update there were no 24 hour food concessions at the airport. The airport offers 26 restaurants/coffee shops. Some concessions open as early as 4:00AM and most close by 7:30PM but you will find a few that close at 10:00PM.
Information
Information Desk – Need cash? ATMs are available. Fees may apply, so be sure to check your bank's fee schedule and your daily withdrawal limit if you are travelling internationally. You may also want to notify your bank of your travel plans. Locations: Landside, on the Ticketing level and the A/B checkpoint • Airside, north and south ends of the central security checkpoint, Concourse B (Gate B-10), Concourse C (Gate C-14) • Baggage Claim (at the entrance, near Carousel 7 & 4).
Traveler's Aid  – Traveler's Aid is a non-profit organization that assists stranded and distressed passengers. Volunteers assist passengers with general airport and destination queries to assisting with situations such as transportation assistance, lost or stolen money, wiring money, emergency housing, etc. Location: Terminal 1, Suite 501. Hours: 6:30AM – 11:00PM.
Luggage
Baggage Carts – Need a hand with your luggage? Baggage carts are available at various locations throughout the airport. Rates: $4 fee per cart.
Luggage Storage & Lockers – Not available.
Medical Services
Medical Services – CareHere! offers medical services for minor emergencies. Location: Concourse C. Hours: unknown.
Pharmacy – Location: in the Medical Clinic, CareHere!. Location: Concourse C. Hours: unknown.
Mobile Charging
Mobile Charging – A reader tells us mobile charging is available.  One station can be found at Gate C10.
Money
ATMs / Cash Machines – Need cash? ATMs are available. Fees may apply, so be sure to check your bank's fee schedule and your daily withdrawal limit if you are travelling internationally. You may also want to notify your bank of your travel plans. Locations: Landside, on the Ticketing level and the A/B checkpoint • Airside, north and south ends of the central security checkpoint, Concourse B (Gate B-10), Concourse C (Gate C-14) • Baggage Claim (at the entrance, near Carousel 7 & 4).
Currency Exchange – Wright Travel offers services on the Ticketing Level. Hours: 6:00AM – 10:00PM (Mon-Fri), 8:00AM – 4:00PM (Sat) and 8:00AM – 10:00PM (Sun).
Prayer & Meditiation
Meditation Rooms – Locations: Concourse C Meeter-Greeter Lounge (landside) • Near the Hudson News retail store at Gate C-1 (airside).
Rest & Relaxation
Hotels – see "Airport Hotels" above.
Lounges – see "Airport Lounges" above.
Massage Chairs – Location: Landside, before A/B and C/D checkpoints / Airside, Concourse B.
Rest Zones – There are no dedicated sleeping areas, quiet areas or rest zones. If this information has changed, click here to update this guide.
Shopping
Duty Free & Shopping – No duty free shops are available. You will find many shops where you can buy books, gifts, clothing, chocolates, and more. Hours: Unknown.
Showers, Salon & Spa
Massages – Feel your stress melt away with a foot or chair massage at the Massage Bar. Locations: Concourse B, airside, near Gate B-1 • Concourse C, airside, near Gate C-14.
Salon – Nashville Nails and Salon Services offers hair, nail, brow, and waxing services. Location: Airside, Concourse C, near Gate 15
Showers – Not available.
Smoking
Smoking – Graycliff Cigar Company provides in store smoking lounges. Locations: Concourse B, near gate B-10 and concourse C, near gate C-10.
Things to do & see
Art in the Airport – Exhibitions and musical performances are held throughout the year.
Live Entertainment – Location: Tooties Orchid Lounge, Airside, Concourse C
Airport Hours
The airport is open 24 hours, however the TSA security checkpoint only operates from 4:10AM to after the last flight.
Airlines
Nashville airport is served by the following airlines: Air Canada • Alaska Airlines • Allegiant • American Airlines • British Airways • Contour Airlines • Delta Air Lines • Frontier Airlines • JetBlue • Silver Airways (June 2023) • Southwest Airlines • Sun Country • United Airlines • Vacation Express • WestJet.
Last updated: 2023-01-18
This guide is for informational purposes only to assist with your planning.  All information, including rates and hours, is subject to change at any time without notice.   The information in this airport guide is based on information collected and/or received from the airports, lounges, hotels, transportation providers, and their websites. We are not representatives of any of the above-mentioned service providers. To report errors or to add/update any items mentioned in the guide: update the airport guide or  write a review.