Whether you have a layover, overnight sleepover or you are just quickly passing through, our New York City LaGuardia Airport Guide is a great place to start planning your visit.  Here, you'll find information on services and facilities available inside the airport – including details about airport lounges, WiFi, mobile charging points, lockers, 24-hour food options, nearby hotels, and everything in between.
I really think I heard the announcement in my head for days afterward. -a traveller
There have been multiple news reports of up to 50 homeless people and squatters taking over the terminals at night and even bathing (naked) in the public restrooms. Do not attempt to sleep here alone. We recommend you to get a hotel room or find an alternative overnight option until the situation improves!
LGA Airport Overview
To help you plan your layover or overnight sleepover, here is a quick run-down about what to expect during your time at New York City's LaGuardia Airport.
What to Expect
New York LaGuardia Airport (Code: LGA) is large, with three terminals (A, B, C). Terminal B recently unveiled a new wing featuring 11 Gates, seeing as it is brand new it may be a good option for amenities. WiFi here is free and unlimited. You'll find a fairly standard range of dining and shopping outlets, though none are open 24-hours. Willing to pay for some creature comforts? A few lounges here are open to economy class travellers. See Airport Lounges in the guide below for locations and access information.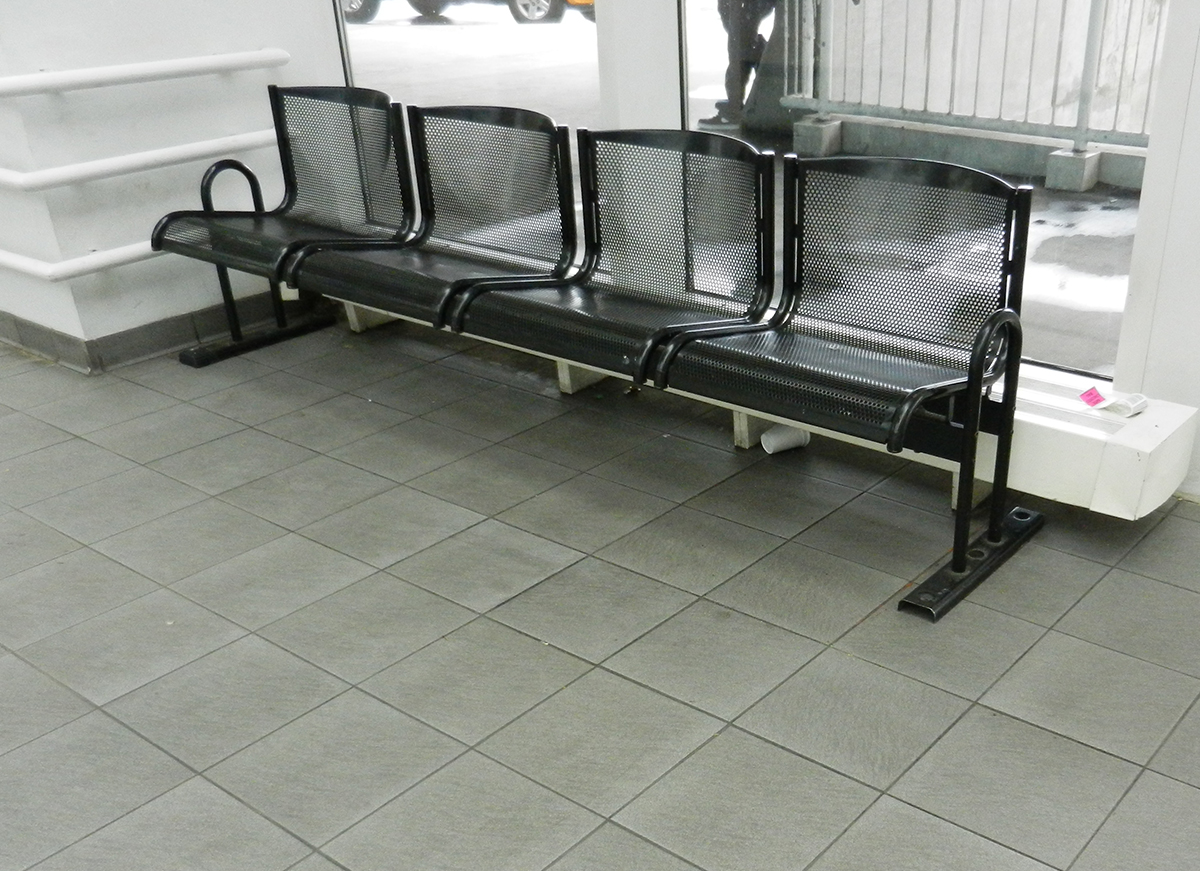 Sleeping in LaGuardia Airport
Despite flights coming and going at all hours, you won't find many travellers spending the night here. A serious and well-known issue are the homeless people who seek shelter here nightly. And if that's not enough to deter you, according to a 2018 review, you will be asked to leave between the hours 12:00AM – 4:00AM.  Explore our guide to sleeping in New York LaGuardia Airport or read some traveller airport reviews for more tips. Several hotels are located near the airport, offering free shuttle service for guests. See Airport Hotels in the guide below for more info.
To help us keep this guide up-to-date, you can add or update information or write a review to submit airport tips and photos. You can also visit the airport's web site for current information.  For more airport information continue scrolling down to explore more in our LaGuardia Airport Guide.
In this guide we may refer to locations as "landside" and "airside". Landside is the public area of the terminal located in the non-secure zone, before security. Airside is the secure area of the terminal that you must reach by going through security.  For more information on Europe's Schengen Area, click here.
Airport Lounges
Pay-per-use, Single Visit Passes & Lounge Memberships
Regardless of what class of service you are flying, there are lounges that you can enter by paying at the door, purchasing a lounge pass or through a lounge membership program. Visit the individual lounge page for more details about the lounge itself and to also find out how you can gain lounge access with just an economy class ticket!
Airline Lounges (members only)
Delta Sky Club – Multiple Locations – (2) Terminal C and (1) Terminal D. Lounge Access: Elite Status  • Lounge membership program.
Related Pages: LaGuardia Airport Lounges
LaGuardia Airport Hotels
Quick Facts
Nearest Hotel:  Within 10 minutes from the airport
Sleep Cabins & Pods: No
Day Rooms: No
Nearby Hotels with Free Shuttles: Yes
When the prospect of sleeping on the floor or in a chair is giving you nightmares, there are nearby hotels for those of you who are looking to sleep in comfort.  While there are no hotels directly at LaGuardia Airport, many hotels are located within a 10 minute drive and provide a free shuttle.
For more options, visit Tripadvisor to see a list of hotels near LaGuardia Airport that can be sorted by price, distance, traveller rating and popularity.
Airport WiFi / Internet
Free unlimited WiFi is available at LaGuardia Airport.  Connect to the "_Free LGA WiFi" network.
More Services, Facilities & Things To Do On A Layover At The Airport
Communications
Family Services
Baby Care Facilities – Need a comfortable and private place to nurse and care for your baby? Mamava nursing pods can be found in the following locations: Terminal A (Airside, Departure Gates • Near TSA office) • Terminal B (Airside, Pier B • Airside, Pier D, Gate D6 • Airside, Pier D/Concourse A walkway) • Terminal C (Airside, Gates 28/29 • Airside, Gate C14 • Airside, near TSA office).
Food & Drinks
Food & Drinks – Food concessions throughout the airport operate with varying schedules. At the time of this update, there are no 24-hour dining options. Vending machines are available.
Drinking Water – Thirsty? Hydration stations are available free of charge. Locations: various locations Landside and Airside.
Information
Information Desk – If you have any questions, visit the Information Desks or Welcome Centers for assistance. Locations: Terminal A, Arrivals • Terminal B, Gates 40-59 • Terminal B, Level 2 • Terminal B, Level 3.
Luggage
Luggage Storage & Lockers – Not available.
Medical Services
Dental Services – There is a dentist's office in Terminal B, on the 3rd floor.
Mobile Charging
Mobile Charging – You can power up your mobile devices, free of charge, at mobile charging stations located landside and airside throughout the airport.
Money
ATMs / Cash Machines – Need cash? ATMs are available. Fees may apply, so be sure to check your bank's fee schedule and your daily withdrawal limit if you are travelling internationally. You may also want to notify your bank of your travel plans. Locations: Terminal B.  (At the time of this update there were no ATMs elsewhere, click here to update this guide.)
Currency Exchange – Travelex is located in Terminal A, Arrivals (Airside).
Pets
Pet Relief Area – Take your pet for a potty break in these areas: Terminal B – Landside, Level 1 • Airside, Gates 40-59.
Rest Zones – Not available.
Rest & Relaxation
Shopping
Duty Free & Shopping – Duty-free shopping is offered only in Terminal B, but a limited variety of retail shops is scattered throughout the airport.
Showers, Salon & Spa
Spa & Salon Services – If you want to relax and pamper yourself before your flight, the airport offers a variety of spa services:

BeRelax – Location: Terminal B, near the food court.

Showers – Not available.
Smoking
Smoking – Smoking is permitted only in designated areas outside the airport.
Airport Hours
Terminal B is closed from 12:00AM – 3:00AM according to traveller review in October 2021.
Airlines
New York City La Guardia airport is served by the following airlines: Air Canada • American Airlines • American Shuttle • Delta Air Lines • Delta Shuttle • Frontier Airlines • JetBlue • Southwest Airlines • Spirit • United Airlines • WestJet.
Airport Transportation: Getting To/From The Airport
Airport Shuttles
Go Airlink provides an ride-share airport shuttle between the airport and New York City. Service is available 24-hours per day. Head to the ground transportation desk and present the desk agent with your shuttle voucher. The agent will direct you to your scheduled shuttle. Your shuttle driver will know when your flight is scheduled to arrive.  For more information, visit the Go Airlink web site.
Bus
These New York City bus lines serve LaGuardia Airport:
Q70 SBS LaGuardia Link – serves Queens (except Astoria, Elmhurst, Rego Park, Corona, Flushing), Manhattan (Midtown or South of 59 St) and Long Island.  Direct, nonstop to 7, E, F, M, R subway lines at 74 St/Roosevelt Av & LIRR Woodside Station.  Pick-up/Drop-off Terminal: B, C.  Fare: FREE of charge.
M60 SBS – serves Queens (Astoria), Bronx, Upper Manhattan (north of 59th Street), Westchester, Putnam or Dutchess Counties and Connecticut.  Connects to 2, 3, 4, 5, 6, A, B, C, D subway lines at 125 St and 1 subway line at 116 St and the Metro-North Railroad at Harlem 125 St.  Pick-up/Drop-off: Terminals A, B, C. Fare: $2.75 paid by ONMY or MetroCard or coins BEFORE boarding.
Q47 – serves Queens (Glendale, Jackson Heights).  Connects to 7, E, F, M, R subway lines at 74 St/Roosevelt Av.  Pick-up/Drop-off: Terminal A. Fare: $2.75 paid by ONMY or MetroCard or coins on the bus.
Q72 – serves Queens (Elmhurst, Rego Park).  Connects to M, R subway lines at 63 Dr/Rego Park.  Pick-up/Drop-off:  Terminals B,C.  Fare: $2.75 paid by ONMY or MetroCard or coins on the bus.
Q48 – serves Queens (Corona, Flushing).  Connects to 7 subway line at 111 St/Roosevelt Av.  Pick-up/Drop-off:  Terminals A, B,C.  Fare: $2.75 paid by ONMY or MetroCard or coins on the bus.
For schedules, fares and route information, visit the MTA web site.
Car Rentals
Rental agencies provide frequent free shuttle bus service between the terminals and the car rental facility. Car rental companies at LaGuardia Airport include: Alamo • Avis • Budget • Dollar • Enterprise • Hertz • National • Payless • Sixt • Thrifty.
Hotel Shuttles
Some area hotels provide airport shuttle service: Airway Inn at LaGuardia   • Aloft  New York LaGuardia Airport /   Avion Inn Near LGA Airport /  Comfort Inn At LaGuardia Airport   •  Fairfield Inn New York LaGuardia Airport / Astoria   •   Fairfield Inn New York LaGuardia Airport/Flushing   •   Hampton Inn New York LaGuardia Airport   •   Holiday Inn LaGuardia Airport   •   LaGuardia Plaza Hotel – New York   •   New York LaGuardia Airport Marriott   •   SpringHill Suites by Marriott New York LaGuardia Airport / The LaGuardia Hotel
Hotel shuttles pick-up outside each terminal.
See also Airport Hotels above.
Inter-Airport Transfers
ETS Air Shuttles provide service between JFK and LaGuardia or Newark Liberty Airport.
Inter-Terminal Transportation
LaGuardia's free shuttle service transports passengers throughout the airport premises (terminals, parking lots, car rental facility and car service pick-up areas). The buses operate 24 hours and depart every 8-10 minutes (peak) or 15 minutes (non-peak).
Ride Apps
If you have booked a ride through a Ride App such as Uber or Lyft, here are the pick-up locations:
Terminal A – directly across the street from the terminal.
Terminal B – Terminal B parking garage, Level 2.
Terminal C – outside the Arrivals area, Ground Level on the inner lane
Effective November 2020, seatbelts are mandatory in taxis and shared ride vehicles.
Shared Ride and Private Car Service
Shared ride vans and private cars and limousines can be booked on arrival at the Port Authority Welcome Center, located on the Arrivals Level of each terminal. Self-service kiosks are available nearby for use when the Welcome Centers are closed.
Subway
There is no subway or train service to LaGuardia Airport.  MTA buses can connect you to subways.  See Bus section above.
Taxis
Taxis are available in front of all terminals. Ignore offers of transportation from solicitors in the terminal as this is illegal and they may be unlicensed and uninsured. To obtain ground transportation information, visit the Port Authority Welcome Center in the arrivals area of each terminal, where uniformed staff will assist you. Effective November 2020, seatbelts are mandatory in taxis and shared ride vehicles.
Last updated: 2022-10-31
This guide is for informational purposes only to assist with your planning.  All information, including rates and hours, is subject to change at any time without notice.   The information in this airport guide is based on information collected and/or received from the airports, lounges, hotels, transportation providers, and their websites. We are not representatives of any of the above-mentioned service providers. To report errors or to add/update any items mentioned in the guide: update the airport guide or  write a review.