Whether you have a layover, overnight sleepover or you are just quickly passing through, our Oakland Airport Guide is a great place to start planning your visit.  Here, you'll find information on services and facilities available inside the airport – including details about airport lounges, WiFi, mobile charging points, lockers, 24-hour food options, nearby hotels, and everything in between.
there is a couch that is so comfortable that I almost missed my flight home… – a traveller
OAK Airport Overview
To help you plan your layover or overnight sleepover, here is a quick run-down about what to expect during your time at Oakland International Airport.
What to Expect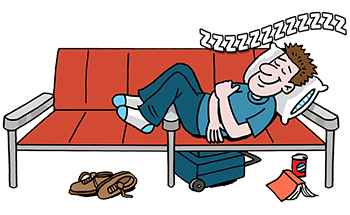 Oakland Airport (Code: OAK) consists of two terminals (1 and 2) that are connected by airside walkway for easy security screening-free connections between the two. The terminals have a combined 30 gates and plenty of airside eateries and some shopping options, though few of either on the landside. WiFi is available and there are plenty of outlets throughout the airport for charging mobile devices. Additional comfort can be found through fee-based access to the airport's first class lounge. See Airport Lounges below for locations and rates.
Sleeping in Oakland Airport
If you are planning to spend the night, have your boarding pass or onward flight information available, otherwise you might be escorted out of the terminal. On the landside/public area, overnight sleepers are directed to a waiting area with couches, padded armrest-free seating and other seating options.  To ensure your comfort, consider bringing a travel mat and/or sleeping bag if you are thinking about spending a night at this airport. Food options are limited on the landside, so plan accordingly. For uninterrupted sleep, there are hotels within a quick shuttle ride of the airport.  See Airport Hotels in the guide below or read some traveller reviews for more tips.
To help us keep this guide up-to-date, you can add or update information or write a review to submit airport tips and photos. You can also visit the airport's web site for current information.  For more airport information continue scrolling down to explore more in our Oakland Airport Guide.
In this guide we may refer to locations as "landside" and "airside". Landside is the public area of the terminal located in the non-secure zone, before security. Airside is the secure area of the terminal that you must reach by going through security.  For more information on Europe's Schengen Area, click here.
Airport Lounges
Pay-per-use, Single Visit Passes & Lounge Memberships
Regardless of what class of service you are flying, there is a lounge that you can enter by paying at the door or purchasing a lounge pass. Visit the individual lounge page for more details about the lounge itself and to also find out how you can gain lounge access with just an economy class ticket!
Escape Lounge– Location: Terminal 1, Airside, between Gates 8 and 8A. Lounge Access: Pay at the Door.
Related Pages: Oakland Airport Lounges
Airport Hotels
If sleeping in the airport sounds like a nightmare, there are hotels near Oakland Airport that provide free airport shuttles:
For more options, visit Tripadvisor to see a list of hotels near Oakland Airport that can be sorted by price, distance, traveller rating and popularity.
Airport WiFi / Internet
Free WiFi is available at Oakland Airport for 45 minutes. Connect to the "Boingo" network. You will be required to watch a 30-second commercial in order to connect, and when your session is over, you can reconnect by watching another 30-second commercial. Commercial-free high-speed internet is also available, for a small fee.
More Services, Facilities & Things To Do On A Layover At The Airport
Airport Public Art – Location: Terminal 2, baggage claim • Terminal, 3 displays are located airside.
Baby Care Facilities – Need a comfortable and private place to nurse and care for your baby? Look for free-standing Mamava Suites. Each suite has a fold-down table, two benches, a collapsible table, power outlet with USB, and are lockable for privacy. There's enough room in the suite for mama, baby, and their luggage or stroller, or even for a small family! Locations: unknown.
Duty Free & Shopping – Duty-free shopping is available airside in Terminal 1. In addition, a variety of retail stores are available throughout both terminals.
Food & Drinks – Most food concessions throughout the airport operate with varying schedules. At the time of this update, there are no 24-hour dining options. Terminal 2 has twice many food options as Terminal 1 including 2 small food courts.
Luggage Storage & Lockers – Not available.
Golf – The Metropolitan Golf Links is located beside the airport. Free club rentals are available.
Mobile Charging – Fuel Rod charging kiosks are available in both Terminals. The kiosks allow you to charge up your device with a "rod" and swap the empty for a fully charged unit so you always have a means to charge your devices. A reader tells us "Rod portable battery phone chargers are a one time $20 fee to get your first "Rod". You can recharge the rod at home, anywhere or the next time you're at an airport that has "Rod" service. Drop off your used charger in exchange for a new, fully charged "Rod" free.  Vending machines are located in various areas in the Secure Zone of the airport." (December 2020)
Oakland Aviation Museum – Location: North Field
Rest Zones – There are no dedicated sleeping areas, quiet areas or rest zones. If this information has changed, click here to update this guide.
Showers – Not available.
SIM Cards – A reader has asked us to include where to buy SIM Cards. If you know, click here to update this airport guide.
Airport Hours
The airport is open 24 hours. Overnight stays are permitted only to passengers with an outbound flight ticket and valid photo ID.  A reader tells us this about their experience: "We were allowed to stay Airside/Secure Zone in the Southwest Airlines terminal area through the night — plane landed at 1:00 a.m. and our flight out was at 5:20 a.m. We did not have any luggage to pick up (only had carry-on). Otherwise, I think TSA would have been closed and we would have been unable to return to the Southwest terminal area. I do not know whether TSA will allow you to enter the Airside/Secure Zone if your flight out is not until the next day. " (February 2020)
Airlines
Oakland airport is served by the following airlines: Alaska Airlines • Allegiant Airlines • Azores Airlines • Boutique Airlines • British Airways • Contour • Delta Air Lines • Hawaiian Airlines • JetBlue • Norwegian • Southwest Airlines • Spirit Airlines • Volaris • Level.
Last updated: 2022-10-31
This guide is for informational purposes only to assist with your planning.  All information, including rates and hours, is subject to change at any time without notice.   The information in this airport guide is based on information collected and/or received from the airports, lounges, hotels, transportation providers, and their websites. We are not representatives of any of the above-mentioned service providers. To report errors or to add/update any items mentioned in the guide: update the airport guide or  write a review.