Whether you have a layover, overnight sleepover or you are just quickly passing through, our Palm Springs Airport Guide is a great place to start planning your visit.  Here, you'll find information on services and facilities available inside the airport – including details about airport lounges, WiFi, mobile charging points, lockers, 24-hour food options, nearby hotels, and everything in between.
PSP Airport Overview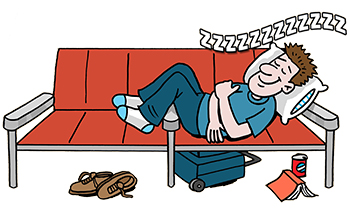 To help you plan your layover or overnight sleepover, here is a quick run-down about what to expect during your time at Palm Springs International Airport.
What to Expect
Palm Springs Airport (code: PSP) is a small terminal with a main ticketing/check-in area and two concourses (Sony Bono and Regional). The airport features a dozen or so eateries and shops on both the air and land sides. WiFi is available to help pass the time. Active duty members of the military and their families can find additional comfort at the USO Lounge. See Airport Lounges in the guide below.
Sleeping in Palm Springs Airport
We do not yet have any sleep-related airport reviews.  See Airport Hotels in the guide below or read some traveller airport reviews for more tips.
To help us keep this guide up-to-date, you can add or update information or write a review to submit airport tips and photos. You can also visit the airport's web site for current information.  For more airport information continue scrolling down to explore more in our Palm Springs Airport Guide.
In this guide we may refer to locations as "landside" and "airside". Landside is the public area of the terminal located in the non-secure zone, before security. Airside is the secure area of the terminal that you must reach by going through security.  For more information on Europe's Schengen Area, click here.
Airport Hotels
If sleeping in the airport sounds like a nightmare, there are hotels near Palm Springs Airport:
For more options, visit Tripadvisor to see a list of hotels in Palm Springs, search deals and read traveller reviews.
Airport Lounges
Pay-per-use, Single Visit Passes & Lounge Memberships
There are no pay-per-use lounges at the airport.
Military Lounge
USO Lounge – The USO offers a lounge that is free of charge to active members of the US military and their families. Location: Adjacent to Luggage Claim Area, within 100 yards of the Main Terminal and adjacent to the U.S. Customs facility. Hours: 8:00AM – 8:00PM, daily.
Related Pages: Palm Springs Airport Lounges
Airport WiFi / Internet
Free WiFi is available at Palm Springs Airport. Connect to the "PSPAIRPORT" network.
More Services, Facilities & Things To Do On A Layover At The Airport
ATMs / Cash Machines – Need cash? ATMs are available. Fees may apply, so be sure to check your bank's fee schedule and your daily withdrawal limit if you are travelling internationally. You may also want to notify your bank of your travel plans. Locations: Main Terminal, near the Security Checkpoint entrance • Bono Concourse (Gates 4-11) • Regional Concourse (Gates 12-20).
Baby Care Facilities – A nursing room is located Airside between the Bono and Regional concourses.
Children's Play Area – When you want to ensure your kids burn off all their energy before their flight, take them to the children's play area. Location: Terminal Courtyard.
Currency Exchange – Anderson Travel, located off-site, is the closest foreign currency exchange. Call ahead for service.
Duty Free & Shopping – Duty Free shopping is not available. The airport offers a small variety of shops selling clothing, souvenirs, etc. The Desert Mart (Airside) sells magazines, snacks and drinks.
Food & Drinks – Most food concessions throughout the airport operate with varying schedules. At the time of this update, there are no 24-hour dining options. Food options include: Buzz by Barfly • California Vintages Wine Bar • PSP Coffee House • Santa Rosa Kitchen & Spirits • Snack n Go • 12th Fairway Bar & Grill.
Information Desk – Need help finding your way? Stop by the information counter for assistance! Location: Near the central lobby on the way to the baggage claim wing of the terminal. Also be sure to look for the airport ambassadors wearing teal shirts or grey blazers with the word "navigator" on the back for help.
Luggage Storage & Lockers – Not available.
Mobile Charging – At the time of this update, we did not have any information about mobile charging availability. If you know, click here to update this airport guide.
Rest Zones – There are no dedicated sleeping areas, quiet areas or rest zones. If this information has changed, click here to update this guide.
Showers – Not available.
SIM Cards – A reader has asked us to include where to buy SIM Cards. If you know, click here to update this airport guide.
Terminal Courtyard – Relax and wait for your flight in the Terminal Courtyard. The area includes art, water features, patio seating, coffee shop, a wine bar, restroom facilities, a pet relief area and a Children's playground.
Airport Hours
The airport is open 24 hours.
Airlines
Palm Springs airport is served by the following airlines: Air Canada • Alaska Airlines • Allegiant Air • American Airlines • Avelo • Delta Air Lines • Flair • Jetblue • Southwest • Sun Country • United Airlines • Westjet.
Airport Transportation: Getting To/From The Airport
Bus
PSP airport is well connected to the bus system. Whether you are looking to reach Coachella/Yucca Valley or need to get to the train station (via Amtrak bus to train service), there is a bus that can get you to your destination. For more information, visit the Palm Springs Airport website.
Car Rentals
The following car rental agencies are available onsite: Alamo • Avis • Budget • Dollar • Enterprise • Hertz • National • Thrifty.
Hotel Shuttles
At the time of this update there were no hotels offering airport shuttle service.  See also Airport Hotels above.
Taxis and Shuttles
Metered taxis and shared-ride shuttles are readily available in the ground transportation area.
Last updated: 2022-10-31
This guide is for informational purposes only to assist with your planning.  All information, including rates and hours, is subject to change at any time without notice.   The information in this airport guide is based on information collected and/or received from the airports, lounges, hotels, transportation providers, and their websites. We are not representatives of any of the above-mentioned service providers. To report errors or to add/update any items mentioned in the guide: update the airport guide or  write a review.