Whether you have a layover, overnight sleepover or you are just quickly passing through, our Perth Airport Guide is a great place to start planning your visit.  Here, you'll find information on services and facilities available inside the airport – including details about airport lounges, WiFi, mobile charging points, lockers, 24-hour food options, nearby hotels, and everything in between.
If staying at night, in terminal 1, upstairs at the cafés and shops, are a few benches that can be used for sleeping when the shops are closed. -a traveller (Dec 2017)
PER Airport Overview
To help you plan your layover or overnight sleepover, here is a quick run-down about what to expect during your time at Perth Airport.
What to Expect
Perth Airport (Code: PER) consists of four primary terminals separated into two precincts (T1/T2 and T3/T4), with free 24-hour shuttle bus service between precincts and terminals. There are plenty of eateries and shops on both the airside and landside, with several offering 24-hour service. Some reviewers have noted that security screening line-ups are long and slow, and that security staff can be unpleasant. WiFi is available to help pass the time. Free showers can be found in Terminals 1 and 3. Additional comfort can be found through fee-based access to one of the airport's first class lounges. See Airport Lounges in the guide below for locations and rates.
Sleeping in Perth Airport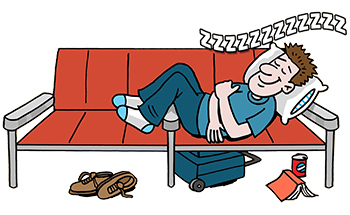 Precinct T1/T2 seems to provide the better sleeping options, as T3/T4 is described as having limited comfortable seating and a midnight closure. T1 reportedly has many armrest-free benches throughout, as well as some comfortable sofas with head rests in the arrivals section. Noise, such as the annoying "Beware of unattended baggage" intercom announcement, is a primary complaint, so bring earplugs/noise-cancelling headphones. Explore our guide to sleeping in Perth Airport or read some traveller reviews for more tips. For uninterrupted sleep, there are sleep pods inside Terminal 1 and hotels near the airport. See Airport Hotels in the guide below.
To help us keep this guide up-to-date, you can add or update information or write a review to submit airport tips and photos. You can also visit the airport's web site for current information.  For more airport information continue scrolling down to explore more in our Perth Airport Guide.
In this guide we may refer to locations as "landside" and "airside". Landside is the public area of the terminal located in the non-secure zone, before security. Airside is the secure area of the terminal that you must reach by going through security.  For more information on Europe's Schengen Area, click here.
Airport Lounges
Pay-per-use, Single Visit Passes & Lounge Memberships
Regardless of what class of service you are flying, there are lounges that you can enter by paying at the door or through a lounge membership program (ie. Qantas Club or Virgin Australia). Visit the individual lounge page for more details about the lounge itself and to also find out how you can gain lounge access with just an economy class ticket!
Airline Lounges
If you are a First or Business Class traveller you may have access to the lounges listed below. For more information, check the airline's website.
Terminal 1, Airside: The Emirates Lounge • Singapore Airlines SilverKris Business Class Lounge.
Related Pages: Perth Airport Lounges
Airport Hotels & Sleep Pods
If sleeping in the airport sounds like a nightmare, there are sleep pods inside the terminal and more hotels near the airport:
Inside the airport
Sleep Pods – Sleeping pods can be booked by the hour.  Location: Terminal 1, Domestic, Landside, ground floor, opposite Hudsons Coffee.  Rates: from $12 for 1 hour basic package.  A 4 hour+ package includes pillow, blanket and ear plugs.  Rate: $50.  Max. stay is 5 hours.
Hotels near Perth airport
For more options, visit Tripadvisor to see a list of hotels near Perth Airport that can be sorted by price, distance, traveller rating and popularity.
Airport WiFi/Internet
Free WiFi is available at Perth Airport. Select the "Perth Airport Free WiFi" network, and register for access.
More Services, Facilities & Things To Do On A Layover At The Airport
Business Services
Business Services – Printing, faxing, and copying services are available for $3 per page. Location: Baggage Services by SmarteCarte kiosk in T1 International, landside, Check-In Area, Ground Floor.
Communications
SIM Cards – A reader let us know that Optus, Vodafone and Telsim are available in Terminal 1.
WiFi – see "Airport WiFi/Internet" above.
Family Services
Baby Care Facilities – Feed and care for your baby in comfort and privacy in the airport's Parenting Rooms. Changing tables, diaper disposal bins, high chairs, and additional amenities are available. Parenting Rooms are available landside and airside in all terminals. Loaner strollers are available for use, upon request, while you are in the airport.
Children's Play Areas – There's a soft, colorful play area for the little ones, and video gaming gives your big kids something to do. Conveniently located near seating and dining options so you can relax while you watch your children play. Location: T1 International, airside, Departures Level 2.
Food & Drinks
Drinking Water – Thirsty? Drinking water fountains are available free of charge. Locations: throughout the airport.
Food & Drinks – Vending Machines can be found in the International Terminal 1 (Location: Ground Floor and 3rd Floor), Domestic Terminal 1 (Location: both floors) and Domestic Terminal 3 and 4 (Location: both floors). The food concessions listed below are open 24 hours.
» Terminal 1 – International Terminal: Maccinetta (Level 1, landside) • Local Food Store (Level 1, landside).
Information
Information Desk – There are no information desks, so if you have general questions about the airport or need urgent assistance, seek the help of a friendly Gold Coat Volunteer. Gold Coat Volunteers roam the airport, and are easy to spot by their bright gold jackets. Maps, hotel information, and sightseeing brochures are available at the self-service tourism information kiosk. Location: T1 International, landside, Arrivals Hall, Ground Floor.
Luggage
Luggage Storage & Lockers – Self-service luggage lockers are available for storage periods of up to six weeks at the following rates: $12 for a small locker (up to 24 hours) $14 for a medium locker (up to 24 hours) $16 for a large locker (up to 24 hours). Locations: T1 International, at the Short Term Car Park near the Public Arrivals Hall • Along the pathway between T1 Domestic and T2 Domestic • Along the walkway between T3 Domestic and the Short Term Car Park • Along the walkway between T4 Domestic and the Short Term Car Park. Oversized and odd-shaped items can be stored at the Baggage Services by SmarteCarte kiosk in T1 International, landside, Check-In Area, Ground Floor.
Luggage Trolleys – Trolleys are free to use from T1/International Baggage Reclaim and Short Term Car Park areas, or available for a $4 non-refundable fee from one of three locations: T1 Forecourt, T1/Domestic Baggage Reclaim • T3/T4 Forecourts • T4 Ground Floor.
Luggage Wrapping – Protect your luggage and its contents with shrink wrap. The cost is $11 per bag/item or $22 per oversized bag/item. Location: Baggage Services by SmarteCarte kiosk in T1 International, landside, Check-In Area, Ground Floor.
Medical Services
Medical Services – First aid and urgent medical assistance is available in one of these First Aid Room locations: T1/International, landside, Level 1 • T1/Domestic, landside, Ground Floor • T2/Domestic, landside, ground floor Check-In Hall • T3/Domestic, landside, ground floor Baggage Reclaim Hall • T4/, first floor, near arrivals stairs.
Pharmacy – Amcal Express Location: T1/Domestic, airside, Level 1.
Mobile Charging
Mobile Charging – Seats with built-in power outlets are readily available in departure lounges throughout T1. In addition, mobile charging stations are available in T2 and on Level 1 in T3.
Money
ATMs / Cash Machines – Need cash? ATMs are available. Fees may apply, so be sure to check your bank's fee schedule and your daily withdrawal limit if you are travelling internationally. You may also want to notify your bank of your travel plans. Locations: T1, T2 and T3. Travelex foreign currency ATMs are available in T1 (International and Domestic terminals) and T3 Domestic.
Currency Exchange – Travelex kiosks offer currency services at nine locations throughout T1 (International) and T3. They are all open 24 hours. Travelex foreign currency ATMs are also available in T1 International, T1 Domestic, and T3.
Prayer & Meditation
Quiet Room – A quiet room for prayer and meditation is available. Location: T1, landside, near the Arrivals Hall (ground floor).
Rest & Relaxation
Shopping
Duty Free & Shopping – Duty-free shopping is available in T1 International Terminal, on Departure Levels 1 and 2, and on Arrivals Level 1 (airside only). In addition, a small variety of gift shops, retail stores, and newsstands are available throughout the airport.
Showers, Salon & Spa
Showers – Locations: Terminal 1, International Arrivals Hall, Ground Floor, near check-in counter 40 • Terminal 1, Airside, International Departures, 2nd Floor, near Gate 54.  A reader (hzeddy) tells us "Warm water Showers with wall pump 2 in 1 shampoo/shower gel are located at International terminal next to Check in counter #40 on the ground floor behind the elevator. No towels provided but can be purchased at Baggage Storage store for $5."
Smoking
Smoking Areas – Dedicated smoking areas are available outside of the terminals.
Things to do & see
Observation Deck – Get a panoramic view of all the action on the tarmac from the indoor Public Viewing Area. Location: T1, International, on Level 3. You can access this area from Departures Level 1, landside. Hours: open 24 hours. An outdoor viewing area, located on Dunreath Drive, is also accessible to the public. Hours: 6:30AM – 7:00PM (Oct-Mar) or 7:30AM – 5:30PM (Apr-Sept).
Airport Hours
Terminal 1 (International): open 24 hours
Terminal 3 (Domestic Terminal): 3:30AM – 1:00AM
Terminal 4 (Qantas Domestic Terminal): 4:00AM – 12:30AM (Monday – Thursday & Saturday) and 4:00AM – 2:30AM (Friday & Sunday)
Airlines
Perth airport is served by the following airlines: Air Asia • Air Mauritius • Air New Zealand • Airnorth • Alliance Airlines • Batik Air • Cathay Pacific • China Southern • Emirates • Garuda Indonesia • Jetstar • Malaysia Airlines • Malindo Air • Qantas • Qatar Airways • Regional Express Airlines • Scoot • Singapore Airlines • South African Airways • Thai Airways • Virgin Australia.
Airport Transportation: Getting To/From The Airport
Bus
Transperth operates regular bus services between Perth Airport, Perth City and other local centres. For route stops, timetables and fare information, visit the Transperth website.
Car Rentals
Car rental desks are located on the ground floor of T1, T2, T3 and T4. The following agencies operates onsite: Avis • Budget • Europcar • Hertz • Redspot • Thrifty.
Hotel Shuttles
Several area hotels provide airport shuttle service: Vetroblu Airport Apartments • Sanno Marracoonda Perth Airport Hotel • Quest Perth Ascot • Ingot Hotel • Country Comfort Perth • Flag Motor Lodge.
See also Airport Hotels above.
Inter-Terminal Shuttle
PER airport operates a free 24-hour shuttle service between the airport terminals. For schedules and more information, visit the Perth Airport website.
Shuttle
CONNECT Airport Shuttle offers service between the airport and five locations in central Perth: East Perth train station, WA Museum on Beaufort Street, Wellington Street (opposite YHA Backpackers Hostel), the Kings Perth Hotel and The Ambassador Hotel, Adelaide Terrace. The airport has a CONNECT shuttle stop within a short walk of T3 and T4, accessible from T1 and T2 via free airport terminals shuttle. At the time of this update, a one-way ticket is AU$15 per person, sold on board the shuttles.
Taxi
Taxi ranks are located at T1, T2, T3, T4 and Valentine Road. An AU$3 surcharge is added to all fares for trips leaving from the airport, and some drivers request payment of the total fare up front. The following estimated one-way fares were current at the time of this update: Perth CBD AU$43.00; Armadale AU$65.00; Fremantle AU$67.00; Joondalup AU$97.00; and Mandarah AU$174.00.
Last updated: 2022-10-31
This guide is for informational purposes only to assist with your planning.  All information, including rates and hours, is subject to change at any time without notice.   The information in this airport guide is based on information collected and/or received from the airports, lounges, hotels, transportation providers, and their websites. We are not representatives of any of the above-mentioned service providers. To report errors or to add/update any items mentioned in the guide: update the airport guide or  write a review.