Whether you have a layover, overnight sleepover or you are just quickly passing through, our Reno Airport Guide is a great place to start planning your visit.  Here, you'll find information on services and facilities available inside the airport – including details about airport lounges, WiFi, mobile charging points, lockers, 24-hour food options, nearby hotels, and everything in between.
Every place in the food court was closed. We were starved, had been flying all day. We had to take a cab to a nearby 7-11 to get some food and beverage." – CarolaLSB
RNO Airport Overview
To help you plan your layover or overnight sleepover, here is a quick run-down about what to expect during your time at Reno-Tahoe International Airport.
What to Expect
Reno-Tahoe Airport (code: RNO) consists of a renovated, two-level terminal with two concourses, 22 gates and almost two dozen eateries and shops, with most located on the airside. After eateries and shops close at night vending machines provide the only drink and snack options. WiFi is available to help pass the time.  For added comfort, there are lounges that economny classes passengers can pay to use.  See Airport Lounges in the guide below for locations and access information.
Sleeping in Reno Airport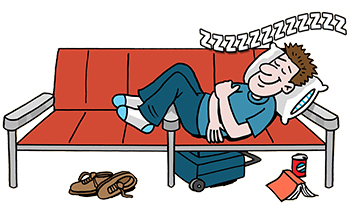 After security checkpoints close for the night, all passengers are restricted to the landside areas, and must re-clear security the next day when the checkpoints open. Travellers report that the most comfortable sleeping spots are U-Shaped padded benches near the baggage claim, and padded, armrest-free benches near the ticketing/check-in counters. For uninterrupted sleep, there are hotels within a quick shuttle ride of the airport. See Airport Hotels in the guide below or read some traveller airport reviews for more tips.
Good to Know
If you get bored or can't sleep, there are slot machines with which to while away the hours.
To help us keep this guide up-to-date, you can add or update information or write a review to submit airport tips and photos. You can also visit the airport's web site for current information.  For more airport information continue scrolling down to explore more in our Reno Airport Guide.
In this guide we may refer to locations as "landside" and "airside". Landside is the public area of the terminal located in the non-secure zone, before security. Airside is the secure area of the terminal that you must reach by going through security.  For more information on Europe's Schengen Area, click here.
Airport Lounges
Pay-per-use, Single Visit Passes & Lounge Memberships
Regardless of what class of service you are flying, there is a lounge that you can enter by paying at the door or purchasing a lounge pass. Visit the individual lounge page for more details about the lounge itself and to also find out how you can gain lounge access with just an economy class ticket!
Escape Lounge – Location: Airside, Concourse B-C Connector. Lounge Access: Pay at the Door.
Related Pages: Reno Airport Lounges
Airport Hotels
If sleeping in the airport sounds like a nightmare, there are hotels near Reno Airport that provide free airport shuttles:
For more options, visit Tripadvisor to see a list of hotels in Reno, search deals and read traveller reviews.
Airport WiFi / Internet
Free WiFi is available at Reno Airport. Connect to the "Airport Courtesy WiFi" network.
More Services, Facilities & Things To Do On A Layover At The Airport
ATMs / Cash Machines – Need cash? ATMs, operated by Wells Fargo, are available. Fees may apply, so be sure to check your bank's fee schedule and your daily withdrawal limit if you are travelling internationally. You may also want to notify your bank of your travel plans.Locations: Baggage Claim (next to Carousel 3) ▪ Main Lobby (near Peet's Coffee & Tea) ▪ Concourse B ▪ Concourse C ▪ Gateway Concourse (2nd floor, near High Mountain Marketplace).
Baggage Carts – Need a hand with your luggage? Baggage carts (Smarte Carte) are available. Rate: $5 per cart. Cash and credit cards are accepted.
Children's Play Area – When you want to ensure your kids burn off all their energy before their flight, take them to the children's play area. Location: 2nd Floor, beside McDonald's.
Courtesy Phones – Make free local and toll-free phone calls from any of the courtesy phones located on the 1st floor of the terminal building, or in the Productivity Centers.
Currency Exchange – Not available.
Dog Parks – Your furry best friend needs a break too! Check out the covered Gate K-9 Bark Park, located north of Baggage Claim. To find it, follow the sidewalk paw prints from Exit Door D (near Ground Transportation). A second bark park is located south of the building, just outside of the Southwest Airlines ticketing counters.
Drinking Water – Thirsty? Water fountains and refilling stations are available on pre and post security.
Duty Free & Shopping – Duty Free shopping does not appear to be available. A variety of retail outlets selling souvenirs, clothing, magazines, and more, can be found both Landside and Airside.
Food & Drinks – Most food concessions (10 options) throughout the airport operate according to flight schedules. At least one option (on each concourse) will be open at least 30 minutes before the 1st departure and closes 30 minutes after the last flight. At the time of this update, there are no 24-hour dining options. Vending machines are available in the airport. Delete these instances of "in the airport" as well? If so, I will be mindful of updating going forward. See also "Drinking Water" above.
Gaming Machines – Location: Gaming machines can be found in both concourses, in the Taphouse bartop and in the lobby of the terminal.
Luggage Storage & Lockers – Not available.
Massage Chairs – Location: both Concourses.
Mobile Charging – The Productivity Center features wall outlets for plugging in electronic devices and countertops to use as work stations. Locations: Landside, Main Lobby • Airside, near Gate C1 • Airside, near Gate B2.
Post Office – A mailbox is located north of the entrance of the main terminal building. Stamps are available at the Adventure News store or at Wells Fargo ATMs. There is also a FedEx Express Drop Box close to the mailbox. Self-mailing service for items that do not pass security is available at the TSA Security Checkpoint.
Family Services – There are 3 family restrooms are available that are stroller and wheelchair accessible. The restrooms are equipped with changing tables. Location: Landside, Pre Security ▪ Concourse B ▪ Concourse C. A Mamava Pod is available for mothers seeking some privacy to attend to their infants. Location: Airside, Concourse B and C.
Rest Zones – There are no dedicated sleeping areas, quiet areas or rest zones. If this information has changed, click here to update this guide.
Showers – Not available.
SIM Cards – A reader has asked us to include where to buy SIM Cards. If you know, click here to update this airport guide.
Smoking – Smoking is not permitted anywhere inside the terminal building. The designated smoking areas have seating and ashtrays and can be found outside the main doors of the terminal building, at the north end of the baggage claim area and at the north of the skywalk.
Work Stations – Set up your own office space at one of the work stations available for passengers in the Productivity Center. Free to use, the countertops come equipped with power outlets. Locations: Landside, Main Lobby • Airside, near Gate C1 • Airside, near Gate B2.
Airport Hours
The airport is open 24 hours.
Keep in mind that TSA, airline check-in and baggage drop hours vary according to the flight schedule. Check these hours with your airline. If you are in the public area of the terminal (landside) you will not be able to get through to the secure area of the terminal (airside) until the morning.
Airlines
Reno airport is served by the following airlines: Alaska Airlines • Allegiant • American Airlines • Delta Air Lines • Frontier Airlines • JetBlue • JSX • Southwest Airlines • Spirit • Sun Country • United Airlines • Volaris.
Airport Transportation: Getting To/From The Airport
Bus
Reno Airport is served by city Bus Route 12, which runs Monday through Friday between the airport and downtown Reno, offering connections to Amtrak, the 4th Street bus station and points in between. The airport bus stop is located outside of the north end of the baggage claim area. For route maps, schedules and fare information for Bus Route 12 and other city buses, visit the RTC Transit website.
Car Rentals
Car rental desks are located in the baggage claim area. Onsite car rental agencies include Alamo • Avis • Budget • Dollar • Enterprise • Hertz • National • Thrifty. Payless is located off-site and accessible via a free shuttle bus.
Hotel Shuttles
Several area hotels provide airport shuttle service: Aloft Reno – Tahoe International Airport   •  Comfort Inn & Suites Airport   •  Holiday Inn Express Hotel & Suites Reno   •   Hyatt Place Reno Tahoe Airport   •   La Quinta Inn Reno   •   Surestay Plus Hotel.
See also Airport Hotels above.
Shuttles
Paid Shuttle Service is provided by the following companies: North Lake Tahoe Express (near Door C) • South Tahoe Airporter (counter is adjacent to Door D in Baggage Claim). For more information, visit the Reno Airport website.
Taxis
Taxis are available outside of the D doors at the north end of the baggage claim area. All taxis are metered, and reservations are not required. Most major downtown Reno hotels are about 10 minutes from RNO airport, via taxi.
Last updated: 2022-10-28
This guide is for informational purposes only to assist with your planning.  All information, including rates and hours, is subject to change at any time without notice.   The information in this airport guide is based on information collected and/or received from the airports, lounges, hotels, transportation providers, and their websites. We are not representatives of any of the above-mentioned service providers. To report errors or to add/update any items mentioned in the guide: update the airport guide or  write a review.