Whether you have a layover, overnight sleepover or you are just quickly passing through, our Sacramento Airport Guide is a great place to start planning your visit.  Here, you'll find information on services and facilities available inside the airport – including details about airport lounges, WiFi, mobile charging points, lockers, 24-hour food options, nearby hotels, and everything in between.
There is Free WiFi in the entire airport. There are not many comfortable places to sit/sleep. – brassratgirl
SMF Airport Overview
To help you plan your layover or overnight sleepover, here is a quick run-down about what to expect during your time at Sacramento International Airport.
What to Expect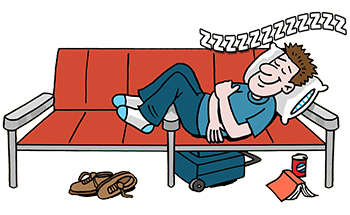 Sacramento Airport (code: SMF) consists of two modern terminals (A and B) with a combined 32 gates and plenty of dining and shopping options on both the air and land sides. Inter-terminal transportation is provided by free shuttle service. WiFi is available and charging outlets can be found in various locations throughout the airport. There are no private lounges at this airport.
Sleeping in Sacramento Airport
After security checkpoints close for the night, all passengers are restricted to the landside areas, and must re-clear security the next day when the checkpoints open. Reviewers report that the terminals are clean and conducive for sleeping, with comfortable chairs located in various landside spots. There are reportedly armrest-free benches and some comfortable couches near the light rail station in Terminal B. Some travellers found sanctuary in a "quiet room" near the security checkpoints in Terminal A, while others found some comfortable couches near the escalators. While terminal lighting is dimmed during the late-night hours, travellers suggest having earplugs or noise-cancelling headphones to drown out the continuous public service announcements. For uninterrupted sleep, there are hotels within a quick shuttle ride of the airport. See Airport Hotels in the guide below or read some traveller airport reviews for more tips.
To help us keep this guide up-to-date, you can add or update information or write a review to submit airport tips and photos. You can also visit the airport's web site for current information.  For more airport information continue scrolling down to explore more in our Sacramento Airport Guide.
In this guide we may refer to locations as "landside" and "airside". Landside is the public area of the terminal located in the non-secure zone, before security. Airside is the secure area of the terminal that you must reach by going through security.  For more information on Europe's Schengen Area, click here.
Airport Lounges
Pay-per-use, Single Visit Passes & Lounge Memberships
Regardless of what class of service you are flying, there are lounges that you can enter by paying at the door. Visit the individual lounge page for more details about the lounge itself and to also find out how you can gain lounge access with just an economy class ticket!
Escape Lounge – Locations: Terminal A, Airside, next to Gate 10  • Terminal B, Airside, turn left just after security.  Lounge Access: Pay at the Door.
Related Pages: Sacramento Airport Lounges
Airport Hotels
If sleeping in the airport sounds like a nightmare, there are hotels near Sacramento Airport that provide free airport shuttles:
Four Points by Sheraton Sacramento International Airport  » Check Rates
Homewood Suites by Hilton Sacramento Airport Natomas  » Check Rates
Hampton Inn & Suites Sacramento-Airport-Natomas   » Check Rates
For more options, visit Tripadvisor to see a list of hotels in Sacramento, search deals and read traveller reviews.
Airport WiFi / Internet
Free WiFi is available at Sacramento Airport. Connect to the "FlySacramento" network. Additionally, there are internet kiosks located in the terminals.
More Services, Facilities & Things To Do On A Layover At The Airport
Art in the Airport – Art exhibits are on display throughout the airport.
ATMs / Cash Machines – Need cash? ATMs are available. Machines are operated byBank of America. If you are not a customer of Bank of America, a $3.00 fee applies. Be sure to check your bank's fee schedule and your daily withdrawal limit if you are travelling internationally. You may also want to notify your bank of your travel plans. Locations: 9 Bank of America ATMs that can be found in both Terminal A and B, Landside and Airside.
Baby Care Facilities – If you are travelling with an infant, there is a baby care room for breastfeeding and diaper-changing. Location: Airside, Terminal A, near Gate A10 • Airside, Terminal B, near Gate B15.
Baggage Carts – Need a hand with your luggage? Baggage carts are available in the baggage claim, terminal entrance doors and parking garage. Rate: $5 per cart.
Currency Exchange – Not available in the airport. The closest foreign currency exchange is a Travelex branch inside a Westamerica Bank in Sacramento.
Duty Free & Shopping – At the time of this update, there are no duty free shops available at Sacramento Airport. Several other shops are available in terminals A and B.
Food & Drinks – Food concessions throughout the airport operate on varying schedules, with some open as early as 4:00AM and most close by 11:00PM. At the time of this update, kiosks operated by Illy are available 24/7. . Terminal A offers 7 food concessions and you will find 9 in Terminal B. Vending machines are also available in both terminals.
Information Desk – If you have any questions, visit the airport's help desk for assistance! Location: Landside, Terminal B, 1st Floor, center of Baggage Claim area. Additionally, there are volunteers available to help.
Luggage Storage & Lockers – Not available.
Mobile Charging – A reader tells us there are double power outlets under the seats at the gate.  (July 2019)
Quiet Room – Location: Terminal A, Landside, Upper Level
Rest Zones – There are no dedicated sleeping areas, quiet areas or rest zones. If this information has changed, click here to update this guide.
Showers – Not available.
SIM Cards – A reader has asked us to include where to buy SIM Cards. If you know, click here to update this airport guide.
Smoking – Smoking is prohibited anywhere inside and within 25 metres of the airport.
Airport Hours
The airport is open 24 hours. TSA security checkpoints are open 4:00 AM – 12:30 AM according to the flight schedule. The concourses close 30 minutes after the last flight has landed (usually between midnight and 1:00AM).
Airlines
Sacramento airport is served by the following airlines: Aeroméxico • Air Canada • Alaska Airlines • American Airlines • Boutique Airlines • Contour Air • Delta Air Lines • Frontier • Hawaiian Airlines • Horizon • JetBlue • Southwest Airlines • Spirit • Sun Country • United Airlines • Volaris.
Airport Transportation: Getting To/From The Airport
Bus
Yolobus public bus routes 42A (clockwise) and 42B (counter-clockwise) link the airport with downtown Sacramento, West Sacramento and Davis. For route maps, schedules and fare information, visit the Yolobus website.
Car Rentals
Car rental services are available in the rental car terminal, which is connected to the airport terminals via free shuttle service (approximately every 10 minutes). On-site car rental agencies include Advantage • Alamo • Avis • Budget • Dollar • Enterprise • E-Z Rent a Car • Hertz • National • Payless • Thrifty • Zipcar. Advance Rent A Car provides free transportation from the rental car terminal to its nearby off-site location.
Hotel Shuttles
Several area hotels provide airport shuttle service: Courtyard Sacramento Airport Natomas   •  Element Sacramento Airport   •   Fairfield Inn & Suites Sacramento Airport Natomas   •   Four Points by Sheraton Sacramento International Airport   •  Hampton Inn & Suites Sacramento-Airport-Natomas   •   Hampton Inn & Suites Woodland   •   Hilton Garden Inn Sacramento/South Natomas   •  Hilton Garden Inn Sacramento Airport Natomas   •   Holiday Inn Express & Suites Sacramento Airport Natomas   •    Holiday Inn Express Woodland   •   Homewood Suites by Hilton Sacramento Airport-Natomas   •  La Quinta Inn Sacramento Downtown   •   Wyndham Garden Sacramento Airport Natomas.
See also Airport Hotels above.
Shuttles
SuperShuttle offers on-demand, door-to-door shared-ride service between SMF airport and Sacramento, Yolo, El Dorado, Placer, San Joaquin, Yuba, Butte, Solano, Sutter, and Nevada counties. Shuttles can be found in the ground transportation areas of the airport terminals. Reservations are recommended.
Taxis
Taxis are available curbside in the ground transportation areas in each terminal. All taxis are metered, and reservations are not required.
Last updated: 2022-10-31
This guide is for informational purposes only to assist with your planning.  All information, including rates and hours, is subject to change at any time without notice.   The information in this airport guide is based on information collected and/or received from the airports, lounges, hotels, transportation providers, and their websites. We are not representatives of any of the above-mentioned service providers. To report errors or to add/update any items mentioned in the guide: update the airport guide or  write a review.