Whether you have a layover, overnight sleepover or you are just quickly passing through, our San Jose Airport Guide is a great place to start planning your visit.  Here, you'll find information on services and facilities available inside the airport – including details about airport lounges, WiFi, mobile charging points, lockers, 24-hour food options, nearby hotels, and everything in between.
We asked several employees where the chapel was and they looked at us like we were crazy to think there was a chapel in the airport. – Suzanne & Brian
SJO Airport Overview
To help you plan your layover or overnight sleepover, here is a quick run-down about what to expect during your time at San Jose Juan Santamaría International Airport.
What to Expect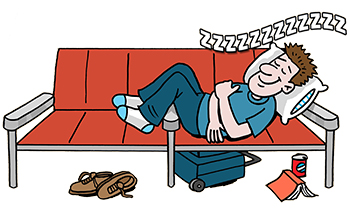 Costa Rica's San Jose Airport (code: SJO) operates a new integrated terminal with 14 gates and about two dozen eateries and shops, primarily on the airside. WiFi is available and there are plenty of outlets for charging mobile devices. Additional comfort can be found through fee-based access to one of the airport's first class lounges. See Airport Lounges in the guide below for locations and rates.
Sleeping in San Jose Airport
As a relatively small terminal, there is limited seating, though reportedly a couple of areas with some couches. Because the airport is exceptionally clean, one reviewer noted that floor sleeping was an acceptable option. Cold air conditioning and a noisy public address system were cited as sleep hindrances, so consider an extra layer or travel blanket and earplugs/noise-cancelling headphones if you are intending to spend the night at this airport. For uninterrupted sleep, there are hotels near the airport.  See the Airport Hotels section below for locations or read some traveller airport reviews for more tips.
To help us keep this guide up-to-date, you can add or update information or write a review to submit airport tips and photos. You can also visit the airport's web site for current information.  For more airport information continue scrolling down to explore more in our San Jose Airport Guide.
In this guide we may refer to locations as "landside" and "airside". Landside is the public area of the terminal located in the non-secure zone, before security. Airside is the secure area of the terminal that you must reach by going through security.  For more information on Europe's Schengen Area, click here.
Airport Lounges
Pay-per-use, Single Visit Passes & Lounge Memberships
Regardless of what class of service you are flying, there are lounges that you can enter by paying at the door, purchasing a lounge pass or through a lounge membership program. Visit the individual lounge page for more details about the lounge itself and to also find out how you can gain lounge access with just an economy class ticket!
Copa Club – Location: Airside, International Departures, in front of Gate 5.  Lounge Access: Lounge membership program.
Santamaria VIP Lounge – Location: Airside, Gate 5, Upper Level. Lounge Access: Pay at the Door.
VIP Lounge Costa Rica – Location: Airside, Lower Level, Gate 5. Lounge Access: Pay at the Door • Prepaid lounge passes • Lounge membership programs.
Related Pages: San Jose Airport Lounges
San Jose Airport Hotels
If sleeping in the airport sounds like a nightmare, there are hotels near San Jose Airport that provide free airport shuttles:
Hampton Inn & Suites by Hilton San Jose Airport  » Check Rates
Holiday Inn Express San Jose Costa Rica Airport  » Check Rates
Courtyard San Jose Airport Alajuela  » Check Rates
For more options, visit Tripadvisor to see a list of hotels near San Jose Airport that can be sorted by price, distance, traveller rating and popularity.
Airport WiFi/Internet
Free WiFi is available at San Jose Airport. Connect to the "Free SJO Wi-Fi by Samsung" network. This connection is available for 3 hours and includes commercials. You have the option to upgrade to a premium service with Premium Wi-Fi by Sitsifi.
More Services, Facilities & Things To Do On A Layover At The Airport
ATMs / Cash Machines – Need cash? ATMs are available. Fees may apply, so be sure to check your bank's fee schedule and your daily withdrawal limit if you are travelling internationally. You may also want to notify your bank of your travel plans. Locations: the main lobby, the baggage claim (by carousel 2 and 5) and beside gate 4.
Banking Services – There is a BAC branch where withdrawals can be made in colones, US Dollars and Euros. Location: In the Main lobby. Hours: 5:00AM – 8:00PM.
Currency Exchange – Exchange services are available at the following locations: Global Exchange (Airport Lobby, Boarding Area, Airside at Gate 9, Baggage Claim near carousel 3 and carousel 5) • BAC San Jose (Airport Lobby). Hours: all locations with the exception of the BAC location are open 24 hours.
Duty Free & Shopping – There are 5 Duty Free shops available at the airport, 4 are Airside and 1 is Landside. Hours: 5:00AM – 8:00PM. There are additionally other airside shops selling jewelry and beauty products. The Morpho Store Britt (books, package coffee, souvenirs) in the Commercial Center is also open 24 hours.
Food & Drink – Food concessions throughout the airport operate with varying schedules. These options are open 24 hours:
» Landside (Lobby Mezzanine): Cafe Lavazza
» Airside: Bar Imperial ▪ Brioche Dorée
Information Desk – Available Airside, across from Gate 8. Hours: unknown.
Luggage Porter – Sky Cap provides a porter service.
Luggage Storage & Lockers – Not available.
Luggage Wrapping – Sky Cap operates a baggage wrapping service in the check in hall.
Medical Services – Medical services are provided at the Red Cross Station near gate 5. Hours: 24 hours a day.
Mobile Charging – At the time of this update, we did not have any information about mobile charging availability. If you know, click here to update this airport guide.
Pharmacy – Sky Pharmacy – Airside, at Gate 4 and Gate 10. Hours: 5:00AM – 10:00PM.
Rest Zones – There are no dedicated sleeping areas, quiet areas or rest zones. If this information has changed, click here to update this guide.
Showers – Not available.
SIM Cards – A reader tells us "there is a Claro (name of the phone company) stand left of baggage claim 5 where you can purchase a SIM card. It is open from 6 AM to 9 PM and sometimes to 11 PM on weekends. He'll help you insert the SIM card and set up your phone to use it.
They offer a plan for 10,000 CRC (~$16 USD) that includes 5 GB of data, unlimited Whatsapp, 700 mb of Instagram, Facebook, Twitter, Waze and Pinterest and 45 minutes call." (August 2022)
Smoking – Smoking is prohibited anywhere inside the airport.
Spa Services – Spa Mioderma offers spa services including massages, facials, pedicures and more. Locations: Airside at Gate 5 • Airside at Gate 10. Hours: 5:00AM – 7:00PM.
Airport Hours
The airport is open 24 hours.
Airlines
San Jose airport is served by the following airlines: Aeroméxico • Air Canada • Air France • Air Panama • Air Transat • Alaska Airlines • Albatros • American Airlines • Avianca • British Airways • Condor • Copa Airlines • Cubana Airlines • Delta Air Lines • Edelweiss • Iberia • Interjet Volaris • JetBlue • KLM • LATAM • Lufthansa • Southwest Airlines • Spirit Airlines • United Airlines • Volaris • WestJet.
Airport Transportation: Getting To/From The Airport
Bus
Buses drop off and pick up passengers at the airport bus stand, located less than a block from the airport terminal exit. Departures are very frequent, about every 5 minutes, to Downtown Alajuela (15 min travel time, $1.00 USD); Downtown San José (35 min travel time; $1.00 USD); and Downtown Heredia (40 min travel time: $0.95 USD). If you are travelling by bus from the airport to one of the beaches, take a bus to Downtown Alajuela or Downtown San José and transfer to a bus going to your beach destination.
Car Rentals
Passengers who need to rent a car, or have a prebooked rental, will find car rental agencies onsite in the main passenger terminal, just past Customs. Once a rental is booked or reservation is checked in, a representative from the agency will escort the renter to the rental car court, located just outside of the terminal. Onsite agencies include: Alamo/National/Enterprise, Budget/Apex, Economy, Dollar, Hertz/Firefly, Payless and Solid/Nu.
Hotel Shuttles
Several area hotels provide airport shuttle service: Holiday Inn Express San Jose Airport   •   Hampton Inn & Suites by Hilton San Jose Airport   •   Courtyard San Jose Airport Alajuela.
See also Airport Hotels above.
Taxi
Three taxi companies are authorized to provide taxi services at SJO airport. Taxis are available 24 hours a day.
Last updated: 2022-10-28
This guide is for informational purposes only to assist with your planning.  All information, including rates and hours, is subject to change at any time without notice.   The information in this airport guide is based on information collected and/or received from the airports, lounges, hotels, transportation providers, and their websites. We are not representatives of any of the above-mentioned service providers. To report errors or to add/update any items mentioned in the guide: update the airport guide or  write a review.