Whether you have a layover, overnight sleepover or you are just quickly passing through, our San Jose Airport Guide is a great place to start planning your visit.  Here, you'll find information on services and facilities available inside the airport – including details about airport lounges, WiFi, mobile charging points, lockers, 24-hour food options, nearby hotels, and everything in between.
If you have a laptop or a WiFi device of any kind…. bring it. I am actually writing this AT the airport. If it was not for my laptop I would have gone insane from the boredom. – Sean
SJC Airport Overviews
To help you plan your layover or overnight sleepover, here is a quick run-down about what to expect during your time at San Jose Mineta International Airport.
What to Expect
San Jose Airport (code: SJC) consists of two modern terminals (A and B) connected on the airside, and offering numerous options throughout for dining and shopping. WiFi is available and there are plenty of outlets for charging mobile devices. Additional comfort and services—including showers—can be found through fee-based access to the airport's first class lounge. See our Airport Lounges section for locations and rates.
Sleeping in San Jose Airport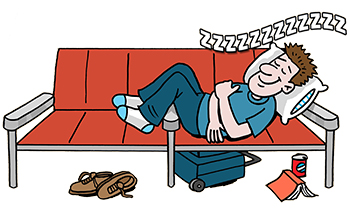 According to the airport's website (May 2023), "Ticketed passengers with a boarding pass for a connecting flight may remain in the terminals overnight".  Travellers say they feel safe sleeping in this airport and, while the landside area is relatively small, comfortable sleeping spots can be found. In particular, try the comfortable couches in the Meet and Greet area upstairs from the Terminal A check-in area. Some travellers reported comfortable sleeping on the window sills in the hallway between security and baggage claim, though advised having a travel mat and blanket for additional comfort. For uninterrupted sleep, there are hotels within a quick shuttle ride of the airport. See Airport Hotels in the guide below or read some traveller reviews for more tips.
To help us keep this guide up-to-date, you can add or update information or write a review to submit airport tips and photos. You can also visit the airport's web site for current information.  For more airport information continue scrolling down to explore more in our San Jose Airport Guide.
In this guide we may refer to locations as "landside" and "airside". Landside is the public area of the terminal located in the non-secure zone, before security. Airside is the secure area of the terminal that you must reach by going through security.  For more information on Europe's Schengen Area, click here.
Airport Lounges
Pay-per-use, Single Visit Passes & Lounge Memberships
Regardless of what class of service you are flying, there is a lounge that you can enter by paying at the door, purchasing a lounge pass or through a lounge membership program. Visit the individual lounge page for more details about the lounge itself and to also find out how you can gain lounge access with just an economy class ticket!
The Club At SJC A15 – Location: Terminal A, Airside, 3rd Level, across from Gate A15.  Showers and a designated rest zone are available. Lounge Access: Pay at the Door • Prepaid lounge passes • Lounge membership programs.
The Club At SJC A8 – Location: Terminal A, Airside, Main Level Concourse, across from Gate 8.  Showers  are available. Lounge Access: Pay at the Door • Prepaid lounge passes • Lounge membership programs.
Military Lounges
A military lounge is available to active duty U.S. military traveling on orders, on a pre-arranged basis. Services include: snacks and beverages and features comfortable seating, tables and chairs, wifi, charge stations, books and a large-screen television. Location: outside between the 2 terminals, near the US and California flags. Hours: 6:00AM – 10:00PM.
Related Pages: San Jose Airport Lounges
San Jose Airport Hotels
Quick Facts
Nearest Hotel:  Within a 10 minute drive
Sleep Cabins or Pods: No
Day Rooms: No
Nearby Hotels with Free Shuttles: Yes
When the prospect of sleeping on the floor or in a chair is giving you nightmares, there is good news for those of you who are looking to sleep at San Jose Airport in comfort.   If you are on a layover, you will have to pass through immigration/security as there is no transit hotel or accommodation on the airside.  A number of nearby hotels can be found within a 5 minute driving distance and most offer free airport shuttles.
For more options, visit Tripadvisor to see a list of hotels in San Jose, search deals and read traveller reviews.
Airport WiFi / Internet
Free WiFi is available at San Jose Airport.
More Services, Facilities & Things To Do On A Layover At The Airport
 Communications
Postal Services – Drop off your last minute postcards at the airport's mailbox. Locations: Landside, South Check-in and North Check-in.
SIM Cards – A reader has asked us to include where to buy SIM Cards. If you know, click here to update this airport guide.
WiFi – see "Airport WiFi/Internet" above.
Family Services
Baby Care Facilities – Nursing rooms offer privacy airside in both terminals. Rooms also come equipped with power outlets. Locations:
» Terminal A: near Gate 8
» Terminal B: near Gates 18, 21, 24 and 26
» All restrooms throughout the airport also offer baby changing tables.
Children's Play Areas – When you want to ensure your kids burn off all their energy before their flight, take them to the children's play area. At the iPal Playground, children (and adults!) can interact with the AvatarMind robot. The space also features a maze and an interactive play space. Location: Terminal B, near Gate 24.
Food & Drinks
Drinking Water – If you are thirsty, a water fountain and bottle refill stations are available. Location: Terminals A and B at Gates 9, 10, 15, 17 and 24.
Food & Drinks – Food concessions throughout the airport operate with varying schedules. At the time of this update, there are no 24-hour dining options. Vending machines are also available in the airport.
Information
Information Desk – Location: Landside, both terminals, in the baggage claim area. Hours: 8:00AM – 9:00PM (Mon-Sat) • 9:00AM – 9:00PM (Sun). The airport has also introduced robots to provide information and local area assistance. Airside at 11, 21 and 25 you will find Norma, Amelia and Piper ready to help.
Luggage
Baggage Carts – Need a hand with your luggage? Baggage carts (Smarte Carte) are available in the baggage claim area and departures. Rates: $5.00 per cart.
Luggage Storage & Lockers – Not available.
Mobile Charging
Mobile Charging – Head to the Power Suites where you will find comfortable seating and workstations with power outlets to charge up. Location: at Gates 7a, 9, 15, 18 and 28.
Money
ATMs / Cash Machines – Need cash? ATMs are available. Fees may apply, so be sure to check your bank's fee schedule and your daily withdrawal limit if you are travelling internationally. You may also want to notify your bank of your travel plans. Locations:
» Terminal A: Airside – at Gates 6, 10, 13, 15 • Landside – Baggage Claim and 1st Floor
» Terminal B: Airside – at Gates 18 and 26 • Landside – 1st Floor
Currency Exchange – Location: Terminal A, Baggage Claim, Landside. Hours: 9:00AM – 10:45AM (Mon – Fri) and afternoons 3:00PM – 5:00PM (Mon, Fri), 2:00PM – 5:00PM (Tues, Thurs), 12:00 – 5:00PM (Wed) • International Building, across from Gate 15, Airside. Hours: according to international flight schedules.
Pets
Pet Relief Areas – Travelling with a pet?  The airport has a few pet relief areas.  Locations:

Landside – outside Terminal A, north of ticketing • outside Terminal A, south of parking garage • Terminal B, north of ticketing.
Airside – passenger walkway between Gates 16 and 17.
Prayer & Meditation
Meditation Room – Location: Airside, Terminal B, across from Gate 18.
Rest & Relaxation
Hotels – see "Airport Hotels" above.
Lounges – see "Airport Lounges" above.
Massage Chairs – Located airside in Terminal A (near Gates 10-13) and throughout Terminal B.
Rest Zones – There are no dedicated sleeping areas, quiet areas or rest zones. If this information has changed, click here to update this guide.
Shopping
Duty Free & Shopping – The Duty Free Store is located in Terminals A, between Gates 14 and 15. In addition, there is a small variety of shops available including 9 locations of Hudson News available for any last minute snack and drinks.
Showers, Salon & Spa
Things to do & see
Piano – Time to channel your inner Elton John! SJC has its own pianos, so step right up and share your talent with your fellow travellers and greeters! Some people have even uploaded their performances to Facebook and YouTube. Locations: Play it again (Sam!) on the upright piano in the Terminal A "Blue Dot" meet and greet area, 2nd level opposite the security checkpoint, or try your hand at a baby grand in Terminal B Baggage Claim. Hours: Open 24 hours
Airport Hours
The airport is open 24 hours.
Keep in mind that TSA, airline check-in and baggage drop hours vary according to the flight schedule. Check these hours with your airline. If you are in the public area of the terminal (landside) you will not be able to get through to the secure area of the terminal (airside) until the morning.
Airlines
San Jose airport is served by the following airlines: Air Canada • Alaska Airlines • American Airlines • British Airways • Delta Air Lines • Hawaiian Airlines • JetBlue • Southwest Airlines • United Airlines • Volaris.
Airport Transportation: Getting To/From The Airport
Bus
SJC airport is well connected to the bus system. Here are few options that may be of interest:
Valley Transit Authority (VTA) Route 10 "Airport Flyer" links the airport terminals, the Metro Light Rail and the Santa Clara Caltrain station in a circuit. Buses depart every 15 – 30 minutes, and run from 5:00AM – 11:30PM.
Ace Rail VTA Airport Flyer makes frequent stops between the Airport and the Santa Clara Caltrain Station from where you can catch the ACE Train.
For more bus options, visit the San Jose Airport website.
Car Rentals
Car rental services are handled in the Rental Car Center, a designated facility located on airport property, across from Terminal B. Onsite car rental agencies include Alamo • Avis • Budget • Dollar • Enterprise • FOX • Hertz • National • Payless • Sixt • Thrifty • Zipcar.
Hotel Shuttles
Several area hotels provide airport shuttle service: DoubleTree by Hilton San Jose   •   Four Points by Sheraton San Jose Airport   •   La Quinta Inn & Suites San Jose Airport   •   Staybridge Suites San Jose   •   Sonesta Silicon Valley San Jose   •   Wyndham Garden San Jose Airport.
Shuttles stop at the Offsite Courtesy Shuttle Stops located in the ground transportation areas of Terminals A and B.
See also Airport Hotels above.
Inter-Terminal Shuttles
A free shuttle service operates in a circuit between Terminals A and B, the Rental Car Center and Daily Lot 4. Shuttles run every 7 – 10 minutes, from 2:30AM – 1:00AM. A separate free shuttle runs every 7 – 10 minutes, 24 hours a day between Economy Lot 1 and Terminals A and B. A white courtesy shuttle runs between Terminal B, Hourly Lot 5 and Daily Lot 6 from 4:30AM – 12:30AM.
Shared-Ride Shuttles
Several companies offer scheduled or on-demand door-to-door shared-ride shuttle service to and from the airport. Reservations are highly recommended, and may be required for some shuttle services. Shared-ride shuttle stops are located on the lower level of the Terminal A Parking Garage, and at the Ground Transportation Center across the street from the Terminal B baggage claim area. Contact your service provider of choice for information and reservations.
Taxi
Taxis are available in the ground transportation areas of Terminals A and B. All taxis are metered, and reservations are not required. At the time of this update, all trips from SJC Airport are a minimum of $15, which includes the first 3-miles of travel and a $1.50 airport fee. Beyond 3-miles, the fares are charged by meter at $3.00 per mile.
Last updated: 2022-10-31
This guide is for informational purposes only to assist with your planning.  All information, including rates and hours, is subject to change at any time without notice.   The information in this airport guide is based on information collected and/or received from the airports, lounges, hotels, transportation providers, and their websites. We are not representatives of any of the above-mentioned service providers. To report errors or to add/update any items mentioned in the guide: update the airport guide or  write a review.