Whether you have a layover, overnight sleepover or you are just quickly passing through, our San Juan Airport Guide is a great place to start planning your visit.  Here, you'll find information on services and facilities available inside the airport – including details about airport lounges, WiFi, mobile charging points, lockers, 24-hour food options, nearby hotels, and everything in between.
 An unattended bag announcement, both in English and Spanish, happened about every 10-15 minutes and was very loud. Sleeping there was impossible for me, in any terminal. – a traveller
SJU Airport Overview
To help you plan your layover or overnight sleepover, here is a quick run-down about what to expect during your time at San Juan Luis Muñoz Marín International Airport.
What to Expect
San Juan Airport (Code: SJU) consists of four interconnected, modern terminals (A, B, C and D). There are plenty of shops and restaurants on the airside of Terminals A, B and C, but options are currently limited in Terminal D. Most eateries and shops close down for the night, so plan accordingly. WiFi is available and charging stations and outlets can be found in various spots. For comfort, there are fee-based lounges that you can use. See our Airport Lounges section for locations and rates.
Sleeping in San Juan Airport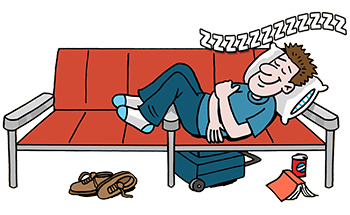 After security checkpoints close for the night, all passengers are restricted to the landside areas, and must re-clear security the next day when the checkpoints open. Terminals A and B are cited as having good sleeping spots. Terminal C has undergone the most recent renovations of the 3 terminals. One reviewer suggested the walkway between Terminals A and B due to its relative quiet. Bright lights, noise and cold temperatures are often cited as sleep hindrances at SJU, so consider bringing eyeshade, ear plugs and warm layers and/or a travel blanket. Explore our guide to sleeping in San Juan Airport or read some traveller airport reviews for more tips.   For uninterrupted sleep, there is a hotel at the airport and others nearby. See the Airport Hotels section below for locations.
To help us keep this guide up-to-date, you can add or update information or write a review to submit airport tips and photos. You can also visit the airport's web site for current information.  For more airport information continue scrolling down to explore more in our San Juan Airport Guide.
In this guide we may refer to locations as "landside" and "airside". Landside is the public area of the terminal located in the non-secure zone, before security. Airside is the secure area of the terminal that you must reach by going through security.  For more information on Europe's Schengen Area, click here.
Airport Lounges
Pay-per-use, Single Visit Passes & Lounge Memberships
Regardless of what class of service you are flying, there is a lounge that you can enter by paying at the door, purchasing a lounge pass or through a lounge membership program. Visit the individual lounge page for more details about the lounge itself and to also find out how you can gain lounge access with just an economy class ticket!
The Lounge by Global Lounge Network  – Two Locations: Terminal A, Airside • Terminal C, Airside, pass through Security Check Point B and turn left. Lounge Access: Pay at the Door • Prepaid lounge passes • Lounge membership programs.
Avianca Lounge – Location: Terminal C, Airside, 3rd Floor. Lounge Access: Pay at the Door.
Related Pages: San Juan Airport Lounges
San Juan Airport Hotels
Quick Facts
Nearest Hotel:  At the Airport
Sleep Cabins or Pods: No
Day Rooms: No
Nearby Hotels with Free Shuttles: Yes
When the prospect of sleeping on the floor or in a chair is giving you nightmares, there is good news for those of you who are looking to sleep at San Juan Airport in comfort.   If you are on a layover, you will have to pass through immigration/security as there is no transit hotel or accommodation on the airside.  There is a hotel conveniently located at the airport, outside the terminal and a few nearby hotels within a 10 minute drive, but they do not offer airport shuttles.
Hotel at SJU Airport
San Juan Airport Hotel – Between Terminals C & D.  Direct access to the airport terminal. » Check Rates
Nearby hotels
For more options, visit Tripadvisor to see a list of hotels in nearby Isla Verde, search deals and read traveller reviews.
Airport WiFi / Internet
WiFi is available at San Juan Airport for a fee.   Oreader sent us a screenshot in January 2020 showing the rates as US$4.99 (3 hours) • US$6.99 (6 hours) • US$9.99 (Full day), while another tells us it is working only with a Paypal account.
More Services, Facilities & Things To Do On A Layover At The Airport
Communications
Food & Drinks
Food & Drinks – There are restaurants and coffee shop available in all terminals (except Terminal E), both landside and airside. According to a review submitted in March 2016, there was a 24-hour Subway in front of the Delta check-in. Unfortunately, we do not have any current information and cannot confirm if this still exists. If you can confirm this, click here to update this airport guide. 
Information
Information Desk – Staffed information booths are available, you may also spot ambassadors in the blue polo shirts throughout the airport.
Traveler's Aid – Traveler's Aid is a non-profit organization that assists stranded and distressed passengers. Volunteers assist passengers with general airport and destination queries to assisting with situations such as transportation assistance, lost or stolen money, wiring money, emergency housing, etc. Location: Terminal E, 1st Floor, Office #8, 4 doors from the police station. Hours: 8:00AM – 4:00PM (Mon – Fri).
Luggage
Luggage Storage & Lockers – A reader tells us "Luggage storage is available at the San Juan Airport Hotel for $10 a day and you do not need to be a guest at the hotel." (June 2023)
Luggage Wrapping – Available through Secure Wrap. Location: Terminal A, 2nd Level • Terminal B, 2nd Level (2 locations) • Terminal C, 2nd Level. Global Baggage Protection provides services in Terminal D, 2nd Level.
Mobile Charging
Mobile Charging – Yes. Locations are unknown.
Money
ATMs / Cash Machines – Need cash? ATMs are available. Fees may apply, so be sure to check your bank's fee schedule and your daily withdrawal limit if you are travelling internationally. You may also want to notify your bank of your travel plans. Locations: Terminal A, B, C and in the parking facilities.
Currency Exchange – You can exchange money at the Banco Popular. Additionally, there is an ATM that will allow you to withdraw Euros in Terminal D.
Rest & Relaxation
Shopping
Duty Free & Shopping – Duty Free is available in all Terminals. Additionally there is a good variety of shops available including a Convenience Store 24 which is open 24 hours a day.
Showers, Salon & Spa
Smoking
Smoking – Smoking is only allowed in designated areas.
Airport Hours
The airport is open 24 hours.
Keep in mind that TSA, airline check-in and baggage drop hours vary according to the flight schedule. Check these hours with your airline. If you are in the public area of the terminal (landside) you will not be able to get through to the secure area of the terminal (airside) until the morning.
Airlines
San Juan airport is served by the following airlines: Air Canada • Air Century • Air Sunshine • Air Flamenco • Air Europe • Allegiant Air • American Airlines • Avianca • Cape Air • Condor • Copa Airlines • Delta Air Lines • Frontier Airlines • Iberia • InterCaribbean Airways • JetBlue • LIAT • Seaborne Airlines • Spirit Airlines • Southwest Airlines • Sun Country • Tradewind Aviation • United Airlines • Vieques Air Link • WestJet.
Airport Transportation: Getting To/From The Airport
Bus
Bus routes 40 and 50 access the airport at bus stops located on the Departures Level (2nd Level) of Terminals A and D. Switch between routes 40/50 and 5/53 for travel to/from Isla Verde, Condado or Old San Juan. Please note: While this mode of transportation is the cheapest, it is not convenient for most travelers, as luggage is not allowed on any AMA bus.
Car Rentals
The following car rental agencies are located onsite: Alamo • Avis • Budget • Enterprise • Hertz • National • Sixt • Thrifty • U Save and more.
Hotel Shuttles
See also Airport Hotels above.
Taxi
Taxis pick up and drop off passengers on the Arrivals Level of Terminals A, and B, outside of the Baggage Claim area. The following fixed rates were current at the time of this update: $12 to Zone 2 (Isla Verde and hotels); $17 to Zone 3 (Ocean Park Condado Miramar); $21 to Zone 4 (Old San Juan Piers) and $17 to Zone 5 (Convention Center, Isla Grande Airport and Sheraton Convention Center). A $3 surcharge applies to all fares leaving the airport, as well as extra fees for luggage, night travel or parties of more than 5 passengers.
Last updated: 2023-01-18
This guide is for informational purposes only to assist with your planning.  All information, including rates and hours, is subject to change at any time without notice.   The information in this airport guide is based on information collected and/or received from the airports, lounges, hotels, transportation providers, and their websites. We are not representatives of any of the above-mentioned service providers. To report errors or to add/update any items mentioned in the guide: update the airport guide or  write a review.