Whether you have a layover, overnight sleepover or you are just quickly passing through, our San Luis Obispo Airport Guide is a great place to start planning your visit.  Here, you'll find information on services and facilities available inside the airport – including details about airport lounges, WiFi, mobile charging points, lockers, 24-hour food options, nearby hotels, and everything in between.
I think possibly the staff at America West express were drug addicts. At least this particular woman appeared to be highly disoriented, delusional etc. -a traveller
SBP Airport Overview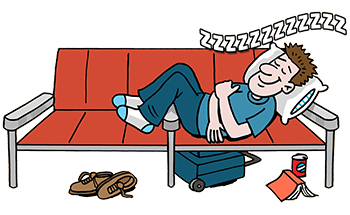 To help you plan your layover or overnight sleepover, here is a quick run-down about what to expect during your time at San Luis Obispo County Regional Airport.
What to Expect
San Luis Obispo Airport (code: SBP) consists of a small, recently-renovated terminal with multiple gates, a restaurant, cafe and vending machines. WiFi is available and there are mobile device charging stations on the airside. There are no private lounges at this airport.
Sleeping in San Luis Obispo Airport
We do not yet have any sleep-related airport reviews.  According to a 2005 review, benches were reportedly "comfy enough to sleep on." That said, the airport terminal is closed overnight after the last flight arrival.  There are hotels near the airport. See Airport Hotels in the guide below or read some traveller airport reviews for more tips.
To help us keep this guide up-to-date, you can add or update information or write a review to submit airport tips and photos. You can also visit the airport's web site for current information.  For more airport information continue scrolling down to explore more in our San Luis Obispo Airport Guide.
In this guide we may refer to locations as "landside" and "airside". Landside is the public area of the terminal located in the non-secure zone, before security. Airside is the secure area of the terminal that you must reach by going through security.  For more information on Europe's Schengen Area, click here.
Airport Hotels
There are no hotels at San Luis Obispo Airport, but you will find some nearby hotels within a 10-15 minute drive.  Visit Tripadvisor to see a list of hotels in San Luis Obispo, search deals and read traveller reviews.
Airport WiFi / Internet
Free WiFi is available at San Luis Obispo Airport.
More Services, Facilities & Things To Do On A Layover At The Airport
ATMs / Cash Machines – Need cash? ATMs are available. Fees may apply, so be sure to check your bank's fee schedule and your daily withdrawal limit if you are travelling internationally. You may also want to notify your bank of your travel plans. Locations: Baggage Claim area.
Baggage Carts – Need a hand with your luggage? Baggage carts are available in the Baggage Claim area.
Currency Exchange – Not available.
Duty Free & Shopping – There is a gift shop in the Runaway Café.
Food & Drinks – SLO Cafe and Market Place is the only in-terminal dining option, located Airside. Hours: Opens at 5:00AM. Vending machines are available airside. To the east of the airport terminal is Spirit of San Luis Restaurant. Hours: 7:00AM – 8:00PM Mon-Fri (Open at 9:00AM on Sunday).
Luggage Storage & Lockers – Not available.
Mobile Charging – Charging stations are located in the terminal, airside.
Pet Services – Travelling with a 4 legged companion? The airport has an area for pets to stretch their legs, drink water and take their potty breaks.Location: Airside in the courtyard.
Rest Zones – There are no dedicated sleeping areas, quiet areas or rest zones. If this information has changed, click here to update this guide.
Showers – Not available.
SIM Cards – A reader has asked us to include where to buy SIM Cards. If you know, click here to update this airport guide.
Airport Hours
The airport is open 4:00AM – 12:30AM (or until the last flight arrives).
Airlines
San Luis Obispo airport is served by the following airlines: Alaska Airlines • American Airlines • Contour Airlines • United Airlines.
Airport Transportation: Getting To/From The Airport
Bus
The airport is connected to the public transportation system via Bus Route 1A/B. The bus runs once an hour from 6:40AM – 9:40PM. For more information, visit the San Luis Obispo Transit website.
Car Rentals
The following car rental agencies are available onsite: Avis • Budget • Enterprise • Hertz.
Hotel Shuttles
At the time of this update there were no hotels providing airport shuttle service.  See also Airport Hotels above.
Shuttles
The following shuttle companies offer shared-ride door-to-door shuttle service for passengers arriving at San Luis Obispo Airport: Ride-On Transportation • SLO Safe Ride. Contact your service provider of choice for service area and fare information.
Taxis
Taxis are available in the ground transportation area during airport hours of operation. All taxis are metered, and reservations are not required.
Last updated: 2022-10-31
This guide is for informational purposes only to assist with your planning.  All information, including rates and hours, is subject to change at any time without notice.   The information in this airport guide is based on information collected and/or received from the airports, lounges, hotels, transportation providers, and their websites. We are not representatives of any of the above-mentioned service providers. To report errors or to add/update any items mentioned in the guide: update the airport guide or  write a review.