Whether you have a layover, overnight sleepover or you are just quickly passing through, our San Salvador Airport Guide is a great place to start planning your visit.  Here, you'll find information on services and facilities available inside the airport – including details about airport lounges, WiFi, mobile charging points, lockers, 24-hour food options, nearby hotels, and everything in between.
Wow, El Salvador International Airport is the biggest, modern and beautiful airport of all Central America. – Finn
SAL Airport Overview
To help you plan your layover or overnight sleepover, here is a quick run-down about what to expect during your time at San Salvador Airport, also known as El Salvador International Airport Saint Oscar Arnulfo Romero y Galdámez.
What to Expect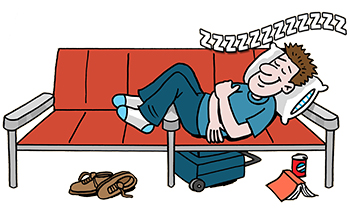 San Salvador Airport (Code: SAL) has a recently expanded terminal that primarily handles flights across North and Central America. Additional expansion and modernization efforts are ongoing for the next decade. Some reviews describe additional (seemingly superfluous) security checks, so consider arriving early.
Amenities include a variety of eateries and shops, both landside and airside. Free WiFi helps pass the time. Economy class passengers can pay to enter two airport lounges. One lounge has showers for freshening up. See Airport Lounges in the guide below for location and access information.
Sleeping in San Salvador Airport
Travellers who've spent the night report generally pleasant, safe stays. Overnight sleepers are restricted to the Main Hall where security guards patrol throughout the evening. Unfortunately, seating is limited in this area, so bring a sleeping bag or blanket to make the floor a bit more tolerable. For uninterrupted sleep, nearby hotels offer free shuttle service. See the Airport Hotels section below for locations or read some traveller airport reviews for more tips.
To help us keep this guide up-to-date, you can add or update information or write a review to submit airport tips and photos.  For more airport information continue scrolling down to explore more in our San Salvador Airport Guide.
In this guide we may refer to locations as "landside" and "airside". Landside is the public area of the terminal located in the non-secure zone, before security. Airside is the secure area of the terminal that you must reach by going through security.  For more information on Europe's Schengen Area, click here.
Airport Lounges
Pay-per-use, Single Visit Passes & Lounge Memberships
Regardless of what class of service you are flying, there are lounges that you can enter by paying at the door or through a lounge membership program. Visit the individual lounge page for more details about the lounge itself and to also find out how you can gain lounge access with just an economy class ticket!
Ambaar Lounge – Locations: Airside, near Gates 18-23 and Landside, before X-ray Control.  Lounge Access: Pay at the Door • Lounge membership programs.
Avianca Sala VIP – Location: Airside, near Gate 8. Showers are available. Lounge Access: Pay at the Door • Lounge membership programs.
Aeroconnections VIP Lounge – Location: Airside, after Security Checks and Immigration, in front of Gate 5. Lounge Access: Lounge passes.
Related Pages: San Salvador Airport Lounges
Airport Hotels
If sleeping in the airport sounds like a nightmare, there are hotels near San Salvador Airport.  If you want to stay in the city, the drive is more than 40-minutes away.
Quality Hotel Real Aeropuerto – Free airport shuttle departs every 30 minutes from 5:00AM – 11:00PM. » Check Rates
For more options, visit Tripadvisor to see a list of hotels in San Salvador, search deals and read traveller reviews.
Airport WiFi/Internet
Free unlimited wifi is available at San Salvador Airport.
More Services, Facilities & Things To Do On A Layover At The Airport
ATMs / Cash Machines – Need cash? ATMs are available. Fees may apply, so be sure to check your bank's fee schedule and your daily withdrawal limit if you are travelling internationally. You may also want to notify your bank of your travel plans. Location: Landside, near customs.
Banking – According to a reader: "There is (at least used to be) bank teller just shy of immigration… do remember that US$ is the currency of legal tender. On the land side there are a couple of bank tellers (by the ATM)
Currency Exchange – See banking information above.
Duty Free & Shopping – There is no designated duty free shop, but there are a number of stores selling souvenirs, travel accessories etc.
Food & Drinks – According to a reader: "Although there is not a food court/plaza there are a number of small restaurants with a large variety of food both in the air and land sides.
Information Desk – If you have any questions, visit the airport information desk for assistance! Location: Landside, Arrivals Hall.
Luggage Carts – Need a hand with your bags? Luggage carts are available throughout the airport.
Luggage Storage & Lockers – Not available.
Mobile Charging – At the time of this update, we did not have any information about mobile charging availability. If you know, click here to update this airport guide.
Rest Zones – There are no dedicated sleeping areas, quiet areas or rest zones. If this information has changed, click here to update this guide.
Showers – Showers are available in the lounges. [ see Airport Lounges above ]
SIM Cards – A reader has asked us to include where to buy SIM Cards. If you know, click here to update this airport guide.
Airport Hours
The airport is open 24 hours.
Airlines
San Salvador airport is served by the following airlines: Aeroméxico • Aeroméxico Connect • Air Canada • American Airlines • Avianca • Copa Airlines • Delta Air Lines • Iberia • Interjet • Spirit Airlines • Transportes Aéreos de El Salvador • Transportes Aéreos Guatemaltecos • United Airlines • Volaris.
Airport Transportation: Getting To/From The Airport
Buses
Travel like the locals do! Local bus 138 links the airport to downtown San Salvador, stopping along the route to pick up and drop off passengers. Total one-way trip time can take up to an hour, but costs under $1 USD. Ideal for travelers looking to save a few pennies. There is also a connection to Comalapa (bus 133) from the airport.
Car Rentals
Car rentals are available onsite in the arrivals area. At the time of this update, no further information is available.
Hotel Shuttles
At the time of this update we were able to find only one hotel offering an airport shuttle: Quality Hotel Real Aeropuerto.
See also Airport Hotels above.
Minibus
If your load is light, you can travel at a fraction of the price of a taxi by taking a "colectivo" (shared-ride minibus) between the airport and city center. You can find a colectivo in the ground transportation area.
Taxis
Taxis are readily available for hire in the ground transportation area.
Last updated: 2022-10-28
This guide is for informational purposes only to assist with your planning.  All information, including rates and hours, is subject to change at any time without notice.   The information in this airport guide is based on information collected and/or received from the airports, lounges, hotels, transportation providers, and their websites. We are not representatives of any of the above-mentioned service providers. To report errors or to add/update any items mentioned in the guide: update the airport guide or  write a review.