Whether you have a layover, overnight sleepover or you are just quickly passing through, our Spokane Airport Guide is a great place to start planning your visit.  Here, you'll find information on services and facilities available inside the airport – including details about airport lounges, WiFi, mobile charging points, lockers, 24-hour food options, nearby hotels, and everything in between.
The main problems were PA announcements throughout the night (No smoking etc etc), the bright lights and the floor waxing machine–When you are on the floor and this machine comes back and forth 12 inches from your head is not a nice thing to try to sleep through. – a traveller
GEG Airport Overview
To help you plan your layover or overnight sleepover, here is a quick run-down about what to expect during your time at Spokane International Airport.
What to Expect
Spokane International Airport (code: GEG) consists of a mid-size, partially renovated terminal with three small concourses (A, B and C) with 22 gates, and about 15 eateries and shops, located primarily on the airside. Vending machines provide the only snack and drink options after the shops and eateries close for the night, so plan accordingly. WiFi is available to help pass the time. There are no private lounges at this airport.
Where to Sleep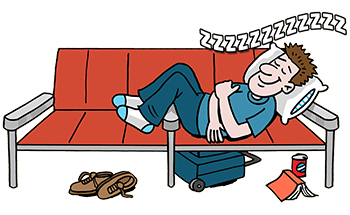 After security checkpoints close for the night, all passengers are restricted to the landside areas, and must re-clear security the next day when the checkpoints open. Travellers report that the staff are friendly and that comfortable seating conducive for sleeping can be found on the landside. There are reportedly comfortable seats near the baggage claim, and armrest-free seating and dimmed lights near the security screening gates. The airport is described as especially cold during the winter, so consider bringing a sleeping bag or travel blanket if planning to spend the night. For uninterrupted sleep, there is a hotel across the street from the terminal and others within a quick shuttle ride away. See Airport Hotels in the guide below or read some traveller airport reviews for more tips.
Covid-19 Update
Due to the current Covid-19 pandemic, all services and times listed below are subject to change. Some services and facilities may remain closed or operate with reduced hours.  Airport tips and suggestions in this guide and elsewhere on the site were written before March 2020 and may no longer be valid. If you are planning to sleep in the public area of the terminal overnight, have a back-up plan! We've heard from a few travellers at other airports and they were not permitted to stay overnight. We're not sure if that will apply to this airport, until a reader lets us know the current situation. We will start updating all of our guides in October 2021.  To help us with this massive update, you can add or update information or write a review and submit photos and airport tips.
In this guide we may refer to locations as "landside" and "airside". Landside is the public area of the terminal located in the non-secure zone, before security. Airside is the secure area of the terminal that you must reach by going through security.  For more information on Europe's Schengen Area, click here.
Airport Hotels
If sleeping in Spokane Airport does not appeal to you, there are hotels near the airport:
Ramada at Spokane Airport – (3 min drive from the airport) Free airport shuttle is available. » Check Rates
Wingate by Wyndham Spokane Airport – (3 min drive from the airport) Free airport shuttle is available. » Check Rates
Best Western Plus Peppertree Airport Inn – (6 min drive from the airport) Free 24 airport shuttle is available. » Check Rates
To see more options there is a list of hotels near Spokane Airport on Tripadvisor that can be sorted by price, distance, traveller rating and popularity.
Airport Lounges
There are no pay-per-use lounges at the airport.
Airport WiFi / Internet
Free WiFi is available at Spokane Airport.
More Services, Facilities & Things To Do On A Layover At The Airport
ATMs / Cash Machines – Need cash? ATMs are available. Fees may apply, so be sure to check your bank's fee schedule and your daily withdrawal limit if you are travelling internationally. You may also want to notify your bank of your travel plans. Locations: Landside, opposite the security checkpoints for Concourses A/B and C.
Baby Care Facilities – If you are travelling with an infant, there are nursing stations for breastfeeding. Locations: Concourse A • Upper level Concourse C. Additionally, baby changing facilities are available Landside as well as Airside.
Baggage Carts – Need a hand with your luggage? Baggage carts are available free of charge.
Barber Shop – Get a haircut or a trim at Flying Shears barber shop. Location: near the Baggage Claim area
Drinking Water – Thirsty? Free water bottle filling stations are available.
Duty Free & Shopping – Duty Free shopping is not available. You will find a small selection of shops including a few  travel markets which may come in handy for any last minute snack and drink needs.
Food & Drinks – Food concessions throughout the airport operate with varying schedules. At the time of this update, there are no 24-hour dining options. Food options include: Aurora Pub • Burger King • MVP Sports Bar & Grill • Quizno's Sub • Spokane Tap Room • Starbucks • Vintage Washington.
Luggage Storage & Lockers – Not available.
Mobile Charging – At the time of this update, we did not have any information about mobile charging availability. If you know, click here to update this airport guide.
Rest Zones – Rock yourself to sleep in the rocking chairs available on all concourses.
Take precaution even when sleeping in the rest zones.  In December 2019, a traveller at another airport reported that money and credit cards had been stolen from their bag even though the bag was right beside them.  Protect and lock your bags as you would sleeping elsewhere in public.
Showers – Not available.
Airport Hours
The airport is open 24 hours
Keep in mind that TSA, airline check-in and baggage drop hours vary according to the flight schedule. Check these hours with your airline. If you are in the public area of the terminal (landside) you will not be able to get through to the secure area of the terminal (airside) until the morning.
Airlines
Spokane airport is served by the following airlines: Alaska Airlines • American Airlines • Delta Air Lines • Frontier • Southwest Airlines • United Airlines.
Airport Transportation: Getting To/From The Airport
Bus
Spokane Transit Authority (STA) bus route 60 connects the airport to STA's downtown Spokane hub, The Plaza. For route map, schedules and fare information, visit the STA website.
Car Rentals
Onsite car rental agencies include: Alamo • Avis • Budget • Dollar • Enterprise • Hertz • National • Thrifty.
Hotel Shuttles
Several area hotels provide airport transportation service as a courtesy to their guests. Here are a few hotels offering airport shuttle service: Best Western Plus Peppertree Airport Inn   •   Days Inn & Suites Spokane Airport Airway Heights   •   DoubleTree by Hilton Hotel Spokane City Center   •   Hampton Inn Spokane   •   Holiday Inn Express Spokane Downtown   •   Holiday Inn Spokane Airport   •   Northern Quest Resort & Casino   •   Oxford Suites Downtown Spokane   •   Quality Inn Downtown 4th Avenue   •   Ramada at Spokane Airport   •   Red Lion Hotel at the Park   •  Super 8 Spokane/West   •  Wingate by Wyndham Spokane.
See Airport Hotels above.
Shuttles
The airport is served by plenty of shuttle service providers connecting you with a variety of destinations including Moscow (ID), Pullman/Colfax (WA), British Columbia, Canada (Rossland, Red Mountain and Nelson areas) and many more.
Taxis
Taxis are available curbside in the ground transportation area. All taxis are metered, and reservations are not required.
Last updated: 2021-10-20
This guide is for informational purposes only to assist with your planning.  All information, including rates and hours, are subject to change at any time without notice.   The information in this airport guide is based on information collected and/or received from the airports, lounges, hotels, transportation providers and their web sites. We are not representatives of any of the above mentioned service providers. To report errors or to add/update any items mentioned in the guide: update the airport guide or  write a review.