Whether you have a layover, overnight sleepover or you are just quickly passing through, our Tel Aviv Airport Guide is a great place to start planning your visit.  Here, you'll find information on services and facilities available inside the airport – including details about airport lounges, WiFi, mobile charging points, lockers, 24-hour food options, nearby hotels, and everything in between.
if you must, I recommend to go to the departure floor and go to the end of the terminal. – David
TLV Airport Overview
To help you plan your layover or overnight sleepover, here is a quick run-down about what to expect during your time at Tel Aviv Ben Gurion Airport.
What to Expect
Tel Aviv Airport (code: TLV) has two commercial terminals: Terminal 1 handles low-cost and domestic routes and Terminal 2 serves a variety of international destinations. The airport is known for its strict security procedures, so consider arriving earlier than normal. Amenities are modern and include a variety of eateries and shops, including duty-free. Free WiFi helps pass the time. Economy class passengers can pay to enter a few airport lounges. See Airport Lounges in the guide below for location and access information.
Sleeping in Tel Aviv Airport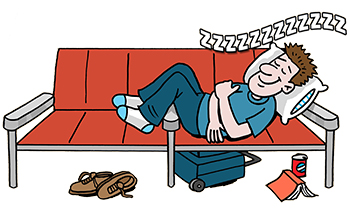 Overnight sleepers are common here, but sleep doesn't come easy. Thanks to non-stop departures and arrivals, peace and quiet is rare. Travellers recommend the departure hall near the security check and food court. Do come prepared with an eye mask and earplugs to combat bright lights and noise. For uninterrupted sleep, nearby hotels offer shuttle service. See our Airport Hotels section below for more info or read some traveller airport reviews for more tips.
To help us keep this guide up-to-date, you can add or update information or write a review to submit airport tips and photos. You can also visit the airport's web site for current information.  For more airport information continue scrolling down to explore more in our Tel Aviv Airport Guide.
In this guide we may refer to locations as "landside" and "airside". Landside is the public area of the terminal located in the non-secure zone, before security. Airside is the secure area of the terminal that you must reach by going through security.  For more information on Europe's Schengen Area, click here.
Airport Lounges
Pay-per-use, Single Visit Passes & Lounge Memberships
Regardless of what class of service you are flying, there are lounges that you can enter by paying at the door, purchasing a lounge pass or through a lounge membership program. Visit the individual lounge page for more details about the lounge itself and to also find out how you can gain lounge access with just an economy class ticket!
Terminal 1
No lounges available.
Terminal 3
Related Pages: Tel Aviv Airport Lounges
Tel Aviv Airport Hotels
Quick Facts
Nearest Hotel:  Within a 15 minute drive
Sleep Cabins or Pods: No
Day Rooms: No
Nearby Hotels with Shuttles: Yes
If sleeping in Tel Aviv airport sounds like a nightmare, there are hotels within a 15-20 minute drive.  The drive into the Tel Aviv city center is 30+ minutes.
Sadot Hotel – Free airport transfer.  Reservations are required. » Check Rates
For more options, visit Tripadvisor to see a list of hotels in Tel Aviv, search deals and read traveller reviews.
Airport WiFi/Internet
Free WiFi is available at Tel Aviv Airport, connect to the "Netvision" network.
More Services, Facilities & Things To Do On A Layover At The Airport
Communications
Family Services
Baby Care Facilities – A crib, sink, changing table and more are available in the Mother and Child Room. Ask the Information Counter for access. Location: Airside, Terminal 3, Departures Hall (Duty Free area) Hours: Open 24 hours.
Children's Play Room – Locations: Terminal 1, Airside, Departures Hall (Duty Free area) • Terminal 3, Airside, Concourse B, C and D, at entrance (right hand side) of every concourse and at end of the concourse on the left hand side (behind the shops).
Food & Drinks
Food & Drinks – There are a variety of restaurants/cafes; however, at the time of this update, we don't know if there are any 24 hour food concessions available. Vending machines can be found at the entrances to all concourses.
Information
Information Desk – Locations: Check-in Hall, opposite entrance 32 (Landside), Rotunda (Airside) and Greeter's Hall, opposite entrance 3 (landside). Hours: open 24 hours.
Tourist Information – Get tourist information, maps and assistance with hotel reservations at the Ministry of Tourism information desk. Location: Arrivals Hall.
Travel Agencies – If you are arriving in Tel Aviv and need local arrangements or help planning a really last minute trip abroad, there are a few travel agencies with offices at the airport that can probably be of assistance. Eshet, Issta and daka90 are all located in the Greeters Hall, East Gallery, Level 2.
Luggage
Baggage Trolleys – Need a hand with your luggage? Baggage trolleys are available free of charge on the departures level. A reader tells us you need a credit card as a deposit. (June 2023)
Luggage Storage & Lockers – Location: Terminal 3, on the G floor, in the "Vineyard" and "Orchard" parking lots • At the Duty Free in Arm B. There are also mobile charging stations available at the locker stands. Storage rates: vary by location and size, sample rates – Small up to 2 hours for 10 NIS • Small up to 72 hours for 240 NIS • Medium up to 2 hours for 40 NIS • Medium up to 72 hours for 300 NIS. Lockers are accessible 24 hours.
Medical Services
Medical Services – Locations: Airside, Terminal 1, Greeter's Hall west gallery, near Gate 21 (Hours: 24-hours) • Airside, Terminal 3, Departures Hall (Duty Free area), next to Mother and Child Room (Hours: Not known).
Pharmacy – SkyPharm offers services. Location: Terminal 3, 3rd Floor, Buy and Bye Mall. Hours: Unknown.
Mobile Charging
Mobile Charging Stations – Charge your electronic devices for free at charging stations located throughout Terminals 1 and 3. Mobile charging stations are also available for faster service, see Luggage Storage and Lockers above.
Money
ATMs / Cash Machines – Need cash? ATMs are available. Fees may apply, so be sure to check your bank's fee schedule and your daily withdrawal limit if you are travelling internationally. You may also want to notify your bank of your travel plans.
Banking Services – Yahav Bank offers full-service banking, currency exchange and an ATM. Location: Airside, Terminal 1, near Massada Lounge Hours: Vary (closed Friday & Sat).
Currency Exchange – Terminal 3, Bank Hapoalim offers 24-hour service from three locations: Landside, Baggage Claim near carousels 6 and 7 • Landside, Eastern Hall • Landside, Check-In counter between Departure Hall and Buy & Bye Mall. Terminal 1, the Yahav Bank provides currency exchange. Hours: vary depending on the day of week but never opens before 8:00 and closes by 1:00PM or 5:00PM and is never open on Friday.
TravelersBox – Turn your leftover change into emoney at any TravelersBox kiosk! Location: Landside, Arrivals Hall, near Bank Hapoalim currency exchange.
Prayer
Synagogues – Three locations: Airside, Terminal 1, Eastern Hall, near gate 2 • Airside, Terminal 3, Greeter's Hall east gallery on 1st floor • Airside, Terminal 3, Duty Free Hall. Hours: Open 24 hours.
Rest & Relaxation
Shopping
Duty Free & Shopping – JR/Duty Free has five locations: Airside, Concourses B, C, D and E. In addition, you will find a small selection of other shops selling jewellery, clothing, books, etc.
Showers, Salon & Spa
Showers – Not available.
Spa – Not available.
Smoking
Smoking – Smoking is permitted in the designated locations only (airside and landside) as well as in Schmoozy's Pub in the Rotunda.
Airport Hours
The airport is open 24 hours.
Airlines
Tel Aviv airport is served by the following airlines: Aegean Airlines • Aeroflot • Air Baltic • Air Canada • Air Europa • Air France • Air India • Air Malta • Air Moldova • Air Serbia • Air Sinai • Alitalia • Alrosa • All Nippon Airways • American Airlines • Arkia • Astra Airlines • ASL Airlines • Astra • Atlasglobal • Austrian Airlines • Azerbaijan Airlines • Belavia • Blue Air • Bluebird Airways • British Airways • Brussels Airlines • Bulgaria Air • Cathay Pacific • Corendon Airlines • Croatia Airlines • Cyprus Airways • CSA Czech Airlines • Delta Air Lines • Dniproavia • EasyJet • El Al Israel Airlines • Enter Air • Ethiopian Airlines • Finnair • Freebird Airlines • Georgian Airlines • Hainan Airlines • Hong Kong Airlines • Iberia • IndiGo • Israir • Jet2 • KLM • Korean Air • LATAM • LOT • Lufthansa • Myway Airlines • Neos • Norwegian • Onur Air • Pegasus Airlines • Qantas • Rossiya Airlines • Royal Jordanian • Rwandair • Ryanair • S7 Airlines • Small Planet Airlines • Smartwings • Swiss • TAP • Tailwind Airlines • Tandem Aero • Tarom • Thai Airways • Thomson • Transavia • Turkish Airlines • Tus Airways • Ukraine International Airlines • United Airlines • Ural Air • Uzbekistan Air • Vietnam Airlines • VIM Airlines • Virgin Atlantic • Vueling • Wizz Air • YAN Air.
Airport Transportation: Getting To/From The Airport
Bus
The following companies offer bus service from Terminal 3, Level 2 (Public Transport Level):
Egged offers a connector shuttle (Line 5) between the airport, Airport City and El Al Junction. From El Al Junction, passengers can transfer to/from Egged bus lines traveling to/from Petah Tikva, Rehovot, Jerusalem, Hadera, Netanya, Ramla, Haifa, Ra'anana Junction and Ramat Gan Ayalon Mall.
Kavim provides service between the airport, El Al Junction (line 13), Shoham and Modi'in.
Metropoline offers bus service between Ben Gurion Airport and Be'er Sheva (Beersheba).
Afikim offers 24-hour service between the airport and Jerusalem. The bus departs hourly on the hour.
Car Rentals
Car rental desks are located on the 1st floor in the Arrivals Hall. From this location, renters will be directed by staff to take the free shuttle to the Pardes Parking Lot for vehicle pick up. Returning renters will have access to that same shuttle to get back to the airport terminals. The following agencies are available onsite: Avis, Budget, Cal Auto, Eldan, Europcar, Hertz and Shlomo Sixt.
Hotel Shuttles
At the time of this update we were able to find only one hotel providing a hotel shuttle: Sadot Hotel (one way transfer).
See also Airport Hotels above.
Inter-Terminal Shuttles
Tel Aviv airport operates a free shuttle service between the terminals and long term parking which runs in a circuit every 10 – 20 minutes, 24 hour a day. The shuttle stop for shuttles travelling from Terminal 3 to Terminal 1 is located on Level G, next to the stop for long term parking shuttles. The shuttle stop for shuttles travelling from Terminal 1 to Terminal 3 is at Terminal 1, opposite Gate 4. Shuttles for the long term parking lot leave from Terminal 3, Level G, Gate 1.
Taxi
Taxis are readily available 24 hours a day, and dispatchers are available at Terminal 3 (Level G, Exit Gate 3) and Terminal 1 (Gate 3) to assist passengers in hiring a taxi. For safety reasons, please hire a taxi through the dispatcher only. Hadar Lod taxis travel between the airport and all areas of Israel. Nesher taxis, available at Level G, Exit Gates 1-3, travel to Jerusalem and the surrounding regions. Amal taxis, available at Level G, Exit Gates 1-3, travel to Haifa and the surrounding regions. All taxi services are available 24 hours a day. A surcharge of NIS 5 is added to the fares of every trip leaving from the airport. Night fares apply from 5:00PM – 5:00AM Friday into Saturday, and from 9:00PM to 5:29AM all other days, including Shabbat and Jewish holidays. Additional surcharges may apply for luggage, parties of more than 2 passengers or travel on toll roads. Use this Ben Gurion Airport Taxi Fare Calculator to help you estimate the cost of your journey.
Train
Ben Gurion Airport Train Station is located on the lower level of Terminal 3. Passengers departing from Terminal 1 can use the free inter-terminal shuttle. For routes, timetables and fare information, go to the Israel Railways website.
Pro-Tip: A reader tells us "There is now a fast train that goes direct from the airport to Jerusalem Yitzchak Navon train station, which is across the street from Jerusalem Central Bus Station. It's a 20-minute ride and is quicker than any other mode of transport to Jerusalem, including driving." (May 2019)
Last updated: 2022-10-31
This guide is for informational purposes only to assist with your planning.  All information, including rates and hours, is subject to change at any time without notice.   The information in this airport guide is based on information collected and/or received from the airports, lounges, hotels, transportation providers, and their websites. We are not representatives of any of the above-mentioned service providers. To report errors or to add/update any items mentioned in the guide: update the airport guide or  write a review.