Whether you have a layover, overnight sleepover or you are just quickly passing through, our Tel Aviv Airport Guide is a great place to start planning your visit.  Here, you'll find information on services and facilities available inside the airport – including details about airport lounges, WiFi, mobile charging points, lockers, 24-hour food options, nearby hotels, and everything in between.
if you must, I recommend to go to the departure floor and go to the end of the terminal. – David
TLV Airport Overview
To help you plan your layover or overnight sleepover, here is a quick run-down about what to expect during your time at Tel Aviv Ben Gurion Airport.
What to Expect
Tel Aviv Airport (code: TLV) has two commercial terminals: Terminal 1 handles low-cost and domestic routes and Terminal 2 serves a variety of international destinations. The airport is known for its strict security procedures, so consider arriving earlier than normal. Amenities are modern and include a variety of eateries and shops, including duty-free. Free WiFi helps pass the time. Economy class passengers can pay to enter a few airport lounges. See Airport Lounges in the airport guide below for location and access information.
Sleeping in Tel Aviv Airport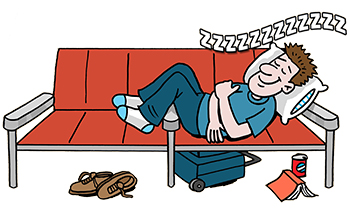 Overnight sleepers are common here, but sleep doesn't come easy. Thanks to non-stop departures and arrivals, peace and quiet is rare. Travellers recommend the departure hall near the security check and food court. Do come prepared with an eye mask and earplugs to combat bright lights and noise. For uninterrupted sleep, nearby hotels offer shuttle service. See our Airport Hotels section below for more info.
For more airport information continue scrolling down to explore more in our Tel Aviv Airport Guide.
Due to the current Covid-19 pandemic, all services and times listed below are subject to change.  In this guide we may refer to locations as "landside" and "airside". Landside is the public area of the terminal located in the non-secure zone, before security. Airside is the secure area of the terminal that you must reach by going through security.
Last updated: 2020-06-16
This guide is for informational purposes only to assist with your planning.  All information, including rates and hours, are subject to change at any time without notice.   The information in this airport guide is based on information collected and/or received from the airports, lounges, hotels, transportation providers and their web sites. We are not representatives of any of the above mentioned service providers. To report errors or to add/update any items mentioned in the guide: update the airport guide or  write a review.