Whether you have a layover, overnight sleepover or you are just quickly passing through, our Toulouse Airport Guide is a great place to start planning your visit.  Here, you'll find information on services and facilities available inside the airport – including details about airport lounges, WiFi, mobile charging points, lockers, 24-hour food options, nearby hotels, and everything in between.
in the morning a member of cleaning staff brought me a pancake for breakfast! -Tom
TLS Airport Overview
To help you plan your layover or overnight sleepover, here is a quick run-down about what to expect during your time at Toulouse-Blagnac Airport.
What to Expect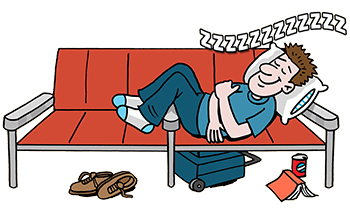 The mid-size terminal at Toulouse Airport (code: TLS) handles European and North African routes. Amenities include a variety of eateries and shops, including duty-free, both landside and airside. No shops are open 24 hours, so plan ahead for midnight snacks. Free WiFi helps pass the time. Economy class passengers can pay to enter an airport lounge. See Airport Lounges in the guide below for location and access information.
Sleeping in Toulouse Airport
Overnight campers report a sleep-friendly airport, with many solid sleep spots. Try the red couches in the departure areas or ride the escalators upstairs to find several long, soft benches. An eye mask and earplugs or noise-cancelling headphones are crucial to blocking out airport lights and noise. For uninterrupted sleep, nearby hotels offer shuttle service for free, including several in walking distance. See the Airport Hotels section below for locations or read some traveller airport reviews for more tips.
To help us keep this guide up-to-date, you can add or update information or write a review to submit airport tips and photos. You can also visit the airport's web site for current information.  For more airport information continue scrolling down to explore more in our Toulouse Airport Guide.
In this guide we may refer to locations as "landside" and "airside". Landside is the public area of the terminal located in the non-secure zone, before security. Airside is the secure area of the terminal that you must reach by going through security.  For more information on Europe's Schengen Area, click here.
Airport Lounges
Pay-per-use, Single Visit Passes & Lounge Memberships
Regardless of what class of service you are flying, there is a lounge that you can enter by paying at the door, purchasing a lounge pass or through a lounge membership program. Visit the individual lounge page for more details about the lounge itself and to also find out how you can gain lounge access with just an economy class ticket!
La Croix du Sud VIP Lounge – Location: Airside, Hall C. Lounge Access: Pay at the Door • Prepaid lounge passes • Lounge membership programs.
Related Pages: Toulouse Airport Lounges
Airport Hotels
If sleeping in the airport sounds like a nightmare, there are hotels near Toulouse-Blagnac Airport:
For more options, visit Tripadvisor to see a list of hotels in Toulouse, search deals and read traveller reviews.
Airport WiFi/Internet
Free WiFi is available at Toulouse Airport. Connect to the "WIFI PASSAGER" network. There are also Surfbox Internet Kiosks available for free Landside (printing services also available) and Airside.
More Services, Facilities & Things To Do On A Layover At The Airport
ATMs / Cash Machines – Need cash? ATMs are available. Fees may apply, so be sure to check your bank's fee schedule and your daily withdrawal limit if you are travelling internationally. You may also want to notify your bank of your travel plans. Locations: Arrival Hall, Level C and D • Baggage reclaim belts 6/7 • Departure Halls B and D.
Currency Exchange – Operated by Change Group, the currency exchange office is located at Hall C Ground Floor. Hours 8:00AM – 6:00PM (Mon – Fri) • 10:00AM – 4:00PM (Sat – Sun).
Drinking Water – Thirsty? Drinking water fountains are available free of charge. Locations: Public Area ABCD Halls, Landside and Airside, Boarding Lounge. For bottled water once you are Airside, head to Hall D where you can purchase a bottle for 1€.
Duty Free & Shopping – Duty Free is available as well as a small selection of shops including 2 Relay news shops. The Casino Shop (Landside) offers snacks, prepackaged foods, wine, etc.
Family Services – Travelling with children? These services are available to help you get through the airport easier:
Baby changing facilities – Diaper changing-tables and baby care rooms are available both landside and Airside close to several of the bathrooms.
Children's Play Area – When you want to ensure your kids burn off all their energy before their flight, take them to the children's play area. The spaces come equipped with play structures and interactive video games. Locations: Indoor locations are currently closed due to Covid-19; however, there is one outside at Shuttle stop at P5/P6 car park.
Fast Track Security – A fast-track security lane is available for families travelling with children below 12 years old. The special service is only available during major holiday periods.
Stroller Rental – Make getting around the airport with your baby much easier by borrowing one of the airport's complimentary strollers. Location: Airside, Departure Hall.
Food & Drinks – There are no 24 hour operators at the airport; however, you will find 14 food & drink options available both Landside and Airside. Hours: vary but a few open at 5:00AM and most close by 9:00PM. You will also find vending machines dispensing hot/cold beverages and snacks throughout the airport.
Luggage Storage & Lockers – Lockers are only available for small items that can fit in an A4 envelope except helmets which are also kept in Relay Luggage. Location: Information desk (Arrival Hall C. Hours: 5:30AM to midnight.
Information Desk – Have any questions? There is an information desk available to provide assistance . Hours: 5:30AM – 12:00AM (Mon – Sat) and 6:00AM – 12:00AM (Sun).
Medical Services – If you feel unwell or injure yourself, first aid services are available. Location: on the arrivals level, hall B.
Mobile Charging – Power outlets are available throughout the terminal building. There are also two dedicated working areas near Gates 18 and 26.
Postal Services – Drop off your last minute postcards to friends and family from the airport's mailbox. Location: Landside, Halls B, C, D.
Prayer Room – To use the prayer room, you need to obtain the key from the Information Desk. Location: Hall C, landside, 3rd floor.
Rest Zones – There are no dedicated sleeping areas, quiet areas or rest zones. If this information has changed, click here to update this guide.
Showers – Not available.
Airport Hours
The airport is open 24 hours.
Airlines
Toulouse airport is served by the following airlines: Aegean Airlines • Aer Lingus • Air Algérie • Air Arabia • Air Corsica • Air France • Air Transat • APG Airlines • British Airways • Brussels Airlines • Chalair • Charter • EasyJet • Iberia • KLM • Lufthansa • Nouvel Air • Royal Air Maroc • Ryanair • TAP Portugal • Transavia • Tunisair • Turkish Airlines • Tus Air • Twin Jet • Volotea.
Airport Transportation: Getting To/From The Airport
Airport Shuttle
TLS airport is well connected to the bus system.
A shuttle service links the airport to Toulouse bus station. Shuttles depart the airport every 20 minutes.
Line 30 and Line 388 provides service to different locations in and around the city.
Car Rentals
The following car rental agencies are available onsite in Public Hall C: Avis/Budget • Enterprise • Europcar • Goldcar • Hertz • Sixt.
Hotel Shuttles
Several area hotels provide airport shuttle service: Courtyard Toulouse Airport   •   Holiday Inn Express Toulouse Airport   •   Holiday Inn Toulouse Airport   •   Novotel Toulouse Aeroport   •   Pullman Toulouse Airport   •   Radisson Blu Hotel Toulouse Airport.
See also  Airport Hotels above.
Taxi
Taxis are readily available outside of the Arrivals area, between Gates B3 and C1.
Tram
Toulouse Airport is linked to the city center via the TISSEO T2 tram line. Trams depart every 15 minutes, travelling between T2 and tram stops Arènes and Palais de Justice. Total one-way trip time is 21-32 minutes.
Last updated: 2022-10-28
This guide is for informational purposes only to assist with your planning.  All information, including rates and hours, is subject to change at any time without notice.   The information in this airport guide is based on information collected and/or received from the airports, lounges, hotels, transportation providers, and their websites. We are not representatives of any of the above-mentioned service providers. To report errors or to add/update any items mentioned in the guide: update the airport guide or  write a review.