If you have found yourself with a layover at Detroit International Airport, you may now be wondering what to do with your time….besides sleep! While options are a bit limited, you should be fine for a short visit.
Here are 8 things to do on a layover at Detroit Airport.
1. Grab a bite to eat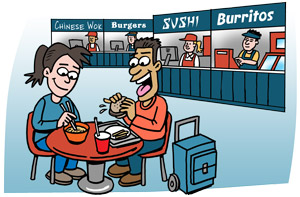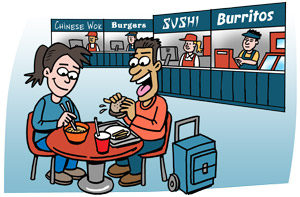 Detroit airport offers a decent amount of sit-down restaurants, so you can take your time if you're in no rush. Of course, you'll have a selection of more casual options, including bars, a winery, cafes, and to-go eateries. In McNamara Terminal, your top bets are Bigalora Cucina, Andiamo (a local chain), Cat Cora's Taproom, and Harvest & Grounds. The North Terminal has considerably fewer options, but National Coney Island offers the local take on hot dogs. Eateries all close by 11pm, so if you're spending the night, plan ahead as vending machines are your only option when you're awake in the middle of the night.
2. Relax in a lounge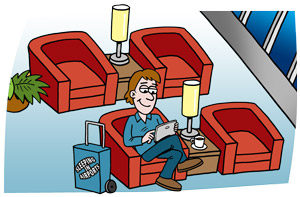 Not all lounges are exclusive conclaves for First Class flyers! If you are flying Delta or a partner airline, you can pay at the door. With the Lufthansa lounge, if you are departing from the North Terminal, you could purchase a pass regardless of your airline or class of service. It's as easy as pre-booking a pass online or using a lounge membership program to gain entry, and you can spend your layover in a relaxing lounge, with food, WiFi, and other included amenities. Check out our Detroit Airport Guide for details.

3. Check out the Light Tunnel
If you've seen a picture from Detroit Airport, chances are good it was from the Light Tunnel. The 700-foot tunnel connects Concourse A, B, and C all while putting on a great coordinated light-and-music show, perfect for selfies. Another great installation is the mesmerizing water feature in Concourse A. Spend a few minutes here and you may forget you're in an airport!
4. Go shopping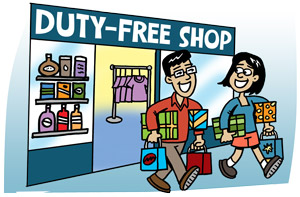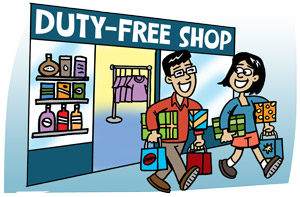 Enjoy a leisurely stroll through the shops. McNamara boasts plenty of airport staples and speciality shops and a few international fashion brands. Unique options like Michigan Sports, the PGA Tour Shop, and EA Sports showcase the area's seeming obsession with all things sports. If you're in the North Terminal, your shopping options are limited to the Duty Free and a few newsstands and convenience stores.
5. Hit the spa
The Be Relax Spa in Concourse A provides the between-flights pampering you may need. Services include chair and table massages, mani/pedi, waving, hair styling, and oxygen and aromatherapy treatments.
6. Go sightseeing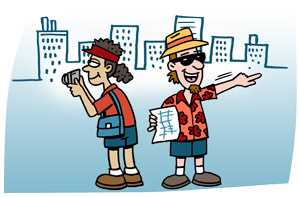 When the weather is good, spending any more time in an airport may feel claustrophobic – so head outside for fresh air and see what Detroit has to offer. Plan for at least six hours away from the airport. You have a couple options for getting downtown:
During weekday rush hours (6-9am, 3-6pm), SMART buses connect the airport and downtown Detroit with fixed-route fares of $2. If you're outside those hours or it's Saturday or Sunday, you'll have to take the SMART bus and then transfer to a Detroit local bus.
Opt for a taxi or use a ride-sharing app to get a direct ride downtown. Taxi ranks are located outside both terminals. It will cost a little bit more, but it'll save on time.
Note that there are no luggage storage options at the airport, so plan ahead.
Once downtown, hop on the Detroit People Mover (75 cents/ride) which connects to 13 popular stops including Comerica Park, home of the MLB Detroit Tigers, and the adjacent Ford Field, where the NFL Detroit Lions play. Popular museums are the Detroit Institute of Arts and Motown Museum. Stop by the Eastern Market, a farmers market that's been in operation since 1891 (days and hours vary). A quick taxi or boat ride from downtown, Belle Isle Conservancy, an island on the Detroit River that offers city views of Detroit and Windsor, Canada, plus hiking and a museum dedicated to regional maritime history.
Leave plenty of time after your explorations to get back to the airport and process through Security before your next flight.
7. Get connected
Stay connected to friends and family, update your social media accounts or surf the internet courtesy of the airport's free WiFi.
8. Sleep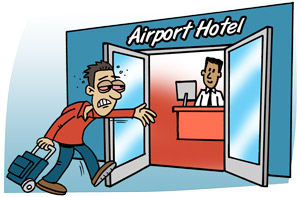 You shouldn't have much problem if you need to spend the night in the airport. Of the two terminals, travellers say McNamara is cozier, and it's generally quiet except when the Express Tram rolls through. The terminal layout makes for some private nooks, perfect for getting some shuteye. The far end of Concourse B is said to be peaceful, and Gate B21 has a couple large leather loungers. The smaller North Terminal isn't as busy, but it can get a bit noisy. Wherever you're camping out, earplugs and a blanket will help you get through the night. Note that if you're stuck here because of major flight delays or cancellations, the airport does make cots available. If sleeping in the airport isn't quite your thing, the Westin Detroit Metropolitan Airport is connected to McNamara Terminal at Gate A36, with free shuttles and day rooms for rent. Other hotels are located within a few minutes' drive. See our Detroit Airport Guide for details and locations.
These are just a few things to do on a layover at Detroit Airport. Visit our Detroit Airport Guide for more information about more services and facilities available, such as food, WiFi, mobile charging, luggage storage, nearby airport hotels, and much more.