If you have found yourself with a layover at Geneva Airport, you may now be wondering what to do with your time….besides sleep! While options are a bit limited, you should be fine for a short visit.  A layover here isn't the most exciting thing in the world, but it certainly is comfortable and quiet. To help you plan your time, here are 7 things to do on a layover at Geneva Airport.
1. Eat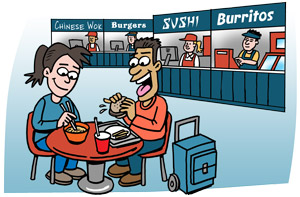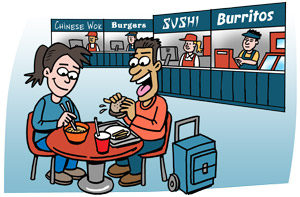 Avoid being hangry during your layover – start with a meal. Choose from about 20 eateries and bars. Montreux Jazz Cafe serves up sit-down meals and jazz from their annual festival, and Swiss Chalet is the go-to for comforting Swiss food like fondue and anything else "with cheese". You'll also find Chinese, Thai, Italian, seafood, and lighter fare – plus a McDonald's, of course. Be warned that eateries close overnight.
2. Lounge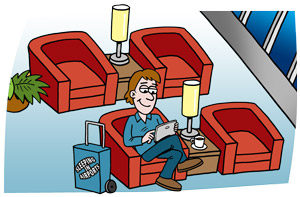 Imagine a spot where you can pay a single fee and access food, drinks, good WiFi, TV and news – all in a calm environment. Well, they exist! Airport lounges here offer access to travellers of any class, so even if you're not a First or Business Class traveller, you can pay to enter a few lounges. Pre-book online for convenience or use your lounge membership program to get in. See our Geneva Airport Guide for locations and rates.

3. Shop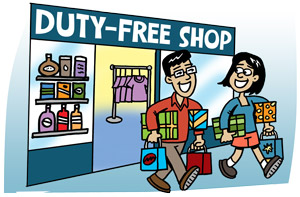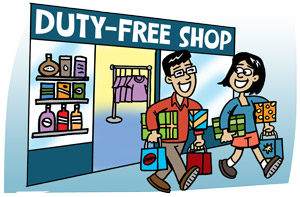 Fancy a shopping spree? You'll have a range of goods to choose from, though beware the price – Swiss goods are luxurious, which equates to pricey. The good news is that the Duty Free shops here are also open to travellers whose final destination is Switzerland, so you can stock up on necessities. Sample handmade sweets at Swiss Chocolate Avenue and Martel Chocolate Shop, or try out Swiss-made pens at Caran d'Ache and Mont Blanc. Iconic Swiss Army knives are available at Victorinox, though you'll want to check them or mail them home.
4. Showers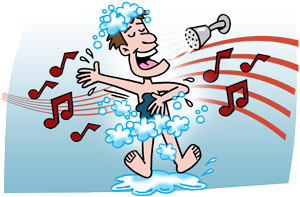 We love an airport that offers showers, so we can clean off the travel grime between flights.  At Geneva Airport, you can board your next flight smelling fresh after a nice hot shower.   You will find showers in three locations: 2 pre-Security, 1 inside Security. For 15 CHF, you'll get shower access, a towel, and soap and shampoo.
5. Sightseeing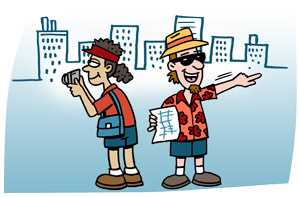 If your long layover has you itching to get away from the airport, Swiss transit makes it super easy and efficient to get downtown for some exploring. If you opt for this, plan on at least 6 hours between flights. Check any bags you don't want to carry at the luggage storage, located pre-Security.
Geneva Airport's train station is located just outside the terminal, and all trains that leave the airport make a stop at Gare Cornavin station in the city center, which is only 6 minutes away. Buses are also available, but the bus station is located a 10-minute-walk from the train station.
Once downtown, check out the Old Town, which is the most traditional-feeling spot, with cathedrals and cafes lining the pedestrian plaza Place du Bourg-de-Four. Swing by Lake Geneva to watch the Jet d'Eau shoot high into the sky. If you're internationally-minded, visit the International Red Cross & Red Crescent Museum or tour the Palais des Nations, Europe's seat on the U.N. If you've got more than 6 hours – maybe an overnight – you can easily head farther into the mountains, with trains and buses connecting the many ski resorts and towns that dot this region.
When it's time to head back for your next flight, remember to leave enough time to grab your bags and process through security.
6. WiFi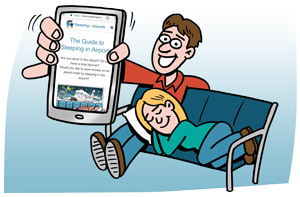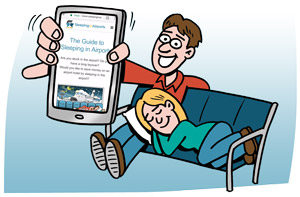 Stay connected to friends and family, update your social media accounts or surf the internet courtesy of the airport's free WiFi.  You'll want to use your time wisely, as there is currently a 90 minute time limit restriction. Boo!  After that, you will have to wait 6 hours to connect to another 90-minute session or you can purchase additional access.
7. Sleep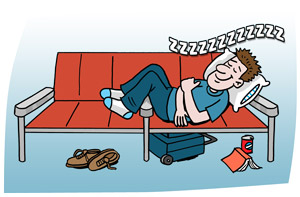 Napping here is generally not a problem, but if you're camping out overnight, be aware that the airport technically closes after the last departure, so if you leave the terminal after that, you'll be locked out until the morning. Security may ask for identification and the ticket for your next flight. So where to head for some shuteye? There's a lot of seating, but most are hard chairs with armrests. Comfier chairs can be found in T1's exit to the train station, but you'll still be sitting up while you rest. Head to T1's Floor 2 for quiet waiting rooms. Plan on a bringing a blanket and earplugs, because there floor is mostly tiled, and the cleaning crews start up in the middle of the night. Prefer a proper hotel room? A few hotels are located within a 5-minute drive, with free shuttle service. See our Geneva Airport Guide for details.
These are just a few things to do on a layover at Geneva Airport. Visit our Geneva Airport Guide for more information about more services and facilities available, such as food, WiFi, mobile charging, luggage storage, nearby airport hotels, and much more.