Whether you're here for a short or long layover, here are 12 things to do on a layover at Helsinki Airport.
1. Enjoy a good meal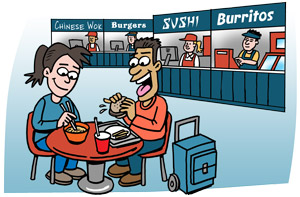 Whether you're waiting for a short- or long-haul flight, you might want a more decent meal than whatever they're serving on board. Luckily, you've got a good range of options here. For a proper and leisurely sit-down meal, check out Cesar's Little Italy, the Fly Inn Restaurant, Pier Zero, and Nordic Kitchen. O'Leary's, 60° Bar and Brewery, The Oak Barrel Irish Pub, and Wine & View, and Moi Helsinki offer international craft beers and wines, perfect for hanging out for a awhile or doing your own unofficial bar crawl. Or, opt for speedier options like Two Tigers Sushi and Noodles, Helsinki Market, Ulappa, and Helsinki Sausage Co. You'll find several Starbucks and Burger Kings, too. A few options stay open 24-hours, if you're camping out overnight.
2. Lounge
Airport lounges are no longer the exclusive enclave of First and Business Class flyers. In fact, a few lounges here cater to all travellers, regardless of your flight class or airline. Simply pay an all-inclusive fee to gain access to unlimited food, drinks, WiFi, and comfortable, quieter digs than the main terminal. A couple lounges even have shower facilities! Pre-book online or use your lounge membership program to gain entry. See our Helsinki Airport Guide for locations.

3. Shop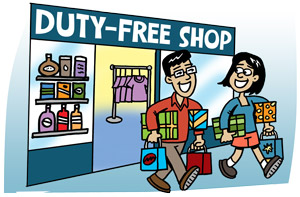 Take your time browsing the many shops, all offering that well-curated, modern design. You'll find plenty of Duty Free options, so sample the body lotions and makeup there, or window shop at high-end boutiques. There are several bookstores, offering both Finnish and English titles. For something local, visit the Iittala Store, Finspiration, and the locally-made, internationally-known Merimekko fabric and fashion company.
4. Get a massage or haircut
The Relax and Fly Feel Good Lounge offers spa services in-terminal, including massages, which are perfect for working out those annoying neck creaks from your last flight. In need of a shave or a haircut? The Beauty Salon and Barber has a couple locations that offer styling services and touch-ups.
5. Check out the art and aviation
The Art in the Airport gallery, at Gate 37, offers a range of photography, sculptures, and paintings throughout the airport, often based on a monthly theme. If you are an aviation and history buff, consider taking the 20-minute stroll or opt for a quick from the terminal building to the nearby Finnish Aviation Museum, open from 10:00AM – 5:00PM daily, with extended hours on Wednesdays.
6. Get married!
Believe it or not, many couples opt for an in-airport wedding here, inside the Congress VIP Lounges. It might seem a little strange at first, but if you're looking for a sleek, Finnish style and you want to head to your honeymoon straight away, it might be the perfect option! Plus, how many of your guests have been to an airport wedding before?
7. Play some games
The game area near Gate 37 is offers air hockey, table soccer, and other games for you and the family to burn off some steam between flights.
8. Pick up a new book
If you've already finished the book your brought along, you can swap it out for another book at the Kainuu Lounge's Book Swapping Station, located at Gate 31.
9. Airport tours
Tours of the airport give a behind-the-scenes peek into the busy innerworkings. More information isn't available.
10. Sightseeing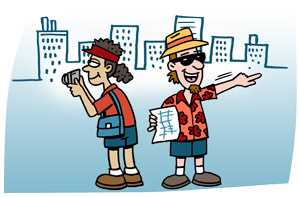 Can't stand being in an airport or plane for a single second longer? Leave the airport behind on your layover and go for an adventure! As long as you've got at least 7 hours before your next flight, you can get a great overview of beautiful Helsinki, and public transit makes it easy and affordable.
First up, store any bags you don't want to tote along with you in the lockers in both terminals. Then, head into the city. The Finnair City Bus is the easiest way to get to the main Helsinki Railway station in the heart of the city. Other buses are also available. If you prefer a train, the Ring Rail Line has a station at the airport, connecting you with downtown Helsinki.
Once you're in the compact city center, you can do all your exploring on foot, as long as you're dressed for the weather! (If it's too cold, simply opt for a hop-on hop-off tourist bus to see the main sights!) The train station is known for its architecture, and you can pop by the iconic Helsinki Cathedral. The Kampii Chapel is also a must-see. Join the locals for an all-seasons walk around the lake. Shopping your thing? Check out the factory stores of local design brands Iittala, Arabia, and Merrimeko. Stop often for a hot coffee, as Helsinki is known for its cafe culture.
However you spend your time, leave plenty of time to make it back to the airport for your next flight!
11. WiFi
Free WiFi is available and unlimited, so you can spend your layover chatting with friends and family or catching up on social media.
12. Sleep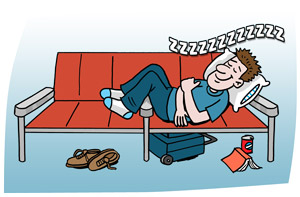 Many quieter areas, carpeting, and even some private nooks and crannies make this airport pretty friendly to sleepers. Plus, the staff are generally accommodating and the facilities feel safe and clean. Specific areas to check out for naps: the post-Security Kainuu Lounge near Gate 31 has carpeting and two long recliners; "work and rest" spots tend to be quiet; GoSleep Pods in Terminal 2 (Airside, 3rd Floor) make private sleep chair/pods available for hourly rates, with add-ons like pillows, blankets, and water. Still, if a hotel is more your style, three hotels are available, two connected to Terminal 2 and the other connected to the main terminal. Day rooms are available.  See our Helsinki Airport Guide for details and locations.
These are just a few things to do on a layover at Helsinki Airport. Visit our Helsinki Airport Guide for more information about more services and facilities available, such as food, WiFi, mobile charging, luggage storage, nearby airport hotels, and much more.