If you have found yourself with a layover at Honolulu Airport, you may now be wondering what to do with your time….besides sleep! HNL is still a bit dated, so amenities and services are limited for those with long layovers. With a short layover, the airport basics should be enough to get you by. Keeping expectations low and coming prepared will help! With that said, here are 7 things to do on a layover at Honolulu Airport.
Good to know: The airport is divided into 3 terminals. Terminals 1 and 2 are connected Airside; however, passengers walking from Terminal 1 to gates in Terminal 2 must pass through a USDA agricultural inspection station for carry-on luggage. Shuttle service is available to move (Landside) between all 3 terminals.
1. Grab a bite to eat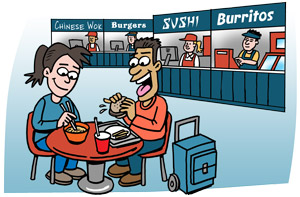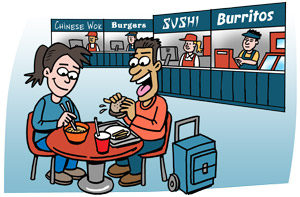 A few restaurants, bars, and to-go kiosks provide food to tide you over, but it's nothing to write home about. Local eats include Lani Moo's Tropical Treats and the Lahaina Chicken Company, and there's a few sushi and Asian options. Western chains like Starbucks, Burger King, and a to-go California Pizza Kitchen are here, too. Note that hours vary widely and there are no 24-hour options.
2. Lounge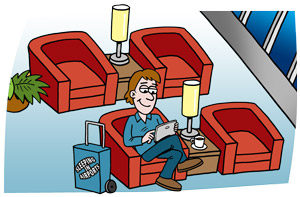 The cool thing about travelling these days is that you can have an airport lounge experience without paying big bucks to fly First or Business Class. A few lounges here offer access to any traveller, no matter the airline or service class flown. Simply pre-purchase an entry pass online or use your lounge membership program and you can relax and enjoy the food and drinks included in the lounge. Our Honolulu Airport Guide provides locations and details.

3. Browse the art
A state cultural commission is in charge of displaying local art throughout the airport. See how many you can spot, including paintings, large murals, and free-standing sculptures. Check out the Statehood Mosaic, a collaborative effort by Honolulu school kids, or head to the new gallery featuring laser-engraved wood etchings and paintings by Hawaiian artist Satoru Abe.
4. Zen out in the gardens
The International Terminal has a lovely garden landscaped in Chinese, Hawaiian, and Japanese traditions. It's the perfect way to catch an island sunset, but quiet, relaxing moments are available throughout the day. The gardens close at midnight.
5. WiFi
Stay connected to friends and family, update your social media accounts or surf the internet courtesy of the airport's free WiFi.
6. Check out Honolulu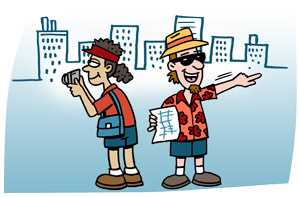 A long layover here may mean you're on your way to or from another Hawaiian island, so why not check out what the largest Hawaiian city has to offer? As long as you've got at least 5 hours, feel free to head out for a little island exploration.
First things first: leaving the airport. HNL is about 6 miles west of downtown. Several bus lines connect the airport with points of interest across the city, departing roughly every 30 minutes. If you are limited for time you will definitely want to take a taxi to get around. Luggage storage is available in Terminal 2 so you can move about freely.
Once you're in Honolulu, head to Waikiki Beach and dip your toes in the warm Pacific waters. The sun and seabreeze are the perfect antidotes to a long-haul flight. Surf and boogie board rentals are available, too. If exercise is what you're craving, a sweaty hike up to Diamond Head will do the trick – and provide panoramic, inspiring views. Wear the right foot gear, bring water and sunscreen, and plan about 2 hours. Pearl Harbor is located not far from the airport, so take in some history and see the USS Arizona Memorial – plus it's free. There's plenty more to see in this booming beachtown, so check out more tips and suggestions in our Honolulu Airport Layover Sightseeing Guide.
As always, plan enough time to process through Security to make your next flight!
7. Sleep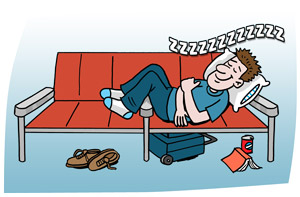 Travellers with an overnight layover shouldn't have any problem staying post-Security with your boarding pass and itinerary. Travellers report napping by the Garden area is pleasant, but it does close at midnight. The Pre-Security area shuts down between 10:00PM – 5:00AM, however a specifically-designed area is located by the main entrance on Level 2, between Lobbies 5-6. Overnight campers won't be allowed beyond this section. Wherever you're catching some Z's, it's likely chilly and loud, so plan ahead with a sweater and earplugs. Rather pony up for better quality sleep? A few hotels are located near the airport, offering free shuttle service; one is within walking distance. For locations and details, see our Honolulu Airport Guide.
These are just a few things to do on a layover at Honolulu Airport. Visit our Honolulu Airport Guide for more information about more services and facilities available, such as food, WiFi, mobile charging, luggage storage, nearby airport hotels, and much more.