To help you plan your stay, here are 9 things to do on a layover at London Heathrow Airport.
1. Enjoy a meal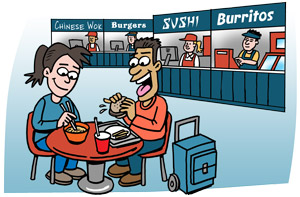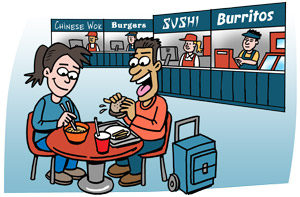 Grabbing a meal at London Heathrow can feel a bit more sophisticated than other airports. While there aren't endless options, the eateries and restaurants are well curated, with European cafes, British pubs, and full-service restaurants offering a range of cuisine. A few standout options are Wagamama, Gordon Ramsay Plane Food, The Tin Goose, Carluccio's, and the Fortnum & Mason Bar (as in the traditional London department store that dates to 1707). Of course, international chains like Pret a Manger and Starbucks will tide you over, too. You may even happen upon some live music at the Caffe Nero in Terminal 2. Note that Terminal 3 is the only terminal that has no 24-hour cafes.
2. Relax in a lounge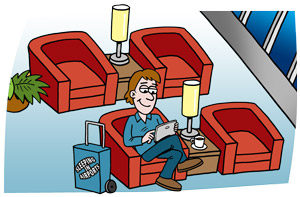 Did you know that economy class travellers can pay to get into airport lounges? Spend your layover in quiet and comfort, with access to food and drinks and maybe even shower facilities – all for one price. Because this airport is so big, there's plenty of lounges to choose from. Gain entry by pre-purchasing a lounge pass or using a lounge membership program. See our London Heathrow Airport Guide for locations and amenities.

3. Shop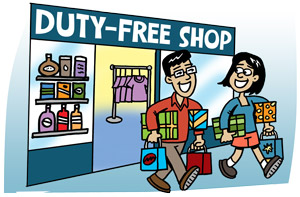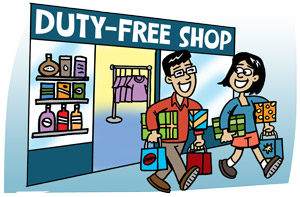 In a bid for terminal parity, London Heathrow offers a range of shops that appear in many terminals, so no matter your location, you can check out everything from last-minute needs, books, and duty-free options to world-class whiskeys and high-end clothing from international fashion brands. If you're really looking to splurge on some souvenirs, Terminal 5 does have the most boutiques. One standout that isn't replicated (sorry, fans) is the Harry Potter Shop, located inside Security in Terminal 5.
4. Take a shower
Freshen up with a shower between flights. A few airport lounges plus a spa in T3 include shower facilities with purchase. See our London Heathrow Airport Guide for locations.
5. Get a spa treatment
Work out some tensions, get your nails done, or simply relax with some pampering. A few spas and pay-to-enter airport lounges offer spa services like massages, mani/pedis, and even facials and reflexology.
6. Browse the art gallery
More and more, world-class airport are incorporating world-class art into their spaces. In Terminal 5, tour the T5 Gallery which offers a curated permanent exhibit of art and sculptures – you'll actually feel like you've left the airport. Rotating sculptures also dot the Departure Hall throughout T5, so see how many works you can spot.
7. Head into London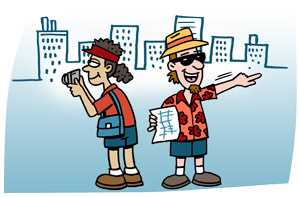 If you're stuck with a very long layover, take advantage and head out for some London explorations. You'll want at least 6 hours between flights to make a trip into London worth it, without skimping on time to get back to the airport.
You'll be able to store your luggage at the airport, but it isn't exactly cheap, so consider checking your bags if you're planning for some city strolling. Getting to the city centre is straightforward. Your best bet is to hop on the Heathrow express train, which departs every 15 minutes and has you to Paddington Station in about 20 minutes. It might feel expensive, but your other options are London black taxis, which are significantly more, or the underground/Tube, which is cheaper but will take about an hour.
A few sites
Once you're in the city centre, you have plenty of options to check out. Ride the tube to the Westminster station and you'll spot all the most iconic London sights, including Big Ben and Westminster Abbey (front and center) plus the Tower of London and Tower Bridge just up the RIver Thames. The city is chock full of famous sites, so an economical option may be the famous hop-on-hop-off double-decker buses – you'll get a great overview of famous landmarks, museums, parks, and Buckingham Palace (time it right for the changing of the guard). Museums and galleries seem to be around every corner, so consider checking out the Tate or Tate Modern, the Victoria & Albert Museum, or the British Museum. Of course, you may just want to make things easy and go for a pint and fish and chips at a traditional pub. For more suggestions, check out our London Heathrow Airport Sightseeing article.
Don't forget the reason you're here – your next flight! Leave plenty of time to get back to the airport, pick up your luggage, and process through Security.
8. Get connected
Stay connected to friends and family, update your social media accounts or surf the internet courtesy of the airport's free WiFi. If you don't have a device, computers with free internet are available in every terminal.
9. Sleep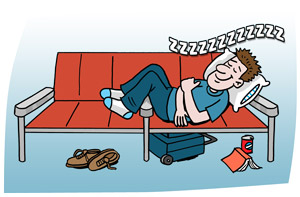 You generally won't have any problem sleeping here during the day, just plan for noise from all the crowds. If you are camping out overnight, procedures may vary by terminal. For instance, airport staff may send any non-EU overnight travellers to a specific sleeping area in T3. If you're in T2, there's plenty of seating to spread out, but don't expect much in terms of privacy. In T4, the best options are located before Security, and some travellers mention that the 24-hour cafe is decently comfortable and you can stay overnight if you make a purchase. Overall, the terminals quiet down significantly overnight but may be brightly lit, so bring along an eyeshade.
If you'd rather spend the cash for some better quality sleep, you've got a few options. In T4, pre-Security, YotelAir rents cube-style rooms in 4-24 hour blocks around the clock, but you'll need to prove valid UK entry to stay here in-transit. Otherwise, two hotels are connected to Terminals 4 and 5 by covered walkway. Several other airports are located within a few minutes' ride of the airport. For locations and details, see our London Heathrow Airport Guide.
These are just a few things to do on a layover at London Heathrow Airport. Visit our London Heathrow Airport Guide for more information about more services and facilities available, such as food, WiFi, mobile charging, luggage storage, nearby airport hotels, and much more.