Flying through Rio de Janeiro Galeão Airport? A layover here doesn't have to feel like a waste of time. In fact, travellers voted this airport one of the best in South America in 2017 thanks to its recent modernization, good shops and restaurants, and overall efficient design. Enjoy your time here thanks to these 8 things to do on a layover at Rio de Janeiro Galeão Airport.
1. Grab a bite to eat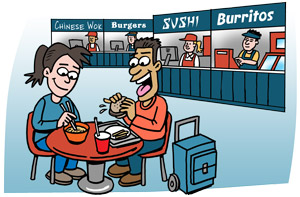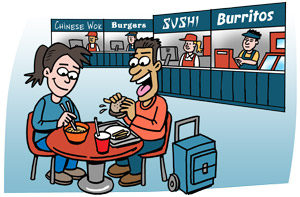 Start your layover with a meal. Choose from a few dozens eateries, including cafes, bars, to-go options, and a few sit-down restaurants. Cuisine includes plenty of Brazilian fare, sushi, Italian, delis, pizza, and more. If you're feeling less experimental, head to Subway, Starbucks, Quizno's, or McDonald's. Several eateries are apparently open 24-hours.
2. Hang out in a lounge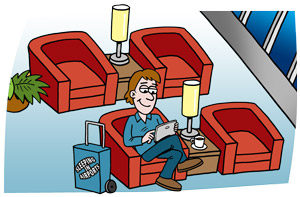 Airport lounges are a good way to pass time, especially if you want to relax or work in a quiet environment. Any traveller, no matter airline or flight class, can pay to enter several airport lounges here. For a single fee, you get food and drinks, WiFi, and TV and news in a comfortable lounge. Most lounges here also have shower facilities for freshening up. Pre-book online or use your lounge membership program to gain entry. See our Rio de Janeiro Galeão Airport Guide for details and locations.

3. Shop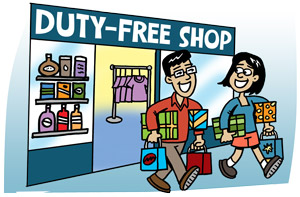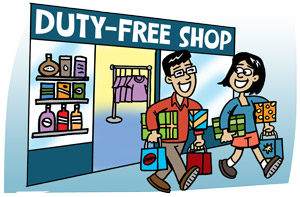 The shopping here isn't anything particularly standout, but nearly 50 shops will certainly help you pass the time. Browse the Duty Free areas or window shop at international boutiques. Pick up some Brazilian footwear at Mr. Cat and Havaianas, shop for local art and souvenirs at Arty Rio, or sample locally sourced chocolates at the Britt Shop and Chocolate Q. You'll find plenty of convenience stores, too.
4. Visit the spa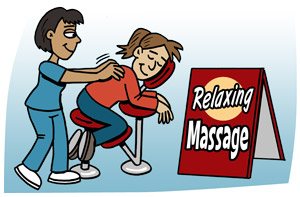 The Wellness Spa in Terminal 2 offers a range of spa and massage services, if you're looking for some pampering.
5. Get your hair done
Head to the Werner Coiffeur salon in Terminal 1 for some hairstyling.
6. Go sightseeing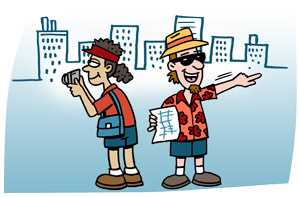 Stay in the airport for hours or head into Rio for some sun, surf, and fresh air? Easy decision! If your layover is 8 hours or longer, you can head into this vibrant city for some dining and shopping or simply relaxing on some of the best beaches in the world.
Public transit options from the airport rely on the BRT, the bus rapid transit, and they'll have you in the heart of Rio in 60-75 minutes. Taxis are pricier, but cut that transit time in half.
Walk or ride the cable car to the top of Sugarloaf Mountain for iconic city and ocean views. For another type of icon, head to the Christ the Redeemer statue, considered one of the New Seven Wonders of the World. Stroll the Botanical Gardens for a bit of nature. Football fans will love a visit to Maracana Stadium. Popular beaches like Copacabana and Ipanema are further south of downtown, but well worth it if you've got the time.
Keep one eye on the time while you explore – make sure to get back to the airport and clear Security before your next flight, or your layover will be even longer!
7. WiFi
WiFi is free, but you'll have to be stingy as it only lasts for 1 hour.
8. Sleep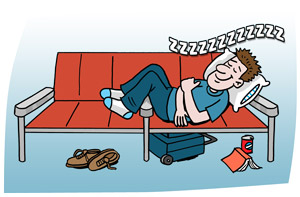 Catching up on a sleep on a layover is totally acceptable, though you may not be too comfortable. Most seats are equipped with armrests, and carpeting on the floor is rare. Chilly temps make it tough to rest, especially at night. Some travellers report luck at comfortable couch-like benches in Terminal 1's food court. Otherwise, opt for a hotel. The Aerotel is a transit hotel inside Security of the International Terminal, with rooms available in 3- and 6-hour blocks, plus a shower-only package. The Rio Aeroporto Hotel is located inside the airport, but pre-Security, in the main Terminal, with day rooms available. Next to the hotel is a Linx Hotel, with free shuttle service. See our Rio de Janeiro Galeão Airport Guide for details.
These are just a few things to do on a layover at Rio de Janeiro Galeão Airport. Visit our Rio de Janeiro Galeão Airport Guide for more information about more services and facilities available, such as food, WiFi, mobile charging, luggage storage, nearby airport hotels, and much more.