Due to domestic and international flight schedules, long layovers are common at Santiago de Chile Airport. Whether you've got a couple of hours or more time to kill, make the most of your time with these eight things to do on a layover at Santiago de Chile Airport.
1. Grab a bite to eat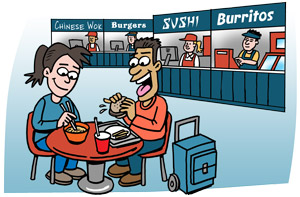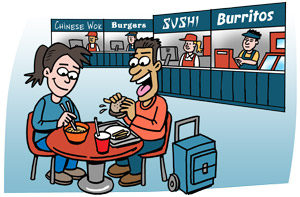 Start your layover with a meal. While there aren't endless options, most travellers should have no trouble finding something. Head to Gatsby, Ruby Tuesday, or Johnny Rockets for a sit-down meal. Other cafes and bars serve German, Italian, deli, and local eats. International chains include Subway, Starbucks, Dunkin' Donuts, Brioche Doree, and McDonald's. The good news for overnight campers is that several eateries stay open 24 hours, both pre-and inside Security.
2. Hang out in a lounge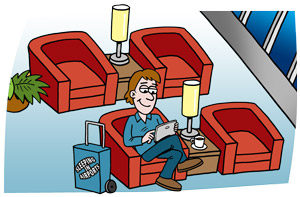 If you've always wanted to check out an airport lounge, now is your chance! Several lounges here are open to any traveller, regardless of airline or flight class. This means that economy class travellers can pay the entry fee and enjoy a comfortable environment, including food and drinks, WiFi, TV and news, and some peace and quiet. A few lounges even offer shower facilities. Pre-book a pass online or use your lounge membership program to gain entry. See our Santiago de Chile Airport Guide for details and locations.
3. Shop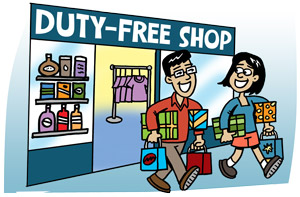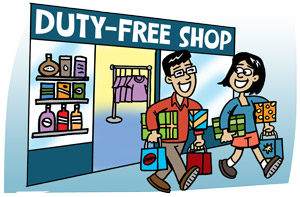 A couple dozen shops will keep you entertained for a good while. You'll find the usual airport shops, like convenience stores, Duty-Free areas, jewelry, technology, and souvenir shops. Window shop in Porsche Design, Carolina Herrera, and Michael Kors. If you like chocolate, head to La Fete, Britt Shop, and Havanna to sample locally-made options.
4. Pick up a new-to-you book
Are you finished with your current read? Head to the Departures area and browse the bookshelf at the Book Swap. Leave behind your book and take another. Stickers on the shelves encourage you to recommend your book so the next reader will know if it's the right fit. Books cover various topics, including children's books, with titles in Spanish and other languages.
5. Take a yoga class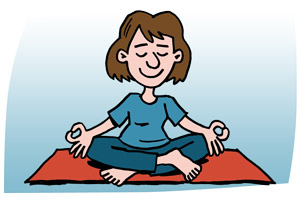 The airport offers free yoga twice a week, so if your layover coincides with it, stop by for a stretching session to get those kinks out of your neck. Times: Tuesdays at 6:00 a.m. – 7:30 p.m. and Wednesdays/Thursdays at 3:00 p.m. Location: International Departures, inside Security, at Gate 15, downstairs from Patagonia Cafe.
6. Go sightseeing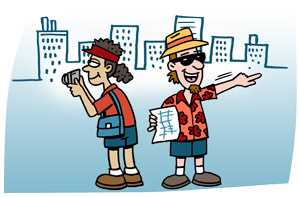 If you can't stand one more second in an airport, why not leave and explore? If you have a layover of 7 hours or more, heading into downtown Santiago is a perfect way to pass your time.
Your speediest option will be to hire a taxi, which will have you downtown in about 30 minutes. Head to the taxi counters in the Arrivals Hall to hire either a basic taxi (black or yellow) or a tourism taxi (blue), which runs on meters or pre-set rates, respectively. Don't hire independent taxi drivers who wander the terminal; they are often aggressive and significantly overcharge visitors. Buses are available to nearby metro stations, depending on the schedule and your destination.
Once in the city center, stroll around Cerro Santa Lucia, a historic spot with great views from the tower. Nearby, Cerro San Cristobal is perched high on a hill, offering more views of the metropolis. Head to Sky Costanera's observation deck if you're not tired of views. Would you prefer a learning experience? Visit the Museo Interactivo Mirador for hands-on science or the Museum of Memory and Human Rights. Patio Bellavista is a great place for shops and eateries, all in one place. Of course, you could skip the city and opt for wine sampling at several nearby vineyards.
However you spend your time away from the airport, leave plenty of time to get back and make that next flight!
7. WiFi
WiFi is free and unlimited, so feel free to pass your layover browsing the internet.
8. Sleep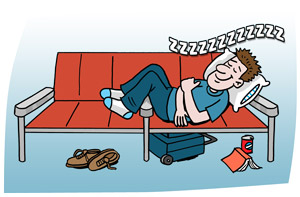 Getting some shuteye here is generally OK with airport staff. Travellers report the areas inside Security, in both terminals, are more comfortable than pre-Security zones, with better sleeping spots and warmer temperatures. Some gate areas offer seats without armrests, so grab one if you want to lie down. I still want you to know that you will anticipate some noise no matter your locale. Prefer a hotel? The Holiday Inn Santiago Airport Terminal is directly across from the main terminal, plus a few more hotels within a 10-minute drive. See our Santiago de Chile Airport Guide for details and locations.
These are just a few things to do on a Santiago de Chile Airport layover. Visit our Santiago de Chile Airport Guide for more information about services and facilities, such as food, WiFi, mobile charging, luggage storage, nearby airport hotels, and much more.