If you're stuck with a layover at Vancouver Airport, you're in for a pleasant surprise. The airport is consistently voted one of the best in North America, thanks in large part to its fresh design, comfortable spaces and friendly staff. Here are 11 things to do on a layover at Vancouver Airport.
Good to know: The airport comprises one large terminal that's divided into Domestic, US Transborder, and International areas that are all connected once you're inside Security. Plan on a lot of walking, but you'll enjoy it thanks to the colorful design, great amenities, and well-placed artwork.
1. Enjoy a meal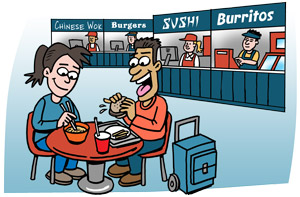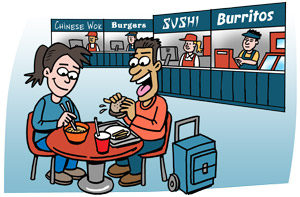 Start your layover with a nice meal. You have plenty of dining options, though they tend a bit more towards to-go kiosks and cafes like Starbucks and Tim Hortons. You'll find Vietnamese, Japanese, Italian, Mexican, bakeries, and health food and juice options, too. For a leisurely sit-down meal, head to the Lift Bar and Grill, any of the Vino Volo outposts, or the Stanley Park Taphouse. A few options stay open 24-hours, mostly pre-Security.
2. Relax in a lounge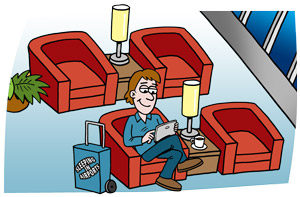 Ever been envious of fancy First or Business Class flyers who can take advantage of airport lounges during layovers? Envy no more! Several lounges here offer access to any traveller, no matter your airline or flight class flown. Simply purchase a single-visit pass online or use your lounge membership program to gain entry. For a single fee, you can take advantage of included food and drink in a comfortable setting. See our Vancouver Airport Guide for locations and amenities.

3. Go shopping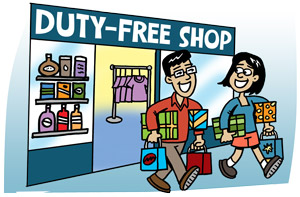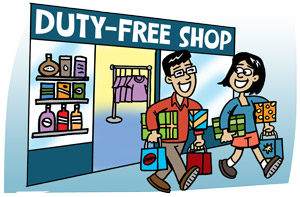 If shopping is your game, you won't be disappointed here. There's plenty of shops to entertain the casual or more serious shopper, from airport staples like newsstands, book stores, and convenience and souvenir shops, and a number of Duty Free options. Plenty of international boutiques are perfect for window browsing – or giving your credit card a work out. Popular local and Canadian outlets include Hudson's Bay Company Trading Post, Rogers' Chocolates, and the Vancouver Aquarium shop.
4. Take a shower
Want to freshen up between flights? You can get a day pass to the gym and the shower facilities in the pre-Security hotel's Health Club for $20, or you can pay to enter the Plaza Premium or Sky Team Lounges. The cost might well be worth it!
5. Hit the spa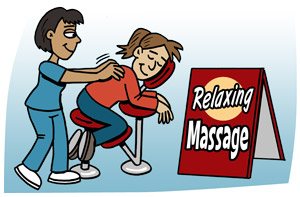 Absolute Spa has several locations that offer beauty services like manicures, pedicures, and facials, plus a variety of massage options, so you can treat yourself between flights. If you prefer a different environment, stroll to the Fairmont Vancouver Airport Hotel which has a Health Club complete with sauna and hot tubs, plus massage therapists on hand for some relaxation.
6. Join a tour or lead your own
The airport offers great resources for the inner travel nerd in all of us. Use the free guide to navigate the airport, taking in over a dozen points of interest, stories, and cool architecture. If you've planned ahead, you can even join a free guided tour!
7. Visit the aquarium
The Vancouver Aquarium runs two exhibits here at the airport: the main one showcases more than 850 indigenous sea animals, and the smaller exhibit houses jellyfish. You will find these exhibits in the International Terminal, Airside, Level 3 (main exhibit) and Level 4 (jellyfish exhibit).
8. Eye the Aboriginal art
You would have to try hard to miss the many displays of Aboriginal artworks here. The Spirit of Haida Gwaii is particularly popular, but see how many other pieces you can spot, too.
9. Explore Vancouver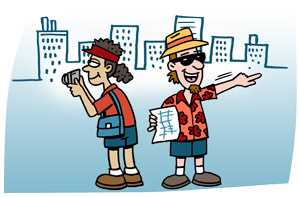 If you find yourself with a long enough layover, you may want to get away from the airport altogether and exploring the beautiful city of Vancouver. If you have at least 6 hours between flights, this is a realistic option! Simply store your bags pre-Security at CDS Baggage Services (two locations), and hop on the Canada Line. The train connects the airport with downtown Vancouver in under 30 minutes. Of course, taxis and buses are available, but you'll either spend more money or time using these options.
Once you're in the city, you have plenty of options for exploring. For great views and fresh air, head to Stanley Park, a huge city park with biking and hiking trails. You can even rent a bike to explore. Or head to Granville Island, which is a pedestrian-friendly Vancouver in miniature. Browse the art galleries, pick up some local handicrafts, or even rent a kayak for some between-flight exercise. Chinatown is a great neighborhood to stroll and enjoy delicious food. Kids will love the World of Science, located just around the corner from the 2010 Olympic Village. For more ideas and tips, see our Vancouver Airport Layover Sightseeing article.
Be sure to leave plenty of time to make it back to the airport, grab your bags, and process through Security for your next flight.
10. Get Connected
Stay connected to friends and family, update your social media accounts or surf the internet courtesy of the airport's free WiFi.
11. Sleep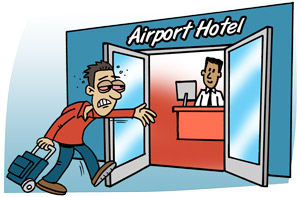 Catch up on some sleep in decently comfortable digs – a lot of the seats here don't have armrests, so you can stretch out. If you're inside Security, the best place for a nap is in the International area, where you'll even find some seats with foot stools. Pre-Security, your best bets are the baggage claim area, the end of the WestJet terminal, and behind the check-in desks for American Airlines. If sleeping in the airport isn't quite your style, you can walk to the Fairmont Vancouver Airport Hotel, which is located inside the International Terminal – day rooms are available between 8am – 8pm. Otherwise, other hotels are located within a few minutes' drive of the airport and many offer free shuttle service. For locations and amenities, see our Vancouver Airport Guide.
These are just a few things to do on a layover at Vancouver Airport. Visit our Vancouver Airport Guide for more information about more services and facilities available, such as food, WiFi, mobile charging, luggage storage, nearby airport hotels, and much more.