Here are 6 things to do on a layover at Winnipeg Airport.
1. Enjoy a meal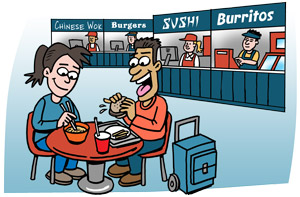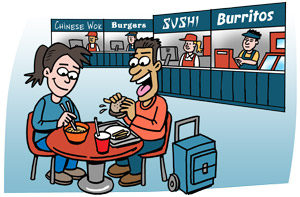 Start your layover off with a decent meal. You'll find a few to-go kiosks plus a couple sit-down restaurants. Enjoy a burger or something lighter and healthier. The locally owned Stella's Cafe & Bakery has an outpost here, and you'll also find Starbucks, Tim Horton's, and Harvey's. A couple options stay open 24-hours, pre-Security.
2. Relax in a lounge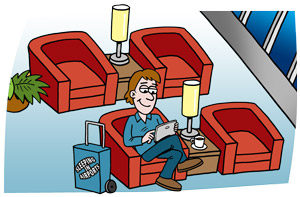 Spend your layover relaxing in an airport lounge – and you don't have to be a fancy First or Business Class flyer! A couple lounges allow access to any traveller, no matter the airline or flight class flown. Simply pay at the door, pre-purchase an online pass or use your lounge membership program to gain entry and enjoy a comfortable area with unlimited drinks and food for one price. Locations and access information is available in our Winnipeg Airport Guide.

3. Hit the shops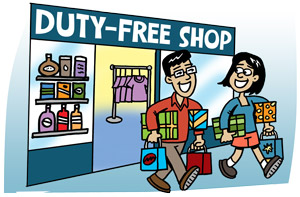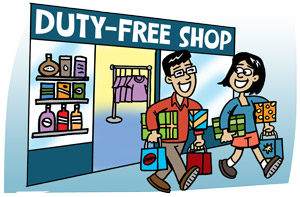 Get your steps in and pass some time by browsing the shops here. You'll find just what you need here – last-minute items, books and magazines, souvenirs, and electronics. Pop into Rocky Mountain Chocolate Factory for a sample or pick out a game to play at locally-owned Toad Hall Toys. Shops close by 10pm.
4. Spend time in Winnipeg
For longer layovers, the airport is well located in Winnipeg, just a few kilometers to a some major sites. If you've got a layover of at least 4-5 hours, you can easily get out of the airport for some exploring.
You can store your luggage in the main terminal before heading out. A couple bus routes do connect to the airport, but for the sake of limited time, splurging on a taxi might be your best bet. If you've got the kids, head over to Assiniboine Park Zoo and stroll nearby Assiniboine Forest. Or head to The Forks, a historic community area with a market, eateries, historic buildings, and dozens of community festivals throughout the year. In winter, you can rent skates here. More of a shopper? Head to Polo Park Shopping Centre, near the airport. Several golf courses surround the airport too, if you're in the mood to hit the links.
Wherever you explore, leave plenty of time to get back to the airport and get through Security for your next flight.
5. Stay connected
Stay connected to friends and family, update your social media accounts or surf the internet courtesy of the airport's free WiFi.
6. Sleep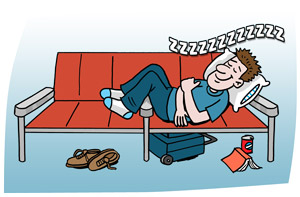 You shouldn't have much problem catching up on sleep during your layover, but the question is just where you'll be napping. The benches are fairly comfortable, and there's some carpeted flooring. Camping out overnight? Be aware that the Security checkpoints will close at night, so you'll have to stay Landside. Some travellers have reported that they were asked to leave the Secure area overnight, so they wound up in the pre-Security public terminal. It does get noisy, so plan on earplugs or noise-cancelling headphones. If sleeping in the airport isn't quite your style, you have several options for a traditional hotel room. Two hotels are located on airport grounds, across from the terminal, and at least one offers day rooms. A few more hotels are located within a 3-minute drive of the airport, and they offer free shuttle service. See our Winnipeg Airport Guide for details and locations.
These are just a few things to do on a layover at Winnipeg Airport. Visit our Winnipeg Airport Guide for more information about more services and facilities available, such as food, WiFi, mobile charging, luggage storage, nearby airport hotels, and much more.