Do you need to spend the night in Chicago O'Hare Airport before your early morning flight? Or was your flight cancelled due to extreme weather conditions? Whatever your reason for spending the night at ORD, this sleep guide will tell you what you need to know to make it as comfortable as possible.
We have collected useful tips from other travellers and aim to keep this guide updated with real-life sleeping experiences at Chicago O'Hare Airport.
If you have any extra tips or have your own experience to share, please write a review so we can keep this guide up-to-date.
Can I Sleep at Chicago O'Hare Airport Overnight?
If you have an early morning connecting flight to catch, you may think that leaving the airport to get a hotel room for a few hours might not be worth your time.
While Chicago O'Hare is open 24 hours, most seating has armrests, making it a challenge for travellers looking to lie down and rest. Some have been lucky to find an armrest-free chair for the night, but these are few and far between. A lot of travellers choose to set up camp on the floor. Beware, though, the Windy City is cold at night, especially as the temperature in the airport drops. So, bring a warm jacket or a blanket to keep you warm.
There have been reports from February 2023 of a growing homeless population residing on the landside, so if you need to spend the night in the public area of the airport, you may want to consider booking a hotel for the night if you arrive late and can't get through security.
Where is the Best Place to Sleep in O'Hare Airport?
According to reviewers on the site, many sleepy travellers have found the best spots for a night's rest at Chicago O'Hare to be in some of the following areas:
At the couches just after security in Concourse K
Airside lounge chairs in Terminal 3, Gates H
Circular sofas just inside the security checkpoint in Terminal 5
Gate C20 has quiet nooks for someone prepared to sleep on the floor
Couches around Terminal 1, Gates C24-C26 passes Brioche Dorée
There are more reports of the occasional row of 4 seats without armrests at a few gates in each terminal. If you look for them, bring all your belongings to set up camp when you find one. Alternatively, if you're happy to sleep on the floor, you won't struggle to find a quiet spot but come prepared with a sleep mat or bag, as the floors are primarily concrete or thinly carpeted and very cold.
If you are sleeping, it's been reported that the majority of the time, security will leave you be and only start waking people up when the airport begins getting busier again and flights resume.
From the O'Hare airport reviews and what we know about the airport, it's best to remain Airside for a safe night's sleep.
My Flight Got Cancelled – Where Can I Sleep in Chicago O'Hare Airport?
If there's anything you need to know about Chicago O'Hare Airport, it's no stranger to flight cancellations due to bad weather. No flight schedule is safe from the city's unexpected weather changes, from snowstorms and freezing ice in the chilly winter to wild regional tornados affecting the flight traffic system.
The good news? Chicago O'Hare is well-prepared for any freak weather conditions threatening your journey. When mass cancellations happen, the airport provides cots for stranded travellers who choose not to get a hotel room. Check with your airline to see if your flight is eligible. Cots are supplied from around 9:30 PM until 4:00 AM, when staff wake travellers to put away the cots and prepare for flights to resume (if the weather has passed).
Note that cots aren't available for travellers who simply choose to spend the night here and cannot be reserved in advance.
Is There Anything Open 24-Hours at ORD?
Spending a night in the airport usually comes with interrupted sleep and a serious case of midnight munchies. Luckily, plenty of 24-hour vending machines are available to grab a nighttime snack or well-needed coffee at Chicago O'Hare Airport. You'll find Canteen Healthy Snacks and Farmer's Fridge Vending Machines in the following spots:
Terminal 1 – Baggage Claim (Airside) • B/C Tunnel (Airside) • Gate B20 (Airside)
Terminal 2 – Location unknown (Landside) • Gate E1 (Airside) • Gate E5 (Airside) • Gate F9 • Gate F1
Terminal 3 – Baggage Claim (Airside) • Gate H1 (Airside) • Gate K6 (Airside) • Gate K1 (Airside) Gate K19 • Gate H4 • Gate K18.
Terminal 5 – Arrivals/Ticketing (Landside) • Gate M28 (Airside) • Gate M21 (Airside) • Gate 8 (Airside) • Gate M25 (Airside) • Gate M9 (Airside) • Gate M28.
Multi-Modular Facility
If you know you'll be in the airport overnight, we recommend stocking up on snacks and drinks from other places before they close for the night.
Are Showers Available?
Showers are available at Chicago O'Hare Airport, and you'll need them! Warm yourself up after a night roughing it on the cold airport floor at a pay-to-use shower in one of the following locations:
Hilton Athletic Club (opposite Terminal 2 inside the Hilton Hotel)
The American Airlines Admirals Club (Terminal 3, Concourse H)
United Club (Terminal 1, Concourse C)
Delta Sky Club (Terminal 5)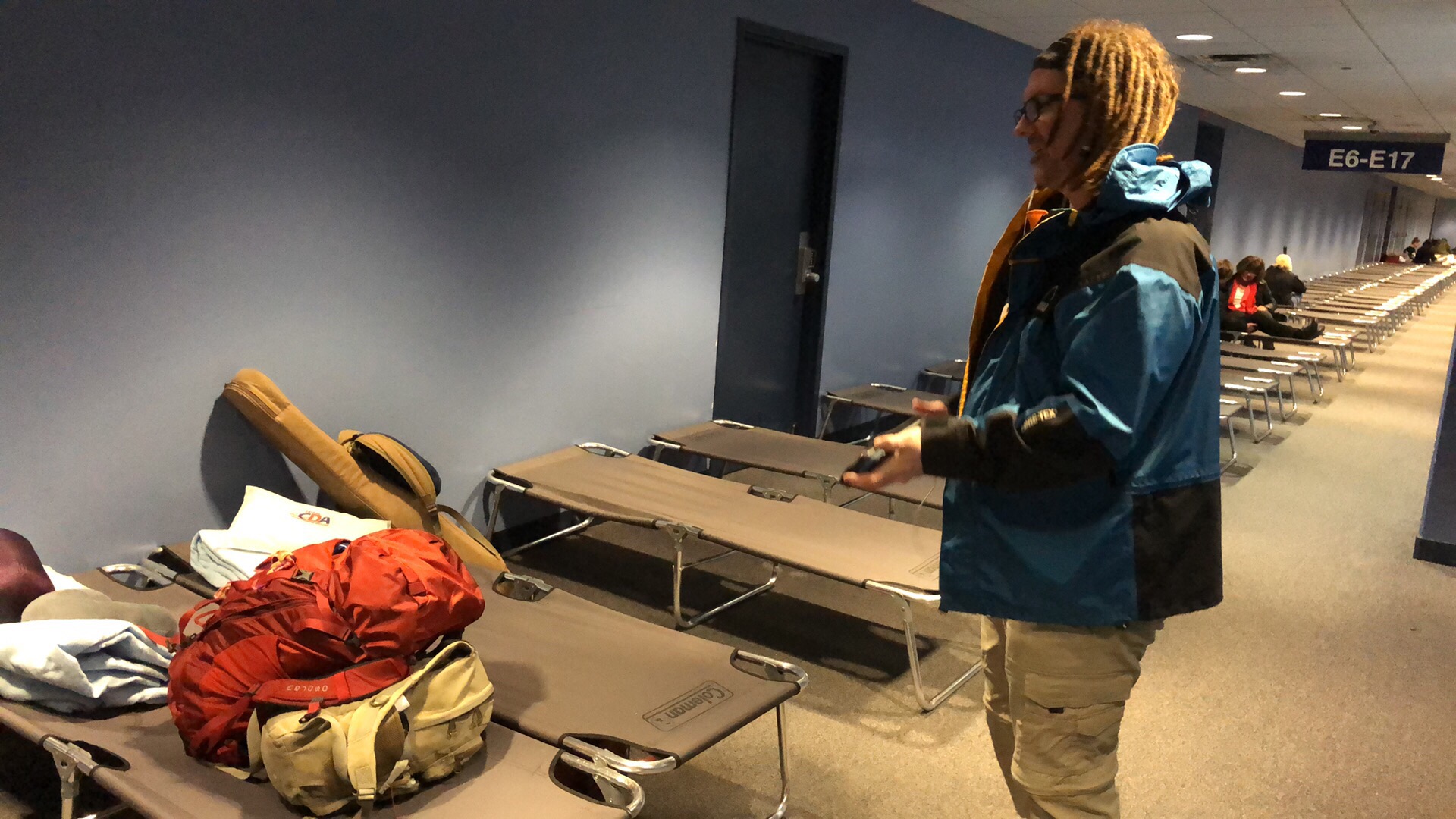 Are There Lounges in Chicago O'Hare Airport?
You can choose from a few lounges at Chicago O'Hare, but none have designated sleep rooms or rest areas. If you're willing to pay extra to rest in a comfortable seat a few hours before your flight, check out the list of available lounges in our Chicago O'Hare Airport Guide.

Where is the Nearest Hotel at Chicago O'Hare?
If you don't fancy a night of chair sleeping and are in the mood for a bit more luxury, the Hilton Chicago O'Hare Airport Hotel is located across from Terminal 2. A free shuttle connects the hotel with Terminal 5, and all domestic terminals connect to the hotel by an underground walkway. Additional hotels are located nearby at various prices, and most offer free shuttle services.
See the hotel section of our Airport Guide for locations, or visit Tripadvisor to find hotel deals at O'Hare Airport.
Is it Safe to Sleep at Chicago O'Hare Airport?
The only safety issue we have been made aware of at Chicago O'Hare airport is the growing groups of homeless living in the airport airside. We're unaware of other safety issues, but it's always best to keep your wits about you, and if you're not feeling safe, have an extra cup of coffee and sleep on the plane!
As a precaution, here are a few tips to ensure you have a safe airport sleeping experience:
Know Where Security is Located. Whether you are sleeping in the airport alone or with friends, it is good to know where security is. Know where their office is located and look for video cameras where you decide to stay the night. Ask security where it is safe to spend the night. They've probably seen many airport sleepers before you, and they will direct you to a safe spot.
Don't Seclude Yourself. If you are travelling alone, we recommend that you sleep near other travellers or close to security.
Hide Your Valuables. Don't leave all your mobile devices out in plain view. We have received reports from people who woke up with only earphones and a laptop bag strap, but without the attached iPods or laptops. The same goes for important documents and money. Keep these secure on your body so no one can get them without waking you up.
Secure Your Bags. You may want to padlock your bag to something if you are a deep sleeper. If your bags have zippers, turn the bag upside down (zippers to the floor) or sleep with your bag up against the wall, making it hard for someone to access it.
Choose to Stay Alert. If you don't feel safe, drink coffee, stay alert, and stay awake. You can always sleep on the plane!
Have You Slept at Chicago O'Hare?
Help us keep this page up-to-date for future airport sleepers, and please write a review about your experience sleeping in Chicago O'Hare Airport.