We've all been there. While family vacations are wonderful, there is that moment on route where you are just not positive the entire family will make it there in once piece. Whether it is because one sibling seems intent on torture, one child has gotten hungry or – worst of all – a parent has forgotten that critical document, family airport time seems to be a necessary evil. It is ironic that so many of our posts have focused on great activities for adults when we all know it is a child who needs a play spot the most. So, in honour of all the parents who have (or plan to) schlep their children across the world in search of a fantastic holiday, here is our list of kid-friendly airports.
1. Amsterdam Schiphol (AMS): Baby Care Lounge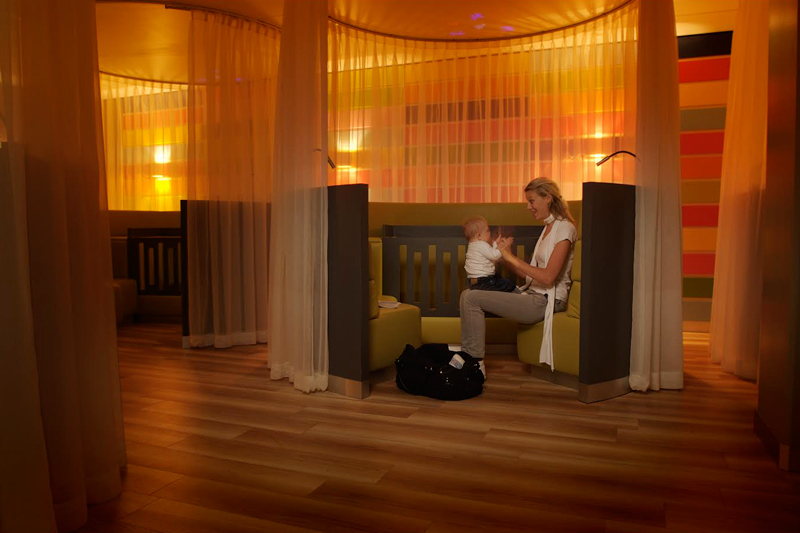 Too often, travelers complain about the challenges of finding a quiet corner with a plug in an airport. Those rants seem almost shameful when you consider new parents seeking out a quiet place to sooth an unhappy baby. Amsterdam Schiphol has thoughtfully accommodated these weary parents by building a tiny oasis amidst the chaos of the airport. Between Lounges 2 and 3, Nutricia has opened a Babycare Lounge. Outfitted with seven bed cabins with cribs and comfortable seating, this quiet sanctuary is the perfect place for babies and parents to unwind.
2. Calgary (YYC): SpacePort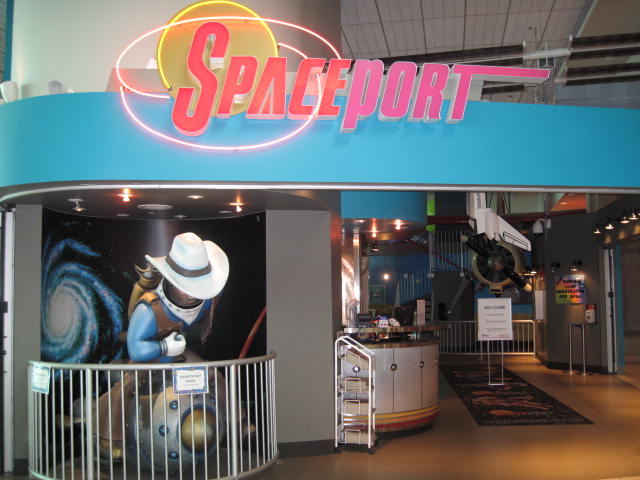 Calgary International Airport compliments standard air travel with simulated space exploration at SpacePort. Using a combination of computer technology, hands-on learning activities and educational programs, SpacePort transports children (and adults) into outer space with hands-on exhibits and displays, including your opportunity to see a moon rock from NASA! Entertaining and educational, a visit through SpacePort (located on the third floor of the airport) is a great family-friendly activity. Bonus? They also host birthday parties in partnership with Dairy Queen!
3. Chicago O'Hare (ORD): Kids on the Fly Children's Museum
While loads of airports have opened museums for adults, Chicago is the only one to have opened an interactive museum entirely geared at children. Named by Nickelodeon as the "Most Awesome Airport Play Area", kids will have a great time exploring a toy control tower, a helicopter model and an airplane. With plenty of places to run around – and learn – this area has activities for toddlers through to pre-teens. Parents too have been rumoured to learn a thing or two while supervising. The museum is located in Terminal 2, next to Gate F1.
4. Hong Kong: Children's Lounges
At Gates 1, 15, 41 and 60 in Hong Kong International Airports, parents can set their kids up in the Children's TV Lounges for a bit of mindless entertainment. These colourful mini-lounges have a constant stream of cartoons playing, along with a few games and play places. The airport also has a 'Dream Come True Education Park', where there are costumes available for make-believe games. Teenagers may be more interested in swinging past the infamous IMAX theatre, which plays a number of blockbuster films daily.
5. London Heathrow (LHR): Family Lounges and Game Zones
Gone are the days of trying to invent quiet airport-friendly games for your children. At London Heathrow, the airport has opened play areas in Terminals 1, 2, 4 and 5, and an entire family lounge in Terminal 3! Here, children are free to run and roam, burning off steam before they board the plane. Parents are gifted with nearby comfortable seating, where they can unwind and regroup before the next leg of the journey. There are also quiet corners for nursing mothers, and a number of baby change tables.
6. Munich (MUC): Kinderterminals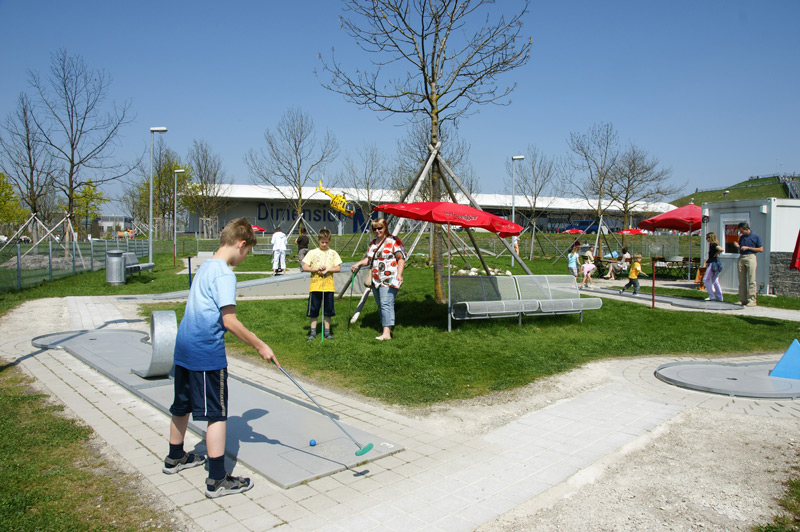 The Visitor's Center is filled with games and activities for children traveling through Munich. There are a number of touch screens designed to show children the inner workings of an airport, including a somewhat odd emphasis on employment opportunities in the aviation industry. They also play two popular German children's TV series that generally have a flight-related theme. Otherwise, kids can head out to the outdoor Visitor's Park where they can play on a toy airplane, enjoy a round of mini-golf or exhaust themselves on a trampoline.
7. San Francisco (SFO): Family Security Lane
No matter how organized you are, it always takes longer to move through the airport as a family. The combination of little legs and innumerable gadgets makes the security process a particular stressor. In San Francisco, is one of many airports that have thoughtfully devoted an entire lane in security for bogged-down families. With shorter lines, more space and fewer glowering solo travelers, this initiative takes a bit of the stress out of the equation. Upon clearing security, the airport also has a few Kids' Spots in Terminal 2 and 3, as well as areas of the SFO Museum that are kid-centered.
8. Paris Charles de Gaulle and Orly: Free strollers and Play Station centers
Collapsing and un-collapsing a stroller never makes any parent calmer in an airport, nor does carrying a tired child. Thankfully, travelers in Paris are able to borrow strollers for free as they navigate the airport. You can pick up a stroller after clearing security, and drop it off at the gate as you board your airplane. Consider that one less headache! There are also several play places for children and quiet places for infants and mothers throughout both terminals. Teenagers might be more interested in the PS3 consoles and music lounges located in the airport.
9. Singapore Changi: A Kid-Centered Airport
Unsurprisingly, Singapore Changi has incredible children's facilities in addition to fantastic offerings for adults. Younger kids will love the three playgrounds, while older kids will be jazzed about the 3-storey Slide, Xbox, Play Station, MTV-sponsored TV and movie theatre on the entertainment deck. The Family Zone has a number of rooms for families, with quiet areas for nursing and diaper changing. And of course, there are the famous five gardens found throughout the airport which are designed to educate and entertain children just as much as adults. Feeding fish at the Koi Pond is a particular highlight. In Changi, you may just hit the point where you feel overwhelmed by the choices in family-friendly activities. Who would have thought that would happen?!
10. Taipei Taoyuan: Hello Kitty Waiting Area and other Themed Areas
Swing past Gate C3 in Taoyuan International Airport if you're traveling with a Hello Kitty fan. Doused in pink, this particular themed gate is sure to delight a number of children – while likely overwhelming their parents. A few pink play facilities – including a slide – are also found at the gate, as is an extensive Hello Kitty store. This famous kitten has also made marks over the rest of the airport. Travel past the EVA Airways check-in counter to see a Hello Kitty aircraft cabin, and pop into the nursery rooms that are also swathed in pink. Other areas of the airport follow other famous Taiwanese themes, including the Pili Puppet Show and the Journey to the West novel.
While we're sure family travel will always include an element of stress and chaos, traveling through or from one of these 10 airports ought to be moderately more soothing. Besides, after a few years, it is the hectic family travel stories that make for some of the best memories. Right? … Or is it still a bit too soon?