Whether you have a layover, overnight sleepover or you are just quickly passing through, our Cairns Airport Guide is a great place to start planning your visit.  Here, you'll find information on services and facilities available inside the airport – including details about airport lounges, WiFi, mobile charging points, lockers, 24-hour food options, nearby hotels, and everything in between.
It was disappointing that 10 people in total were evicted at 1:50am. We were forced to sit outside in the cold and wait until 3:30 for the airport to open. – guest reviewer
It is not possible to stay overnight inside the airport. You will be evicted!
CNS Airport Overview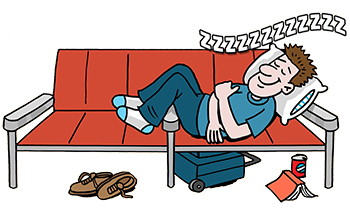 To help you plan your layover or overnight sleepover, here is a quick run-down about what to expect during your time at Cairns Airport (code: CNS).
What to Expect
Cairns Airport consists of two terminals (T1 International and T2 Domestic) with a combined 17 gates. The terminals are connected via a covered walkway. Both terminals contain a dozen or so eateries and shops, though almost all are on the airside. Reviewers report that the newer T2 Domestic building has better shopping and dining options. WiFi is available to help pass the time, and additional comforts—including showers—can be found through fee-based access to the lounge in T2. See Airport Lounges below for locations and rates.
Sleeping in Cairns Airport
The airport closes at night, and all passengers are evicted from the terminal buildings, so you can forget about trying to get an overnight sleep inside Cairns airport. Daytime napping may also prove problematic, as the seating is described as being hard, single chairs. For uninterrupted sleep, there are hotels near the airport. See Airport Hotels in the guide below or read some traveller reviews for more tips.
To help us keep this guide up-to-date, you can add or update information or write a review to submit airport tips and photos. You can also visit the airport's website for current information.  For more airport information continue scrolling down to explore more in our Cairns Airport Guide.
In this guide we may refer to locations as "landside" and "airside". Landside is the public area of the terminal located in the non-secure zone, before security. Airside is the secure area of the terminal that you must reach by going through security.  For more information on Europe's Schengen Area, click here.
Airport Lounges
Pay-per-use, Single Visit Passes & Lounge Memberships
Regardless of what class of service you are flying, there are lounges that you can enter by paying at the door or through a lounge membership program. Visit the individual lounge page for more details about the lounge itself and to also find out how you can gain lounge access with just an economy class ticket!
Qantas Club – Location: Terminal 2, second level, via escalators. Showers are available. Lounge Access: Lounge membership programs.
Reef Lounge – Location: Terminal 1, airside, near Gate 2. Showers are available. Lounge Access: Lounge membership programs.
Related Pages: Cairns Airport Lounges
Airport Hotels
If sleeping in the airport sounds like a nightmare, there are hotels near Cairns Airport:
Cairns Sheridan Hotel – No airport shuttle. » Check Rates
Reef Palms – Free airport shuttle departs at set times only.  » Check Rates
For more options, visit Tripadvisor to see a list of hotels near Cairns Airport that can be sorted by price, distance, traveller rating and popularity.
Airport WiFi/Internet
Free WiFi is available at Cairns Airport. Passengers in T1 (International) can access the internet free for up to 1 hour per 12-hour period, while passengers in T2 (Domestic) can access the internet free for up to 30 minutes per 12-hour period. Additional time/data can be purchased at the following rates (in AUD): $3 per hour/60MB, $6 per 24 hr/160MB or $30 per 7 days/1.2GB. If you don't have a device for connecting to the internet, you can use one of the airport's internet kiosks at the same rates listed above.
More Services, Facilities & Things To Do On A Layover At The Airport
ATMs / Cash Machines – Need cash? ATMs are available. Machines are operated by ANZ, Commonwealth Bank, and China Construction Bank. Fees may apply, so be sure to check your bank's fee schedule and your daily withdrawal limit if you are travelling internationally. You may also want to notify your bank of your travel plans. Locations: throughout the airport. Travelex ATMs dispense foreign currency at these locations:
» Terminal 1: Departures Hall • Arrivals Hall
» Terminal 2: Check-In • Departures Hall • Arrivals Hall.
Baby Care Facilities – If you are travelling with an infant, parents rooms are available at most of the washrooms throughout the airport in both terminals.
Baggage Trolley – Need a hand with your luggage? Baggage trolleys are available free of charge in T1 Arrivals (pre-Customs). Elsewhere in the airport, there is a $3 fee.
Currency Exchange – Travelex currency exchange kiosks are open for all flights and can be found in these locations:
» Terminal 1: Departures lounge (airside) • Arrivals Hall (landside).
» Terminal 2: Departures lounge (airside).
Duty-Free & Shopping – Duty-free shopping is available (Location: International Terminal, Arrivals and Departures Lounge. Hours: Open according to all international flights), along with a variety of shops selling clothing, souvenirs, books, cosmetics and more! The Relay Shop (Airside) may come in handy for last minute drinks/snacks and is open for all flights.
Food & Drinks – At the time of this update, there are no 24-hour dining options. Food concessions are available both Landside and Airside and all are open according to the daily flight schedule.
Information Desk – Located in the T2 departures hall. T1 also has a service desk, based near gates 1 & 2.
Luggage Storage & Lockers – Self-service luggage lockers are available, cash payment only. Rates range from $6 – $10 for up to 3 hours or $10 – $14 for up to 24 hours (and per 24-hour period after). Locker sizes available are small (75cm x 33cm x 44cm) • medium (75cm x 33cm x 61cm) • large (75cm deep x 33cm wide x 93cm). Location: next to the T2 Car Park. Hours: Open 24 hours.  Luggage storage for larger items is also available at the same location. Hours: 4:00AM – 1:00AM. Rates: Unknown.
Mobile Charging – A reader tells us "phone charging is available in the waiting / food areas after you go through the security screening." (October 2022)
Rest Zones – There are no dedicated sleeping areas, quiet areas or rest zones. If this information has changed, click here to update this guide.
Showers – Showers are available in the airport lounges [ see Airport Lounges above ].
SIM Cards – A reader has asked us to include where to buy SIM Cards. If you know, click here to update this airport guide.
Airport Hours
The airport is open at 4:00AM, or two hours before the first flight of the day, and closes after the last flight of the night. Overnight stays are not permitted in this airport. An employee told us on our Facebook page: "Every night I see people resorting to sleeping on the hard metal benches outside the terminals getting eaten by mosquitos."
Airlines
Cairns airport is served by the following airlines: Air New Zealand • Air Niugini • Air North • Alliance Airlines • Bonza • Jetstar • Qantas • Regional Express • Singapore Airlines • Skytrans • Virgin Australia.
Airport Transportation: Getting To/From The Airport
Car Rentals
Car rental desks are located in the Arrivals area at the northern end of T2 (Domestic) and the Arrivals Hall at T1 (International). The following agencies are located onsite in both terminals: Avis • Budget • Europcar • Hertz • Redspot/Enterprise •Thrifty • Sixt.
Hotel Shuttles
At the time of this update we only found one hotel providing an airport shuttle service: Reef Palms.
See also Airport Hotels above.
Ride Sharing
Both Uber and 1300 Rideshare operate from Cairns airport too. The pick-up point is located outside Arrivals at both terminals. The drop-off point is located outside the check-in area at both terminals.
Shuttles
Exemplar Coaches and Limousines offer services from Cairns Airport to/from Port Douglas ($50 one way), Cairns CBD ($20 one way) and Palm Cove ($30 one way) Book at the Exemplar desk in the Arrivals hall of either T1 or T2.
Taxi
Cairns Taxi is the official taxi service provider for the airport. You can pre-book their services, or hail a taxi from the sheltered taxi ranks located in front of each terminal. Maxi taxis (capacity 10 passengers) and wheelchair-accessible taxis are available, and all taxis accept credit cards. An AU$5.00 (International) and AU$2.50 (Domestic) surcharges are added to fares for trips from the airport.
Last updated: 2023-08-09
This guide is for informational purposes only to assist with your planning.  All information, including rates and hours, is subject to change at any time without notice.   The information in this airport guide is based on information collected and/or received from the airports, lounges, hotels, transportation providers, and their websites. We are not representatives of any of the above-mentioned service providers. To report errors or to add/update any items mentioned in the guide: update the airport guide or  write a review.