Whether you have a layover, overnight sleepover or you are just quickly passing through, our Cairns Airport Guide is a great place to start planning your visit.  Here, you'll find information on services and facilities available inside the airport – including details about airport lounges, WiFi, mobile charging points, lockers, 24-hour food options, nearby hotels, and everything in between.
It was disappointing that 10 people in total were evicted at 1:50am. We were forced to sit outside in the cold and wait until 3:30 for the airport to open. – guest reviewer
It is not possible to stay overnight inside the airport. You will be evicted!
CNS Airport Overview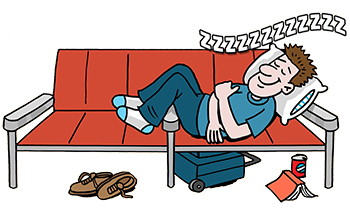 To help you plan your layover or overnight sleepover, here is a quick run-down about what to expect during your time at Cairns Airport (code: CNS).
What to Expect
Cairns Airport consists of two terminals (T1 International and T2 Domestic) with a combined 27 gates. The terminals are connected via a covered walkway. Both terminals contain a dozen or so eateries and shops, though almost all are on the airside. Reviewers report that the newer T2 Domestic building has better shopping and dining options. WiFi is available to help pass the time, and additional comforts—including showers—can be found through fee-based access to one of the airport's first class lounges. See Airport Lounges below for locations and rates.
Where to Sleep
The airport closes at night, and all passengers are evicted from the terminal buildings, so you can forget about trying to get an overnight sleep inside Cairns airport. Daytime napping may also prove problematic, as the seating is described as being hard, single chairs. For uninterrupted sleep, there are hotels near the airport. See Airport Hotels in the guide below or read some traveller reviews for more tips.
Coronavirus Update
Due to the current Covid-19 pandemic, all services and times listed below are subject to change. Some services and facilities may remain closed or operate with reduced hours.  Airport tips and suggestions in this guide and elsewhere on the site were written before March 2020 and may no longer be valid. If you are planning to sleep in the public area of the terminal overnight, have a back-up plan! We've heard from a few travellers at other airports and they were not permitted to stay overnight. We're not sure if that will apply to this airport, until a reader lets us know the current situation. If you have some time to spare please write a review, send a tip or share photos to help future travellers.
For more airport information continue scrolling down to explore more in our Cairns Airport Guide.
In this guide we may refer to locations as "landside" and "airside". Landside is the public area of the terminal located in the non-secure zone, before security. Airside is the secure area of the terminal that you must reach by going through security.
Last updated: 2020-10-19
This guide is for informational purposes only to assist with your planning.  All information, including rates and hours, are subject to change at any time without notice.   The information in this airport guide is based on information collected and/or received from the airports, lounges, hotels, transportation providers and their web sites. We are not representatives of any of the above mentioned service providers. To report errors or to add/update any items mentioned in the guide: update the airport guide or  write a review.